Ford Stock Price Forecast June 2021 – Good Time to Buy Ford Stock?
With a year-to-date gain of almost 73%, Ford (F) is among the top 10 gainers in the S&P 500 index in 2021. Legacy automakers' stocks are outperforming in 2021 and General Motors and Volkswagen are also up sharply, outperforming the markets as well as their pure-play electric vehicle peers.
Tesla, which joined the S&P 500 index with much fanfare last year is down almost 5% this year. Other electric vehicle shares like NIO, XPeng, and Li Auto are also trading with year-to-date losses as investors have instead pivoted towards legacy automakers. Is it a good time to buy F stock now?
Buy Ford Stock at eToro, the World's #1 trading platform!
Ford stock is outperforming in 2021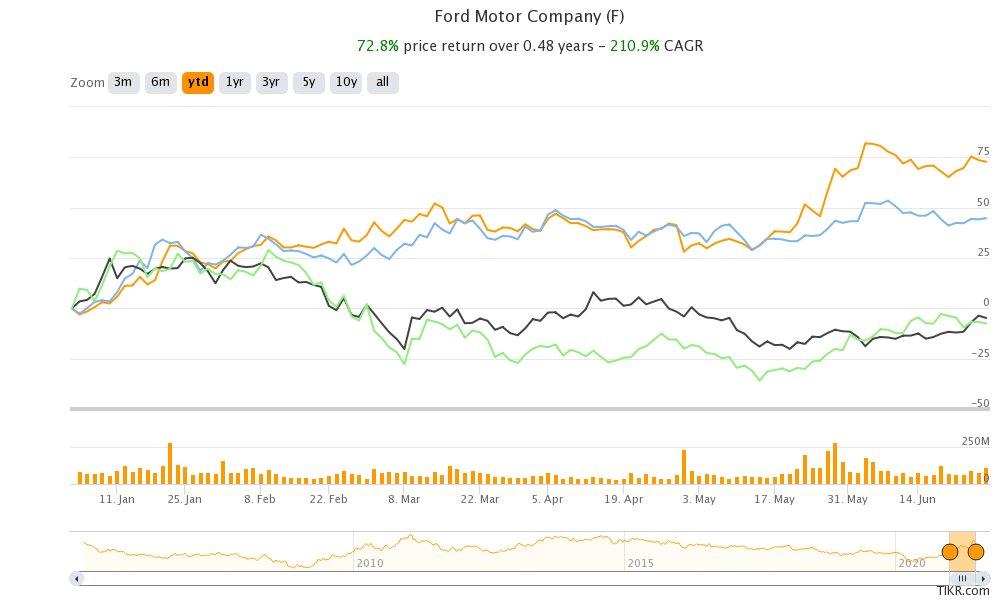 Legacy automakers have doubled down on their electric vehicle and autonomous driving plans. Ford has increased its investments in these two areas. General Motors has also increased the planned capex towards zero-emission vehicles. Meanwhile, while General Motors has committed itself to a zero-emission future and said that it would sell only zero-emission vehicles by 2035, Ford is yet to put an end date for ICE (internal combustion engine) cars. However, it has said that by the end of this decade, it will sell only electric vehicles in Europe.
67% of all retail investor accounts lose money when trading CFDs with this provider.
General Motors plans to sell 1 million electric cars by 2025
General Motors has set itself a target of selling 1 million electric vehicles by 2025. To put that in perspective, Tesla, which is the gold standard for electric vehicles, could sell over 1 million electric cars in 2022 only. However, General Motors plans are more aggressive than the highly valued electric vehicle startup companies as it plans to sell more electric cars than Lucid Motors by 2025. Despite being a pre-revenue company, Lucid Motors commands a proforma market capitalization of almost $40 billion. The soaring valuations of pure-play electric vehicle companies are in contrast to legacy automakers like Ford, which buy stocks and whose valuations still look depressed despite the sharp gains in 2021.
Ford stock looks low
Ford, for instance, has a market capitalization of just under $60 billion while Chinese electric vehicle startup company NIO has a market capitalization of almost $75 billion. Tesla has a market capitalization of nearly $650 billion which is over twice that of Toyota Motors. At its peak earlier this year, Tesla was valued higher than all leading automakers put together. The sharp rise in Tesla stock price catapulted its CEO Elon Musk to the richest person on the earth, ahead of Amazon's Jeff Bezos.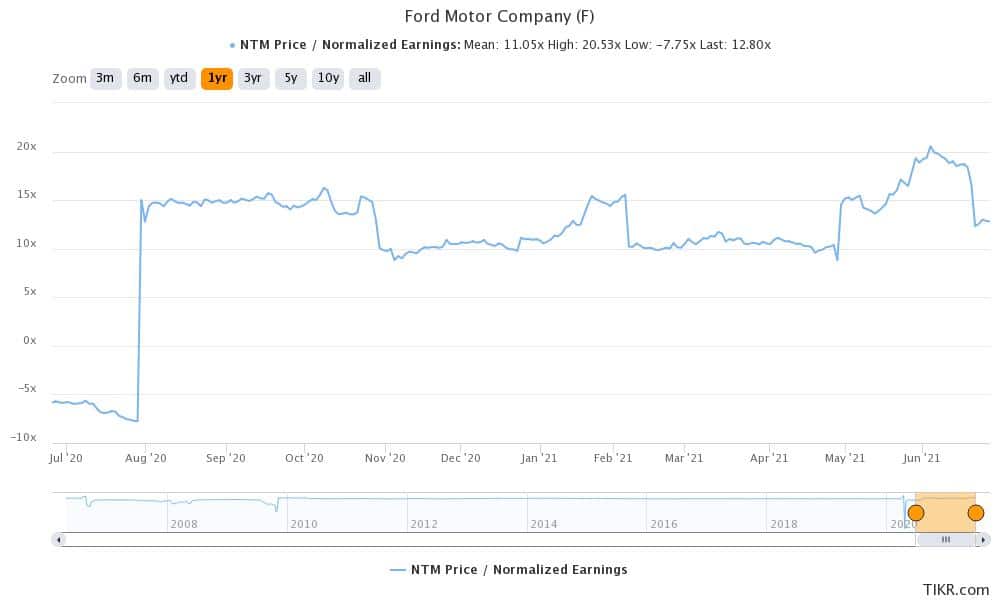 Ford stock valuation
Ford is currently valued at an NTM (next-12 months) PE multiple of 12.8x. While the valuation multiples look high as compared to historical averages, Ford as well as other legacy automakers have seen a rerating. General Motors recently surged to the highest price level since it emerged out of bankruptcy in 2009.
Also, Ford's earnings in 2021 are expected to be tepid as it battles a severe chip shortage. Ford expects to lose almost half of its second-quarter production due to the chip shortage. It lost 17% of the first quarter production and expects to lose around 10% of the second half production due to the chip shortage.
Second quarter profits
During the first-quarter 2021 earnings call, Ford lowered its 2021 profit before tax guidance to $5.5-$6.5 billion. At the upper end, the guidance was $2.5 billion lower than its previous guidance. However, earlier this month, the company said that its second-quarter pre-tax profits would be ahead of its expectations and would be "significantly better" than the corresponding quarter in 2020.
Ford also acknowledged the valuation discount to pure-play electric car makers. In its fourth-quarter 2020 earnings call, it said "We are accelerating all our plans – breaking constraints, increasing battery capacity, improving costs and getting more electric vehicles into our product cycle plan. Taking a pot shot at startup companies attracting high valuation despite putting a product on road, Ford's CEO Jim Farley said "People are responding to what Ford is doing today, not someday."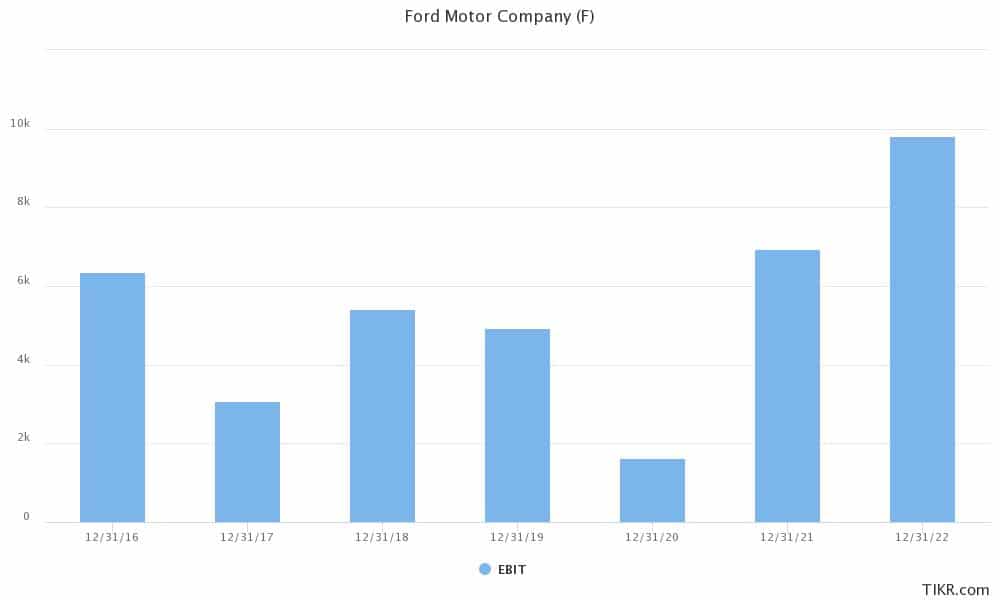 Ford F-150
From a fundamental perspective, Ford stock looks attractive and could continue to see further valuation rerating. The company is launching all-electric models of its best-selling models and recently unveiled the F-150 Lightning, whose ICE model has been America's bestselling pickup for decades. Even President Joe Biden, whose administration is spending billions of dollars to ramp up electric vehicle infrastructure in the country, admired the model.
Earlier this month, Ford said that it has received 100,000 models for the F-150 Lightning model. Ford's F-150 is widely believed to account for the bulk of the company's profits even as it hasn't disclosed the breakup. The model with compete with Tesla's Cybertruck which has an unconventional design. Ford has said that the F-150 Lightning would be profitable for the company. This is unlike pure-play electric car companies where barring Tesla all companies are losing money.
Ford stock price forecast
According to the consensus estimates compiled by CNN Business, Ford's median target price of $16 is a 5.3% upside over current prices. Its lowest target price is $11 while $18 is its highest target price.  Of the 23 analysts covering the stock, 11 have a buy rating while 10 rate them as a hold. One analyst has a sell rating on the automaker.
Wall Street analysts have also been taking a bullish view of Ford. This month, JPMorgan Chase raised the stock's target price from $16 to a street high of $18. It also raised the target price for General Motors.
JPMorgan Chase raised its target price
"For the second time this month, we are raising estimates for GM and Ford, this time after Ford stated on Thursday that it would surpass its 2Q guidance and GM provided further clarity on Wednesday the degree to which it expected to significantly exceed its own 2Q guidance," said JPMorgan Chase's analysts in their note. They added, "we believe both automakers are benefitting from the strong Price/Mix evident in April and May U.S. auto sales and from inflation more generally."
Barclays also raised Ford's target price from $15 to $17. "Mid-month pricing data indicate stronger-than-expected pricing for both Ford and GM. Indeed, mid-month data show a step-up in average transaction prices and a step-down in incentive spending," said Barclays' analyst Brian Johnson.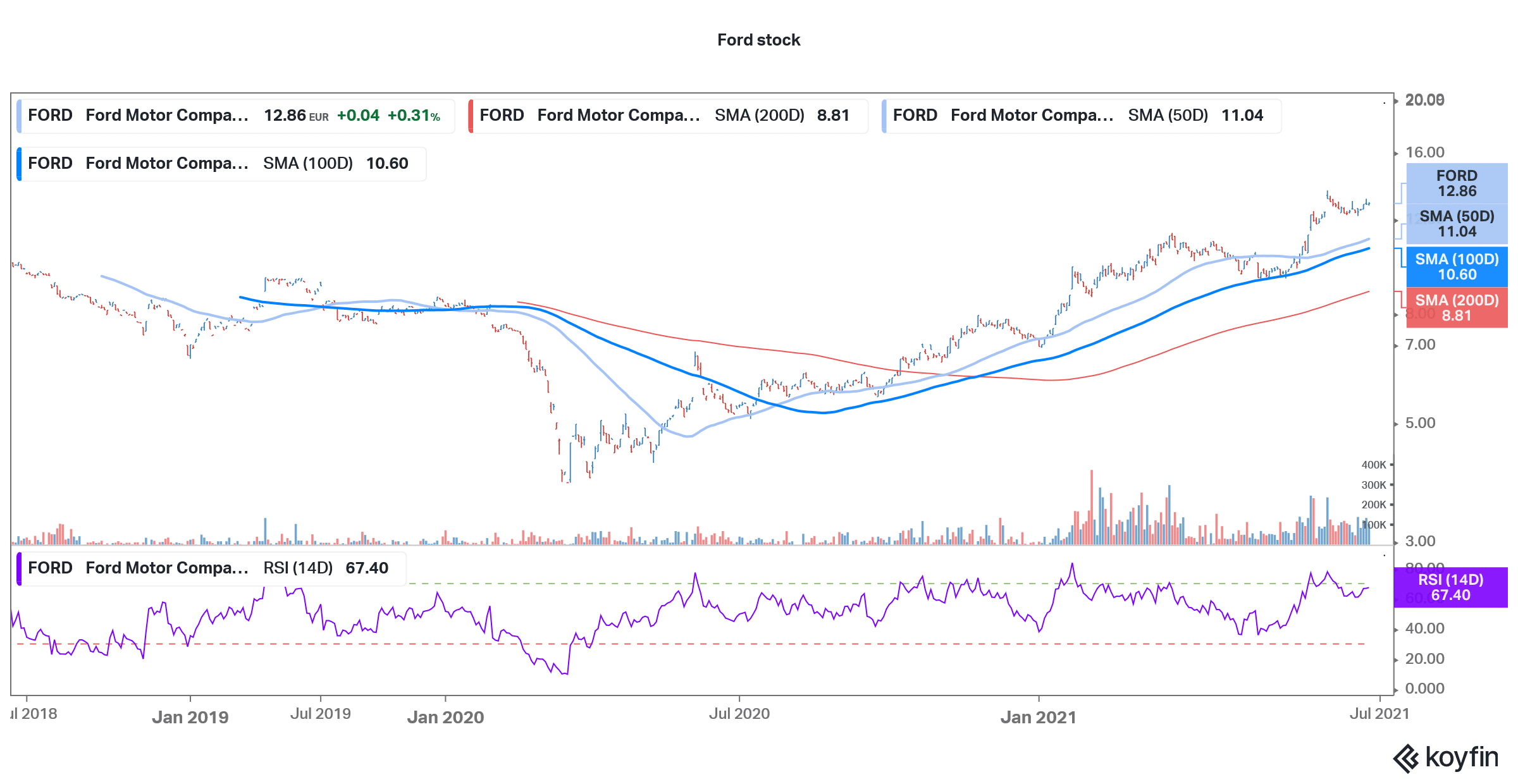 Ford stock technical analysis
Looking at the technicals, Ford stock trades above the 50-day, 100-day, and 200-day SMA (simple moving average). The 100-day SMA has been a strong support for the stock. However, the stock might now be getting near the overbought territory with a 14-day RSI (relative strength index) of 67.4. RSI values above 70 are seen as overbought while values below 30 are associated with oversold positions.
Electric vehicles
Meanwhile, given the good response that Ford electric models are receiving, the stock could continue to outperform. Also, the company might also take a favourable view of its dividend that it has suspended in 2020. Ford stock look a good turnaround story under its current leadership and an attractive and undervalued play on the booming electric car market. With pure play electric vehicle companies trading at exorbitant valuations, legacy automakers like Ford and General Motors look a good way to play the vehicle electrification theme at a reasonable price.
Buy Ford Stock at eToro, the World's #1 trading platform!