Square Stock Price Forecast August 2021 – Time to Buy SQ?
Please note that we are not authorised to provide any investment advice. The content on this page is for information purposes only.
Square (SQ) stock is up 11.8% in 2021 and is underperforming the markets. It is now down almost 13% from its 52-week highs even as US stock markets are near their record highs. What's the forecast for Square stock in August 2021 and is it a good time to buy SQ stock after the recent underperformance?
Square stock has delivered stellar returns since its listing and has outperformed the markets by a wide margin. It is among the best ways to play the fintech revolution.
Square stock recent news
Yesterday, Square released its second-quarter earnings. The company's revenues jumped to $4.68 billion in the quarter as compared to $1.92 billion in the corresponding period in 2020. The company's bitcoin revenues increased from $875 million to $2.72 billion over the period.  Square's revenues without bitcoins increased 87% to $1.96 billion in the quarter.
It reported a gross profit of $1.14 billion in the quarter which was 91% higher than the corresponding period in 2020. The gross profit for Cash App increased 94% to $546 million while the Seller ecosystem reported a gross profit of $585 million, 85% higher than what it did in the corresponding period in 2020. The company recorded an impairment loss of $45 million on the bitcoins that it holds. Bitcoin prices plunged in the second quarter hurting companies that hold them.
67% of all retail investor accounts lose money when trading CFDs with this provider
SQ price guidance for the third quarter
Commenting on the guidance, Square said that "Looking ahead to the remainder of 2021, we believe two-year compound annual growth rates from 2019 through 2021 will help reflect underlying trends in each ecosystem." It added, "In the third quarter of 2021, Cash App will lap strong gross profit growth of 212% year over year in the third quarter of 2020. On the other hand, in the third quarter of 2021, Seller will lap only 12% year-over-year gross profit growth in the third quarter of 2020 due to regional restrictions affecting in-person activity."
Square to acquire Afterpay
Square also announced that it will acquire Australian BNPL (buy now pay later) company Afterpay for $29 billion in an all-stock transaction. It said that "the acquisition aims to enable the companies to better deliver compelling financial products and services that expand access to more consumers and drive incremental revenue for merchants of all sizes." The BNPL market has been attracting a lot of attention. Apple is also said to be in talks to launch a BNPL product with Goldman Sachs. The iPhone maker already has an Apple credit card in collaboration with Goldman Sachs. The news of Apple entering the market triggered a sell-off in BNPL names like Affirm.
"Square and Afterpay have a shared purpose. We built our business to make the financial system more fair, accessible, and inclusive, and Afterpay has built a trusted brand aligned with those principles," said Jack Dorsey, Square CEO. He added, "Together, we can better connect our Cash App and Seller ecosystems to deliver even more compelling products and services for merchants and consumers, putting the power back in their hands."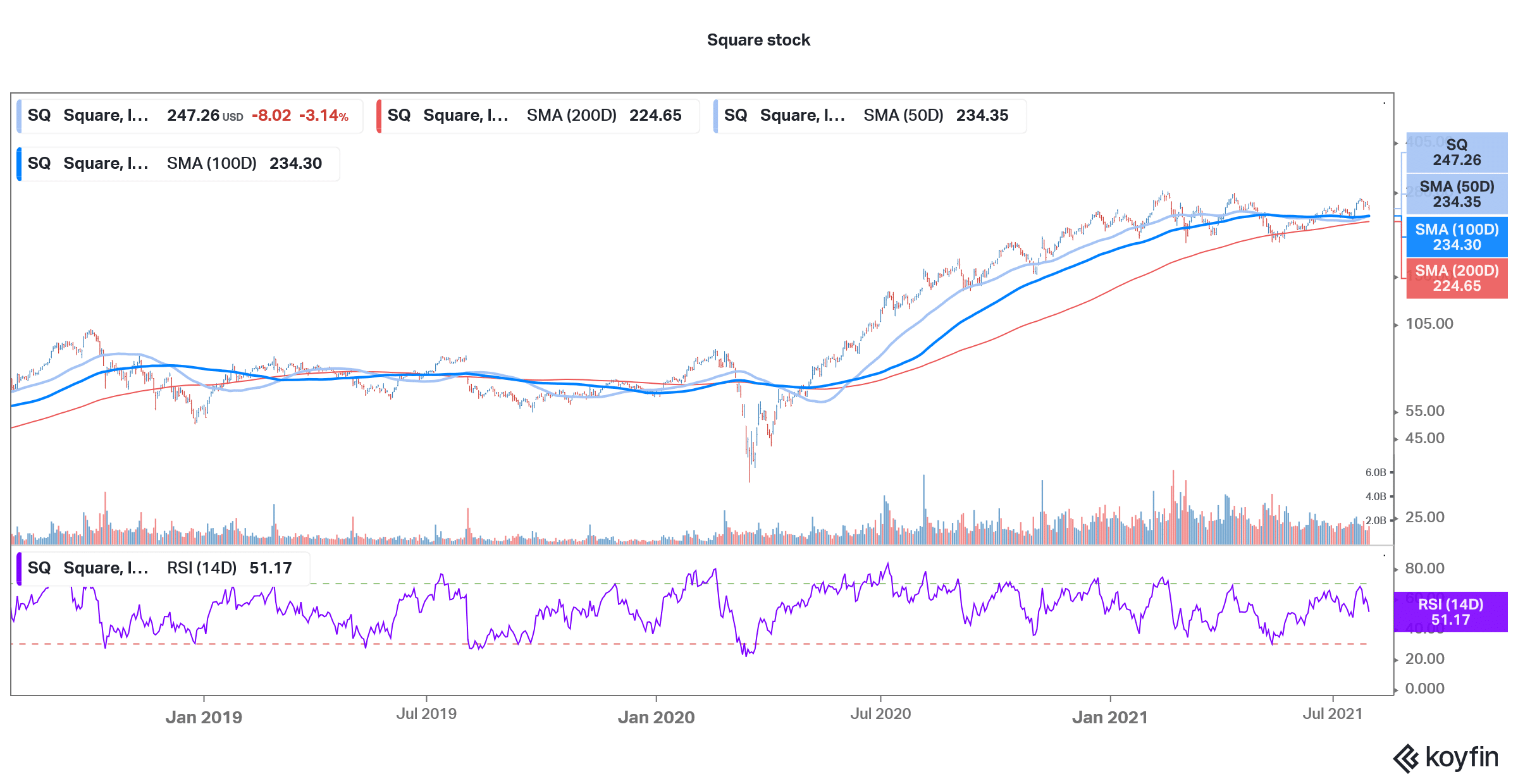 Square stock price forecast
Wall Street analysts have a mixed rating on Square stock. Of the 44 analysts polled by CNN Business, 25 rate the stock as a buy while 15 rate it as a hold. Four analysts have a sell or equivalent rating on the stock.
Its median target price of $281 implies an upside of 13.7% over current prices. Its lowest target price is $175 which is a discount of over 29.2% while the highest target price of $380 is a premium of 53.7% over current prices.
Fintech stocks
The outlook for fintech stocks is positive, and along with green energy, it looks among the most promising investing themes. "We believe Cash App may be en route to becoming the ultimate neo-bank and the money center bank of the future. This could make buying SQ analogous to buying J.P. Morgan in 1871," said Mizuho analyst Dan Dolev in a note earlier this year.
JPMorgan also sees the fintech revolution as a big opportunity. "Fintech innovation and increased demand for digital services are the real Covid-19 story with the rise of online start-ups and expansion of digital platforms into credit and payments," the largest US bank said in its note.
Square stock price technical analysis
Square stock has found strong support at its 50-day SMA and currently trades above the 100-day and 200-day SMA also which are bullish technical indicators. The stock has a 14-day RSI (relative strength index) of 51.17 which is neutral and indicates neither overbought nor oversold positions. However, the 12,26 MACD (moving average convergence divergence) gives a sell signal.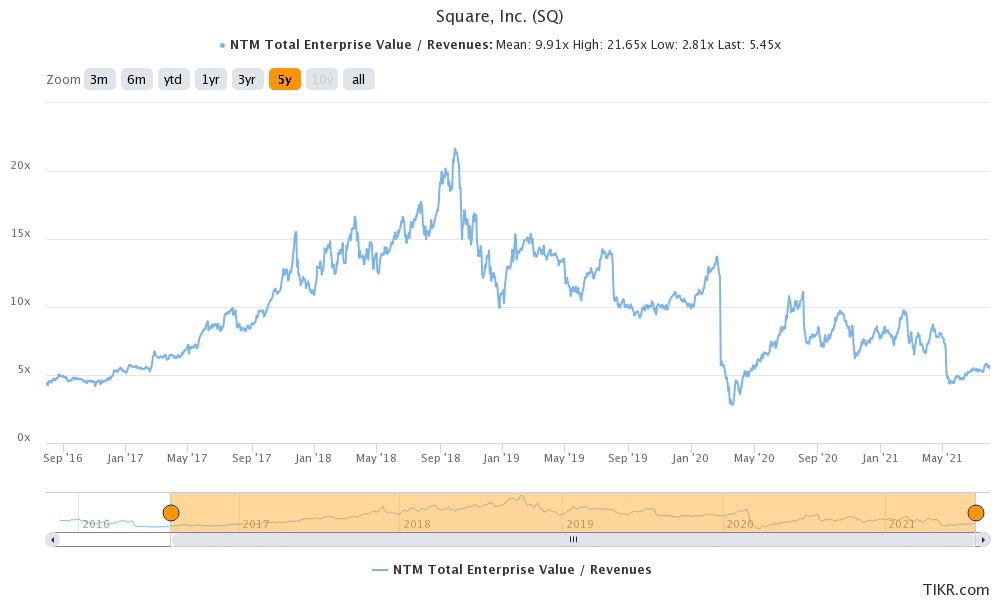 SQ stock price valuation
Square stock trades at an NTM (next-12 months) enterprise value (EV) to sales multiple of 5.5x and NTM EV-to-EBITDA multiple of 120x. The valuations multiples don't seem high looking at Square's growth outlook. Analysts expect the company's revenues to rise 110% in 2021 while its EBITDA is expected to rise 88% in the year.
SQ has built a strong ecosystem and continues to enhance its offerings as is reflected in the acquisition of Afterpay. The company is also a play on the growing cryptocurrency adoption. It also has a strong balance sheet and had cash and cash equivalents of $6.6 billion at the end of June.
Overall, Square looks like a good stock to buy in August. The company is a good long-term play as consumers gradually pivot away from traditional banks to fintech companies.
67% of all retail investor accounts lose money when trading CFDs with this provider