Apple Stock Forecast and Price Prediction June 2021 – Is Apple a Good Stock to Buy?
Please note that we are not authorised to provide any investment advice. The content on this page is for information purposes only.
Apple was the best performing FAANG (Facebook, Apple, Amazon, Netflix, and Google-parent Alphabet) stock in 2019 and 2020. However, the stock has looked weak this year and is down 5%, underperforming the markets as well as FAANG peers. What's the forecast for the stock in June 2021 and should you buy it now?
Apple is the largest company by market capitalization and the only company globally to have a market cap over $2 trillion. While Amazon and Microsoft have been strong contenders for the coveted $2 trillion market cap, they haven't been able to break above the threshold.
Apple stock has been under pressure
Apple stock hit its all-time high of $145.09 in January and has since fallen over 12% from its peak. The stock is currently in the correction zone after having over 10% from the peak. The fall in Apple stock has been due to multiple reasons. Firstly, tech and growth names have fallen in 2021 as investors have pivoted towards reopening stocks. The stock rose sharply last year as it was among the beneficiaries of the "stay-at-home" trade.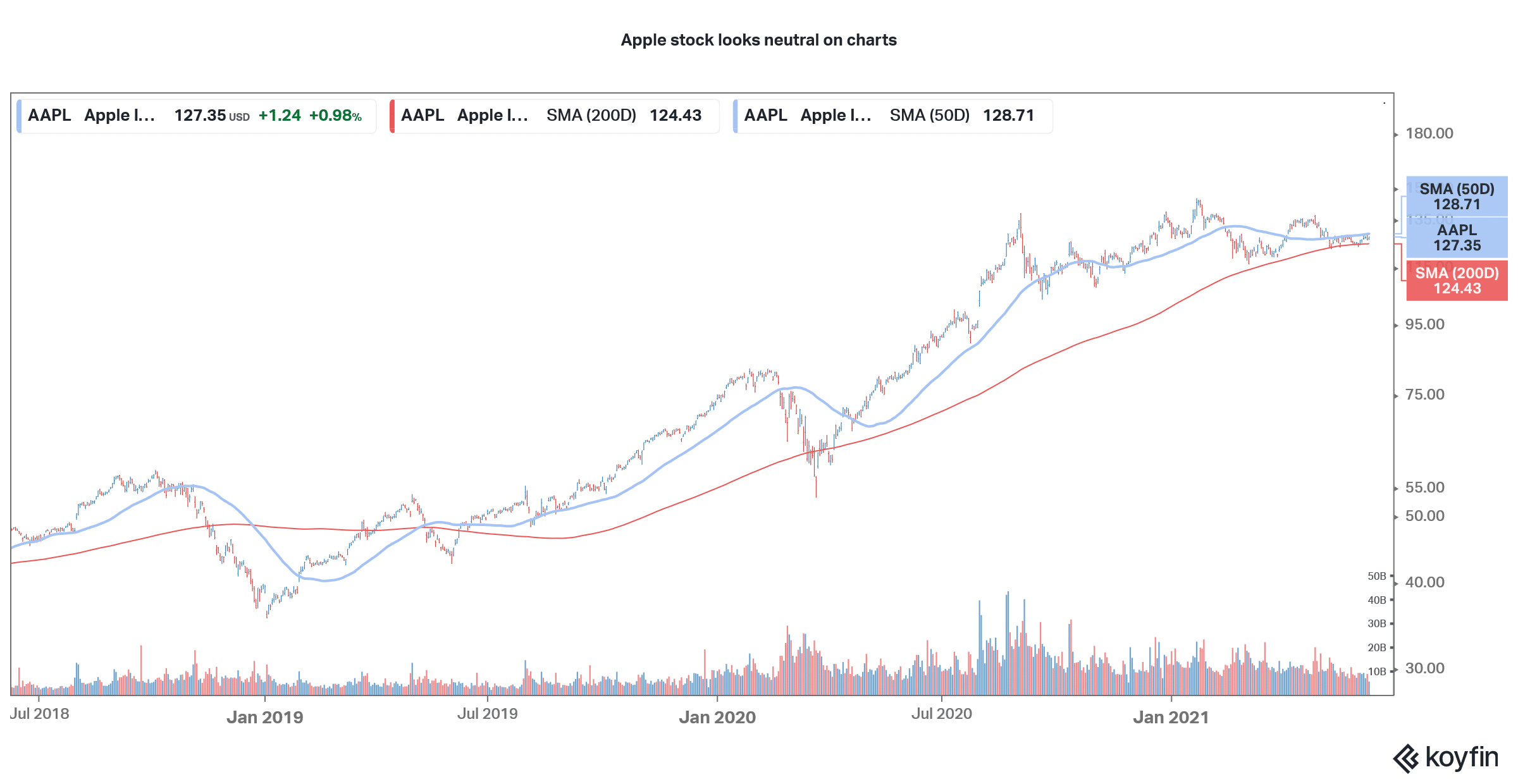 Also, concerns over higher regulatory scrutiny and a possible rise in corporate taxation in the US are weighing heavy on Apple stock. US tech giants also face the risk of higher taxes as the G7 clamps down on tax arbitrage. US tech companies would end up paying higher taxes under the new regime.
Apple stock looks neutral on the charts
Looking at the technical indicators, Apple stock has been trading in a narrow price channel between its 50-day simple moving average (SMA) and 200-day SMA. The 200-day SMA which is currently at $124.43 has been strong support for the stock while the 50-day SMA which stands at $128.71 has been a resistance. The stock needs to break above the narrow price channel for a technical uptrend to resume. Its 14-day RSI (relative strength index) is currently at 52.2 which is also a neutral indicator. However, the stock has moved above the 10-day, 20-day, and 30-day SMA which is a bullish signal.
Recent developments
Apple held the Worldwide Developers Conference (WWDC) earlier this month and revealed several new features. It announced a service called iCloud+ which will have a feature "privacy relay." It would work like a VPN and users can mask their browsing history. The feature would appeal to users who put emphasis on their privacy. The company also announced several new features to the FaceTime app.
Valuation looks reasonable
Apple stock currently trades at an NTM (next-12 months) PE multiple of 24.8x. The multiple has averaged 21.6x over the last three years and 18.6x over the last five years. While the stock's valuation multiples are at a premium to its long-term multiples, the multiple expansion looks justified.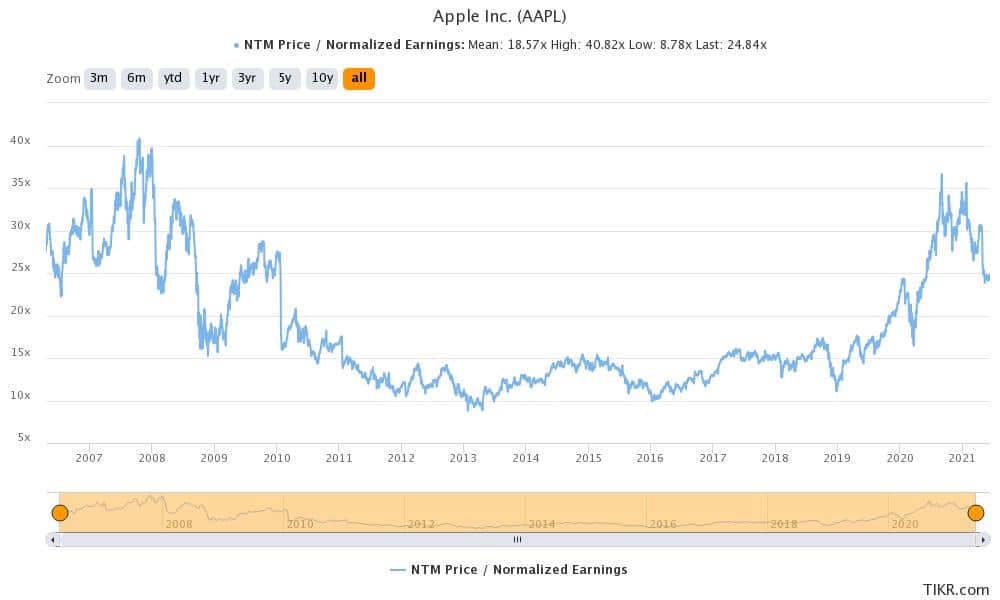 Firstly, Apple stock has seen a rerating as it has grown its services revenues. Software companies trade at a premium multiple than hardware companies and increasingly markets see Apple as a software company. Secondly, we are in a 5G supercycle which would lead to higher multiples for the stock. Incidentally, its NTM PE multiple had peaked near 40x in 2007-2008 as the company entered the iPhone supercycle phase.
Warren Buffett
Legendary value investor and Berkshire Hathaway chairman Warren Buffett is also bullish on the company. It is the largest holding for the conglomerate and Buffett admitted to a mistake in selling some Apple shares over the last two years. However, the Oracle of Omaha also used the stock sale as an example to highlight the beauty of share buybacks. Despite booking an $11 billion gain on the sale of Apple shares. Berkshire holds the same 5.4% stake in the company, thanks to the buybacks.
Apple buys back billions of dollars of its shares every year. While the business generates a lot of cash, the company does not have ample investment opportunities to invest the cash. Also, like other Silicon Valley companies, it is very frugal with the dividends and its forward dividend yield is only about 0.7%. Tech companies instead look at share repurchase that helps them inflate the EPS by lowering the outstanding shares. While many have been critical of the company's massive buybacks, Buffett has supported them.
Buffett has praised Apple several times
Buffett has praised Apple and its CEO, Tim Cook, several times. He sees Apple as a consumer product company and last year shifted from his flip phone to an iPhone. At this year's annual shareholder meeting which was held virtually, Buffett said "A car costs $35,000 and I'm sure with some people if you asked them whether they wanted to give up, had to give up, their Apple, they'd give up their car."
Buffett termed Apple as "indispensable" and a "huge huge bargain." Notably, in 2019 Buffett had said that he wants to buy more Apple shares but at lower prices. The stock continued to rise and Buffett missed out on adding more shares.
Apple stock forecast
Wall Street analysts are bullish on Apple and its median target price of $160 is a premium of almost 26% over current prices. Of the 44 analysts covering the stock, 33 rates them as a buy or some equivalent while nine rate them as a hold. The remaining two analysts have a sell rating on the iPhone maker.
Apple stock long term forecast
Meanwhile, Apple is a long-term growth story. The 5G supercycle and increasing services revenues would lead to higher revenues for the company. Also, it also plans to foray into the electric vehicle and autonomous driving industry even as the plans have been somewhat stalled as it has not been able to find partners for the project. While it was rumored to be in talks with Hyundai and Renault, the talks did not make headway. Many also speculate that Apple might partner with Lucid Motors which is going public through a reverse merger with Churchill Capital IV (CCIV).
Notably, mobility is a much bigger market than the current TAM (total addressable market) that Apple is addressing. Many analysts believe that the company could be a worthy competitor to Tesla.
Overall, Apple stock looks like a good stock to add to the portfolio looking at the strong growth outlook and reasonable valuations.
Looking to buy Apple stock now? Invest at eToro!
75% of all retail investor accounts lose money when trading CFDs with this provider.