Amazon Stock Moves 6.66% – Time To Buy Amazon Stock?
Please note that we are not authorised to provide any investment advice. The content on this page is for information purposes only.
E-commerce giant Amazon (AMZN) has seen its position rise following the covid-19 pandemic which ravaged businesses and countries alike. Amazon stock rose, as net sales surged 44% to $108.5 billion, even as its Prime Video franchise saw a 70% increase in user engagement.
But recent data suggests otherwise as the US-based company has seen its stock price slump as low as $3,153.10 in the last few weeks. Savvy investors would likely pile up on the AMZN stock before it surges. But is this a good time to buy Amazon shares, or will you be left holding onto the bag in the long run? Here is our view on it.
Coming into 2020 at $1,813.99 per share, Amazon has witnessed exponential growth in the last year, rising as high as $3,528.35 on April 30, 2021. That is more than a 90% increase in just one year.
Amazon Stock Bullish On 20-Day MA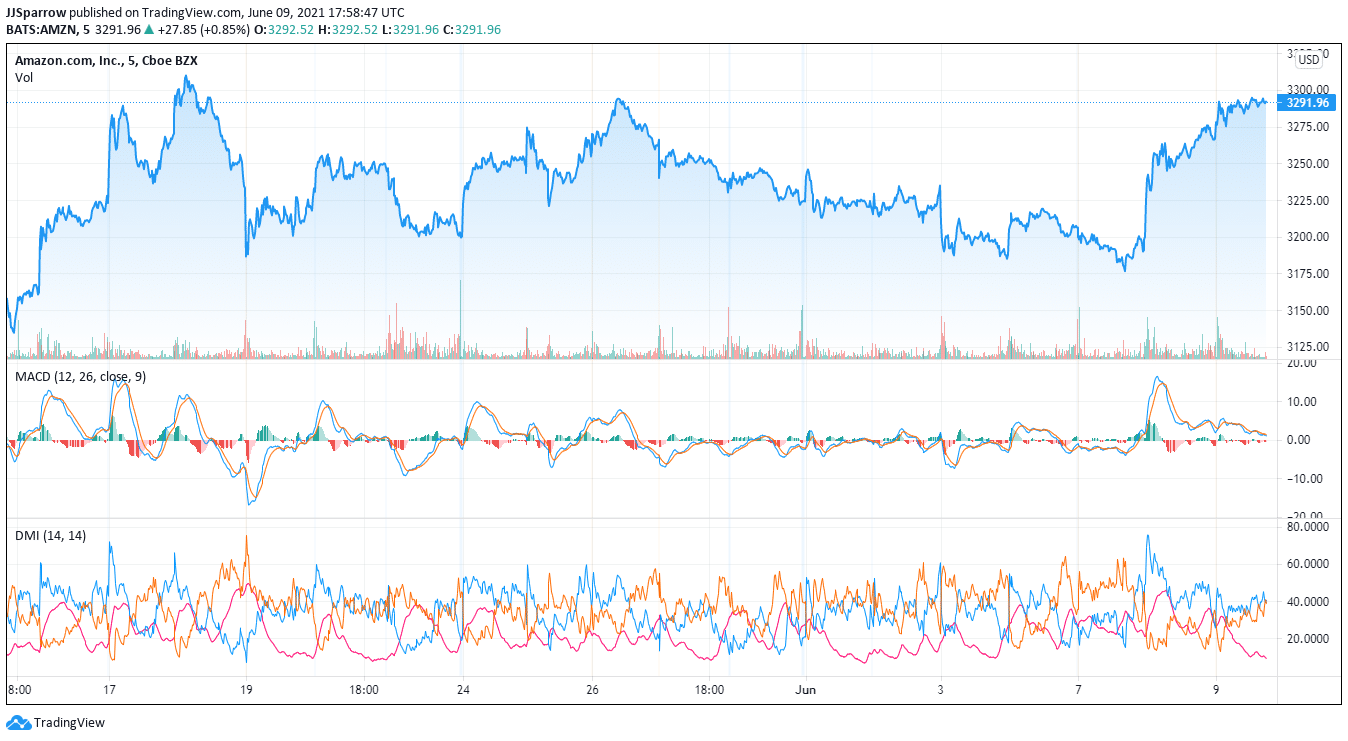 Its continued performance on the $3K mark can only be seen as a feat of genius as the larger stock market saw negative price action given concerns of a new tax regime by President Joe Biden.
At the moment, AMZN stock is rallying. On the trading chart, AMZN is above the 20-day moving average (MA) support indicator showing it may slide lower below its current $3,290.77 valuation, reflecting a 7% from the previous day of trade. But for now, we are putting it at $3,100 to $3,000 if it buckles under the impact of a future market downtrend.
The longer 200 MA support is also promising as AMZN is trading above the indicator showing a potential bullish trend.
Its moving average convergence and divergence (MACD) is also gathering steam as the indicator is showing a likely uptrend having a bullish undertone.
Its relative strength index (RSI) stands at 55.47, with a tendency to go up. Turning our attention to the Commodity Channel Index (CCI) to further help us analyze, the chart is clearly bullish with Amazon stock rising towards the resistance zone. Its present 114.37 shows it may scale beyond the resistance zone making a near high.
The directional movement index (DMI) supports our belief that Amazon stock may see more positive price action, with the indicator pointing to a bull market at the opening of trade.
Amazon Stock: One For The Long Term
Despite what the chart is saying, we believe that Amazon is one for the long term. A stellar performance in its last earnings call is a reflection. Reeling out its achievement in the last twelve months (between March 2020 and March 2021), Amazon noted that its operating cash flow increased 69% to $67.2 billion from the previous year's $39.7 billion.
Its net sales also swelled by 44%, surging to $108.5 billion from $75.5 billion in 2020, while its net income increased to $8.1 billion or $15.79 per diluted share compared to the previous year's $2.5 billion or $5.01 per diluted share.
Amazon has pointed to two of its major innovations, Amazon Prime and Amazon Studios, as coming of age and lending revenue support to the company. But the e-commerce giant still has a lot to offer investors in the next decade.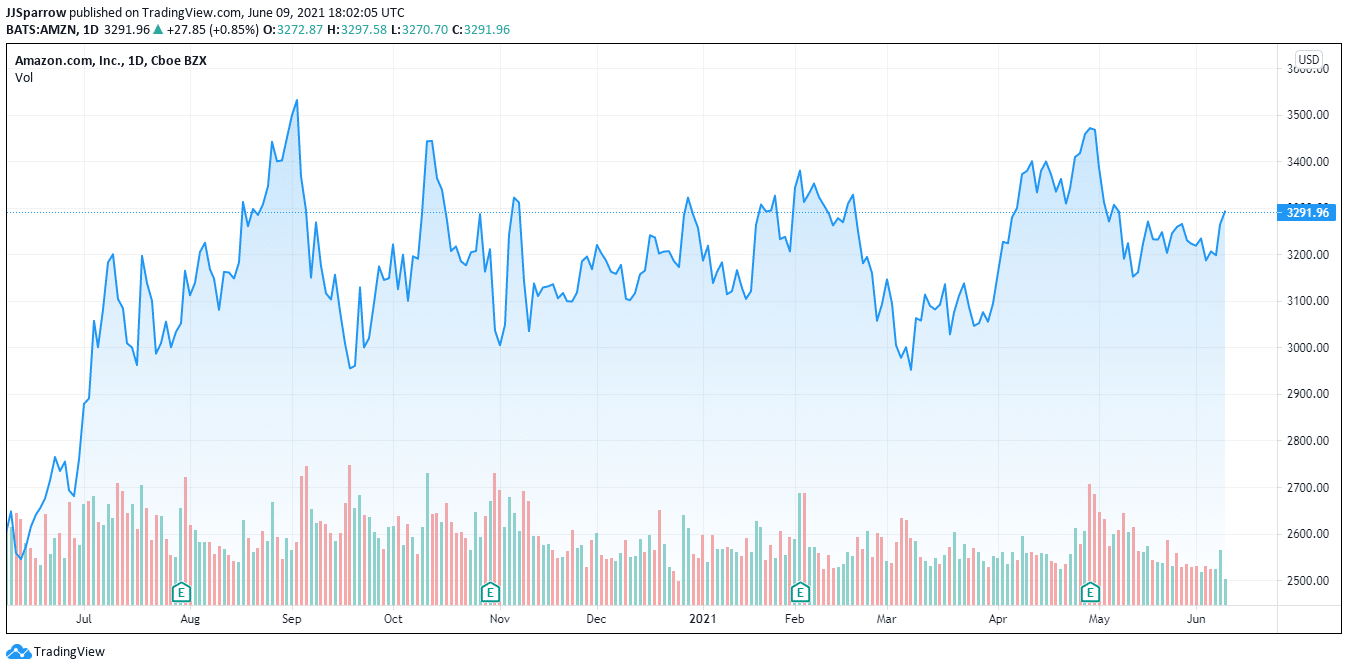 Amazon runs a cloud-based software solution business neatly called Amazon Web Services (AWS for short), and the easy-to-use platform has been posting positive returns.
According to a Statista report, AWS has grown 32% in Q1, 2021, seeing its revenue rise to $13.5 billion, beating forecasts of $13.1 billion for the said period. It accounts for a third of the $42B cloud market. AWS's revenue also accounts for about 12% of the parent company's revenue, and it could continue to take on more responsibility in the future, as noted by CFO Brian Olsavsky.
Remarking on its earnings call, Olsavsky noted that more businesses moved to the cloud during the pandemic, and the trend may continue once the dust settles.
Compared with major competitor Google Cloud Platform (GCP), Amazon dwarfs the Google subsidiary, which posted $4.047 billion, reflecting a 46% increase year-over-year.
Amazon is also looking to get into the space race with its Blue Origin subsidiary. The sub-orbital spaceflight company is currently planning to take people up to space in July. The aerospace manufacturer founded in 2000 and owned by founder Jeff Bezos seeks to topple top EV manufacturer Tesla's stronghold on the nascent space race.
Although Blue Origin currently averages $977 million annually in revenue in contrast to SpaceX's $2 billion, Blue Origin may see its fortunes change if it successfully launches.
Market analysts view Amazon's present slump as a signal of a breakout in the long run. Several analysts have predicted that AMZN would hit the $4k mark before 2021 runs out, but the average forecast puts it higher at $4,245, which can see investors cashing in over $500 per share in the next couple of months.
Where To Buy Amazon Shares
Looking for the best platform to buy Amazon stocks / shares? Look no further than online brokerage firm eToro. eToro is a leading broker that provides access to more than 800 stock, including Amazon.
With eToro, you can buy Amazon shares and also trade the stock as a Contract for Difference (CFD). Signing up on eToro is fast and easy. And there are multiple options to fund your account. Once you fund your trading account, you'll be all set to buy Amazon shares.
Looking to buy Amazon shares now? Invest at eToro!
75% of all retail investor accounts lose money when trading CFDs with this provider.