Virgin Galactic Stock Down 19% Today – Time to Buy SPCE Stock?
Please note that we are not authorised to provide any investment advice. The content on this page is for information purposes only.
Virgin Galactic stock is dropping more than 19% this morning in pre-market stock trading action following news that the company will postpone the launch of its first commercial flight to the fourth quarter of 2022 as a result of "enhancements" that need to be done to its VMS Eve and VSS Unity space vessels.
The company informed investors that it "flagged a possible reduction in the strength margins of certain materials used to modify specific joints" during routine tests performed on the two aircraft.
Both commercial operations and a scheduled test flight contracted by the Italian Air Force will be delayed as a result of the execution of these enhancements.
"The re-sequencing of our enhancement period and the Unity 23 flight underscores our safety-first procedures, provides the most efficient path to commercial service, and is the right approach for our business and our customers", said Michael Colglazier, Virgin Galactic's Chief Executive Officer.
This would be another unplanned delay in Virgin Galactic's timetable for starting its commercial flights. Earlier this year, the company said it was planning to fly passengers during the fall season but shortly afterwards it postponed the date to the second half of next year and now to the fourth quarter.
These inconveniences highlight the struggles of a company that is attempting to pioneer its way to space travel. Even though they should be expected given the novel nature of the business model, investors seem to be disconcerted by the news this morning as reflected by the sharp drop the stock price is experiencing.
Can Virgin's downtrend accelerate as a result of this setback? In the following article, I'll be analyzing the price action and fundamentals of the company founded by Richard Branson to possibly answer that question.
67% of all retail investor accounts lose money when trading CFDs with this provider.
Virgin Galactic Stock – Technical Analysis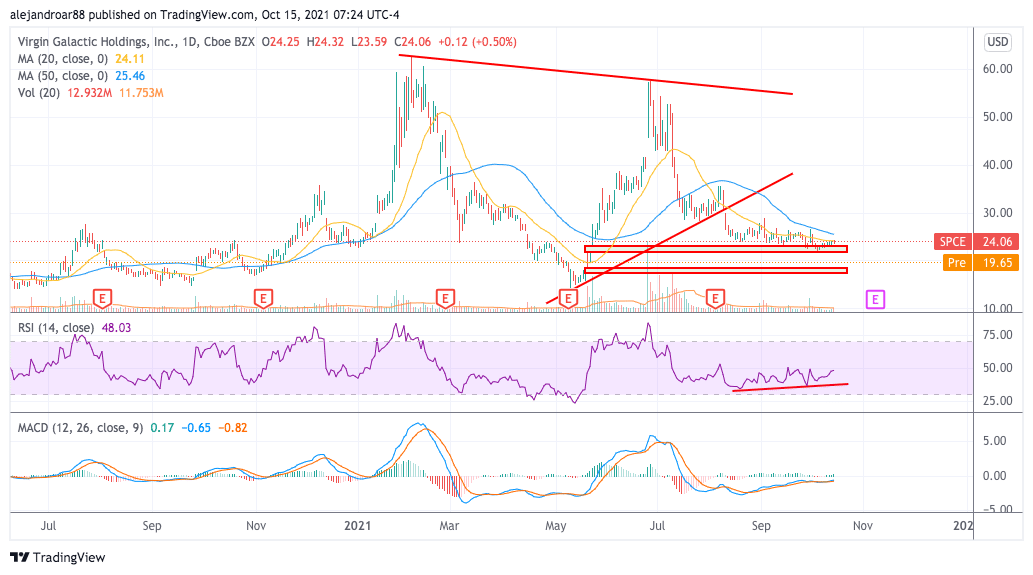 In an article I wrote in August this year I highlighted that the two bullish gaps left behind by the price action in May were the most relevant support areas to watch for Virgin Galactic stock following a break of the stock's symmetrical triangle.
As a result of the latest weakness, one of these gaps has already been filled and the other one could be filled this morning as a result of this latest setback in Virgin's timetable to start flying passengers to space.
If that gap is filled, nothing would prevent the stock from collapsing to its 52-week low of $14 per share and that results in a total downside risk of almost 42% based on yesterday's closing price of $24 per share.
It is worth noting that momentum oscillators are displaying bullish divergences lately as the Relative Strength Index (RSI) has posted higher lows despite the price moving lower while the MACD's histogram readings have turned positive and have been steadily increasing.
That said, the outlook for Virgin Galactic stock remains bearish as the price has failed to jump above its short-term moving averages while it remains nearly 24% below its 200-day moving average – a sign of mid-term weakness.
Virgin Galactic Stock – Fundamental Analysis
Any setbacks related to Virgin Galactic's timetable for starting its commercial operations are bad news for investors as the company is not generating revenue yet and further delays will result in a prolonged cash burn.
Last year, Virgin Galactic burned $250 million in cash but secured $463 million in capital through the issuance of its common stock. Meanwhile, during the last fiscal quarter, the company reported $552 million in cash and equivalents – possibly enough to remain afloat until next year.
However, a collapsing share price may complicate things for the space travel company as it would have to issue more shares to obtain the same amount of money in case it needs to raise more capital in the future. Investors are probably anticipating this scenario and reacting accordingly as that would suppose further dilution of their existing holdings.
For now, the company's solvency is not in question. However, market participants are not happy with the news and one could expect that the share price will remain depressed for a while unless there is a development that modifies the expected agenda in a positive way.
As I noted in the previous article, my fair value estimate for this company is around $2 and $3 billion considering the significant challenges that lie ahead for the business and the kind of advances that need to be made for the firm to start producing at least $500 million in revenue – a figure that may justify that kind of valuation.
Buy SPCE Stock at eToro with 0% Commission Now!