Virgin Galactic Stock Down 10% in August – Time to Buy SPCE Stock?
Please note that we are not authorised to provide any investment advice. The content on this page is for information purposes only.
The price of Virgin Galactic stock has gone down 10% so far in August after jumping near all-time highs in July on the back of multiple positive news.
The company recently published its financial results covering the second quarter of 2021 and investors initially reacted positively to the report as shares advance more than 14% on the three days that followed the release but sentiment appears to have shifted as the price has dived for a third consecutive day this morning to its lowest levels since late May this year.
One of the reasons for this pronounced downtick was Morgan Stanley's decision to downgrade the stock to underweight – the equivalent of a sell rating –  down from a previous equal-weight rating while also setting a price target of $25 per share for the stock, this target being nearly 20% lower than the previous session's closing price.
The American investment bank cited a prolonged no-flight period as the primary reason for its decision to downgrade the stock, as Virgin Galactic's mother ship, Eve, will be grounded for eight months after completing a spaceflight scheduled to take place in September this year.
With the stock currently trading around 58% below its 52-week high of $62.8 per share, could this be an opportunity to buy the stock of this commercial space travel pioneer at a more attractive valuation?
The following article takes a closer look at the latest price action seen by Virgin Galactic stock while also diving into its fundamentals to possibly answer that question.
67% of all retail investor accounts lose money when trading CFDs with this provider.
Virgin Galactic Stock – Technical Analysis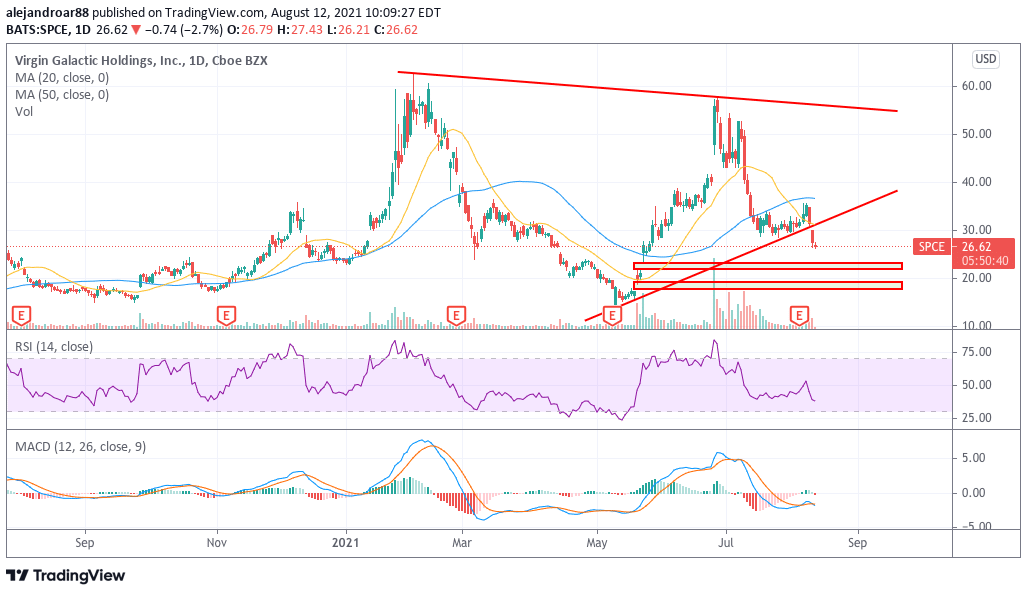 Before yesterday's downtick, the price of Virgin Galactic stock was embarked on a stage of consolidation as trading ranges were progressively narrowing. However, Morgan Stanley's call has apparently prompted a sell-off, with more than 65 million shares exchanging hands in the past two sessions, with daily trading volumes exceeding the 10-day average on both occasions as well.
As a result, the symmetrical triangle shown in the chart – a typical consolidation pattern –  has been broken and that could lead to a sizable and prolonged correction for Virgin Galactic shares. In this regard, momentum readings remain awfully negative as the MACD has plunged to negative territory while it just crossed below the signal line this morning while posting its first negative reading in the past five sessions.
Additionally, the Relative Strength Index (RSI) is also plunging to 37 today while not reaching oversold levels just yet.
The combination of these bearish readings along with the fact that the price has broken below all of its relevant short-term and long-term moving averages point to a bearish outlook for Virgin Galactic stock.
If the price continues to dive in the following sessions, the bullish price gaps left behind by the price action in the past two months appear to be the most relevant support areas to watch.
If these gaps are filled, nothing would prevent the stock from falling to its 52-week low of $14 per share. Meanwhile, if a bounce off these gaps occurs, chances are that the stock might be ready for a technical rebound on short notice.
Virgin Galactic Stock – Fundamental Analysis
During the three months ended in June this year, Virgin Galactic reported revenues of $571,000 and operating losses of $74 million along with a wider-than-expected net loss per share of $0.39.
The company highlighted its accomplishments during this quarter including the completion of a third and fourth spaceflight, the last of those being the first fully-crewed flight operated by the company.
Virgin also announced that it resumed ticket sales effective on 5 August, now offering three different packages for single-seat, multi-seat, and full-flight buyers. The price of these tickets will start at $450,000 per seat. The company reported a total of $81.96 million held in consumer deposits to date.
Meanwhile, as a result of the completion of its $500 million at-the-market stock offering, the company has boosted its cash position to $551.62 million while it burned approximately $115 million during this second quarter of 2021.
As a result of these recent downticks, the market capitalization of Virgin Galactic has dived to around $8 billion. The company is expected to start flying passengers to space during the first semester of 2022 and has already been granted a license to do so.
Moving forward, the consensus estimate points to Virgin generating revenues of $25.5 million during its first year of operations in 2022 and $116 million in 2023. Based on those forecasts, the company's technology, patents, and other intangibles along with its future revenue and earnings generation capacity are being valued at 69 times its 2023 sales.
At a price per seat of $450,000, Virgin would have to sell at least 2,200 tickets every year to make it to $1 billion in revenues – a plausible target that could justify the current valuation. Each of its commercial vessels can carry up to 6 paying passengers and they are expected to perform 50 flights per year.
Virgin would have to manufacture and successfully launch 5 more vessels at least while operating them at full capacity throughout the entire year to reach that figure. This scenario is fairly optimistic based on the stage at which the business is in at the moment and, therefore, the current valuation seems stretched for a company that still needs to prove its capacity to scale and operate successfully.
For those interested in buying Virgin stock, a valuation of around $2 to $3 billion for the business would be perhaps more attractive considering all the risks involved and would only be justified if one assumes that the company can eventually reach the kind of results outlined above.
Buy Stocks at Cedar FX, the World's #1 trading platform!