Twitter Stock Price Down 23% in 2021 – Time to Buy TWTR Stock?
Twitter stock tumbled last week and hit a 52-week low of $41.01 on Friday. While it recovered from the lows and closed at $42.07, it is still down over 22% for the year.
The drawdown from the 52-week highs is even steep and the stock is down 48% from its peaks. The social networking and microblogging company now has a market cap of just under $34 billion. What's the forecast for Twitter stock and is it a good buy now?
Why has Twitter stock been falling?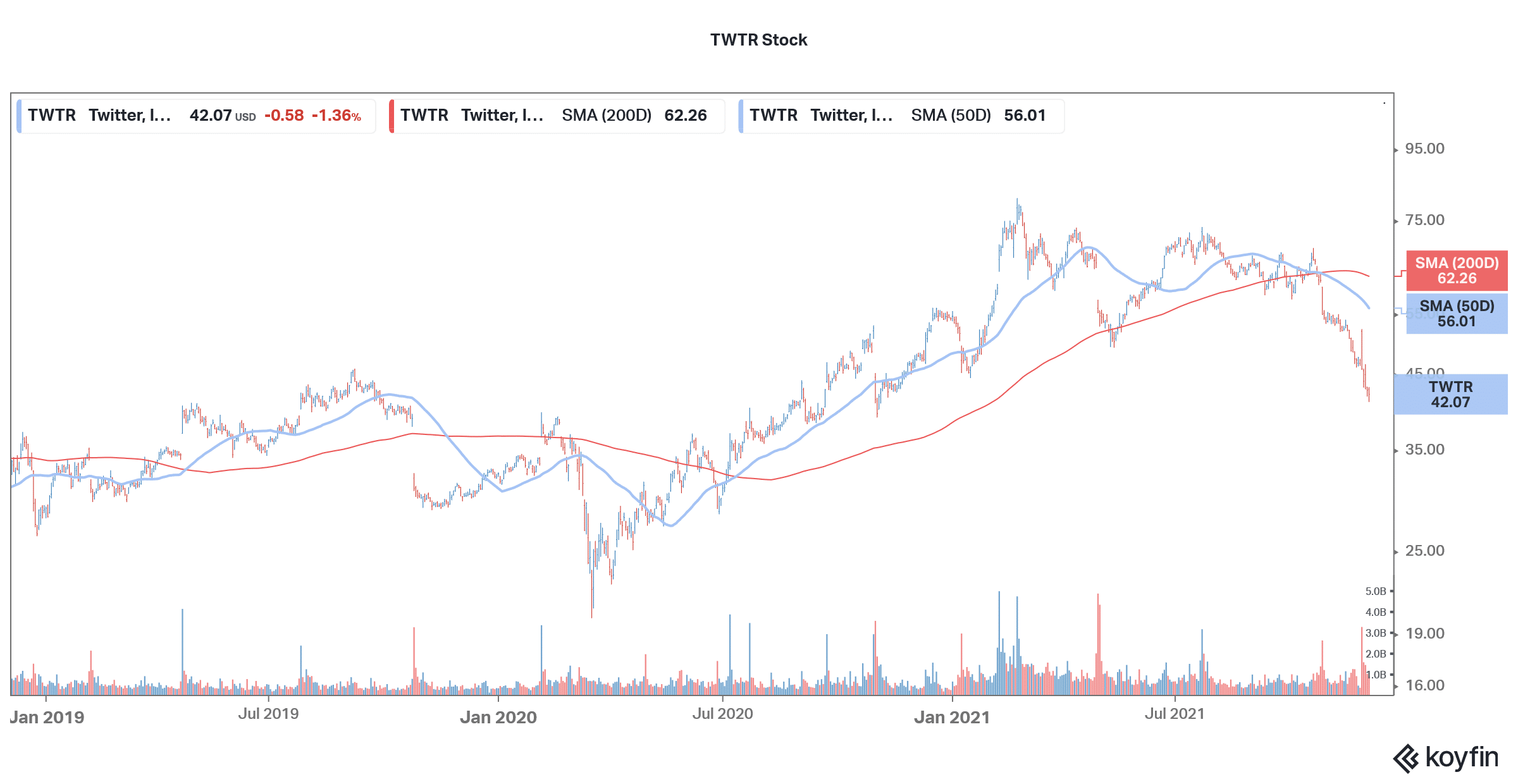 To begin with, we should understand the reason behind the crash in TWTR stock. Firstly, there has been a sell-off in all the stocks amid the threat from the omicron variant of the COVID-19 virus. While Twitter's business is not much impacted by the pandemic, and if anything, more people have turned to social media during the pandemic, the broader-markets sell-off is taking a toll on market sentiments.
In Twitter's case, its founder and CEO Jack Dorsey has stepped down and Parag Agrawal has become the CEO. Many brokerages turned bearish on Twitter stock after Dorsey stepped down. For instance, Wedbush analyst Ygal Arounian lowered the stock's target price from $69 to $52. Among other brokerages, Citi lowered Twitter's target price from $60 to $47 while Piper Sandler lowered its from $70 to $54. UBS Group also cut TWTR's target price from $69 to $50. However, not all are bearish on Twitter stock following Agrawal's appointment and Jefferies analyst Brent Thill believes that it is a "step in the right direction."
68% of all retail investor accounts lose money when trading CFDs with this provider.
The season of CEO exits
This year, several founder CEOs have exited the company. The most prominent one has been Jeff Bezos stepping down as Amazon's CEO. Bezos handed over the baton to Andy Jassy who was heading the company's lucrative cloud business. The transition hasn't been good in terms of price action and Amazon's dismal run in 2021 has continued under Jassy also. The e-commerce giant has missed revenue estimates for two straight quarters and is the worst-performing FAANG stock this year.
ContextLogic CEO Piotr Szulczewski has also resigned. The company was listed last year and has had a dismal ride since then, falling from one low to the other. Earlier this year, the company's CFO Rajat Bahri had also resigned. Here it is worth noting that all three exits are unrelated and are for different purposes.
What else has been bothering Twitter investors?
Meanwhile, Dorsey's exit is not the only reason Twitter stock has been falling. The company is also battling a slowdown and in the third quarter of 2021, it reported total monetizable daily users (mDAUs) 211 million, a YoY rise of 13%. The metric fell well short of the 219 million that analysts were expecting. The user growth in the US was even tepid and it added only about 1 million mDAUs. In the third quarter, its US mDAUs increased just 3% from the corresponding period last year.
Meanwhile, on a positive note, the company said that it hasn't been much impacted by the Apple iPhone privacy rules. Among other social media companies, Snap and Facebook have been critical of the new rules and said that they have impacted their earnings.
New social media networks
Meanwhile, former US President Donald Trump, who was banned from both Facebook and Twitter is coming up with his own social media network, which is named Truth Social and is expected to be launched next year. Trump's social media network might wean away many of his almost 90 million Twitter followers that he had before the ban. On a related note, while TWTR stock has plunged to a 52-week low, Digital World Acquisition Corp, which is taking Trump's TMTG public, has risen sharply from the SPAC IPO price.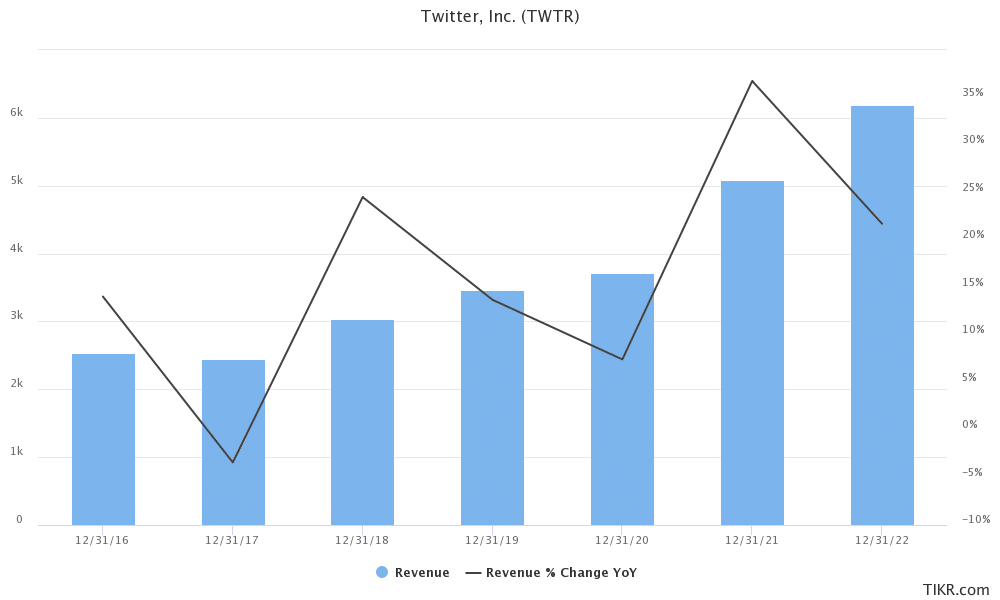 TWTR stock forecast
Analysts have a consensus hold rating on Twitter stock. Of the 39 analysts covering the stock, the majority, or 24 rate it as a hold or some equivalent. Only 11 analysts have a buy rating while four analysts have a sell rating. The stock's median target price is $65 which is a premium of 54.5% over current prices. The street high target price of $86 is a premium of 104%.
Notably, while several analysts have been lowering Twitter's target price, after the recent slump it even traders even 1.5% below its street low target price of $42.7.
Cathie Wood has also been buying TWTR stock
Notably, Cathie Wood of ARK Invest has also been loading up Twitter shares. 2021 hasn't been a pleasant year for Wood's funds and her flagship ARK Innovation ETF, which has Tesla as the top holding, is down almost 25% this year. The ETF fell 12.6% last week and trades 41% below the 52-week highs. Barring Tesla and Trimble, all the other holdings in the ETF have fallen over 20% from the recent highs.
Meanwhile, while Wood has been adding to the losing positions in the portfolio, in the hindsight names like Robinhood look like falling knives.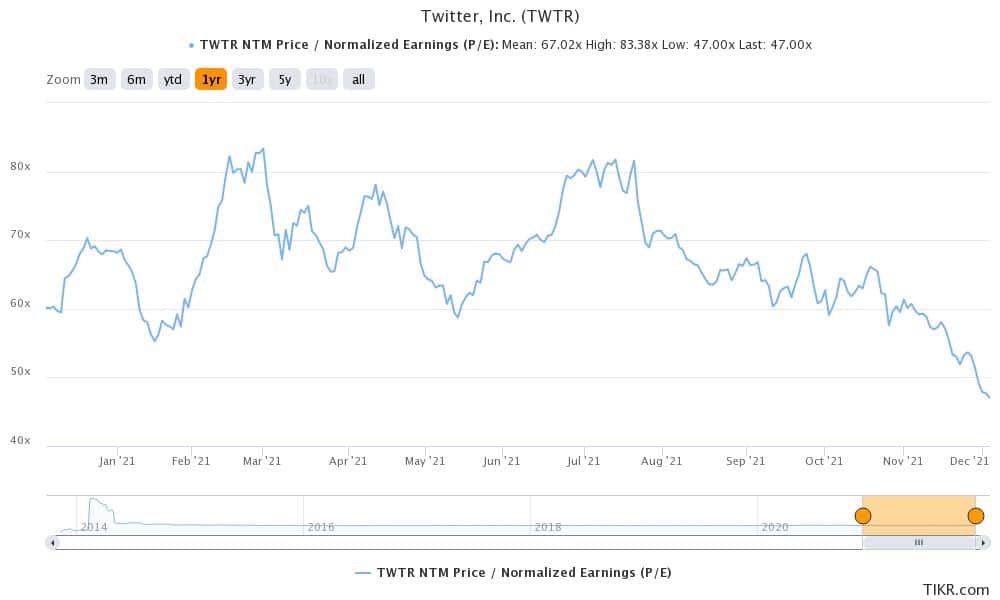 Twitter stock long-term forecast
Twitter has been facing controversies globally for allegedly suppressing conservative voices. As more conservative social media channels emerge, Twitter would face more challenges. The company would find it tough to reach 315 mDAUs by 2023. KeyBanc is among the brokerages who believe that TWTR faces an uphill battle in reaching the goal and said that it "needs to materially reaccelerate U.S. and international growth" to hit the number.
Wall Street analysts expect the company's sales to rise 36.7% this year and 21.7% in 2022. The company's adjusted EPS is expected to rise 126% in 2021 and almost 300% in 2022 and reach $0.91.
Should you buy TWTR stock?
The transition to a new CEO for founder-led companies is tricky. However, we have no reason to believe that Agrawal would not be able to take Twitter forward from where Dorsey left.
From a valuation perspective, Twitter stock trades at an NTM (next-12 months) PE of 47x which looks attractive. The stock appears terrible on the charts after having fallen below all the key moving averages. However, from a fundamental perspective, it looks like a good buy for the long-term at these prices.
Buy TWTR Stock at eToro from just $50 Now!