How to Buy Robinhood Stock – Buy Robinhood Stock With 0% Commission
On 29 July 2021, the popular US-based zero-commission trading platform Robinhood went public under the ticker symbol "HOOD" in what had been one of the most awaited listings of the year. The company ultimately priced its initial public offering (IPO) at $38 per stock and offered its users exclusive access to a certain number of stocks directly through the company's platform.
Prominent institutional investors quickly piled on the stock including Cathie Wood's ARK Invest family of exchange-traded funds (ETF) while, only a few days after, the stock entered meme territory as it jumped as much as 50% at $70 per stock on 4 August while it nearly doubled during intraday stock trading action that same day.
It appears that Robinhood's stock price will remain volatile for a long time as the stock has become another target of the growing army of retail traders, who now account for around one-fifth of the trading volume of the American stock market.
If you live in the United Kingdom, you are probably wondering how you can buy stocks of this popular company. In the following article, we provide you with a step-by-step guide to help you in buying your first Robinhood stock.
How to Buy Robinhood Stock – The Quick Four-Step Strategy
With Robinhood's IPO established in late July, 2021, there has never been a better time to buy Robinhood stock. To avoid unnecessary obstacles and get involved as fast as possible, we provide you with the quick four-step strategy.
To purchase Robinhood stock as safely and quickly as possible, simply follow these four steps:
Signup to eToro: As our recommended broker, this is the best place to start.
Verify your Trading Account: Provide your identification documents to confirm and verify your details.
Add funds to the Trading Account: Deposit funds into your trading wallet, ensuring it is not more than you are willing to lose.
Buy the Robinhood stock: Search for Robinhood on the platform and purchase your preferred amount.
How to Buy Robinhood Stock – Choose a Broker
The first step to buy Robinhood stocks is to register with a brokerage firm that offers access to US-listed stocks.
Below you'll find two of our favorite brokers. These providers are considered safe since they are overseen by top-tier financial regulators while they offer competitive fees, user-friendly trading platforms, and an extensive portfolio of different asset classes that you may also operate with once you register.
1. eToro – Zero-Commission Trades for US-Listed Stocks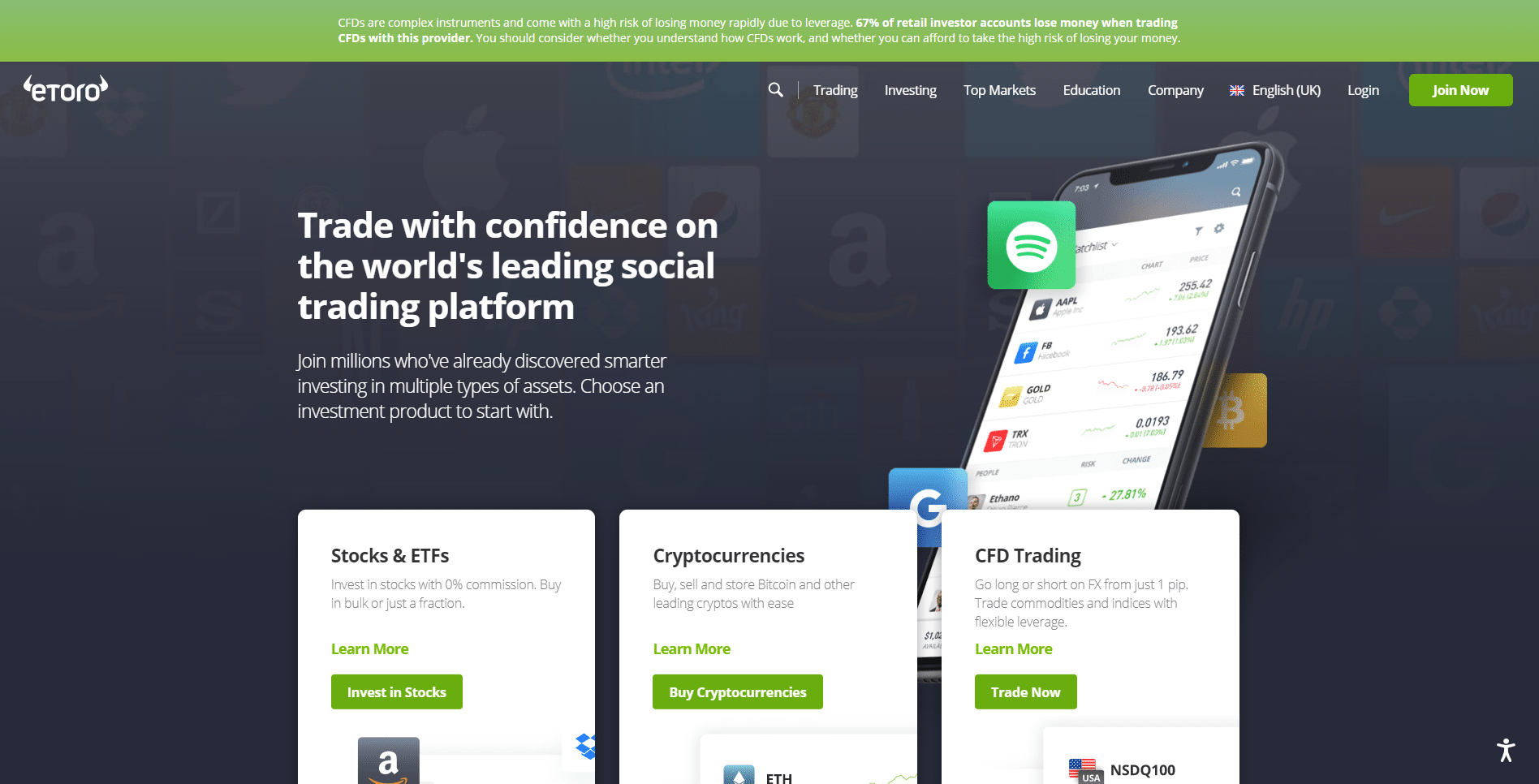 eToro is one of the world's largest retail trading platforms, offering access to over 1,500 individual stocks listed in the New York Stock Exchange and the Nasdaq. Robinhood stocks can already be traded with this provider.
This provider offers the possibility of trading US-listed stocks without paying any fees and they even absorb the Stamp Duty that applies to UK-based investors.
Along with offering access to US-listed issues, eToro also has an extensive portfolio of different asset classes including cryptocurrencies, UK and foreign stocks, forex, and commodities.
The company is regulated by multiple top-tier agencies including the Financial Conduct Authority (FCA) and the Australian Securities and Investments Commission (ASIC) and an account with this provider can be opened with as little as $200.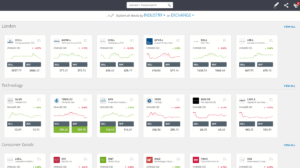 eToro considers itself a social trading platform as users can interact with each other by using the broker's interface and they can even take a look at other user's portfolios and copy them through a feature known as CopyPortfolios™.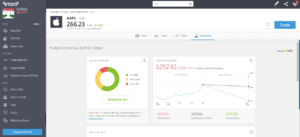 Moreover, this broker offers access to multiple research tools including a news feed, economic calendar, basic fundamental information about companies, sentiment readings, and advanced charting tools.
Pros
Over 1,500 individual US-listed stocks can be traded with this provider.
This broker is regulated by multiple top-tier financial agencies.
eToro does not charge a commission or fees for trading US-listed stocks.
The social trading feature allows investors to interact with their peers to enrich their journey.
The minimum deposit required to open an account is fairly low.
Cons
This broker charges a withdrawal fee.
eToro only offers USD denominated accounts and foreign deposits are subject to conversion fees.
67% of retail investor accounts lose money when trading CFDs with this provider.
2. Libertex – Best CFD Broker for UK Stocks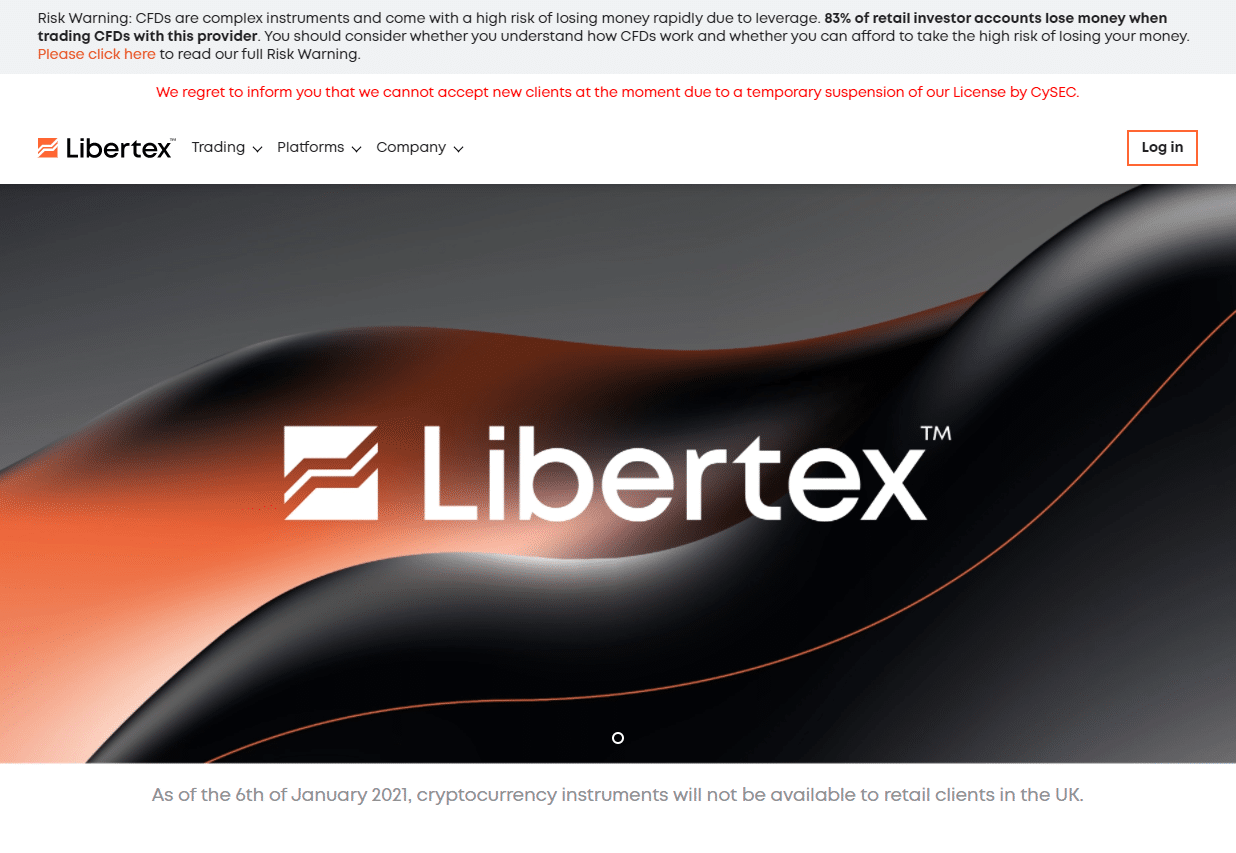 Libertex is a platform that offers access to multiple financial instruments via Contracts for Difference (CFD) and UK-based investors will soon be able to trade Robinhood stocks as well with this provider.
Along with offering access to Robinhood stocks, multiple other financial instruments can be traded with this provider via CFDs including stocks of prominent US, UK, and European-based companies along with a limited selection of commodities, cryptocurrencies, forex, and exchange-traded funds (ETFs).
Users can either rely on Libertex's proprietary trading platform or they can use MetaTrader 4 and MetaTrader 5 to perform their analysis on multiple stocks while placing orders accordingly.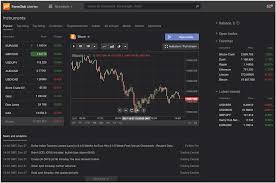 Deposits with this provider can be made via PayPal, credit or debit card, Trustly, Skrill, Neteller, and multiple other payment platforms. Meanwhile, trading fees are fairly competitive for most instruments and, for certain stocks, no commission at all will be charged.
This broker has been in business since 1997 and currently offers a portfolio of over 250 financial assets. The company, Libertex Holding Ltd, is regulated by the Cyprus Securities and Exchange Commission (CySEC).
Pros
Libertex offers access to more than 200 different asset classes including commodities, stocks, cryptocurrencies, and indexes via CFDs.
Competitive spreads and commissions.
Zero-commission trades are supported for various assets.
The company is regulated by a well-reputed financial watchdog (CySEC).
Cons
Robinhood stocks are not yet available to be traded with this provider.
67% of retail investor accounts lose money when trading CFDs with this provider.
Step 2: Research Robinhood Stock
Now that Robinhood stocks are trading on a daily basis, traders can apply charting tools and technical analysis to the price action to outline plausible scenarios for the stock. Moreover, the company's S-1 filing disclosed relevant fundamental data about the business that can also be used to assess the fair value of Robinhood stock.
Robinhood – Technical Analysis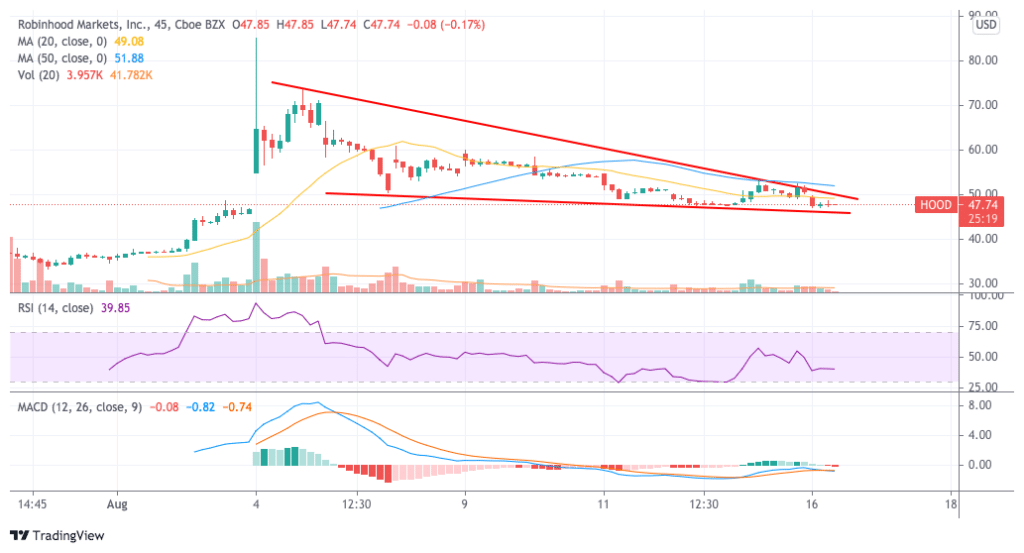 The 30-minute chart for Robinhood stock indicates that the price action has now filled the bullish gap that was opened during the extremely volatile 4 August session, with the stock now being embarked on a downtrend as the price has dived from an intraday high of $85 per stock back then to $50.55 per stock on 13 August.
Trading volumes were particularly high during that day with over 175 million stocks exchanging hands in a single day while they have declined to as little as 13 million on 12 August and 25 million on 13 August.
Declining trading volumes during the past three losing sessions point to the fact that most of those who profited from the 4 August uptick may have taken their profits off the table already – a situation that could open up some room for late buyers to step in to push the stock higher in the future.
Since Robinhood stocks have only been active for 12 sessions, it is still too early to tell where the stock might be heading as momentum indicators, moving averages, and other similar charting tools are not yet available to analyze the price action.
Moving forward, these indicators may provide signals about the direction that Robinhood's stock price may take.
Robinhood – Fundamental Analysis
Robinhood was founded in 2013 by two former high-frequency traders and since then the company has revolutionized the brokerage industry by slashing its trading fees to zero while also designing a trading platform that is widely appealing to the youngest generation of Americans who have progressively become more interested in participating in the financial markets.
The company's S-1 filing with the SEC provides relevant information about the business concerning its revenues, user base, profit margins, and other similar elements.
According to the filing, the company's revenues have grown from $49 million back in 2017 to $959 million by the end of 2021 while its monthly active users have grown from 1.8 million to 11.7 million during that same period.
Robinhood primarily caters to a young audience of US-based investors and they serve their customers by providing zero-commission trades for multiple financial assets including US-listed stocks and exchange-traded funds (ETF) while also providing access to a limited selection of cryptocurrencies.
Moreover, the company has also launched innovative features like Instant Deposits, a cash management solution, and access to advanced trading data via the Robinhood Plus program.
Robinhood earns money primarily through payments received from directing their order flow to certain market makers along with interest income from margin loans and subscription fees.
Key Drivers of Robinhood Stock Price
1. User growth: Robinhood's ability to keep growing its user base will likely determine the direction of the stock price in the future as the firm earns money primarily through payments from order flow. In this regard, one of the ways to increase revenues over time is to increase trading volumes, which would be easier if more users sign up to trade stocks and other instruments through the platform. Moreover, the larger the firm's user base, the higher the revenues the company will obtain from the rest of the products and services it currently offers or plans to offer in the future.
2. Average revenues per user (ARPU): this metric indicates how much money the firm makes every month for every user that signs up with the platform. Fluctuations in the firm's ARPU will also play a crucial role in shaping the stock price. An increase in ARPU will likely drive revenues higher while a decrease would point to a potential slowdown in the demand for the firm's product and services.
3. Assets under custody: on a per-user basis, Robinhood's assets under custody are fairly low compared to its peers. Therefore, if the amount of assets per customer increases or decreases over time, that could have an impact on the firm's order flow revenues.
4. Public relations: Robinhood's practices and operating decisions to deal with the latest meme stock craze have been affecting the company from a public relations standpoint. Any hostile actions from customers to boycott the company's growth by closing their accounts could affect the firm's growth in the future.
5. Regulatory matters: Robinhood's business model, which primarily relies on revenues collected from directing its order flow to market makers, has raised eyebrows among politicians and regulators. Any actions taken by government officials that partially or fully ban this practice could have a dramatic effect on the firm's revenue-generation capacity.
6. Expansion projects: Robinhood's management has said multiple times that they plan to expand the company's operations to other countries. A few months ago, they failed to open a branch to serve customers in the United Kingdom. If the company manages to achieve this goal in the future, that could have a positive impact on the stock and the same applies to the introduction of new products and services that seek to expand the company's average revenues per user.
Should I Buy Robinhood Stocks?
The decision to buy Robinhood stocks should be based on a thorough analysis of the business fundamentals and growth prospects. In the past, the company has been able to grow its revenues at a fast pace as its user base has expanded rapidly.
Meanwhile, the firm has maintained its balance sheet free of long-term debt while its cash position significantly expanded as a result of its successful public listing. Moving forward, the company should be able to use this cash to keep improving its trading platform while Robinhood also has plans of offering its services in other countries.
That said, it is important to note that the firm has generated losses in the past and may continue to lose money in the future as it keeps investing in marketing, operations, and research and development to keep growing.
Based on its past performance, Robinhood seems to have a promising future ahead as more young Americans may become interested in the stock market as a tool to achieve their financial goals.
Step 3: Open an Account and Deposit Funds
If you are already on board with the idea of buying Robinhood stocks, here's a quick guide on how you can complete your first purchase using the eToro trading platform. Remember that this provider charges no commissions for trading US-listed instruments, which is a big plus.
Open an account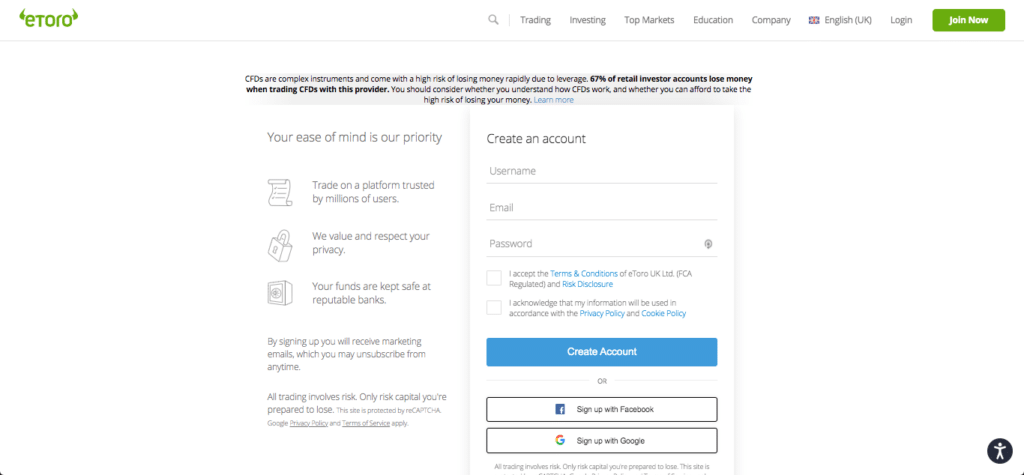 The process of opening an account with eToro starts by clicking the "Join Now" button located in the upper right corner of the official website of eToro. Once you have clicked that button, you will be prompted to provide some basic account information or you could expedite the process by signing up with your Facebook or Google Account.
After that step is completed, you will be redirected to the eToro trading platform where you'll have a first look at the different features available including the social feed, Copy People, CopyPortfolio, and other similar tools.
Once you get there, you will need to complete your profile. To do this, you'll be required to provide your current address and other personal information while the platform will also require that you verify your ID by uploading a valid document.
Make a Deposit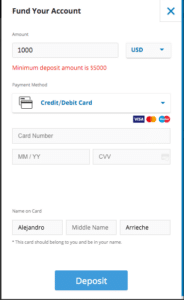 Finally, you'll have to deposit the minimum amount required to open an account, which is £160 for UK residents if you make the deposit using your debit or credit card or an electronic wallet like PayPal or Neteller. If you plan to make a bank transfer, keep in mind that the minimum deposit required might be higher.
Only once your ID and your deposit have been cleared, you will be able to buy Robinhood stocks with this provider.
Step 4: Buy Robinhood Stocks
The process of buying Robinhood stocks with eToro is fairly simple. First, you can use the search function located at the top of the platform's interface. Once you click there, you can type "HOOD" to locate the stock.
Once you click the name of the stock, you'll be sent to its individual page and you'll click the "Trade" button found in the upper right corner of the interface. Upon clicking the button, a window will pop up where you can either place a Market Order – which will be filled at the market price – or a limit order, which will establish a maximum price based on what you are willing to pay for your Robinhood stocks.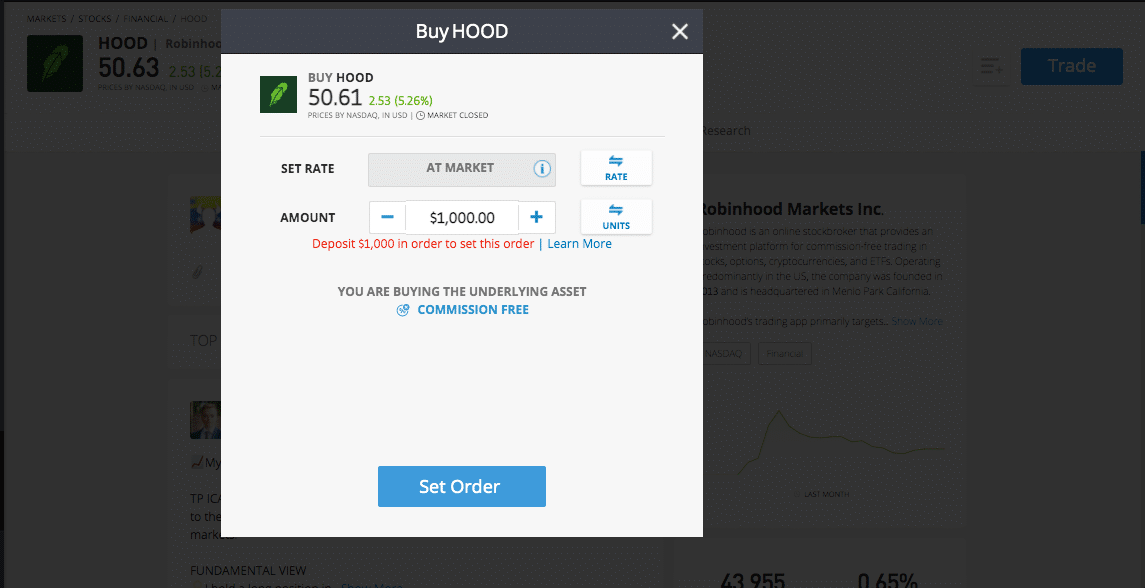 Finally, you can either buy a certain number of HOOD stocks or you could establish a fixed amount for your purchase. Once you click the "Set Order" button, the system will process your order. Market orders will usually be filled immediately while limit orders will be executed once the system finds a seller who is willing to hand over his/her stocks at the price you have indicated.
Robinhood Stocks: Buy or Sell?
Since Robinhood went public only a few days ago, not many analysts have shared their recommendation or price target for the stock yet. For now, according to data from MarketBeat, only two companies have shared their ratings for Robinhood.
On 29 July, Atlantic Securities initiated coverage of Robinhood, rating the stock as a Buy with a price target of $38 per stock for the next twelve months. Meanwhile, on 5 August, Wolfe Research initiated coverage with a Hold recommendation and a price target of $45 per stock.
As time goes by, more analysts should start to share their views about Robinhood along with their price targets for the stock based on how the business and its growth prospects evolve.
Conclusion
Now that you know how to buy Robinhood stock, are you prepared to take a long position on this up-and-coming player of the financial services industry? The company has definitely proven its ability to disrupt the traditional practices of the brokerage industry and has attracted a sizable user base as a result.
If it continues to do so in the future, chances are that Robinhood can become a household name across the world if the management's plans to expand the business to other latitudes come to fruition.
eToro – Buy Robinhood Stocks With 0% Commission
FAQs
How does Robinhood makes money?
Does Robinhood pay a dividend?