Twitter Stock Down 14% In November – Time to Buy TWTR Stock?
Please note that we are not authorised to provide any investment advice. The content on this page is for information purposes only.
The price of Twitter stock is down 14% in November following the pronounced decline it experienced in late October after the release of its financial results covering the third quarter of 2021.
Back then, Twitter swung to losses upon reporting negative earnings per share of $0.54 compared to the positive $0.18 figure analysts were expecting for the period. Meanwhile, the firm reported revenues in line with the Street's forecasts.
This post-earnings decline was also fueled by concerns about the implementation of the App Tracking Transparency (ATT) feature launched by Apple for its iOS-powered devices. In this regard, Twitter's management stated that its revenues were impacted by the introduction of this feature, which allows users to opt out of being tracked by certain services and applications.
Meanwhile, yesterday was a huge day for Twitter as a company as Jack Dorsey, the firm's founder and former Chief Executive, stepped down after 10 years at the helm.
The company's Chief Technology Officer, Parag Agrawal, was unanimously appointed as Dorsey's successor by Twitter's Board of Directors and Bret Taylor was also appointed as the company's new Chairman of the Board.
"I've decided to leave Twitter because I believe the company is ready to move on from its founders. My trust in Parag as Twitter's CEO is deep. His work over the past 10 years has been transformational. I'm deeply grateful for his skill, heart, and soul. It's his time to lead", Dorsey stated in regards to his departure.
What can be expected from this social media giant after this major development? In this article, I'll be taking a closer look at the price action and fundamentals of this tech stock to outline plausible scenarios for the future.
67% of all retail investor accounts lose money when trading CFDs with this provider.
Twitter Stock – Technical Analysis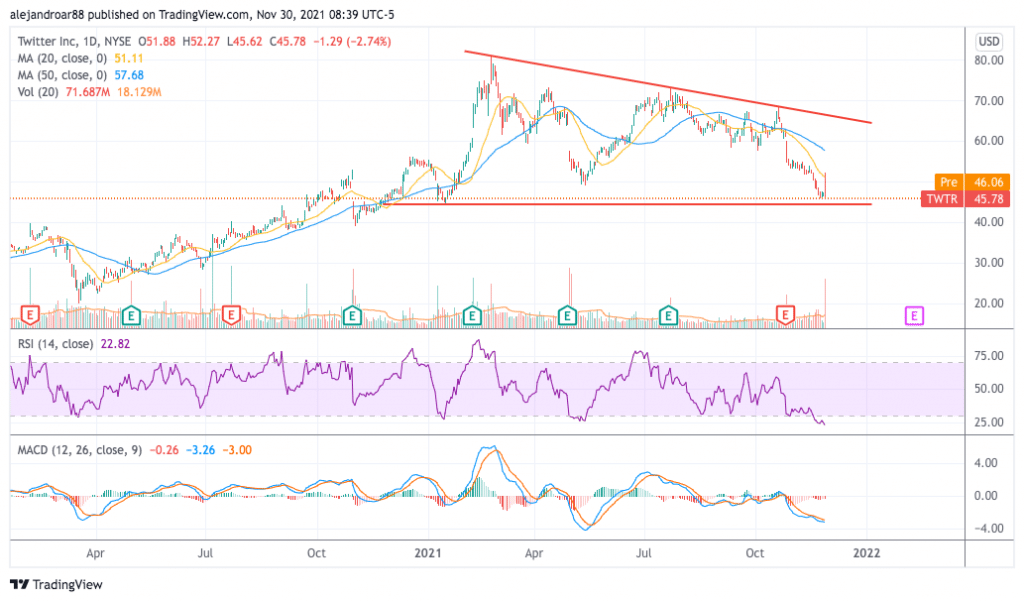 News about Jack Dorsey's departure prompted an initial 11% uptick in Twitter stock in the first few hours of yesterday's stock trading session but those gains were quickly overturned and the stock ended up settling with a 2.7% loss at $45.8 per share.
This was an interesting turn of events as market participants seem to have reacted negatively to the appointment of Mr. Agrawal as Dorsey's successor, possibly as he is primarily a developer and not a business development expert – which is exactly what Twitter needs at the moment to further monetize its large user base.
Yesterday's negative performance prompted a decline in Twitter stock toward an important horizontal support area found at the $44.5 level.
Currently, the stock is trading below both its short-term and mid-term moving averages and this favors a bearish outlook for TWTR stock as it highlights weakness in the price action.
That said, momentum indicators have declined to a point that may create room for a technical rebound. In this regard, the Relative Strength Index (RSI) is standing at 23 – the worst oversold reading since October 2019.
Meanwhile, the MACD has continued to decline and remains below the signal line but negative histogram readings have been decreasing.
All things considered, Twitter stock may be poised to rebound from these lows. Moving forward, a bounce off the $44.5 threshold may favor a short-term bullish outlook. That said, the mid-term outlook remains bearish unless the price breaks above the 20-day and 50-day simple moving averages.
Twitter Stock – Fundamental Analysis
In regards to this latest leadership change, analysts Ygal Arounian and Chad Larkin from Wedbush stated: "Investors were expecting/hoping for an external candidate to take over that could bring in to Twitter an outside perspective and experience that would help it reach its user growth and revenue targets".
Overall, Agrawal's appointment by itself may not have the power to change the outlook for Twitter stock as the market needs more time to analyze his approach to ramping up the firm's top and bottom-line performance.
At current levels, Twitter stock is trading at a forward P/E multiple of 52x, forward P/S multiple of 7.6x, and forward EV/EBITDA multiple of 23x.
The company's net earnings and EBITDA have been quite volatile in the past few years and that is one of the factors that has weighed on the performance of this social media stock compared to its peers.
Moving forward, even though there might be reasons to feel encouraged by Agrawal's appointment considering that Jack Dorsey was perceived as an absent figure in the business due to its involvement in other projects, it is way too early to tell how impactful this leadership change will be for the firm's financial performance.
With this in mind, the technical factors outlined above may dominate the price action in the following weeks.
Buy TWTR Stock at eToro with 0% Commission Now!