Tezos Is up 5.39% – Time to Buy XTZ?
Please note that we are not authorised to provide any investment advice. The content on this page is for information purposes only.
Tezos blockchain's foundation launches a £1m fund to collect NFTs: Time to buy XTZ
La DCF kickstarts KlapCoin: An accessible investment token for financing cinema on Tezos
Tezos partners Bitski to offer 'Red Bull Guest House Keys' NFT collection
Tezos has seen an uptrend of 5.39% in the last day. Is this an opportunity for investors to buy XTZ before the market sees a modest relief rally?
Tezos is a decentralised platform. Among Tezos' features are Proof of Stake consensus, formal verification, and the ability to allow stakeholders to vote on protocol changes.
Tezos Blockchain's Foundation Launches a £1m Fund to Collect NFTs
Tezos Foundation, Tezos' Swiss non-profit arm, has pledged £1 million to create a permanent collection of non-fungible token (NFT) art on its platform.
The collection will be curated by British photographer Misan Harriman, the head of the Southbank Centre in London. This summer, the collection will be launched as a digital art gallery on the foundation's website.
Additionally, Misan's focus would be on acquiring works by "up-and-coming" artists from Africa and Asia, regions that are "underrepresented" in the NFT community.
Harriman stated that the Tezos Foundation Permanent Collection would encourage and celebrate a new generation of artists who have chosen to be themselves through smart contracts. As the collection's first curator, Misan plans to ensure that the world is aware of the many voices producing genuinely unique crypto art.
La DCF Kickstarts KlapCoin: An Accessible Investment Token for Financing Cinema on Tezos
The Diversity of French Cinema (DCF), has launched KlapCoin, a new generation cryptocurrency built for the entertainment industry. DCF is an independent private corporation that supports French audiovisual works. The corporation created an open, accessible, and independent cryptocurrency, specifically for entertainment, in response to concerns with funding and support.
KlapCoin is a Tezos-based cryptocurrency designed to facilitate investing in filmstrips to support the development of audiovisual works easier. This next-generation French digital asset is environmentally friendly and promises to provide investors with excellent profit prospects and additional exclusive rights.
KlapCoin provides unique related rights, such as movie tickets, previews, mention in film credits, and participation in developing future works chosen by an expert committee.
Tezos Partners Bitski to Offer 'Red Bull Guest House Keys' NFT Collection
Bitski has partnered with Red Bull to provide Red Bull Guest House Keys, the company's first NFT collection.
Bitski is a San Francisco-based firm that creates personalised NFT stores for creators and brands. Guests visiting and staying at the Red Bull Guest House Miami 2022 will receive benefits and unique access through these NFTs.
The keys, powered by Bitski, will serve as a digital souvenir from the event. Recipients are encouraged to create a Bitski wallet to save their NFT tickets.
Golden Key, Friday Key, Saturday Key, and Sunday Key are the four keys, and each NFT ticket has its own set of benefits and surprises.
Inspired by motorsports history, the Golden Key represents a new era of racing lifestyle. It includes all-access to RBGH from Friday through Sunday and an invitation to a private bar.
On the other hand, the Friday Key sits on a pedestal and features a sequence of elements inspired by Miami's Latin music heritage. It also includes floral arrangements created by Colombian/Israeli art director and visual artist Orly Anan.
The Saturday Key, like the Friday Key, sits atop a podium. This NFT ticket guarantees a fantastic night of lasers, speakers, and electronic music inspired by automobiles. It incorporates aspects from both automotive culture and electronic music.
Lastly, the 'Sunday Key' features disco balls, palm trees, and other components to create an immersive, futuristic dance experience. This key, like the previous two, sits atop a podium. Unlike the Golden Key, the Friday, Saturday, and Sunday Keys only grant one-day access for the days they belong to.
XTZ Technical Analysis
At press time, XTZ trades at $2.096, an uptrend of 5.39% in the last 24 hours. Looking to buy cryptocurrency amidst the bear market? XTZ is an asset you should consider. The crypto asset witnessed an uptrend of 13.93% in the past 7 days. You can learn more about the XTZ price forecasts from our in-depth Tezos price prediction guide.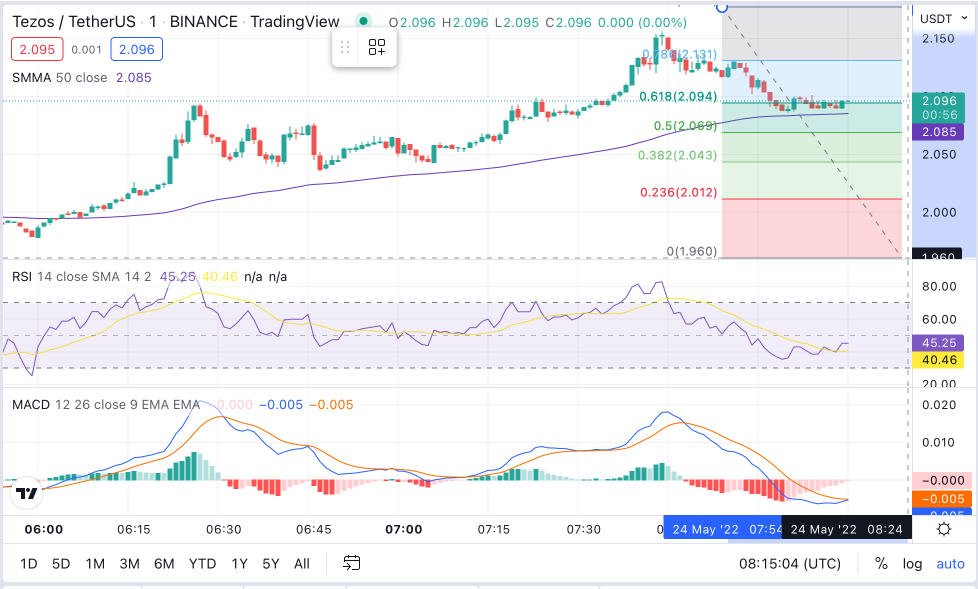 At the moment, XTZ is slightly bullish. The digital asset trades above the 61.8% Fibonacci retracement level of $2.094. This indicator could act as a resistance level for the digital asset in the short term. However, a bullish rebound might see XTZ break above the current resistance indicator of $2.094 before the month's end.
The digital token's Relative Strength Index (RSI) is 45.25. This shows that the altcoin is trading in the underbought zone. Hence, this could be a good time for investors to buy XTZ and rise with the market.
Presently, XTZ is trading above the 50-hour Simple Moving Average (SMA) indicator of $2.085. This value further indicates that the cryptocurrency is slightly bullish.
Buy XTZ at eToro from just $50 Now!