Roblox Stock Down 23% in January – Time to Buy RBLX Stock?
Please note that we are not authorised to provide any investment advice. The content on this page is for information purposes only.
The price of Roblox stock has gone down 23% so far this month as the overall weakness in the growth and tech sector that started back in November 2021 seems to have spilled over to this year.
The market's expectations of tighter macroeconomic conditions in months to come have been the primary catalyst behind this broad-market downtick in high-risk equities while higher inflation has also contributed to pushing benchmark interest rates higher.
Just today, the yield of US 10-year Treasury Notes is standing at 1.82% – the highest level on record since the pandemic started.
Higher Treasury yields result in higher discount rates applied when valuing riskier financial assets such as equities and growth stocks are typically the most impacted by this macroeconomic variable since investors demand higher returns out of these companies amid their relatively weaker fundamentals.
In the specific case of Roblox, the company is still generating negative operating results and may still need a lot of capital to keep scaling its operations in the future. As a result, investors value the firm as a high-risk venture and this is the reason why trading multiples have been on a freefall ever since Treasury yields have started to surge.
Moreover, a month ago, Roblox updated investors about the performance of its business in November. In this report, the company revealed that average bookings per daily active user declined compared to a year ago. This may have been interpreted as a signal that that pandemic tailwind could be fading.
What could be expected from this metaverse stock? In this article, I'll be assessing the price action and fundamentals of Roblox stock to outline plausible scenarios for the future.
67% of all retail investor accounts lose money when trading CFDs with this provider.
Roblox Stock – Technical Analysis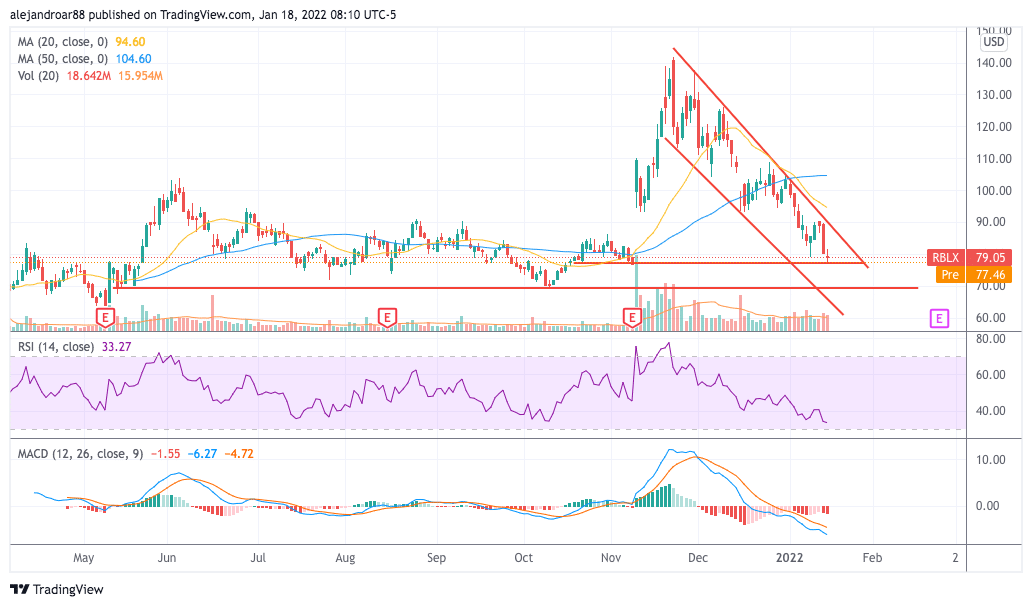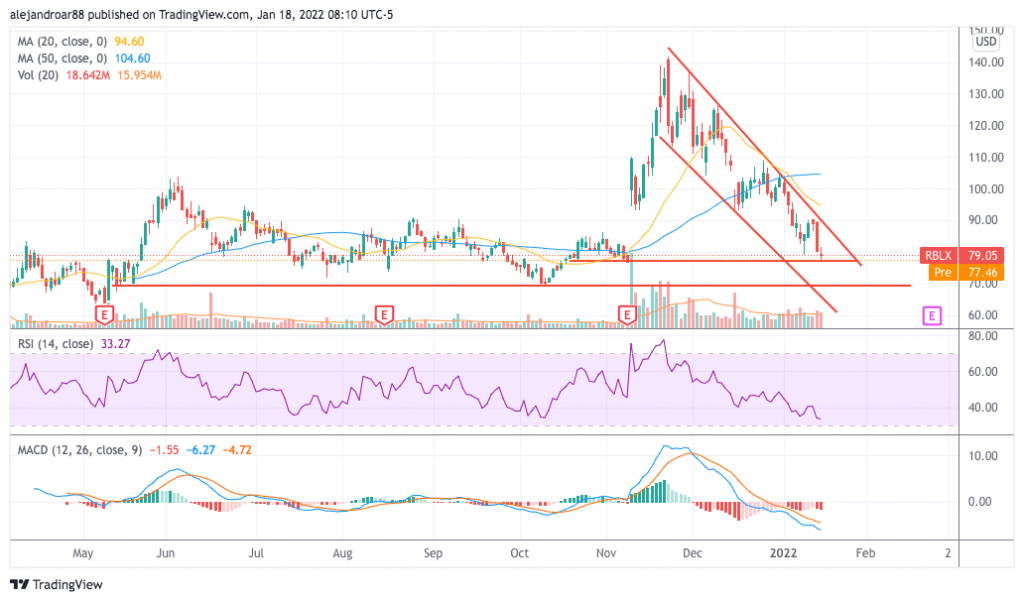 The price of Roblox stock has been on a clear downtrend since late November last year and the latest activity has filled the price gap left behind in that same month back when the firm reported some eye-popping quarterly results.
During yesterday's stock trading session, the price tagged the $77 support area but bounced off it during intraday activity. Moving forward, this remains the most relevant support area to watch as a break below could accelerate the downtrend with the next plausible target set at $70 per share if that happens.
Meanwhile, Roblox stock remains well below its short-term and mid-term moving averages and momentum indicators are heavily depressed.
In this regard, the Relative Strength Index (RSI) is standing at 33 (bearish) and on a clear downtrend. Meanwhile, the MACD is neck-deep into negative territory and histogram readings remain negative.
Overall, all technical indicators are pointing to the potential continuation of the current downtrend. That said, a bounce off the $77 level could lead to a short-term recovery in the stock. Whether that results in a trend reversal or not will depend largely on how high RBLX goes. In this regard, a break above the 50 and 200-day SMA may confirm that a reversal is in play.
Roblox Stock – Fundamental Analysis
The forward price-to-sales ratio of Roblox stock has declined from a peak of nearly 25x back in November to 14x right now and that calls for a revision of its merits as a potential investment.
Sales of the gaming platform tripled from 2018 to 2020 at $924 million while the company has produced top-line results of $1.66 billion in the past 12 months. Clearly, Roblox is growing fast.
Gross profit margins are a bit thin at around 20%, primarily because the company spends a lot of money in strengthening its digital infrastructure and compensating game developers for their work.
In the first nine months of 2021, GAAP operating losses landed at $355.4 resulting in negative operating margins of 26.3% compared to minus 32.2% reported a year ago. It seems that, as business volumes increase, Roblox is progressively moving toward becoming a profitable endeavor.
During that same period, positive free cash flows landed at $488 million resulting in a 36.1% FCF margin. During the first nine months of 2020, the company reported free cash flow margins of 21.7%.
Since free cash flow margins seem to be improving, it could be expected that for the entire 2022 fiscal year the company could report FCF margins of around 40%. Analysts are expecting revenues of $3.4 billion for the company. In this scenario, Roblox could generate around $1.4 billion in free cash flows this year and that would result in a forward P/FCF multiple of approximately 33x.
Since the company's cash flows may nearly double in a year. The valuation seems attractive at the moment as long as the business can keep producing this kind of FCF margins and sales.
Buy RBLX Stock at eToro with 0% Commission Now!