5 Best Metaverse Stocks to Buy in December 2021
Please note that we are not authorised to provide any investment advice. The content on this page is for information purposes only.
Metaverse looks among the most exciting investment opportunities for the next decade. Many companies including Facebook and Nvidia are quite bullish on the theme and the former has even changed its name to Meta Platforms in a bid to signal the new business strategy.
Many analysts expect metaverse to be a game-changer and take the world to a new digital level, ahead of the virtual reality that we've witnessed so far. Here are the five best metaverse stocks that you can buy in December 2021.
Meta Platforms (NYSE: MVRS)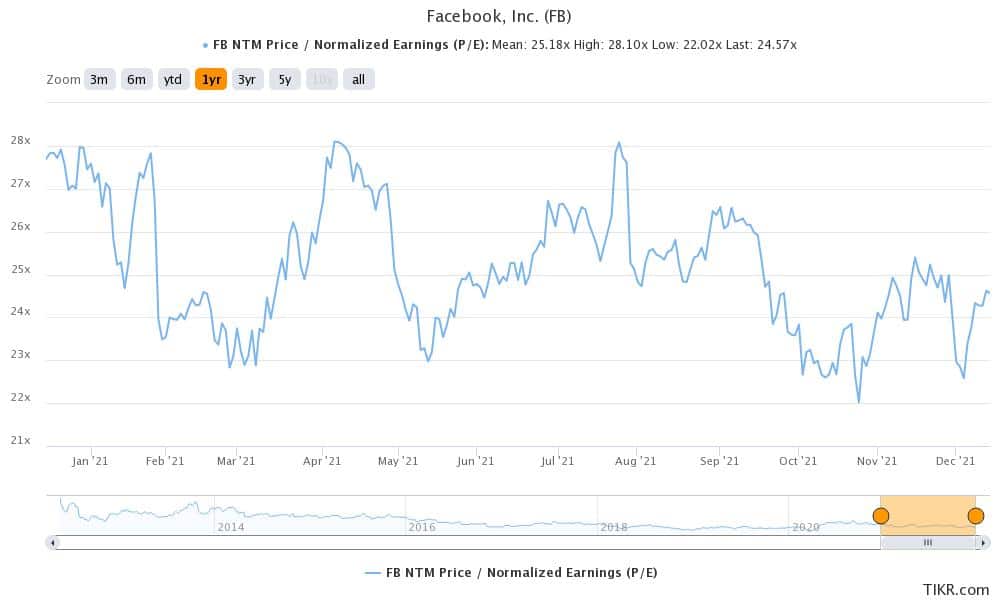 Thinking of metaverse, Meta Platforms would possibly be the first name that comes to mind. While metaverse has been the most recent focus area for the company, it has a strong moat in the social media industry. With Facebook, Instagram, and WhatsApp, Meta Platforms has probably the three crown jewels of the social media industry. Now, the company is diversifying beyond social media and its new name Meta Platform reflects that.
To be sure, Facebook has been facing multiple controversies ranging from alleged monopoly, its treatment of users' data, and manipulation of feed. These issues were always been there and might not go away anytime soon. However, Meta Platforms' current valuations look quite attractive and despite its high growth, its valuations are the lowest when compared with FAANG peers.
Meta Platforms is investing $10 billion towards metaverse
Earlier this year, Meta Platforms' CEO Mark Zuckerberg announced that the company would invest $10 billion over the next year to build metaverse. He said, "Our hope is that within the next decade, the metaverse will reach a billion people, host hundreds of billions of dollars of digital commerce, and support jobs for millions of creators and developers."
All said reasonable valuations and the strong focus on metaverse makes Meta Platforms a good metaverse stock to buy in December.
68% of all retail investor accounts lose money when trading CFDs with this provider.
Unity Software (NYSE: U)
Unity Software went public in 2020 and priced the IPO at $52. Notably, it was a unique IPO and John Riccitiello, Unity's CEO took over the pricing control from the investment bankers. Meanwhile, it seems even he ended up underpricing the issue and the stock soared on the listing day. It went on to hit an all-time high of $210 but currently changes hands at around $137. It is still a massive premium to the IPO price considering the fact that many of the IPOs of last year are trading below the issue price.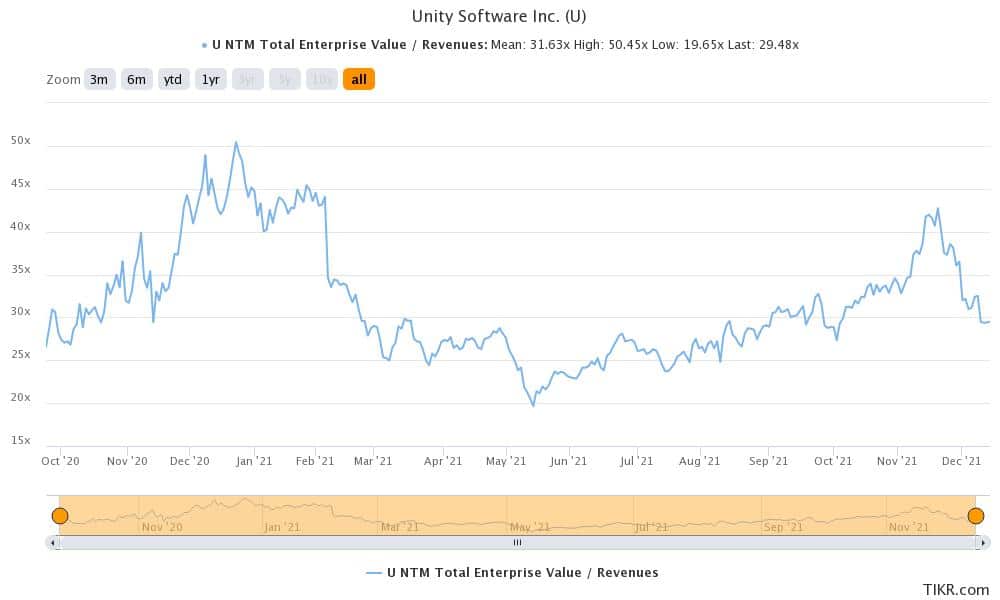 Unity Software is diversifying into the metaverse
Unity Software has announced the acquisition of Weta Digital, a visual effect (VFX) for $1.93 billion. The company worked on several movies including "Avatar." D.A. Davidson & Co analyst Franco Granda said on the deal that "This is where the real opportunity lies. This acquisition is all about building out the platform that will be at the center of the metaverse."
Meanwhile, after the recent crash, Unity Software's valuations have also come down and it trades at an NTM (next-12 months) EV-to-sales multiple of just under 30x. The valuations are only slightly above what the stock traded on the IPO day.
While the valuations don't appear too cheap, given the strong growth, the company looks like a good metaverse stock to buy.
68% of all retail investor accounts lose money when trading CFDs with this provider.
Nvidia (NYSE: NVDA)
Nvidia stock has been having a dream run over the last few years. The stock is among the best performing S&P 500 constituents this year, just as it was last year. Nvidia is also a play on metaverse and the industry could be the next big driver for the stock.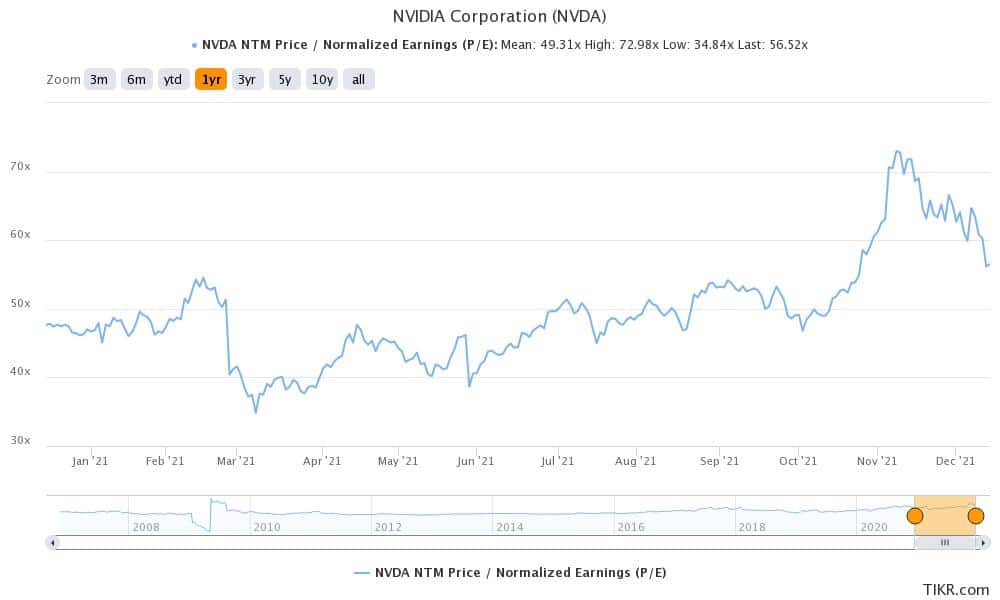 UBS finds Nvidia a top metaverse stock to buy
UBS has listed Nvidia as a top metaverse stock to buy. The stock has come off its 52-week high and the crash looks like a good buying opportunity. Its median target price of $250 is a 21.8% premium over current prices. Earlier this month, Tigress Financial raised the stock's target price to a street high of $400.
Wall Street analysts have a consensus buy rating on the stock and 35 of the 43 analysts covering it have a buy rating. Five analysts have a hold rating while the remaining three rate it as a sell.
All said, with the recent crash, Nvidia stock has come into a buying zone. If you are looking to add metaverse stocks to your portfolio, NVDA should definitely be on your radar.
68% of all retail investor accounts lose money when trading CFDs with this provider.
Match Group (NYSE: MTCH)
Match Group is another metaverse stock that you can consider in December 2021. Notably, Goldman Sachs has listed it as a buy citing its high growth and high margins. The company is also testing a metaverse feature Single Town in South Korea where users can interact with each other in digital avatars.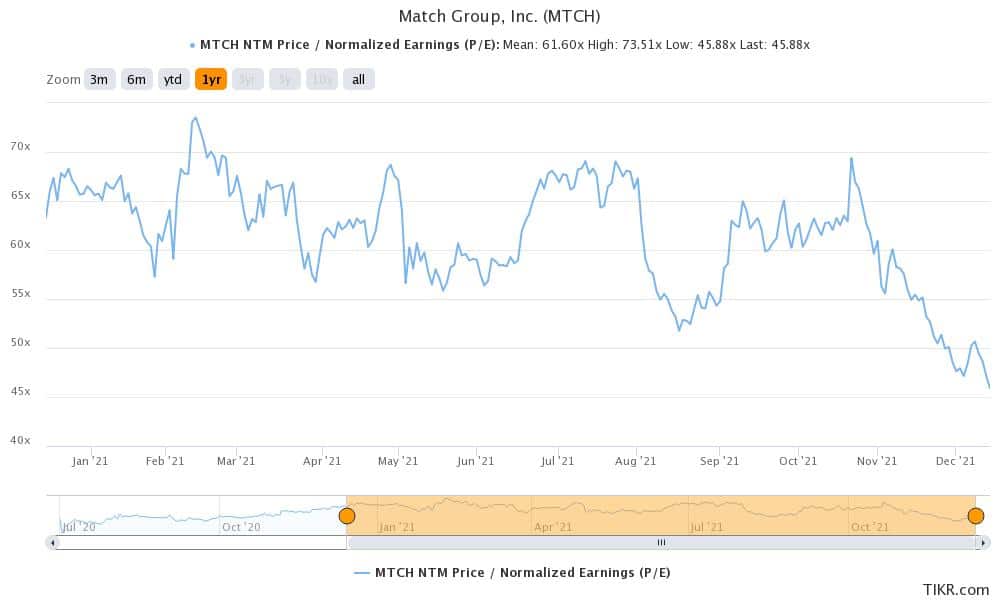 MTCH is a metaverse stock that Goldman Sachs likes
MTCH stock has lost a fifth of its market cap this year. However, analysts see better days for the company and consensus estimates call for an upside of almost 50% over current prices. Of the 19 analysts covering the stock, 13 have a buy rating while the remaining six have a hold rating.
The stock trades at an NTM PE of 45.8x which looks attractive considering the company's high growth and margins.
68% of all retail investor accounts lose money when trading CFDs with this provider.
Roundhill Ball Metaverse ETF (NYSE: META)
ETF investing has become very popular and total ETF assets are now over $7 trillion. ETFs can be a good investing strategy especially for investors who lack the time or analytical skills to pick individual stocks. Their low expense ratio makes them an attractive investment option.
Berkshire Hathaway chairman and legendary value investor Warren Buffett also advises investors to consider ETFs. The conglomerate has invested some funds in S&P 500 ETF.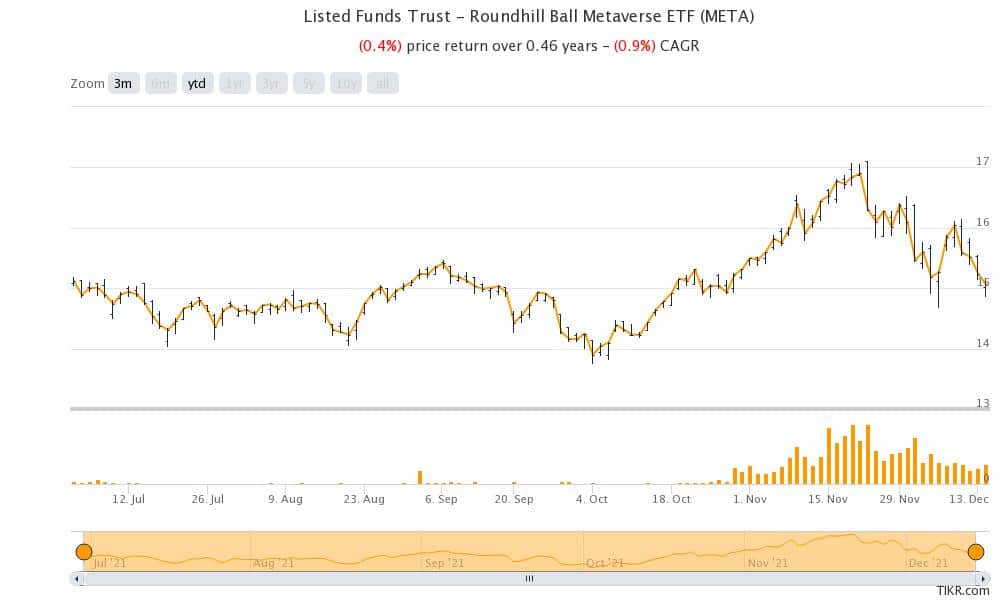 META ETF gives a diversified exposure to the metaverse industry
META is a good ETF to play the metaverse theme. The ETF was launched this year only and has 40 holdings spread across seven countries. The median market cap for the holdings is around $71 billion. Its expense ratio is 75 basis points.
Nvidia is the largest holding for the ETF followed by Roblox and Microsoft. If you are looking at a diversified exposure to the metaverse space without having to worry about buying individual stocks, META could be a good bet.
Buy META ETF at eToro from just $50 Now!