Pfizer Stock Up 3% Today – Time to Buy Pfizer Stock?
Please note that we are not authorised to provide any investment advice. The content on this page is for information purposes only.
The price of Pfizer stock is jumping nearly 3% in pre-market stock trading action this morning following the release of the firm's financial results covering the third quarter of the year as the American pharmaceutical company beat analysts' estimates for both revenues and earnings on the back of higher COVID-19 vaccine sales.
For the three months ended on 30 September, the drugmaker reported total revenues of $24.09 billion resulting in a 134% jump compared to the same period a year ago while sales for the first nine months of the year reached $57.7 billion for a 91% year-on-year advance. Analysts had predicted top-line results of $22.7 billion for Pfizer's Q3.
The management highlighted that this positive performance was aided by both the contribution of Comirnaty sales – the firm's COVID vaccine developed alongside BioNTech – and overall strength in its non-COVID portfolio of drugs.
"I continue to be very pleased with the way our business is performing in 2021, both including and excluding the significant contributions of Comirnaty to our results", stated Frank D'Amelio, Chief Financial Officer for Pfizer.
Vaccine sales accounted for 50% of Pfizer's top-line results during the first nine months of the year compared to 15% during the same period in 2020. Meanwhile, four out of the five other revenue segments for the company reported positive top-line performance with oncology drugs reporting a 16% year-on-year jump compared to the first nine months of last year.
Fully diluted adjusted earnings per share for Pfizer landed at $1.34 per share resulting in a 129% year-on-year jump while the figure exceeded Wall Street's consensus estimate for the period by nearly 23%.
Finally, the company raised its guidance for the full 2021 fiscal year, with total sales now expected to land in a range between $81 and $82 billion while adjusted diluted earnings per share should end 2021 at around $4.13 to $4.18.
Excluding the contribution of Comirnaty, revenues for the company should land at around $46 billion while adjusted earnings per share should end the year in a range between $2.6 and $2.65 per share.
Can these positive results provide another short-term boost to the price of Pfizer stock following its weak performance in the past two months or so? In this article, I'll attempt to answer that question by assessing the price action and fundamentals of this pharmaceutical company.
68% of all retail investor accounts lose money when trading CFDs with this provider.
Pfizer Stock – Technical Analysis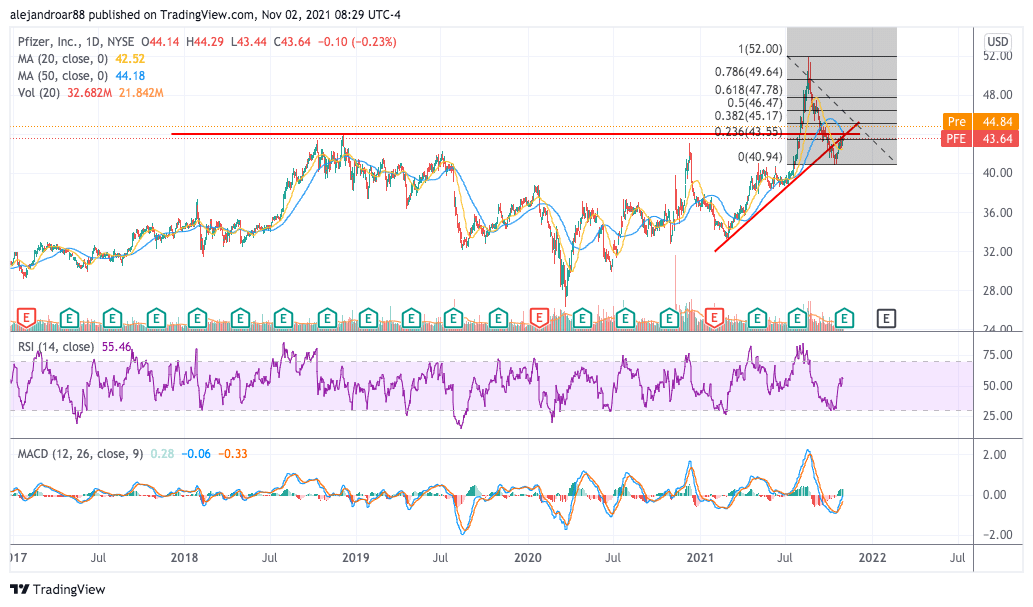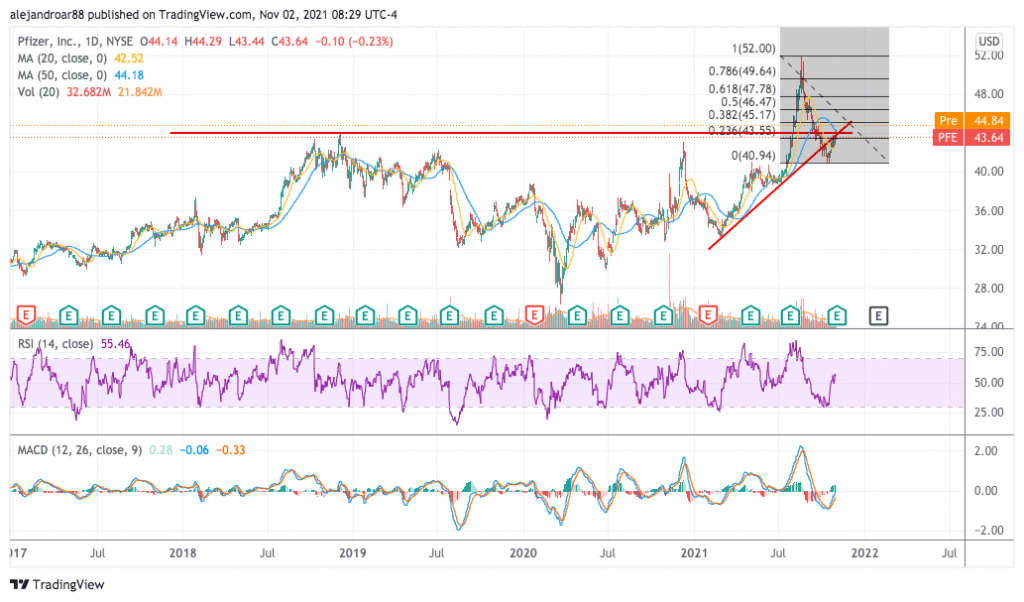 The price of Pfizer declined sharply from its 52-week high of around $52 per share until finding a floor at the $41 level for a 21.2% drop in approximately two months. For the market, it seems that the positive contribution of vaccine sales to the firm's performance is being deemed as temporary.
However, today's positive report may turn the tables for bulls as the price is surging past the stock's short-term moving averages – a sign of short-term strength for PFE stock.
Momentum oscillators are favoring this bullish outlook as the Relative Strength Index (RSI) is advancing above the 50 level – typically bullish – while the MACD is also climbing to positive territory and is being accompanied by steadily increasing positive histogram readings.
Moving forward, if this pre-market price action spills over to the live session as is, it would be plausible to expect another rally in the price of Pfizer stock like the one seen in August. Based on Fibonacci-based projections, a move above the $46.5 level would confirm that positive momentum is picking up its pace for PFE and a first plausible target can be set at $52 per share if that happens.
Pfizer Stock – Fundamental Analysis
Even if we deduct the impact of Comirnaty from Pfizer's financial performance, sales would still be posting a 10% year-on-year advance while adjusted diluted earnings per share would still be advancing around 19% by the end of 2021 compared to a year ago.
However, considering the potentially seasonal or cyclical nature of the COVID-19 virus, it remains highly likely that Pfizer's performance will move to a higher plateau as both sales and earnings from this new revenue stream will continue to boost the firm's future results.
With this in mind, Pfizer's robust balance sheet along with its conservative 10x forward P/E ratio and attractive 3.6% dividend yield keep making Pfizer a top value and dividend pick as we highlighted in a previous article about the company.
Buy PFE Stock at eToro with 0% Commission Now!