Pfizer Stock Up 18% in August – Time to Buy PFE Stock?
Please note that we are not authorised to provide any investment advice. The content on this page is for information purposes only.
The price of Pfizer stock is up 18% so far this month as investors have been piling on the company's equity with the expectation that the approval of COVID vaccine booster shoots could push the company's revenues even higher.
Meanwhile, just this morning, the US Food and Drug Administration (FDA) has granted the firm full approval for its COVID-19 vaccine developed alongside the German biotech firm BioNTech (BNTX), which will be now commercialized under the name Comirnaty for individuals 16 years old or older.
Moreover, the company just announced the acquisition of cancer drug developer Trillium Therapeutics for $2.3 billion at a price of $18.5 per share to be paid in cash resulting in a 200% premium compared to Trillium's last Friday closing price.
Could this surprisingly positive performance in Pfizer stock spills over to September? The following article takes a look at the latest price action while also analyzing Pfizer's fundamentals to see if the runaway is still open for further upside.
67% of all retail investor accounts lose money when trading CFDs with this provider.
Pfizer Stock – Technical Analysis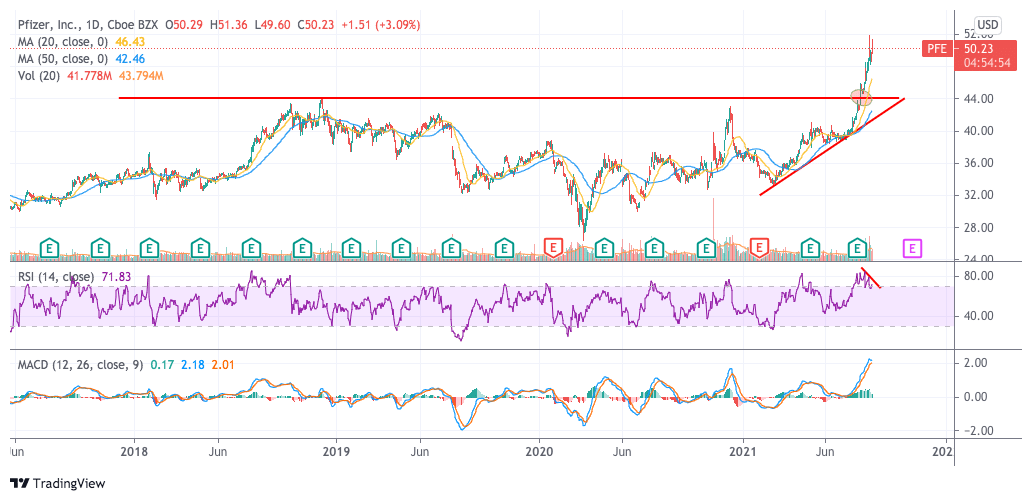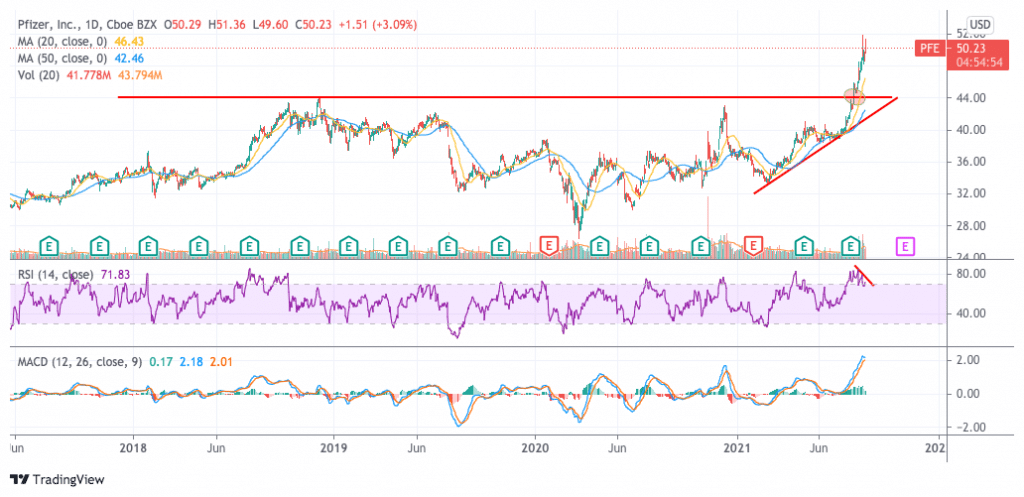 Until last week, Pfizer shares have been going up for 7 weeks in a row and trading volumes have been steadily rising during that period. This uptick started once the firm reported its financial results covering the second quarter of the year as the company beat analysts' estimates for both revenues and earnings while it nearly doubled its sales compared to the previous year on the back of elevated COVID vaccine volumes.
However, this latest uptrend has already shown signs of exhaustion as indicated by a bearish divergence in the Relative Strength Index (RSI) and a narrowing distance between the MACD and the signal line.
When the price action is significantly influenced by upcoming news, stocks tend to experience counterintuitive moves once those news hit as most of the material impact of such developments has usually been priced in.
In this regard, Pfizer may experience a "sell the news" moment moving forward unless other unexpected developments come up to keep influencing the share price. That view is reinforced by the technical readings outlined above.
That said, the extent of a potential decline in Pfizer shares could be limited amid the significant improvement that the firm's fundamentals have experienced. For now, the key support levels to watch are the 20-day and 50-day simple moving averages, which are currently standing at $46.5 and $42.5 per share resulting in a total downside risk of 18%.
Pfizer Stock – Fundamental Analysis
The latest acceleration in Pfizer's revenue growth rates has effectively reversed a downtrend in the firm's top-line results that had kept a lid on the share price for years.
Moving forward, Pfizer expects to see its sales almost doubling by the end of this year at $80 billion while adjusted earnings per share are expected to land at $4.05 according to data provided by the management team as part of the company's Q2 2021 earnings report.
As much as 42% of those sales will be coming from the COVID vaccine while the contribution of that single product to the company's adjusted EPS is expected to be fairly small as it is estimated at only 5 cents.
At the moment this is written, Pfizer is trading at only 12.5 times its forecasted earnings per share for the next twelve months while Pfizer is currently offering an attractive dividend yield of 3%.
Moving forward, it would be plausible to see the company raising its dividend as a result of this latest windfall and the same could be said about its share repurchases.
Meanwhile, Pfizer displays the kind of financial health that makes it qualify as a top value pick as its long-term debt stands at only $35.3 billion on total assets of $169.9 billion that include around $77 billion in goodwill and intangibles and $21.6 billion in cash and equivalents.
With that in mind, the current valuation seems fairly attractive and could justify further upside for Pfizer.
Therefore, even though technical readings are pointing to an upcoming correction in the price of the stock of this pharmaceutical giant, that situation could open up opportunities for late buyers to enter a long position on a company whose fundamentals may have been impacted for the long-term as the COVID-19 virus is expected to remain among us for years.
Buy Stocks at Cedar FX, the World's #1 trading platform!