Pfizer Stock Down 6% in February – Time to Buy PFE Stock?
Please note that we are not authorised to provide any investment advice. The content on this page is for information purposes only.
The price of Pfizer stock has declined 6% in February following the release of the firm's financial results covering the fourth quarter of the 2021 fiscal year and amid weakness in the equity markets as a whole.
For the three months ended on 31 December, Pfizer reported total revenues of $23.8 billion resulting in a 105% jump compared to the fourth quarter of 2020 but slightly lower than Wall Street's estimate of $24.2 billion for the period.
Nearly half of those sales came from the commercialization of Comirnaty – the name of the vaccine developed to fight the COVID-19 virus in collaboration with BioNTech. Even though Comirnaty's sales were strong, they also came in slightly below analysts' consensus estimate for the period.
The company also reported sales of Paxlovid – its antiviral COVID treatment – for the first time, with a total of $76 million in revenues coming from this drug, which was only sold in the United States at the time.
Pfizer reported GAAP and non-GAAP diluted earnings per share of $0.59 and $1.08 respectively for the period compared to $0.15 and $0.43 per share the firm reported during the fourth quarter of 2020.
Additionally, Pfizer's top management set forth its guidance for the entire 2022 fiscal year. Revenues for the year are expected to land in a range between $98 and $102 billion resulting in a 26% year-on-year jump compared to 2021. This elevated top-line performance would be the result of the strong sales of both Comirnaty and Paxlovid.
In this regard, sales of Paxlovid are expected to jump to $22 billion while those of Comirnaty are forecasted to land at $32 billion meaning that more than half of the firm's top-line results will be produced by these two drugs. However, these predictions came in slightly below Wall Street's consensus estimate of $104.4 billion for 2022.
Moreover, Pfizer expects to generate adjusted earnings per share of up to $6.55 this year – a figure that would be 13 cents lower than the market's consensus estimate.
What could be expected from this healthcare stock following the release of this report? In this article, I will be assessing the price action and fundamentals of Pfizer stock to outline plausible scenarios for the future.
67% of all retail investor accounts lose money when trading CFDs with this provider.
Pfizer Stock – Technical Analysis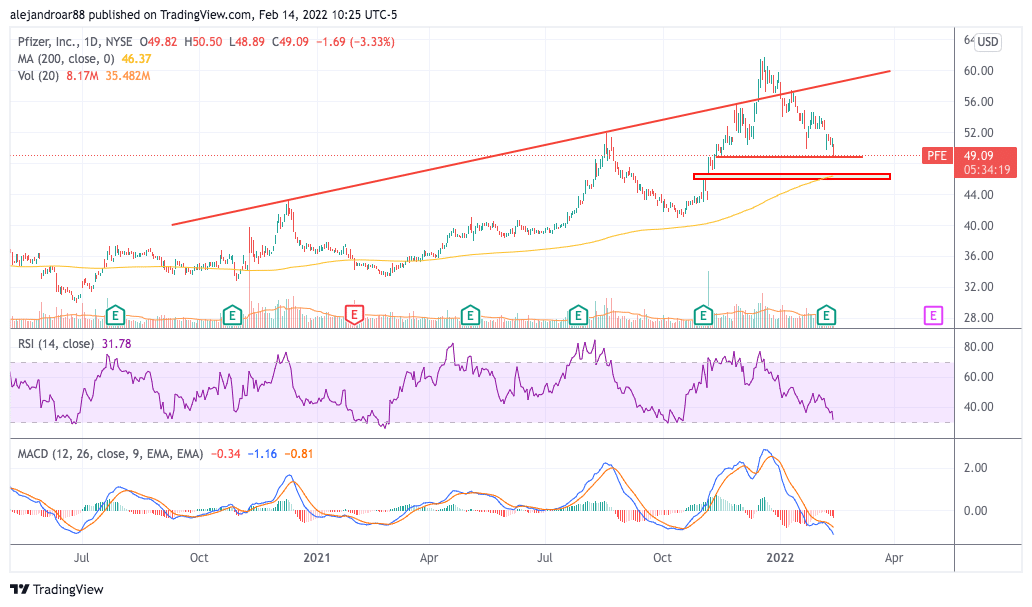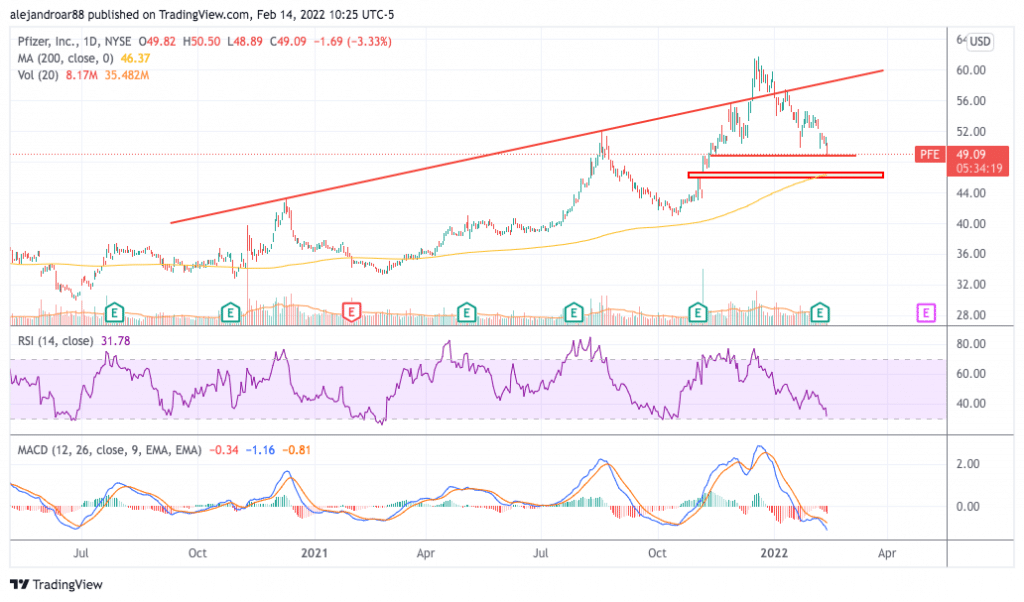 The price of Pfizer stock has been declining since mid-December following a strong rally that pushed it to all-time highs on the back of multiple positive news including the approval of Paxlovid in the US.
A turning point in the market's overall sentiment could have been responsible for this downtick as macro conditions are expected to shift this year. In this regard, the Federal Reserve could introduce multiple interest rate hikes to contain inflation while its pandemic-era $120 billion per month asset purchase program is expected to be discontinued.
Meanwhile, Pfizer shares dropped nearly 3% on the day that this latest earnings report came out during a high-volume stock trading session and the decline has continued on the days that followed.
Momentum indicators are pointing to a full-blown trend reversal for Pfizer as the Relative Strength Index (RSI) is dropping to oversold levels for the first time since October while the MACD remains on negative territory and below the signal line.
Moving forward, multiple areas of support could cushion this downtrend including the $50 psychological threshold and the open price gap left behind in November last year back when the company announced the efficacy of Paxlovid.
The 200-day simple moving average also stands in the way if the decline continues and, at its current level of $46 per share, it is standing at the same place as the price gap cited above. This reinforces the importance of this area to predict the direction that the price could take in the future.
Pfizer Stock – Fundamental Analysis
Sales of Comirnaty could be dramatically impacted by the introduction of Paxlovid as millions of people may opt to take the treatment instead of being inoculated.
Markets seem to be weighing what this could mean in the long-term for the firm but it would be plausible to expect that Comirnaty will progressively take the back seat in terms of its contribution to the company's top-line results.
Now that guidance for 2022 is out, the markets will probably focus more on what will happen after this transition period.
In this regard, for 2023, Pfizer's earnings per share are expected to land at $5.25 resulting in a 27% decline compared to the firm's 2021 forecasted results.
Based on yesterday's closing price of $49.13 per share, this results in a forward P/E ratio of 9.68.
This multiple remains highly conservative considering that Pfizer will emerge with a much stronger balance sheet and its cash-flow generation capacity will now be strengthened by the contribution of Paxlovid.
The firm's dividend yield stands at 3.2% and chances are that Pfizer's Board will opt to increase distributions in the future considering that the company's dividend coverage is quite high at the moment and no share repurchases have been made.
Pfizer can either take the advantage of a sizable decline in its stock price to repurchase a significant number of shares or it can raise the dividend to compensate shareholders directly. In any case, the price should react positively to whatever the Board does and, therefore, from a fundamental perspective, PFE is an attractive COVID stock at these levels.
Buy PFE Stock at eToro with 0% Commission Now!