Palantir Stock Down 18% in November – Time to Buy PLTR Stock?
The price of Palantir stock is down 18% so far in November following the release of the firm's financial results covering the third quarter of 2021 as growth stocks as a whole have been experiencing some negative momentum on the back of higher Treasury yields.
For the three months ended on 30 September, Palantir reported revenues of $392 million resulting in a 36% year-on-year jump and slightly higher than Wall Street's consensus estimate of $386.7 million for the period.
Both the Government and Commercial segments of Palantir's operations experienced growth rates above 30% on a year-on-year basis in line with the company's estimations.
Palantir's management stated that they added 34 net new customers during this quarter while they closed a total of 33 deals worth over $5 million and 18 deals with a price tag above $10 million.
The firm's adjusted EBITDA margin for the period landed at $119.2 million resulting in a 57.6% jump compared to the figure reported during the same period a year ago while its adjusted EBITDA margin improved 400 basis points to land at 30%.
Finally, the company reported adjusted free cash flows of $119.1 million for the period resulting in a significant improvement from the minus $52.6 million figure reported in Q3 2020 while Palantir accumulates free cash flows of $319.9 million so far in the first nine months of 2021.
Adjusted diluted earnings per share for the third quarter ended flat at $0.04 and in line with analysts' estimates. Meanwhile, for the fourth quarter and full 2021 fiscal year Palantir estimates to report revenues of $418 million and $1.53 billion respectively. Both figures exceeded the Street's forecasts.
Despite these seemingly positive results, the price of Palantir dived over 9% on the day that the earnings report came out. Can this downtrend continue? In this article, I'll be assessing the price action and fundamentals of this Denver-based data analytics company to outline plausible scenarios for the future.
67% of all retail investor accounts lose money when trading CFDs with this provider.
Palantir Stock – Technical Analysis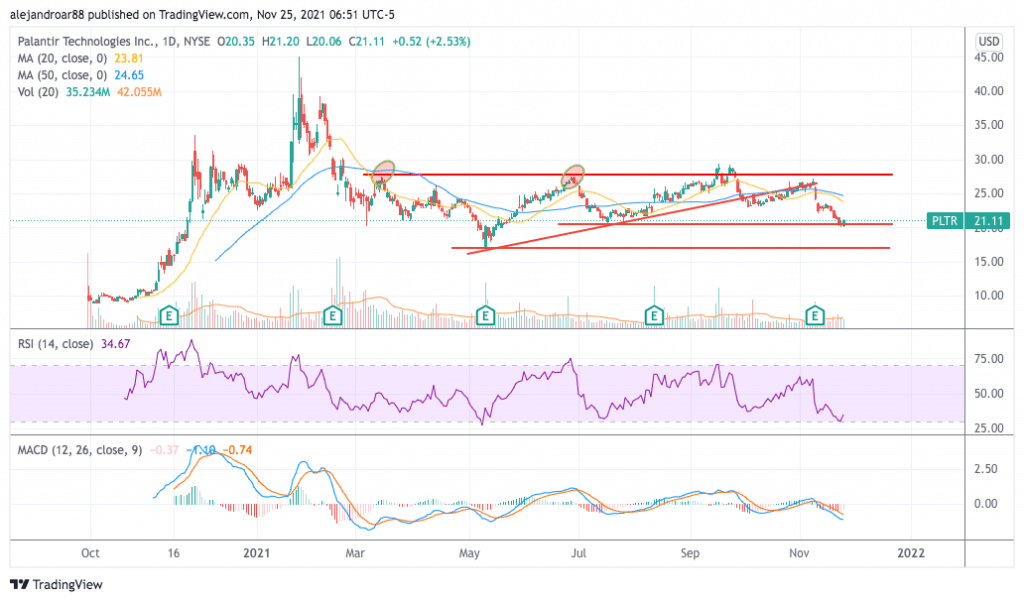 Back in October when I last wrote about Palantir, I highlighted that unless the price moved above its short-term moving averages the outlook for this stock remained bearish. Even though such a break happened during the first few days of November, bulls failed to hold their ground and the price action quickly succumbed below these markers and prompted the steep decline seen after the earnings report came out.
Now, the momentum for Palantir stock is dropping to its lowest levels in months with the Relative Strength Index (RSI) slightly bouncing from the 30 level and almost entering oversold territory while the MACD has crossed below the signal line on the back of steadily increasing negative histogram readings.
The horizontal support found at $20.5 remains a key level to watch as a bounce above this area could lead to a recovery in the stock price, especially upon considering that the company's Q3 2021 earnings report was actually quite positive.
If that threshold fails to hold, chances are that the stock will decline to the mid-to-high 10s resulting in a total downside risk of around 19% based on yesterday's closing price.
It is important to monitor the evolution of Treasury yields in the following days since growth stocks like Palantir tend to get pummeled when interest rates rise as their lofty valuation is heavily influenced by today's low capital costs.
So far in November, the yield of the 10-year US Treasury Bond has climbed from 1.56% to 1.641% and that is one of the reasons why Palantir stock is dropping this month.
Palantir Stock – Fundamental Analysis
So far, Palantir's management has lived up to its promise of delivering 30% year-on-year top-line growth rates every single quarter as the company continues to experience strong demand for its data analytics services from both governments and private entities.
By the end of this year, Palantir is expected to report revenues of $1.53 billion, adjusted free cash flow margins of 30%, and adjusted EBITDA margins of 30% or higher.
If the company manages to push its sales 30% higher in 2022 we could see Palantir's top line landing at nearly $2 billion. That would result in adjusted free cash flow and EBITDA figures of around $600 million.
Data from Koyfin indicates that the firm's enterprise value stands at $40 billion. If we use the forecasts outlined above, Palantir stock would be trading at 67 times its forecasted free cash flows and adjusted EBITDA.
These multiples seem stretched to some extent but it is important to note that these estimates would imply a 50% jump in the firm's adjusted profit-generation capacity. Therefore, the valuation is not entirely unjustified.
Overall, Palantir has proven its ability to keep growing its top-line results while the business cash flow generation capacity is improving. That said, a 25% decline in the stock price would make Palantir even more attractive and would increase the margin of safety of a long position in this company.
Considering the risks that come with investing in growth companies, it seems like a better idea to be patient to buy shares at a lower price than jumping at these lofty levels.
Buy PLTR Stock at eToro with 0% Commission Now!