Invest in Bonds – Investing in Bonds For Beginners 2021
Organizations, corporates, Govt. and municipalities need funds to meet their financial needs. They seek to raise such funds via the issue of bonds. So what are bonds? Bonds are the financial debt instruments through which organizations raise money, and the additional cost they bear for it is the interest component.
In this detailed guide, we will show you how to invest in bonds, the pros, the cons, and the best brokers to invest in bonds.
#1 Broker to Invest in Bonds – eToro
How to Invest in Bonds –Step by Step Guide 2021
Investing in bonds is relatively easy, provided your broker allows you to invest. We have listed the step-by-step process for you to invest in bonds.
Step 1: Opening an eToro account – You will need a broker to start investing in bonds. Click on the "Join Now' button to fill in the required details.
Step 2: Complete your identity verification – eToro is a regulated broker. Hence, you need to complete your identity verification by providing your photo I.D. like passport or driving license and a utility bill or bank statement as proof of address.
Step 3: Funding your eToro account – After your account is verified, you can fund it by clicking "Deposit Funds." Then, enter the amount that you wish to invest and press "Deposit."
Step 4: Invest in Bonds – You can invest in bonds ETFs in eToro. First, type the name of the bond ETF in the search bar, click on "Trade," enter the amount and then click "Buy."
Where to Invest in Bonds – Choose a Broker
You must choose the best broker for investing in bonds. The broker should be chosen based on the security and safety aspects, fees, and features.
We have listed below the features of the best overall broker, i.e., eToro.
1. eToro- Best Broker to Invest in Bonds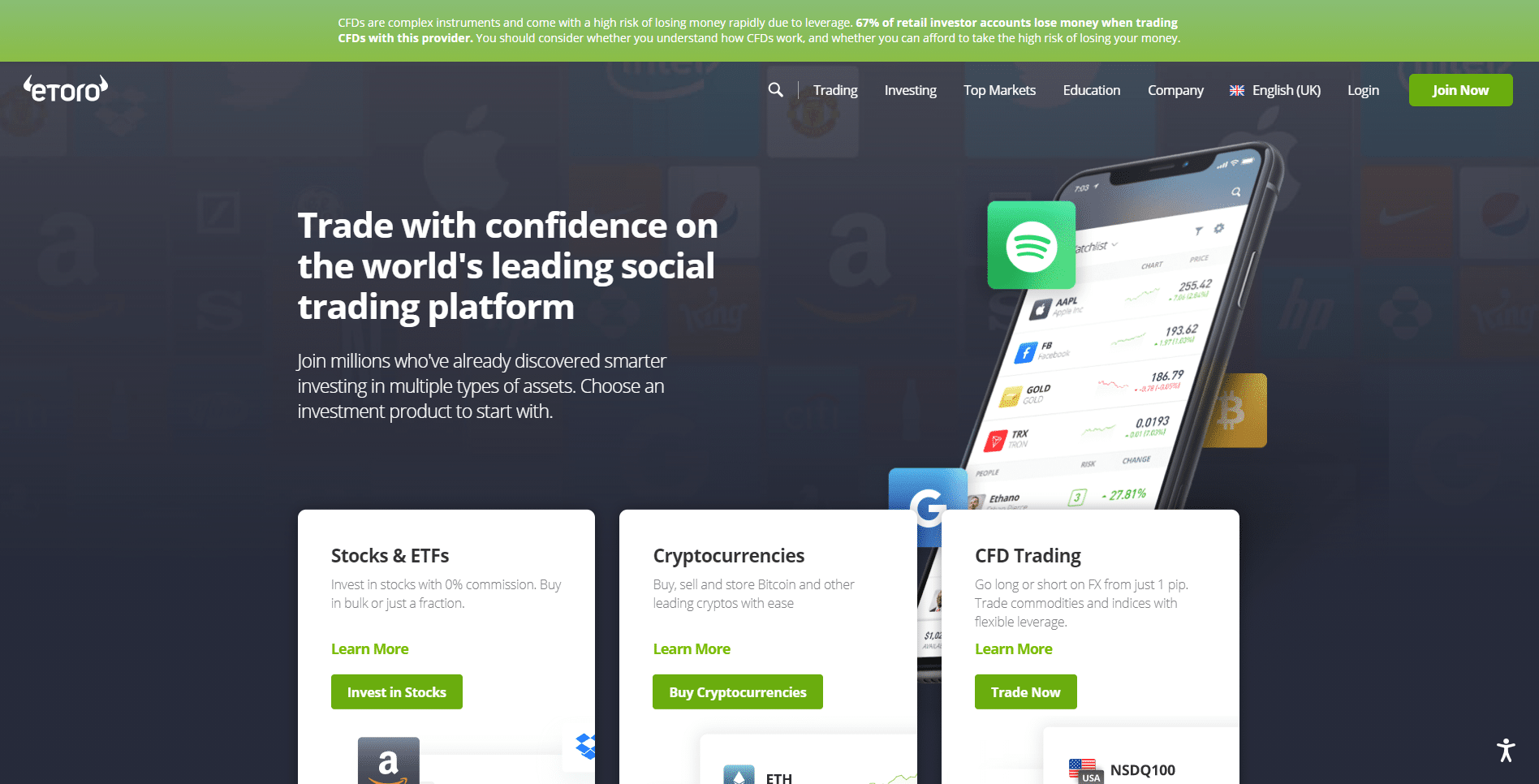 eToro has built its reputation as the largest broking platform since its inception in 2007. In addition, it offers various features to its customers.
Security & Privacy
Security and privacy of the investor are essential as they place their hard-earned money with the broker. eToro is one such broker where the investors can place their trust. The regulators like FCA and CySEC regulate it, which means they are answerable for all their activities. Moreover, the eToro SSL encrypts the sensitive data of the investors to defend its interception by hackers. Its 2FA acts as a secure way of logging into the account.
Further, the new users are required to have their identity verification by providing their photo I.D.s and address proof.
Fees & Features
eToro provides trading in various instruments, from stocks and cryptocurrencies to commodities, currencies, and ETFs. It also offers CopyTrading for the newbies with minimal trading experience to automatically copy the trades of most experienced traders. In addition, it provides a free demo account with $100,000 funds for the new account holders to have first-hand experience in trading. Moreover, it provides a desktop platform and mobile app access that helps the traders monitor their positions from wherever they want.
eToro Fees
| | |
| --- | --- |
| Fee Type | Fee Amount |
| Deposit Fee | $0 |
| Withdrawal Fee | $5 |
| Commission Fee | $0 |
| Inactivity Fee (charged monthly) | $10 |
Pros
Provides free stock and ETF trading.
Demo account facility for new traders
Provides a CopyTrading platform that automatically copies the trades of experienced traders.
Ensures SSL data encryption that helps prevent data hacking, thereby ensuring data
protection of the users.
Allows 2FA for logging into the account.
Cons
It does not provide MetaTrader support.
67% of retail investor accounts lose money when trading CFDs with this provider.
2. Capital.com- Great Platform to Invest in Bonds ETFs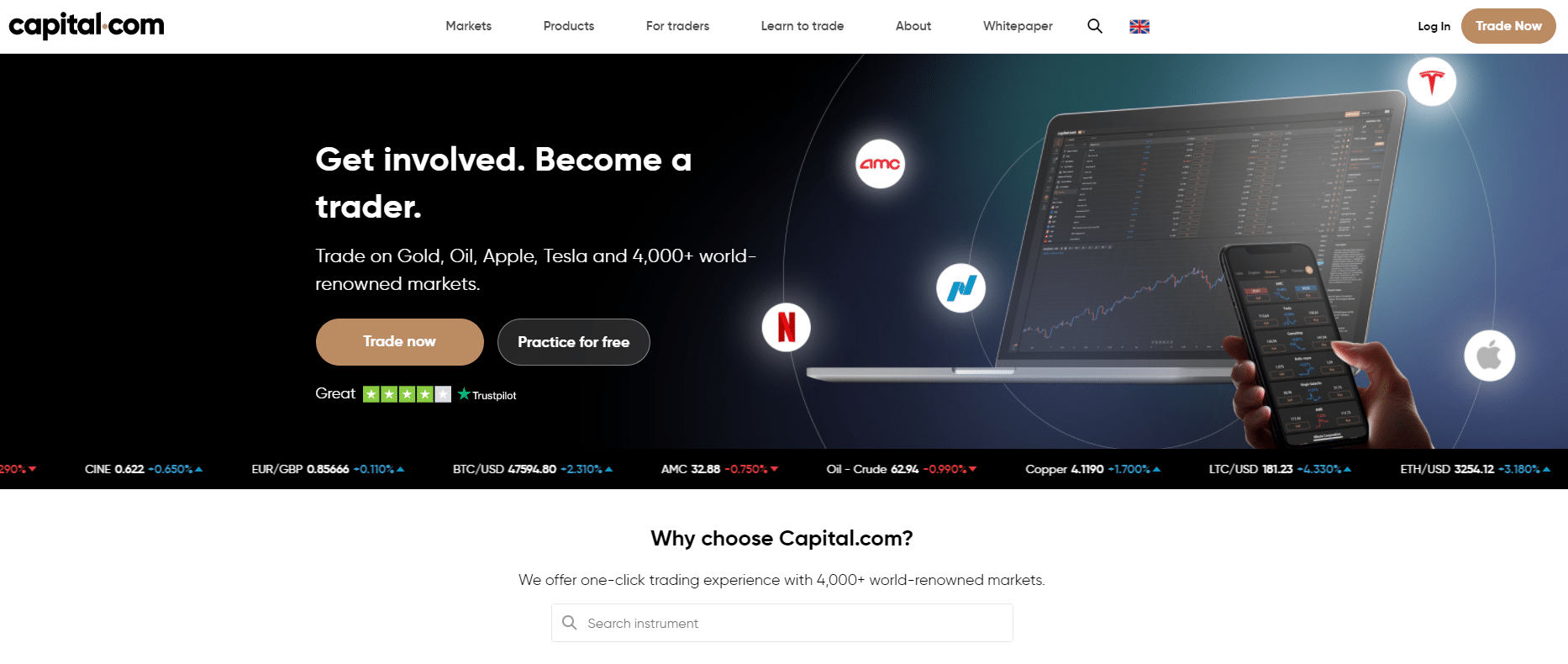 Capital.com offers trading guides for the traders, which helps educate amateur traders and helps the newbies enhance their trading knowledge before stepping up into the new world of trading.
Security & Privacy
Capital.com is compliant with standards of PCI data security. Further, the customers from the U.K. are covered by FDIC insurance up to £85,000. It is also regulated by the FCA and CySEC, which makes them subject to various regulatory audits.
Fees & Features
Capital.com provides various trading guides for newcomers, and it has got full Tradingview integration allowing the use of advanced charting tools. Thus, it can be said that its advanced features help to attract traders.
Capital.com Fees
| | |
| --- | --- |
| Fee Type | Fee Amount |
| Deposit Fee | $0 |
| Withdrawal Fee | $0 |
| Commission Fee | $0 |
| Inactivity Fee | $0 |
Pros
Provides practice account
Offers FDIC insurance
Offers Tradingview integration
Provides numerous high-quality trading guides
Cons
No price alerts on the web platform
Its track record is far shorter than its counterparts.
67% of retail investor accounts lose money when trading CFDs with this provider.
3. AvaTrade – Accessible Way to Invest in Bonds CFDs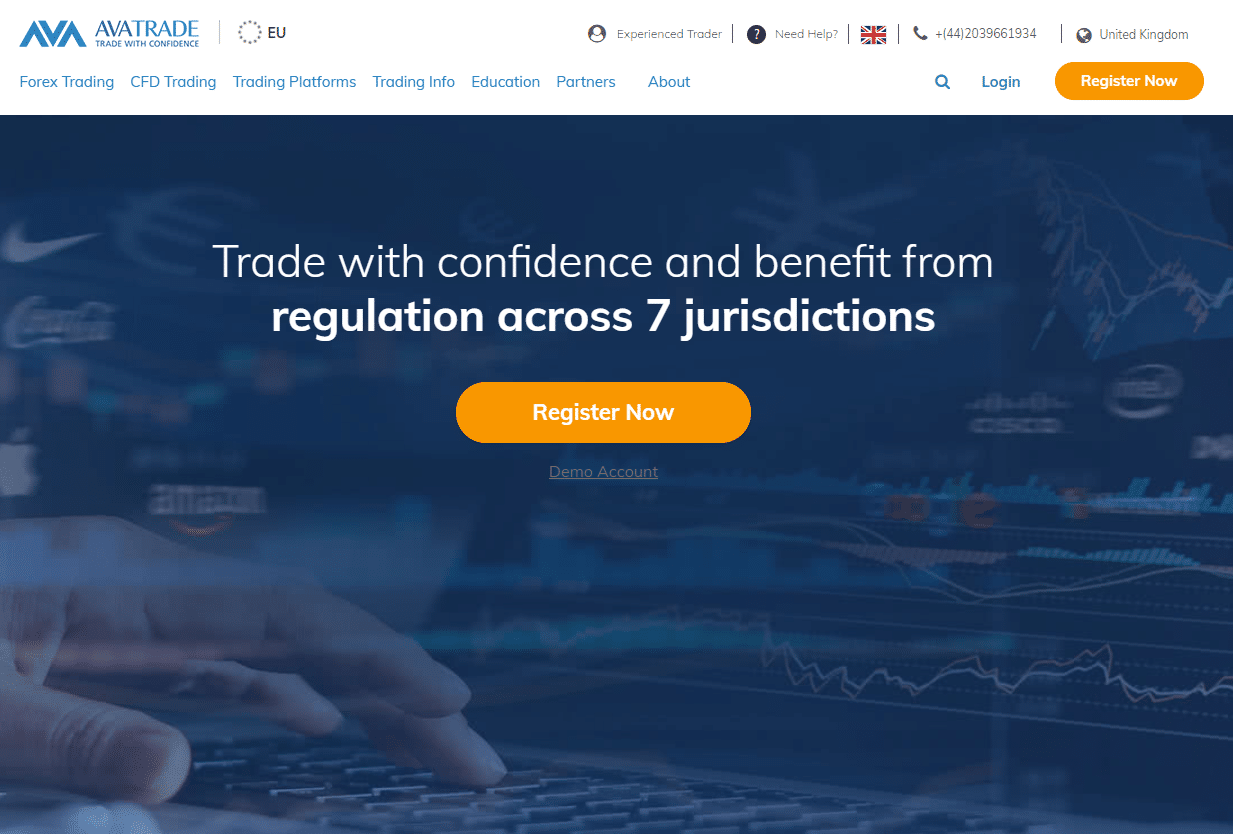 Avatrade has been there in the market since 2006, keeping its mark up with its competitors. They offer investment in many different assets. It offers to trade in the U.S., Asian, and European government bonds as CFDs on MT 4/5 and Web Trader.
Security & Privacy
AvaTrade has 256-bit SSL encryption which reduces the risk of customer data interception by any digital hacker. It also offers McAfee Secure integration to its customers.
Fees & Features
AvaTrade fee structure is commission-free. In addition, it offers 24/7 phone and email support. Professional traders can also open a professional trading account which gives access to increased leverage. Users are also offered Islamic accounts.
AvaTrade Fees
| | |
| --- | --- |
| Fee Type | Fee Amount |
| Deposit Fee | $0 |
| Withdrawal Fee | $0 |
| Commission Fee | $0 |
| Inactivity Fee | $50 after the first three months of inactivity, and $100 after one year of inactivity. |
Pros
Offers Professional trading account
Commission-free fee structure
Offers Islamic account
Excellent support system
Cons
Inactivity fees are steep.
It is not available in certain countries.
67% of retail investor accounts lose money when trading CFDs with this provider.
Invest in Bonds – Broker Price Comparison
You summarized the brokers' information in the table below for your reference for making your decision easy.
| | | | | |
| --- | --- | --- | --- | --- |
| Broker | Commission | Deposit Fee | Withdrawal Fee | Inactivity Fee |
| eToro | 0% | $0 | $5 | $10/month after one year |
| Capital.com | 0% | $0 | $0 | $0 |
| AvaTrade | 0% | $0 | $0 | $50 after 3 months/$100 after one year |
What are the different ways to invest in bonds?
Bonds are not traded publicly like stocks. Instead, they are traded OTC(over the counter), which is possible only through the broker. But, the Treasury bonds issued by the U.S. Govt. are an exception to it as you can buy them directly from the Govt. without any intermediary. Investors find it difficult to know the bonds' fair value as they are not traded in a centralized location. Therefore, even the broker can take advantage of selling the bonds at a premium. However, the Financial Industry Regulatory Authority (FINRA) regulates the bond market to some extent as it tends to post the transaction prices.
Bonds are of different types based on the issuers, currency, location, and payment terms. There are four kinds of bonds based on the type of issuers.
Corporate Bonds are issued by corporations. The corporates raise money through the bond issue for capital acquisitions or improvements or refinancing the old debt. These bonds are considered risker than Govt. issued bonds, and hence they tend to offer a higher interest rate. The bonds can be Secured or Guaranteed. Secured bonds are backed by the company's assets, and the Guaranteed bonds are backed by the guarantee from the second party.
Municipal Bonds are issued by states, cities, or local Govts for financing public projects. Often, such bonds carry tax benefits. For instance, a city may issue municipal bonds for financing the new road project.
Treasury Bonds are often referred to as T-bonds. The U.S. Govt. issues such bonds, and the interest rate is low compared to the corporate bonds as it does not carry any default risk.
Agency Bonds are issued by Government Sponsored Enterprises (GSE) such as Fannie Mae and Freddie Mac for providing funding to the federal education, mortgage, and lending agricultural programs. Such bonds are exempt from state and local taxes but subject to federal tax.
Besides the above, there are other bonds based on currency, time, interest, and credibility.
Foreign Currency Bonds are issued by the company in a foreign currency that is more stable than the issuing country's currency. It helps the company to hedge its foreign exchange exposure and cement its place in foreign markets.
Perpetual Bonds are bonds that do not have any redemption date. Thus, they do not have significant principal value, and their real value lies in the interest payments.
Zero-Coupon Bonds are also known as discount bonds. They do not offer interest payments like the regular bonds, and you pay relatively lesser than their face value. Instead, the accrued interest is paid as total face value at the time of redemption.
Junk Bonds are named such because of their high default risk. These bonds offer higher yields than investment-grade bonds but are rated below them. As a result, investors with a lower risk appetite tend to avoid such bonds.
Bond funds primarily invest in different bonds such as Treasury, Municipal, Corporate, and Junk bonds. As a result, they offer higher interest rates. In addition, such funds are mutual funds managed actively by professionals and have higher commission and management fees. The income on such bonds tends to fluctuate as they invest in a wide variety of bonds.
Bonds -Direct Investment
Bonds are traded over the counter, and hence, you need to purchase them from brokers. However, you can directly purchase U.S. Treasury bonds from the government. Usually, the bonds are initially bought by banks, hedge funds, or securities firms. They then sell it to the general public, and they make a profit on the buy-sell spread.
Bond Funds
Bond funds are mutual funds. Such funds purchase a wide range of bonds, from Corporate and Treasury Bonds to Municipal Bonds. Such funds are actively managed by professionals, and they tend to charge a higher fee or commission. As a result, the income from such funds is subject to fluctuations. Nevertheless, such funds allow you to invest from a few hundred to a thousand dollars in a wide range of bonds.
Further, leveraged bond funds carry a higher risk. They also charge a redemption fee for selling shares within 60 to 90 days. The interest rate offered by such funds is higher than the bank accounts, certificate of deposits, and money market accounts.
CFDs (Contract For Difference)
A CFD is a contract-for-difference derivative that allows speculating the underlying asset's price, in this case, a futures contract of government bond without actually owning it. Instead, it offers to trade on leverage, and initiate buy and sell positions quite easily.
Investments in Bond ETFs
Investors can choose an easier way of investment by investing in bonds ETFs. The fund holds the bonds, and you can buy and sell them just like the stock. Such bond ETFs are available for various bonds such as Treasuries, convertibles,floating-rate bonds, and corporate bonds. In addition, the Bond ETFs represent and tracks the bond prices. Furthermore, they pay dividends monthly based on the earned interest income on the bonds held in their portfolio. Bond ETFs have lower fees than Bond funds as they are passively managed, unlike bond funds, which are actively managed.
Best Ways to Invest in Bonds UK
Investing in bonds can be made in various ways depending upon the length of the investment.
Invest in Bonds
Investing in bonds can be done to diversify the portfolio. In addition, bonds have lesser risk and offer fixed income. Bonds tend to offer protection during the stock market crash as they are inversely proportional. The interest on the bonds serves as a safe side return.
Invest in Bonds CFD
Sometimes the investors tend to be reluctant for long-term investments. Hence, they look for a short-term investment, even for a couple of days. In such a case, investing in bonds CFDs serve the purpose. Moreover, trading in bonds CFDs offer leverage, and traders can earn quick money if they manage their position carefully.
Invest in Bonds ETFs
Investing in bond ETFs is also possible, where the money is invested in a variety of bonds. Such bonds are passively managed. The risk is relatively lower as the investment is made in a bunch of bonds. Investing in bond ETFs is just like the stock and relatively safer.
Is Bonds a Good Investment
Investors can earn money from bonds in two ways. The first is by holding the bonds until the maturity period and earning interest twice a year. The second is by selling the bonds at a higher price when the market value of bonds increases and earning profit from it.
Capital Protection
Bonds carry a lower risk and promise a fixed return on the capital. As a result, bonds can be the best choice for investors to regain their losses. Thus, investing in bonds acts as capital preservation, ensuring lesser risk and fixed return. Besides that, you also need to understand that the bonds are rated, and lower-rated bonds carry risk and offer a higher yield than higher-rated bonds.
Interest Income
Bonds carry fixed interest payments. Thus, the investors seeking a fixed return can assure themselves of it via bond interest payments. The bonds and interest rates have an inverse relationship. If the interest rates rise, then the bond prices fall.
Portfolio Diversification
Investment in a diversified portfolio helps the investors to protect themselves in market downturns. The stocks and bonds carry an inverse relationship, i.e., bonds become preferred investments for investors when the stock markets fall. Stocks outperform bonds in the longer term, but a mix of both reduces the overall portfolio risk.
Risk Management
Bonds are fixed-income investments, and hence, they tend to carry a lesser risk. They are less reactive to economic falls and geopolitical incidents. They carry an inverse relationship with stocks, and when the markets fall, the stocks tend to collapse, but the bonds provide protection and act as a safer investment horizon.
Investment in Community
The funds from the municipal bonds are used for social projects such as building a school or road. Though such bonds do not offer higher yields yet they provide an opportunity for investment in social causes.
Investing in Bonds – What are the risks?
Investments and risk go hand in hand, and bonds are no exception to it. Some of the possible risks that go with bond investments are:-
Inflation Risk
Inflation rises over time as the prices of goods and services tend to rise. Investors lose their purchasing power if the inflation rate exceeds the fixed income rate on bonds.
Interest Rate Risk- The rise in the interest rate tends to lower the bond value, and you may lose some portion of the investment in bonds. Hence, interest rate fluctuations are responsible for bond price volatility.
Credit Risk
Credit risk is the risk of the issuer going bankrupt and defaulting on the payment obligation. It is also known as business or financial risk. As a result, the bonds' prices fall with the company's downgrading and have lower resale value.
Liquidity Risk
This risk is concerned with the resale of the bonds. The bonds market is not centralized, and you may find difficulty in reselling the bonds. But, the price fluctuation should not worry an investor who intends to hold it till its maturity.
Callable Risk
Corporates and cities may pay off the bonds early, and you tend to lose interest income. It happens when the interest rates fall, and you may find a hard time reinvesting your money with a favourable interest rate.
Revenue Municipal Bonds
Such bonds come from toll roads and other municipal projects that generate income. If the income stops, the municipality is not obligated to pay off the principal bond value, and you tend to lose your invested amount.
Locked up funds
The amount invested in bonds is locked up till its redemption period. So you can't redeem it whenever you want as compared to stocks that are readily available for sale.
How to Invest in Bonds with eToro
It becomes difficult for the investors to find the right broker as they tend to search for the fees, features, security, and customer support. So we have done a bit of research to help you find the right one for yourself. You can plan to invest in bonds in the top broking platform,eToro.
Step 1: Opening an account with eToro
Investing in bonds requires you to find a reliable and trustworthy broker. So, for this, we recommend you eToro, which is known for its advanced trading features, reasonable fees, and excellent security aspects. You can open an account with eToro by visiting their website "eToro.com" and clicking on "Join Now." Then, fill in the required details.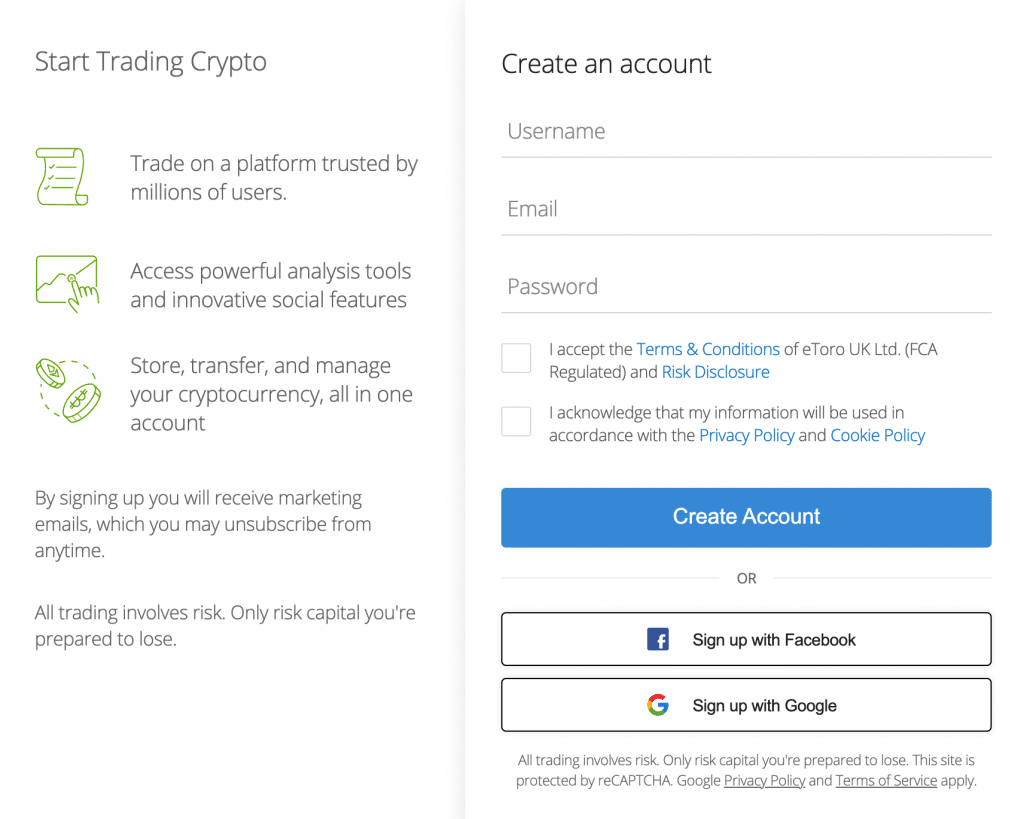 Step 2: Verifying your account
eToro is a regulated broker and licensed under FCA and CySEC. It has got strict rules for data protection and privacy. Hence, you need to verify your account before starting to trade. It is pretty simple as you need to provide your passport or driving license as a photo I.D. and bank statement or utility bill for address proof.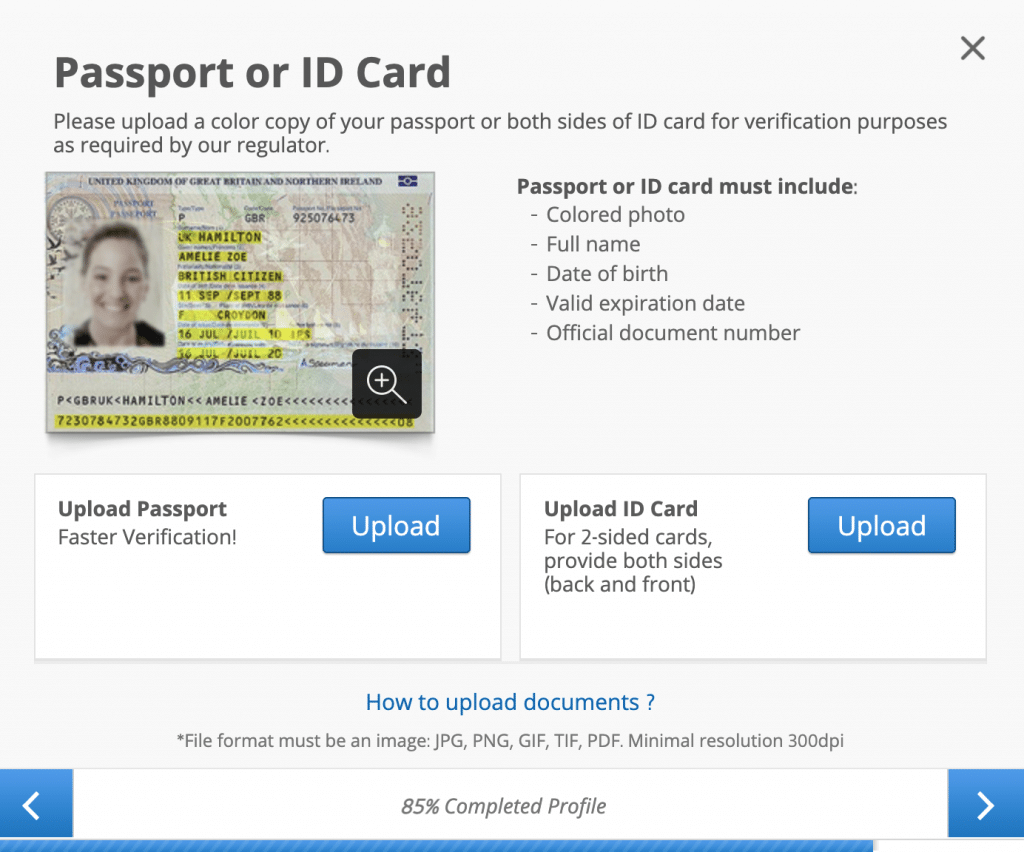 Step 3: Funding your account
You need to fund your account after verification of the same. You can do so by clicking "Deposit Funds," entering the amount, and then pressing "Deposit." You can use various methods for funding your account, from credit/debit cards to e-wallets such as Skrill, Paypal, etc., and even bank transfers.
Step 4: Invest in Bonds
You can start investing in bonds via bond ETFs after funding your account. Just type the name of any bond ETF, say "iShares Core 1-5 Year USD Bond ETF," and press "Trade." Next, enter the amount you wish to invest and press "buy." Finally, you have the bond investment in your portfolio in the form of ETFs.
Conclusion
We just highlighted why investing in bonds is necessary and, besides all its inherent risks, how it can help you to diversify your portfolio. The lower-rated bonds tend to offer higher yields than the high-rated bonds due to their higher risk. Thus, the investment in bonds reduces the overall portfolio risk and protects the investor during economic downturns.
Next, we discussed the broker eToro, which you can use to invest in bonds due to its unique trading features, reasonable fees, and comprehensive trading tools. Now, you can start your investment in bonds by opening an account in eToro and following the guided steps for investing.
#1 Broker to Invest in Bonds – eToro
FAQs
Where can I invest in Bonds?
Why should I invest in bonds?
What are the risks associated with bonds?
What are the different types of bonds?