Microsoft Stock Price Forecast January 2022 – Time to Buy MSFT Stock?
Please note that we are not authorised to provide any investment advice. The content on this page is for information purposes only.
2021 was a phenomenal year for Microsoft (MSFT) and it rose over 50%, outperforming the markets by a wide margin. In the FAANG pack, only Alphabet delivered better returns than MSFT last year.
While growth tech companies underperformed badly in 2021, the mature tech universe held on well. However, there has been a sell-off in tech names and MSFT is now down over 11% from the peaks and is in a correction zone. What's the forecast for Microsoft stock and is it a good buy in January 2022?
Microsoft stock recent developments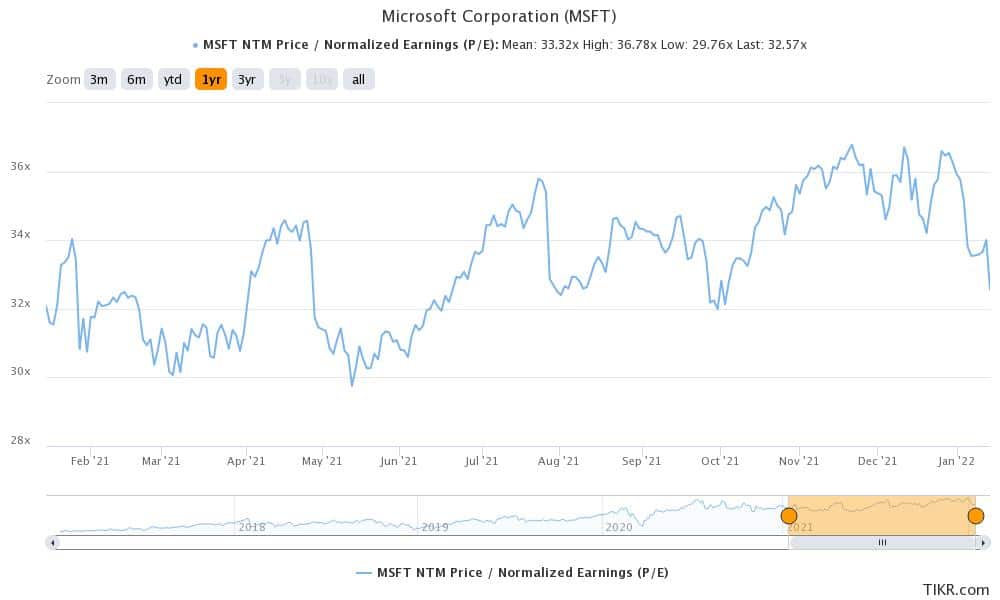 Under pressure from shareholders, Microsoft has hired an outside law firm to study its gender discrimination and sexual harassment policies. It would also study the board's investigation into its co-founder Bill Gates. "The firm is experienced in these matters and has not previously been involved in representing Microsoft in employment matters, nor has it done a significant amount of work for the company in the past," said MSFT in its release.
68% of all retail investor accounts lose money when trading CFDs with this provider.
MSFT earnings release
We are now in the earnings season and Microsoft would report its fiscal second-quarter 2022 earnings later this month. It had reported a splendid 22% revenue growth in the fiscal first quarter. The topline growth is however expected to fall to 17.6% in the second quarter. The growth is expected to taper down further to 15.6% and 13.7% in the next two quarters.
Microsoft's adjusted EPS is expected to rise 14.2% to $2.32 in the quarter. The slowdown in sales growth is not particular to Microsoft and most US tech companies are witnessing a slowdown in sales growth and even Apple's sales growth is expected to be in the single digits over the next couple of years. Amazon's topline growth has also come down while higher expenses are taking a toll on its profitability. Netflix is also witnessing a slowdown in subscriber growth amid intensifying competition.
Microsoft stock forecast
Most Wall Street analysts are bullish on Microsoft stock. Of the 36 analysts covering the stock, 33 rate them as a buy or some equivalent while the remaining three analysts rate it as a hold. None of the analyst rates MSFT stock as a sell.
Its median target price of $370 implies a 19.3% upside over the current levels. The stock's street high target price of $440 is a premium of 42% while the street low target price of $294 is a discount of around 5%.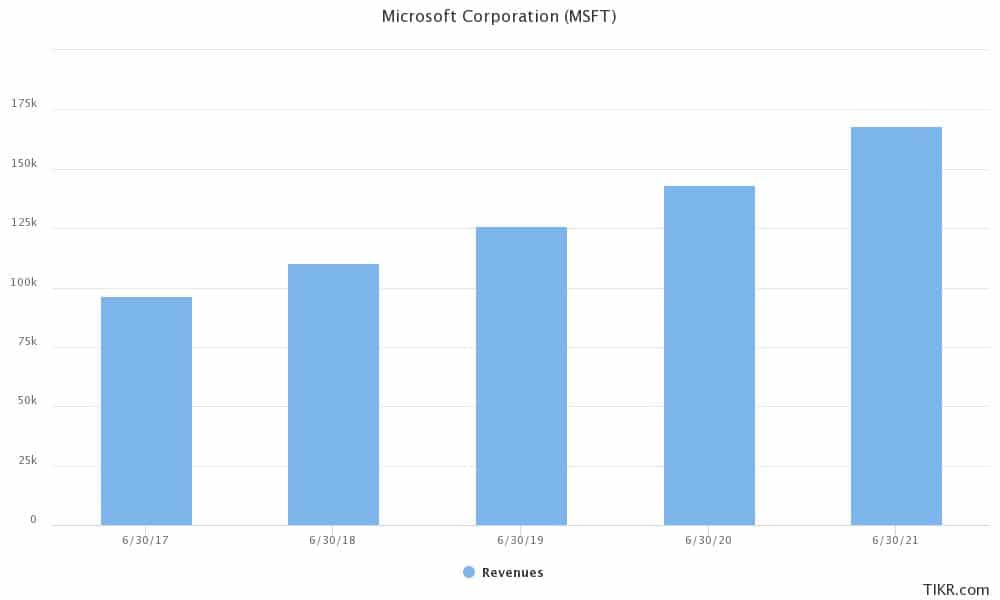 MSFT stock target price
Analysts have been raising Microsoft's target price and earlier this month Jefferies names it as a top pick for 2022. Bernstein analyst Mark Moerdler is also bullish on the stock and is particularly optimistic about the company's prospects in the metaverse. "While both Adobe and Salesforce could see upside it is, we believe, Microsoft that is best positioned to be a big winner from the metaverse," said Moerdler. He added, "In fact, even the journey from concepts to reality will be beneficial for software and especially Microsoft."
Several US tech companies are investing in the metaverse. Facebook even changed its name to Metaverse and is looking to invest $10 billion in the industry. Moerdler said, "We would argue that Microsoft is extremely well positioned having almost all of the major capabilities required to deliver a metaverse platform today.
MSFT stock long term forecast
MSFT is among the beneficiaries of the digital transformation. The demand for PCs, which have been sagging for years, has seen a spike over the last year. Also, the pivot towards cloud and AI would support the company's long-term earnings as well as valuation. The company has also announced a new $60 billion share buyback program which would help it increase the EPS by lowering the outstanding share count.
Should you buy Microsoft stock?
Like many tech companies, Microsoft's valuation multiples have also expanded and it now trades at an NTM (next-12 months) PE multiple of 32.6x. The multiples are way above its long-term multiples but should be seen in the context of the changing dynamics. The company has seen a structural rerating in multiples amid the pivot towards high growth industries. In 2021, MSFT briefly surpassed Apple to become the world's biggest company by market cap. However, Apple soon retook the crown, and this year it became the first company globally to reach a market cap of $3 trillion. MSFT is another strong contender to hit the $3 trillion market cap.
The stock looks a good buy at these prices and is a play on multiple themes. The recent correction in the stock looks like a good opportunity to buy MSFT shares.
Buy MSFT Stock at eToro from just $50 Now!