General Motors Stock Price Forecast November 2021 – Time to Buy GM Stock?
With a YTD gain of over 30%, General Motors (GM) stock is outperforming the markets this year. However, its returns trail that of Ford, which is up over 90% and is among the top 10 S&P 500 gainers this year.
GM stock is down 18% from its 52-week highs. What's the forecast for General Motors' stock and should you buy the dip in America's biggest carmaker?
GM stock technical analysis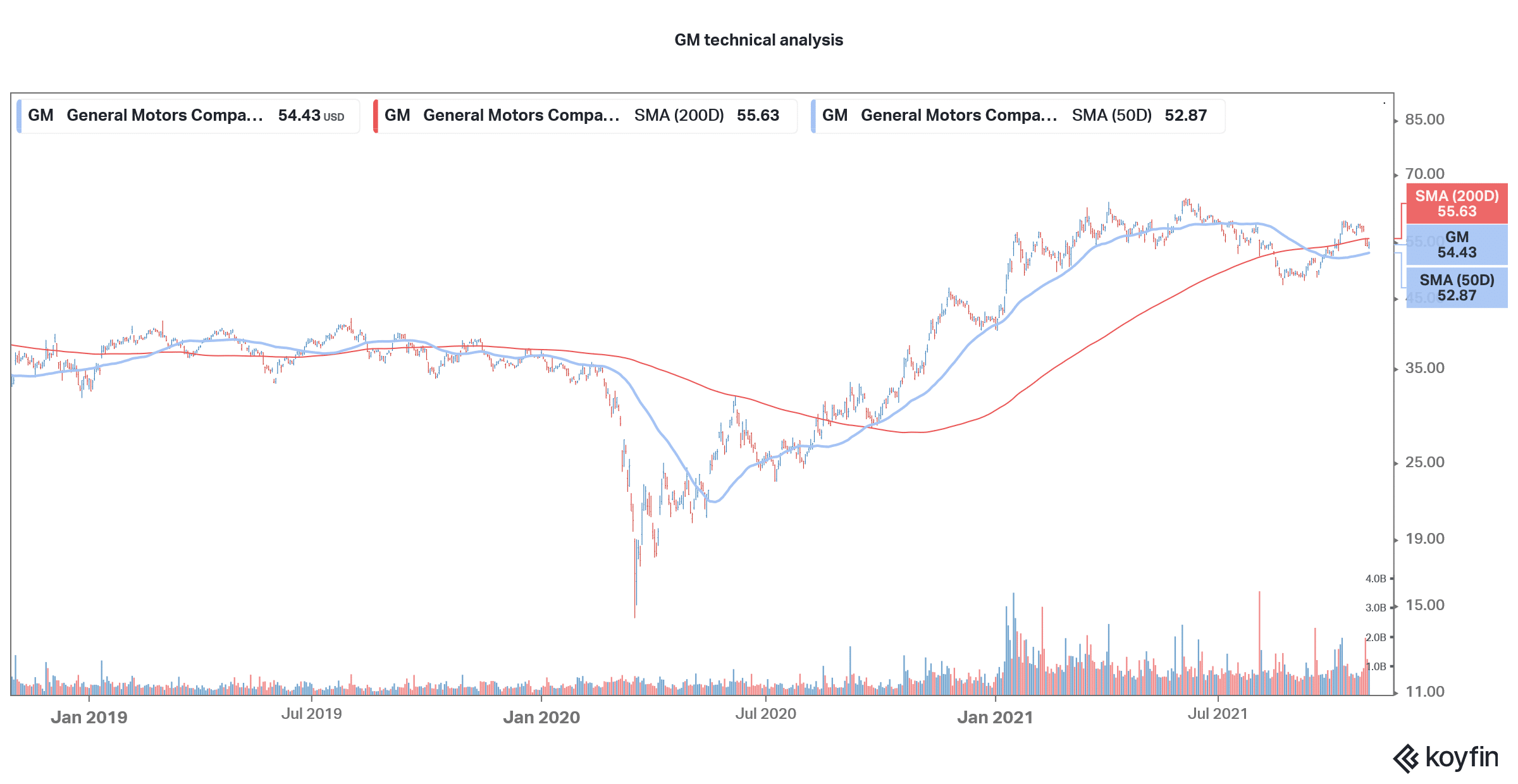 General Motors' stock is not looking bullish on the charts. The stock trades below the 100-day and 200-day SMA (simple moving average). It also trades below the short-term moving averages like the 10-day, 20-day, and 30-day SMA. However, the stock has managed to trade above the 50-day SMA despite the fall last week. The 14-day RSI (relative strength index) of 44.7 is a neutral indicator while the 12,26 MACD (moving average convergence divergence) gives a sell signal.
While GM stock does not look like a buy based on the technical indicators, it seems a good buy based on fundamentals.
68% of all retail investor accounts lose money when trading CFDs with this provider.
General Motors released its third-quarter earnings
Last week, General Motors released its third-quarter earnings and the stock fell sharply after that. Markets' reaction to GM's earnings was in stark contrast to that for Ford, which went on to hit a new 52-week high as markets gave a thumbs up to its third-quarter earnings and guidance.
GM reported revenues of $26.78 billion in the quarter which were ahead of the $26.51 billion that analysts were expecting. The global chip shortage situation has taken a toll on global automotive production. GM's production plans have also been hampered by the chip shortage situation.
General Motors reported an adjusted EPS of $1.52 in the quarter which was far ahead of the $0.96 that analysts were expecting. The company also said that it expects full-year adjusted earnings to be at the "high end" of its previous guidance of $11.5-$13.5 billion. On the face of it, the earnings and guidance both look strong. However, the stock still tumbled as the guidance was below what analysts were expecting.
Chip shortage is hurting General Motors
General Motors said that the chip supply situation remains "somewhat volatile" even as beginning today, none of the company's plants in North America would be idle due to chip shortage.
Commenting on the chip supply situation, GM's CEO Mary Barra said "We are seeing some improvement in fourth quarter; we expect to see some additional improvement in Q1." Meanwhile, chipmakers expect the chip shortage to extend into 2022 with Intel forecasting a demand-supply mismatch until 2023. During the earnings release Barra said "Although we think the first half of next year, we'll still see impact from the semiconductor shortage. We think it will get better toward the end of the year."
GM stock price forecast
The forecast for General Motors stock looks positive as it pivots towards electric cars. The investments that the company is making into electric and autonomous driving would drive long-term shareholder value. Wall Street analysts also have a bullish forecast for GM stock and of the 15 analysts polled by TipRanks, 14 rate it as a buy while one analyst has a hold rating. Its median target price of $73.20 is a premium of almost 35% over current prices. Despite the company's fourth-quarter guidance being lower than expected, analysts maintained their bullish bets on the stock.
General Motors stock long-term forecast
The long-term forecast for General Motors stock looks positive. With some of the best-selling models and a well-established sales and distribution network, legacy automakers would give a tough fight to pure-play electric vehicle companies. GM's investment into Cruise, its autonomous driving arm, would also add long-term shareholder value.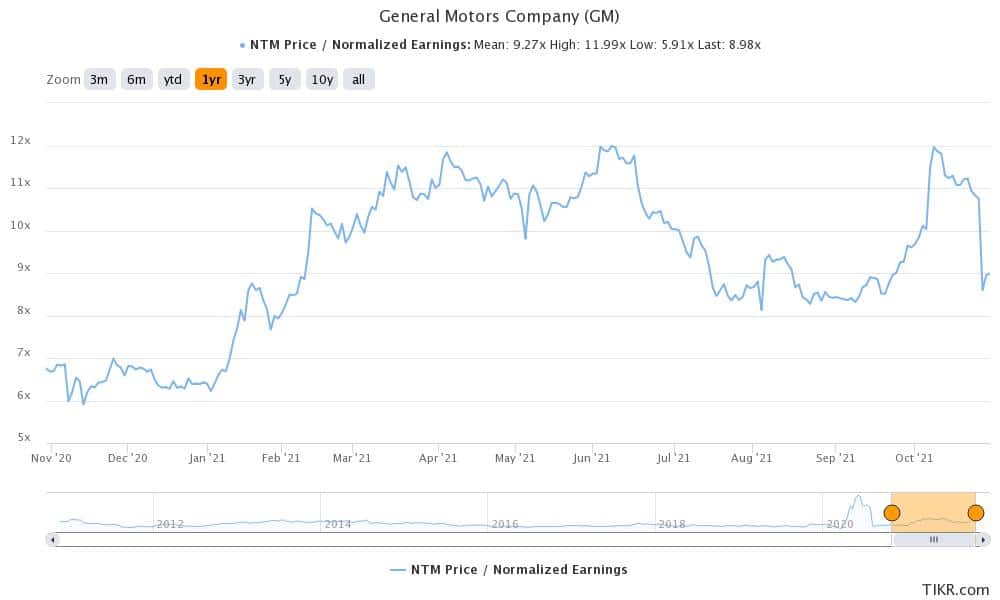 Cruise sees the revenue potential for its Robotaxi business at $50 billion annually. Incidentally, Tesla is also working on Robotaxis, and previously the company's CEO Elon Musk had said that it would have a million of them on road by 2020. While the company's robotaxis are yet to hit roads, Musk believes that most of the company's valuation comes from the software business, which includes the robotaxi.
Should you buy GM stock?
General Motors stock trades at an NTM (next-12 months) PE multiple of only 8.9x. The valuations look reasonable considering the massive investments that the company is making in electric and autonomous cars.
While GM stock has seen a valuation multiple rerating over the last year, its electric and autonomous driving initiatives are still not fully appreciated by the markets. Engine No. 1 founder Chris James whose firm took a stake in GM, is quite bullish on General Motors stock and sees it as a multibagger. "We think that this can become a growth company again. … We think this stock could triple over the next five years."
That said General Motors looks like a good stock to buy at these prices and play the company's pivot towards electric cars. With a lot of pure-play EV stocks looking bloated, legacy automakers like GM look like good bets.
Buy GM Stock at eToro from just $50 Now!