Best Copy Trading Platforms UK – Top 5 Copy Trading Platforms in the UK
Copy trading is a popular way to trade in stocks, forex, commodities, cryptocurrencies, CFDs (Contracts For Difference) and even ETFs (Exchange Traded Funds).
With copy trading, you can leverage the skills and experience of other investors when you trade. The system copies trades automatically — so you can set it up and walk away. There are a handful of online copy trading platforms which you can access via online brokers.
In this guide, we review the 5 best copy trading platforms that you can access from the UK with GBP. We highlight which type of investor is ideal for each platform, as well as break down the advantages and disadvantages of each.
#1 Copy Trading Platform UK – eToro
5 Best Copy Trading Platforms UK
Below is our list of the 5 best copy trading platforms. We have identified and fully reviewed the most reliable, successful and reputable platforms to copy trade. Our recommended best copy trading platform is eToro.
1. eToro CopyTrader -Best UK Platform for Beginners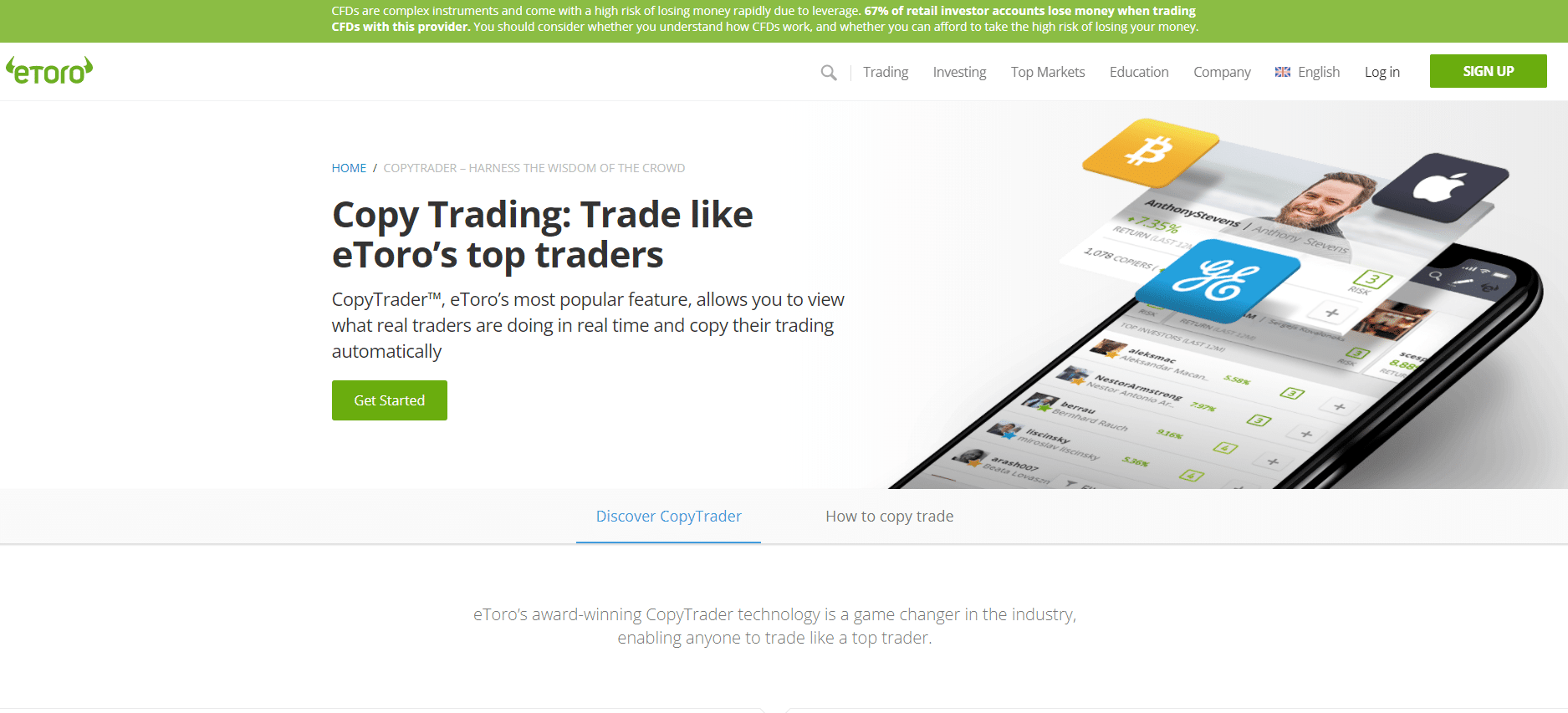 eToro's proprietary CopyTraderTM is free to use for all 15 million eToro clients. That means you can copy trade as well as trade conventionally on the same platform. Just sign up with a normal eToro account and you are good to go.
The CopyTraderTM process is simple. You review traders and their stats. You choose one you like the look of. You then allocate a certain amount of funds to be used in copying this trader's activity. These funds will then be deployed in real-time in direct proportion to the copied trader's buys and sells.
Great control is offered by CopyTraderTM. At any time, you can set stop losses as well as add/remove funds, pause copying and stop copying. If you are keen to spread risk, you can even copy up to 100 traders at the same time.
eToro reports that their top 50 most copied traders have made an average yearly profit of 83.7%.
| | |
| --- | --- |
| Assets you can copy trade | Forex, cryptocurrencies, stocks, commodities, indices, bonds, CFDs, ETFs. |
| Demo account | All eToro accounts come with an ongoing demo account where you can practise with a $100,000 virtual portfolio. |
| Educational Material | Great support at the free eToro online trading academy. |
| Fees | None for copy trading per se. eToro make their money on the spread between bid and ask prices of transactions you copy. Note a withdrawal fee of 5 USD applies, as does a currency conversion fee which will apply to UK customers. Overnight fees apply to CFDs. |
| Minimum deposit | $200. |
| MT4/MT5 | No. |
| Special Features | eToro CopyFunds allows you to copy long-term investors in funds like ETFs. |
| Regulation | FCA. |
| Payment methods | Credit/debit cards, bank transfer, online banking, PayPal, Neteller, Skrill, Rapid Transfer, iDEAL, POLi. |
Pros 
Well established: eToro was the first platform to offer copy trading
Many copy trading options
Big social community and personalised newsfeed
Cons
Not great for forex day trading, as no scalping and hedging allowed
Signal providers (ie. copied traders) not vetted
High bid/ask spreads
67% of retail investor accounts lose money when trading CFDs with this provider. 
2. MQL5 Best Platform for Confident, Tech-Savvy Traders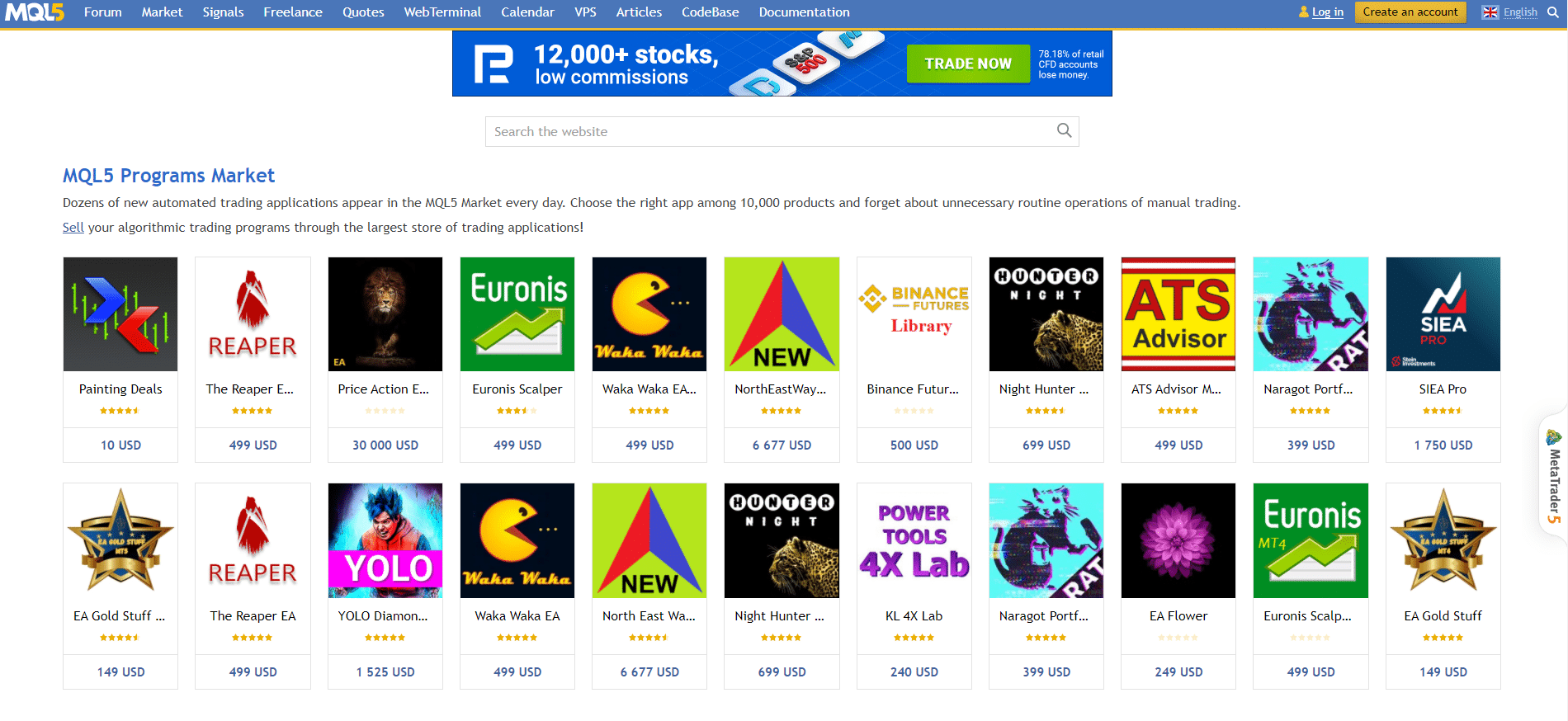 MQL5 is a universal platform for traders who use the MT4 and/or MT5 platforms. MQL5 is actually the computer programming language for MT5, with MQL5.com hosting a marketplace of 7 million users and 10,000 trading apps. Copy trading is a growing area on the site.
MQL5 is not for the faint-hearted. It is not regulated by a sovereign authority, and it can be complicated stuff. For example, a fair amount of technological willingness will be required to link up MQL5 with an MT4/MT5 terminal as well as the necessary VPS (virtual private server).
On the plus side, MQL5 offers wide copy trading accessibility through brokers that work with MT4/MT5. Those include respected firms like AvaTrade, Admiral markets, Pepperstone and IC Markets. MQL5 handles copy trading with a subscription model. Users pay a monthly subscription fee to copy the trades of signal providers. Stop losses can be set and trades are copied automatically. Do not expect the slick feel of eToro's CopytraderTM or ZuluTrade – but do expect more useful information.
Subscribers leave a star rating for each signal provider, and this rating system is taken seriously. Plentiful stats are further provided for each signal provider. And you can search through their ranks using numerous filters and categories – as well as by taking advantage of MQL5's massive forum to sniff out hot prospects and resolve tech queries.
| | |
| --- | --- |
| Assets you can copy trade | Depends on the broker, but generally forex, CFDs, cryptocurrencies, stocks, commodities. |
| Demo account | Demo account provided by MQL5, in which copy trading can be simulated with free as well as paid signal providers. |
| Educational Material | Lots of info if you search forum threads. |
| Fees | MQL5 does not charge commission. But traders you copy charge a monthly commission (average 50 USD per month). |
| Minimum deposit | From $1 – depends on the broker. |
| MT4/MT5 | Both. |
| Special Features | 10,000 trading apps to explore onsite. |
| Regulation | None. |
| Payment methods | Credit card, PayPal – requires phone confirmation. |
Pros 
Quick registration.
Good copying access to advanced traders who work with MT4/MT5.
Great info provided on signal providers.
Cons
Not regulated.
Signal providers can pick their subscription fee, which may not be warranted by performance.
Challenging tech for newbies.
67% of retail investor accounts lose money when trading CFDs with this provider. 
3. ZuluTrade – Best Platform for Forex Copy Trading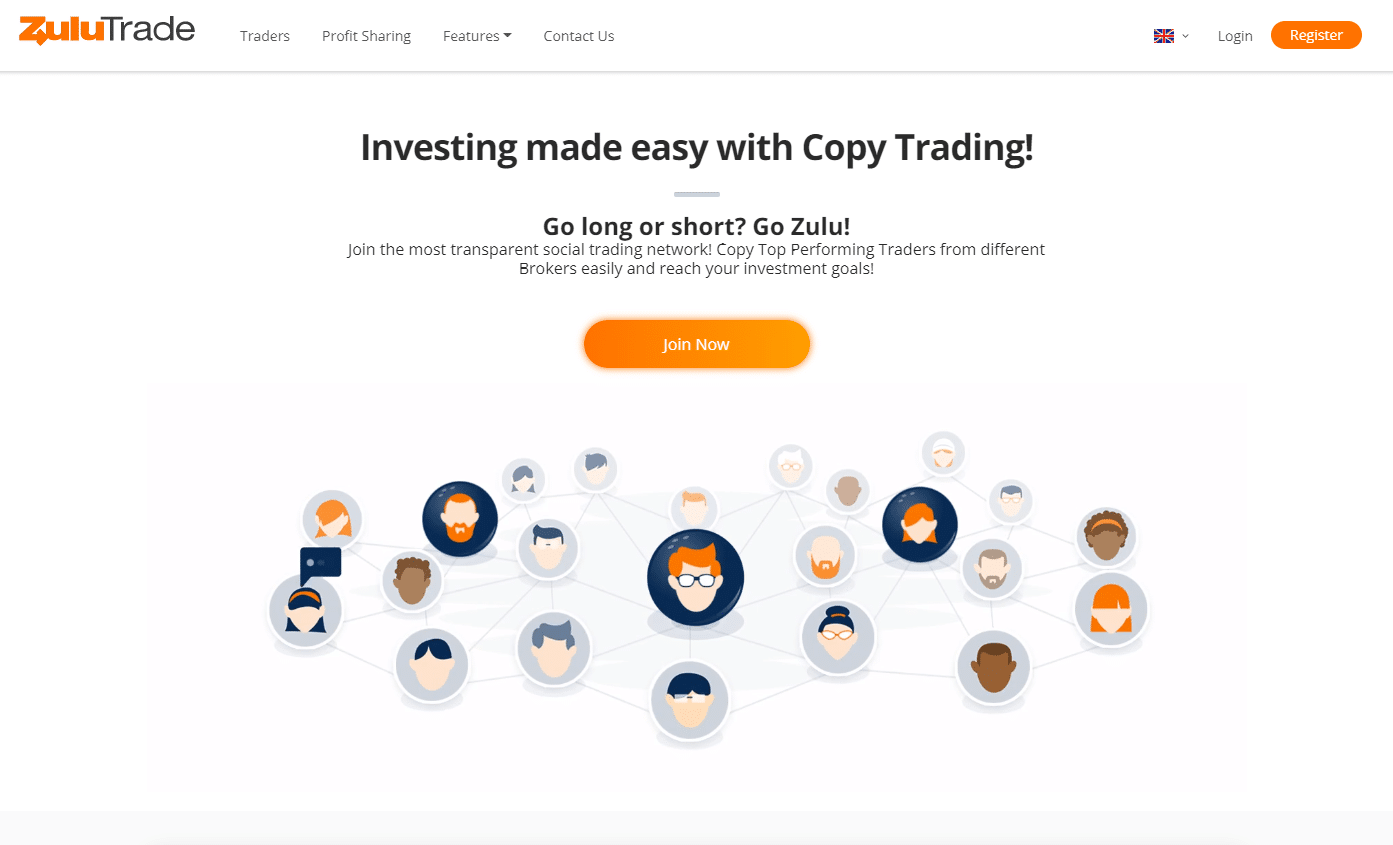 ZuluTrade offers social and copy trading in forex, commodities, indices, stocks and shares and cryptocurrencies.
ZuluTrade is only available through one of 30+ registered brokers. FXCM, listed on the NYSE, is ZuluTrade's parent trading group. Other licensed providers of ZuluTrade include Avatrade (see above), Swissquote and ThinkMarkets.
Deposit in GBP is supported.
Two types of ZuluTrade account are offered:
For hands-off traders, there is a profit-sharing account. With this, you pay a 30 USD per month subscription and take a 25% share of profits. No commissions apply on trades.
For advanced traders, a classic account is offered. Commissions apply on a volume basis. Manual and fully customised copy trading is supported.
If you want to set the example and be a copied trader (signal provider), ZuluTrade pays you for gains according to the type of account chosen by the investors that copy you.
Assets you can copy trade
Stocks and shares, cryptocurrencies, indices, ETFs, forex.
Demo account
Fully supported, and free.
Educational Material
Useful video tutorials, articles and live chat support.
Fees
No fees for copying traders. But commission and spread fees apply on transactions. Also, overnight fees apply to forex transactions. Watch out for withdrawal fees from some brokers.
Minimum deposit
Depends on the broker providing access, but generally low. Via Avatrade, for example, the minimum deposit is $300 (or equivalent in GBP).
MT4/MT5
MT4 available with all brokers apart from FXCM. MT5 available with some.
Special Features
Zuluguard protects your funds by freezing out traders you are copying who seem to have gone rogue.

'Traders Combos' allows you to copy from groups of traders that are hand-picked by ZuluTrade's Portfolio Team on the basis of strategy and risk appetite.

Regulation
FCA in the UK and others globally.
Payment methods
Depends on the provider, but generally, bank transfer and Paypal are accepted.
Pros 
Over 10,000 traders to copy
Low initial deposit required
Zuluguard
Cons
Main focus on Forex
Signal providers (ie. copied traders) not heavily vetted
Commissions charged on trades
67% of retail investor accounts lose money when trading CFDs with this provider. 
4. DupliTrade – Best Platform for Secure Vetted Expertise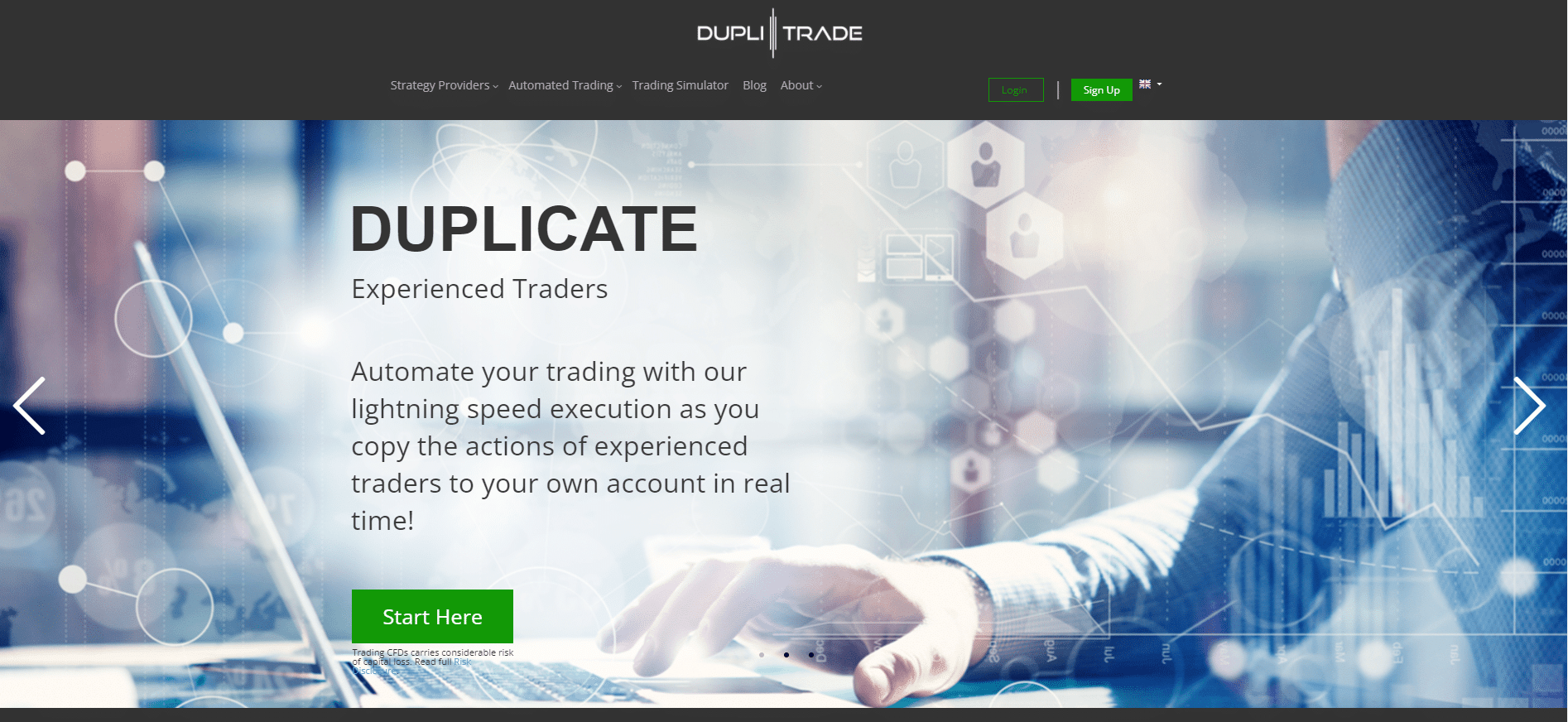 Two factors that make DupliTrade stand out:
DupliTrade offers a very small pool of signal providers. Currently, there are just 14. These 'strategy providers' are heavily vetted as well as audited on an ongoing basis.
A heavy initial deposit is required. The exact amount depends on the broker you use to access DupliTrade.
To access DupliTrade, you will need to register with DupliTrade as well as sign up with one of nine regulated brokers: IC Markets, Pepperstone, Fusion Markets, Equiti, FXDD, AxiTrader, MEX Exchange, FXPro, AvaTrade. You must then link accounts.
DupliTrade is a lot simpler than MQL5, for example. With only 14 strategy providers to choose from, you will not get paralysed by too much choice. But there is not much social activity to dive into. And the tools available to optimise risk are limited compared to those offered by eToro, for example.
| | |
| --- | --- |
| Assets you can copy trade | Forex, indices, stocks and commodities. |
| Demo account | 30-day trial demo account with a virtual balance of $50,000. |
| Educational Material | Tutorials are available. |
| Fees | No withdrawal or deposit fees. No fees for copying trades per se. But commission charged on trades. |
| Minimum deposit | Depends on the provider. With Avatrade, the minimum deposit is $2000. With other providers, it can be as much as $5000. |
| MT4/MT5 | MT4. |
| Special Features | A simulator function allows traders to test the past performance of DupliTrade strategy providers. |
| Regulation | Cyprus Securities and Exchange Commission (CySEC). |
| Payment methods | Debit/credit card, JCB, Paypal, Neteller, Webmoney. |
Pros 
Copying access to audited professional traders
30-day demo mode available
Access in partnership with reputable brokers like AvaTrade and Pepperstone
Cons
High minimum deposit
Limited pool of traders to copy
Heavy forex emphasis
67% of retail investor accounts lose money when trading CFDs with this provider. 
5. Avasocial (Avatrade) – Best Mobile-Friendly Copy Trading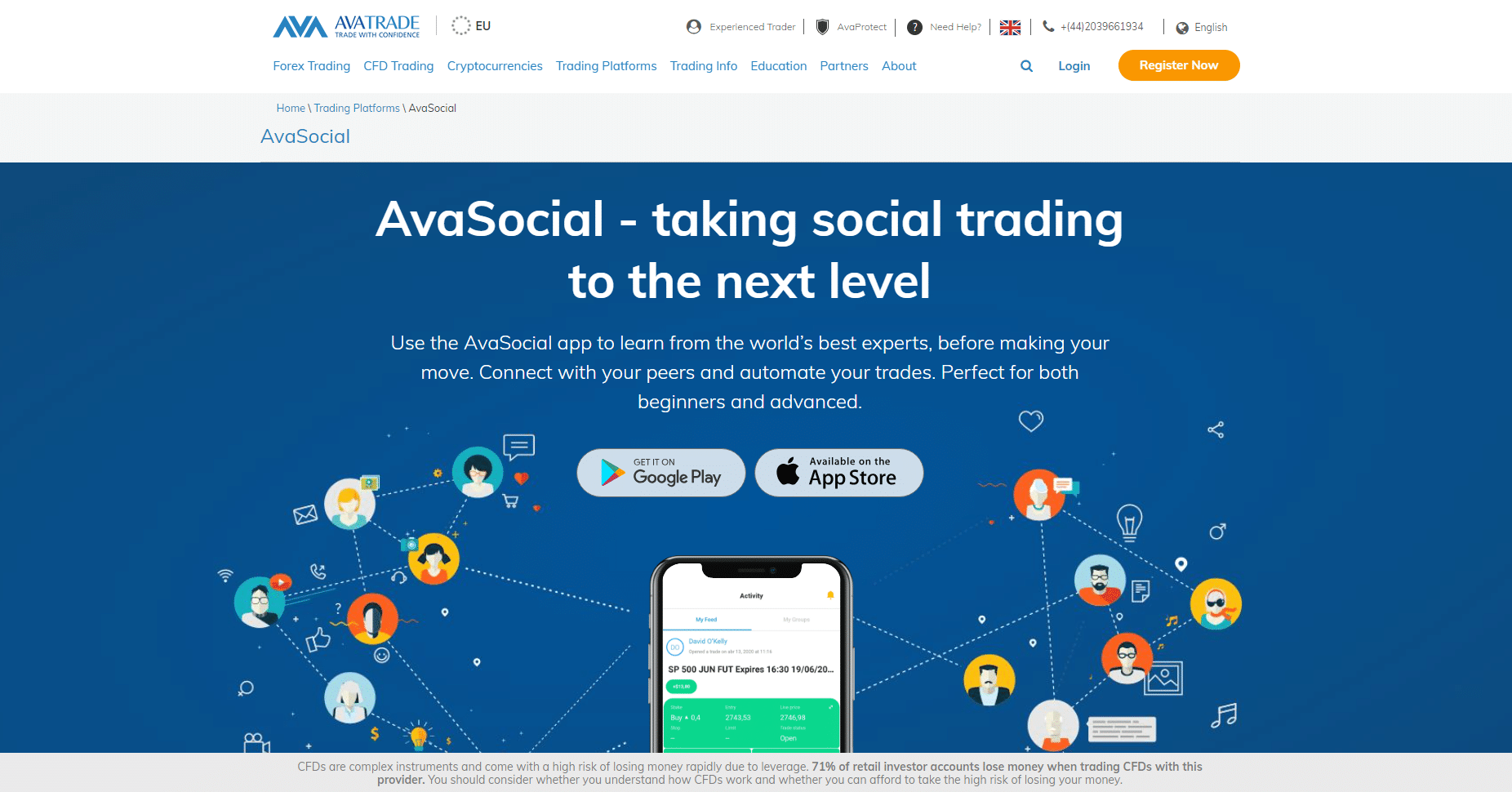 Avasocial is the proprietary copy trading app of big online brokerage Avatrade. It is a mobile app only.
Launched in 2020, Avasocial is new. And it shows: there are limited signal providers, and the software is developing its range of user options. On the plus side, the app has a social media feel and is a great place for beginners to pick up tips and advice. Both manual and automated copy trading is supported.
AvaSocial is accessible via Avatrade, which is a great place generally to start exploring your copy trading options. Established for over 15 years and regulated across six jurisdictions (including the UK), Avatrade offers conventional CFD trading as well as access to no less than 4 copy trading platforms:
Avatrade's own copy trading mobile app AvaSocial
MQL5 (see above)
ZuluTrade (see above)
DupliTrade (see above)
Avasocial is offered by Avatrade in partnership with FCA-regulated Pelican Trading.
To access Avasocial, you will need to open an account with Metatrader 4. MT4 is an established provider of trading technology to many brokerages, and opening an account is straightforward and free.
| | |
| --- | --- |
| Assets you can copy trade | Forex, cryptocurrencies, commodities, indices, stocks and shares. |
| Demo account | Avatrade offers a free demo account for 21 days. In it, you can run AvaSocial. |
| Educational Material | Tutorial videos available via Facebook and Youtube. |
| Fees | Avatrade charges no fees for copy trading. But a standard range of fees apply to transactions that are copied. |
| Minimum deposit | $100. |
| MT4/MT5 | MT4. |
| Special Features | None. |
| Regulation | Avasocial comes under FCA regulation via partner Pelican Trading. |
| Payment methods | Deposit for Avasocial is handled via Avatrade. Avatrade allows deposits via credit card, bank transfer and e-payment providers Skrill and Neteller. |
Pros 
Multi-lingual customer support
Big emphasis on social learning
Supported by Avatrade
Cons
Mobile app only
New venture: low number of participants
Basic statistics on signal providers
67% of retail investor accounts lose money when trading CFDs with this provider. 
What is Copy Trading?
Copy trading is a modern form of portfolio management. In principle, it is a passive investment strategy in which you let others make the decisions 100%.
Copy trading allows you to copy, lock stock and barrel, the strategies of other traders. Copy trading software usually copies the trades automatically.
Copy trading suits newbie investors, or investors who have not got the time to follow the markets. It is especially popular with forex trading, but is catching on — thanks to eToro in particular — in other asset sectors such as stocks, commodities, cryptocurrencies and even indices.
How Does Copy Trading Work?
The architecture for copy trading works on the basis of a handful of platforms providing copy trading services to brokers. A few brokers — like eToro, and AvaTrade — have developed their own proprietary copy trading services. Traders that are copied are called 'signal providers'. That is because their trading accounts emit a signal every time they take a trading action which is then received and acted upon by copy trading software.
Other key jargon to be familiar with is 'MT4' and 'MT5'. These terms refer to MetaTrader 4 (MT4) and MetaTrader 5 (MT5). MT4 is a free forex trading platform used by professional traders and licensed to brokers for general use. MT5 provides an upgraded service as MT4 across the board of asset sectors like stocks and commodities.
Getting started with copy trading software generally involves the same simple process. The software allows you to review lists of traders by performance stats, as well as sometimes reviews from other traders, risk ratings and in-depth charts.
You then:
Select a trader — or multiple traders — to copy.
Allocate your desired amount of funds.
Set any of a number of risk management preferences, including stop losses.
With automatic copy trading systems, your work is now done. The software will replicate every trading movement made by your copied trader in real-time, using a relative proportion of your allocated funds. Usually, you can cancel your copy order at any time.
Example of a copy trade:
Let's say you have chosen to copy Trader A. At 09:30 Trader A buys stock B with 15% of his total balance. If you have automatic copy trading selected, the software will then use 15% of your total allocated balance to purchase stock B.
Pros 
Make money by copying successful traders.
As a newbie, learn directly from more experienced traders.
Copying from multiple traders at the same time allows you to spread risk.
Save time with a 100% passive investment strategy.
Make money yourself as a successful signal provider
Cons
When it comes to signal providers (traders to copy), past performance does not guarantee future success.
Technical failure could result in key signals and orders being missed.
Following just one signal provider fails to diversify risk.
Signal providers with dramatic portfolio growth stats are often the biggest risk-takers.
Stop loss and other risk management settings must be fully understood to avoid a newbie ending up with a negative balance — and not know it until it is too late.
67% of retail investor accounts lose money when trading CFDs with this provider. 
What Assets Can I Trade With Copy Trading?
It all depends on which copy trading platform you are linked to. But generally, most asset forms are available:
Stocks
Copy trading nowadays involves signal providers who trade in stocks. As well as minor exchanges, the big exchanges are usually covered:
Tokyo Stock Exchange (TSE)

New York Stock Exchange (NYSE)

Toronto Stock Exchange
NASDAQ
Euronext
London Stock Exchange (LSE)
Forex
Historically, copy trading began with foreign exchange trading, with the rapid trade rate and use of algorithms making it an ideal field for newbies to learn from experts.
The three main formats of forex trading are all in use with signal providers:
Major Pairs – Highly-liquid major currencies twinned in a betting package for tight bid/ask spreads and low volatility.
Minor Pairs – One major currency matched with one less liquid currency.
Exotics – One major currency linked with one emerging currency.
CFDs (Contracts for Difference)
Increasingly popular, CFDs allow you to trade a stock without ever owning the underlying asset. CFDs broaden the range of assets a private trader can deal in, but often attract higher fees than conventional stock transactions.
CFDs are generally available in:
Commodities
Stocks
Cryptocurrencies
Indices
Cryptocurrencies
Cryptocurrencies are a late arrival to the copy trading scene. Check out eToro's CopyTrader for the best cryptocurrency copy trading action.
What Commissions and Fees Can I Expect With Copy Trading?
Most brokers and platforms do not charge you to copy trades. One key exception is MQL5. Here, users pay signal providers a monthly subscription. With other systems, signal providers make their money by being paid directly by the platform proportional to their trading success. Generally, normal brokerage fees will apply to the trades your copy trading system enacts on your behalf.
Spreads
Spreads are a form of indirect fee levied by brokers. With Etoro, for example, they are a major means of platform income.
A spread describes the difference between the bid (buy) and ask (sell) price. You want as tight a spread as possible. Cryptocurrencies tend to involve large spreads.
Example of a spread – Stock A has a buy price of $200 and a selling price of $190. This means you can buy it for $200 and sell it for $190. The spread is the difference between the two prices: $10. If you buy, you want to make sure you see a price movement greater than $10 before you sell. Otherwise, the spread will swallow any profits.
Commission and other fees
A few brokers charge commissions on trades on a percentage basis. Other key fees to look out for include deposit/withdrawal fees and overnight financing for CFDs. Be sure to check out your copy trading platform's FAQs for a full list of fees.
What Should I Look for When Selecting a Copy Trading Platform?
You are unlikely to find a copy trading platform that ticks all the boxes. Sometimes, one benefit can only be available complete with a downside. DupliTrade, for example, offers vetted signal providers – but only 14 of them. ZuluTrade, on the other hand, offers over 10,000 signal providers to copy from, but far less stringent terms to become one.
Regulation – If the copy trading platform goes under, you will want some come-back.
High user base – A sign that something is going right.
Established, no-glitch software – With an automated system, the last thing you want is tech problems.
Good choice of signal providers – So you can spread risk.
Vetted signal providers – So it is not just you weighing up trader proficiency.
Conclusion
Copy trading is a welcome addition to online trading and investing. With copy trading, traders and investors of all levels of experience can boost their portfolio at the same time as developing new skills. By copying every move a more experienced trader makes, investors can see successful strategies in action up close and personal.
What underpins the success of the copy trading model is that software development has reached the point where the user can enjoy a comfortable and comprehensive experience. With plenty of risk management mechanisms available, copy traders can guarantee their financial safety too.
Outstanding in the field of copy trading is eToro. Their proprietary CopyTrader system is extremely simple to use and features plenty of signal providers to copy from. What's more, CopyTrader is integrated seamlessly into the normal eToro user experience. With eToro, copy trading is no big deal.
Best Copy Trading Platform – eToro CopyTrader
FAQs
What are some other copy trading platforms?
What is the most important thing about copy trading?