General Motors Stock Price Falls 4.7% – Time to Buy GM Stock?
Please note that we are not authorised to provide any investment advice. The content on this page is for information purposes only.
General Motors (GM) stock fell 4.7% yesterday. While the stock is still up almost 25% for the year and is outperforming the S&P 500, it is now down 21.5% from the 52-week highs.
Recently, GM stock hit its highest level since it emerged out of bankruptcy. However, the stock is now in a bear market territory having fallen over 20% from its peaks. What's the forecast for General Motors stock and is it a good buy now?
Why is General Motors stock falling?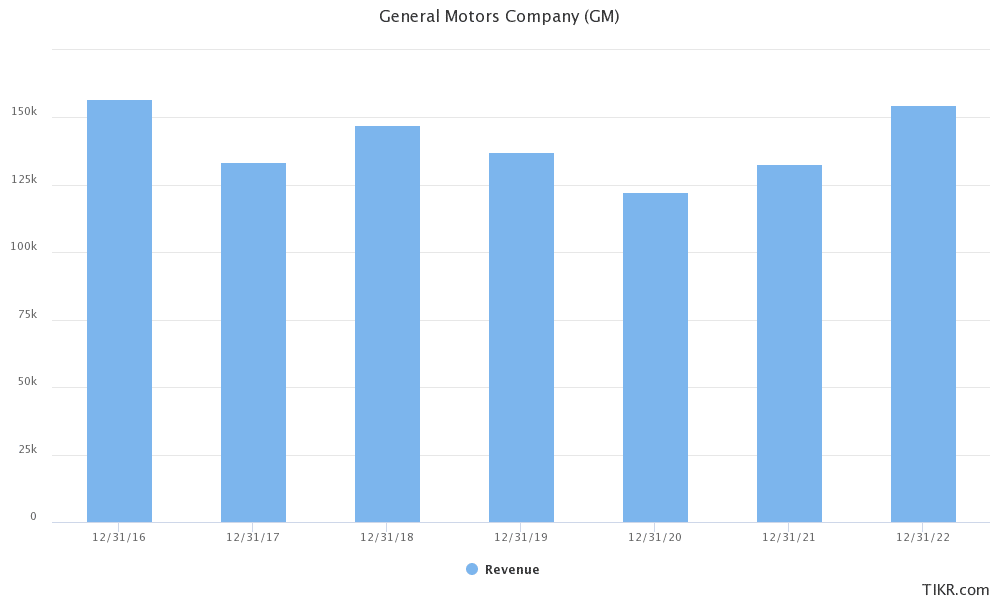 Both General Motors and Ford stock have come off their highs. There have been multiple reasons for the sell-off in legacy automakers. Firstly, the chip shortage situation is still persisting which has taken a toll on automotive companies' production. To add to that, there has been cost-push inflation as prices for all key inputs have spiked amid the rally in commodity prices.
Talking specifically about yesterday, a couple of things weighed heavy on General Motors stock. Firstly, Berkshire Hathaway announced that it has offloaded around 10% of the stake in GM. The news was revealed in the conglomerate's 13F filing. The Warren Buffett-led company also sold drugmaker stocks but added to the positions in Aon and Kroger.
Buffett starts buying or selling a stock gradually and in most cases, the company ends up exiting the stock completely. For instance, over the last year, Buffett fully exited banks like Goldman Sachs and JPMorgan Chase through gradual sales.
The news of a legendary value investor like Buffett selling GM stock dampened sentiments. To make things worse, the July retail sales data was also worse than affected. Sales of automotive were particularly weak in the month amid the shortage of new cars due to the chip shortage situation.
67% of all retail investor accounts lose money when trading CFDs with this provider
GM stock recent developments
Earlier this month, General Motors had released its second-quarter earnings. While Ford stock had soared after the earnings, GM had slumped. General Motors raised it's 2021 before tax guidance to $11.5-$13.5 billion which was higher than the previous guidance of $10-$11 billion. Meanwhile, the company warned of uncertainties which dampened sentiments.
"There are unknowns with the Delta variant, and that's why we are being appropriately cautious," said CEO Mary Barra in the earnings call. She also warned of challenges from the chip supply situation. "As for semiconductors, the situation does remain fluid, and the supply chain continues to be impacted by events like what is happening right now with the Covid spike in Malaysia," added Barra.
General Motors stock forecast
According to the data compiled by TipRanks, General Motors has an average target price of $73 which is an upside potential of 36% over current prices. The stock has the highest and lowest target price of $90 and $53 respectively. Currently, GM stock even trades below the street lowest target price. Of the 17 analysts covering General Motors stock, 16 rate them as a buy while one has a hold rating.
Analyst action
While GM stock had slumped after the second-quarter earnings release, some analysts saw the dip as a buying opportunity.
"While 2Q results and 2021 guide came in soft, we think 2Q was impacted by one-time warranty charges that will reverse and management set an easy bar for 2H assuming lower volume sequentially as a result of chip shortage," said Deutsche Bank analyst Emmanuel Rosner. During the quarter, General Motors incurred warranty-related costs of around $1.3 billion that dampened sentiments.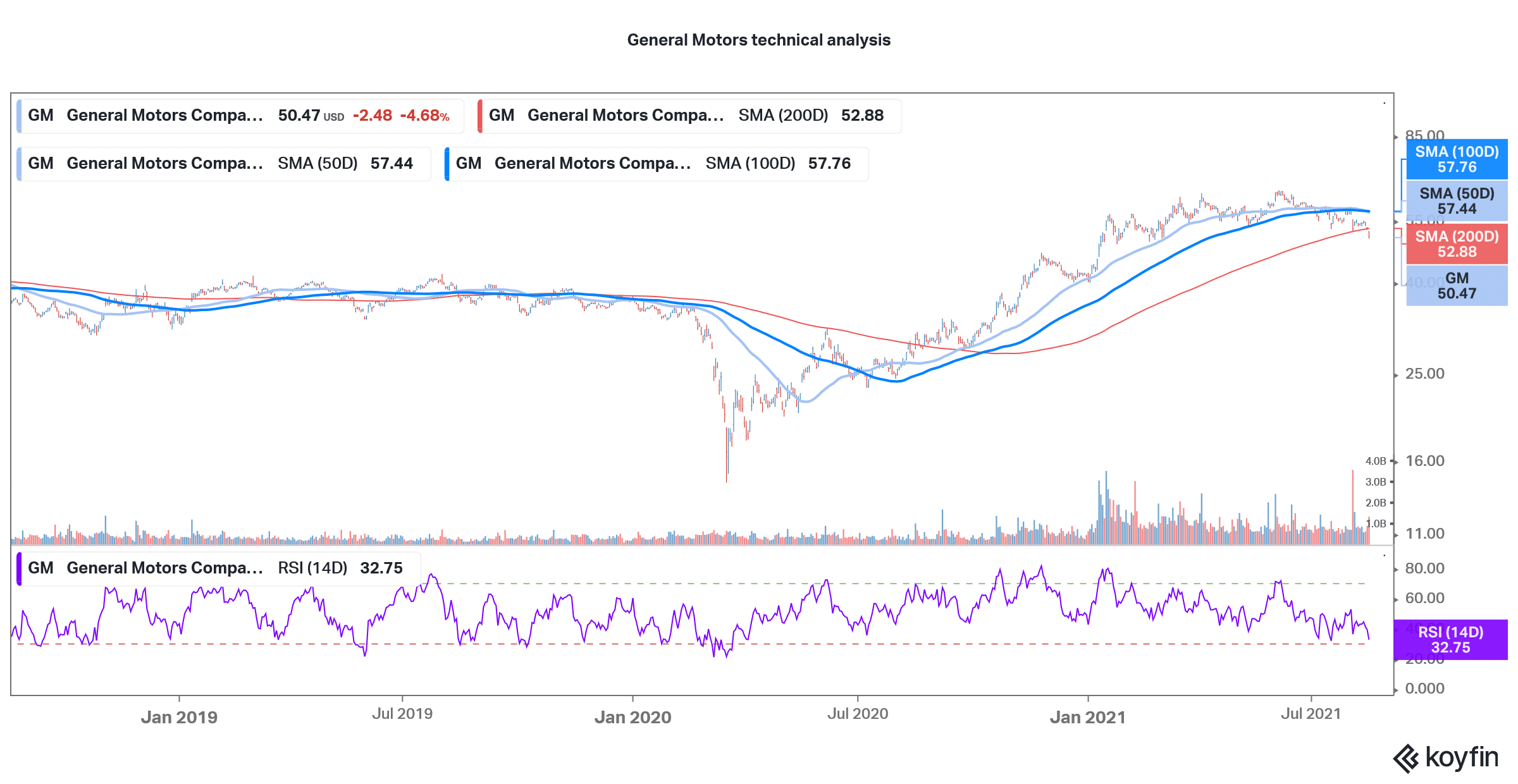 General Motors dividend
He expects the Capital Markets Day that's scheduled for October "as a positive catalyst for the stock, prompting investors to refocus on the company's strong positioning, product, technology and strategy in Autos 2.0." During the event, the company might provide more details on the electric vehicle plans and also provide a roadmap for dividend restoration. Both Ford and GM had suspended the dividends last year but have been reluctant to restore them despite a surge in profitability. The chip shortage situation and the still uncertain economic outlook amid rising coronavirus cases seem to be making these companies apprehensive.
RBC also reiterated their outperform rating on General Motors stock. "Net, we believe GM is laying the groundwork for transforming the company's structural profitability, which will be expounded upon at its analyst day," it said in its note.
GM stock technical analysis
Looking at the charts, General Motors stock was facing resistance at the 50-day SMA (simple moving average). However, the stock failed to cross above the trendline and subsequently fell below the 100-day as well as the 200-day SMA. The plunge below the 200-day SMA is especially a bearish technical signal. However, GM stock is now getting near the oversold territory with a 14-day RSI (relative strength index) of 32.7.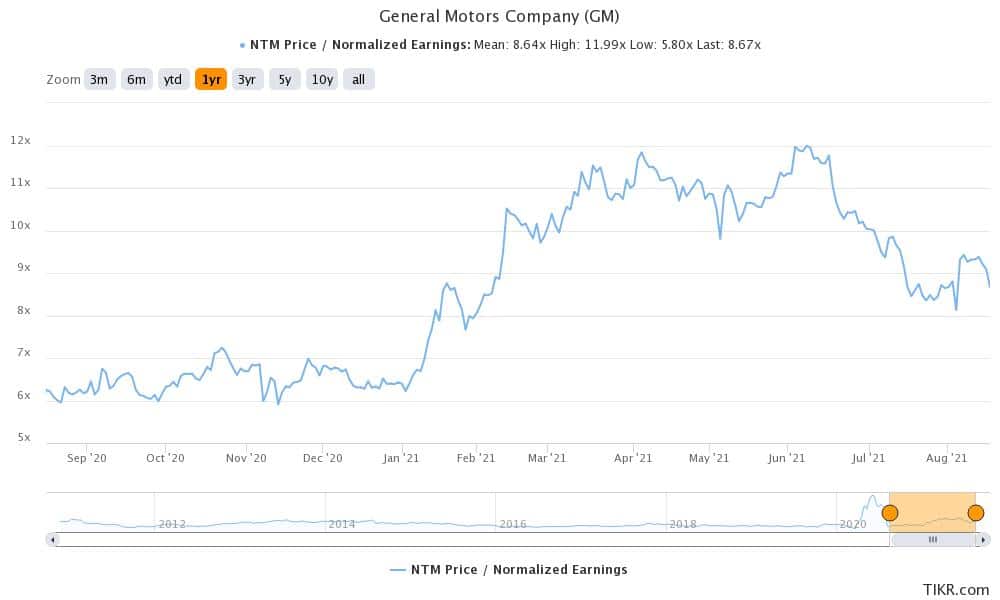 Looking at the fundamental perspective, General Motors stock trades at an NTM (next-12 months) PE multiple of only 8.7x. The valuations look reasonable even as automakers' earnings might be near their cyclical peaks.
General Motors stock long term forecast
The long-term forecast for General Motors stock looks positive amid the pivot towards electric cars and autonomous vehicles. The company has a market cap of only around $72 billion which is only $10 billion higher than NIO and only about 10% of Tesla's mammoth market cap.
While pure-play electric vehicle companies are attracting a massive valuation premium, over the long term, the multiples of legacy automakers and pure-play EV names will somewhat converge as legacy automakers increase the percentage of electric cars in their sales mix.
67% of all retail investor accounts lose money when trading CFDs with this provider