Nio Stock Down 16% in August – Time to Buy Nio Stock?
Please note that we are not authorised to provide any investment advice. The content on this page is for information purposes only.
The price of Nio shares has gone down 16% so far in August while the stock is currently trading 44% below its 52-week of $67 per share as political and regulatory risks continue to weigh on the valuation of Chinese firms.
Meanwhile, market participants seem to have reacted negatively to the firm's latest quarterly report despite its upbeat tone as shares have gone down 6 days in a row following the company's earnings release.
For the second quarter of 2021, Nio reported total deliveries of 21,896 vehicles along with revenues of $1.3 billion that exceeded the Street's estimates for the quarter by nearly $200 million.
Moreover, quarterly net losses per share narrowed as well at RMB 0.21 compared to RMB 1.08 the firm reported during the same period a year ago while they came in lower than the market expected as analysts polled by Capital IQ had forecasted losses per share of RMB 0.55 for the electric vehicle maker.
Could this downtick be providing an opportunity to buy NIO stock at a bargain price? In the following article, I'll take a look at the latest price action while analyzing the firm's fundamentals to possibly answer that question.
67% of all retail investor accounts lose money when trading CFDs with this provider.
Nio Stock – Technical Analysis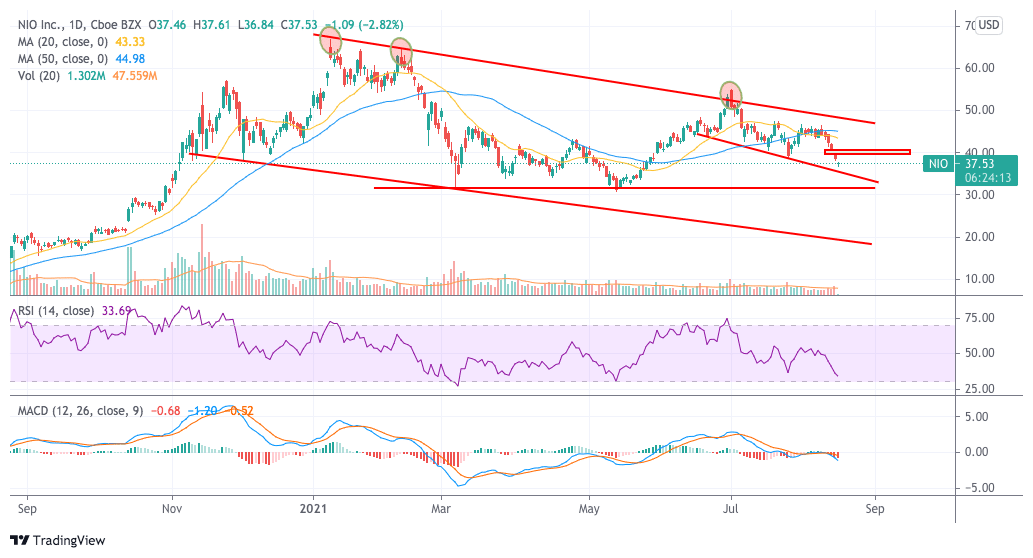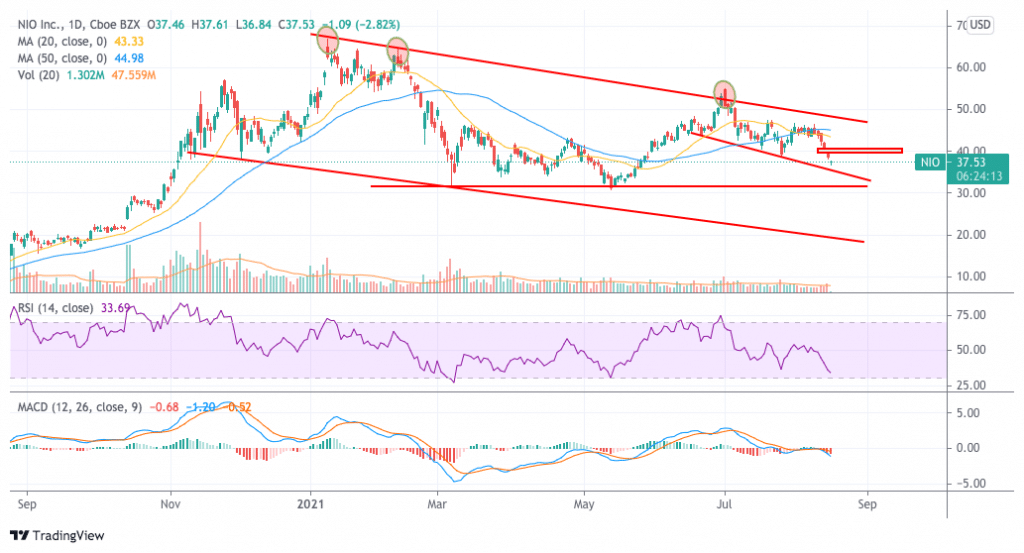 Including this morning's downtick, Nio shares have gone down for 6 days in a row now following the release of the firm's Q2 2021 results. Meanwhile, the stock remains in a downtrend as indicated by the chart above as the price action has posted a series of subsequent lower highs and lower lows since the January 2021 all-time high.
Trading volumes have been particularly elevated lately with yesterday's session seeing a total of over 66 million shares exchanging hands, a number that is 1.3 times the 10-day average for NIO stock.
Moreover, momentum oscillators have once again moved to bearish territory with the Relative Strength Index (RSI) already hovering near oversold levels while the MACD has moved below the signal line on negative momentum readings.
Based on these technical readings, the outlook for Nio shares is bearish for the short term. In the chart above, I outline some plausible support areas that traders could watch in the following session.
The first is a trend line support found at around $35 per share, followed by a horizontal support found in the low 30s area. Finally, if the stock breaks those two thresholds, the downside risk for Nio would be huge, possibly aiming for a 50% slide in the price.
Even though that scenario seems unlikely at the moment, more negative developments on the political and regulatory front, especially if they have a direct effect on the firm, could contribute to plunging the stock to lower levels.
Nio Stock – Fundamental Analysis
Nio's revenues have been growing at a fast pace in the past two years and are expected to grow significantly in the following years as well as the firm continues to ramp up its number of delivered vehicles every quarter.
From 2018 to 2020, sales have grown from $720 million to $2.5 billion at an 86% CAGR while revenues are expected to more than double this year at around $5.6 billion. Moreover, for 2022 and 2023, revenues are expected to grow at an average rate of 50% to 70%.
The company's gross margins have been progressively improving, moving from negative 5% back in 2018 to an average of 18% in the past three quarters while the company has managed to trim its net losses from $3.4 billion back in 2018 to $860 million last year.
Moving forward, adjusted losses per share are expected to land at $0.50 this year while the firm is expected to swing to profits in 2023.
As per its balance sheet, Nio ended the second quarter of the year with long-term debt of $1.7 billion on total assets of $10.15 billion including $7.3 billion in cash and equivalents.
Based on this morning's market capitalization of $64.5 billion, Nio is being valued at 11 times its forecasted sales for 2021.
This seemingly depressed valuation multiple compared to that assigned by market participants to its closest rival Tesla (TSLA), which currently trades at 14 times its forecasted sales for 2021, reflects the investment community's concerns about China's latest hostile attitude against big corporations in the country.
Therefore, political and regulatory risks should be taken into account when investing in Nio shares. Even though shares are trading at a fairly attractive multiple considering the firm's historical and forecasted growth, measures taken by the Chinese government that could affect the firm's performance or further news about crackdowns in other sectors of the economy could contribute to depressing the value of Nio even further.
Buy Stocks at Cedar FX, the World's #1 trading platform!