GBP/USD Price Analysis: Bulls Pause Above 1.37 Ahead of US Retails
Please note that we are not authorised to provide any investment advice. The content on this page is for information purposes only.
While the US dollar weakens, the GBP/USD is rising steadily.
Several Fed officials have softened their tone in recent comments.
US retail sales data will be the spotlight for the traders. 
In today's price action, GBP/USD price analysis shows a 0.16% gain from yesterday's low of 1.3705, after climbing to 1.3730s. Although prices are stagnating here, there is a return of the US dollar bears and a strengthening of the pound. This is because Britain has the most hawkish central bank in the world.
Rabobank analysts say expectations regarding other G10 central banks could trigger another correction in the US dollar, thereby triggering further declines. However, market expectations for further tightening this year (which we consider overdone) led to some support for the pound after the Bank of England raised interest rates by 15 basis points last month.
In the meantime, the US dollar has recently been under pressure from some less hawkish comments, including those from Federal Reserve Chairman Powell and Philadelphia Fed President Patrick Harker.
According to Harker, the Fed is likely to start cutting its balance sheet by late 2022 or early 2023 after it significantly raised its key interest rate from near zero to about 1 percent. Powell, who said the Fed may begin reducing its balance sheet later this year, agreed with these comments.
During a confirmation hearing before the Senate Banking Committee, Powell said, "We will stop buying bonds in March, which will mean we'll raise rates later this year."
-Are you looking for the best copy trading UK platform? Check out our detailed guide-
"At some point, maybe later this year, we will begin to keep the balance sheet, and that is just a way to normalize policy," he said, adding the US economy " does not need and does not want" more flexibility from the Federal Reserve.
TD Securities analysts say retail sales declined in December, even though higher prices led to a rise in par. As a result of easing fiscal stimulus, payments for Christmas purchases are made earlier than usual, and Omicron's spending is likely to have been limited. Sales will decline by 1.4% MoM (consensus: -0.1%) and by 2.0% for the control group (consensus: no change). The real and nominal spending should remain stable quarterly and rise sharply.
John Williams, president of the New York Fed, will speak. Later this month, the Fed will enter a lockdown period until its next interest rate decision. This puts the spotlight on US data. Retail data will be of interest today.
-Do you need a reliable forex signal UK? Check out for more details-
GBP/USD price technical analysis: Bulls gearing up for further gains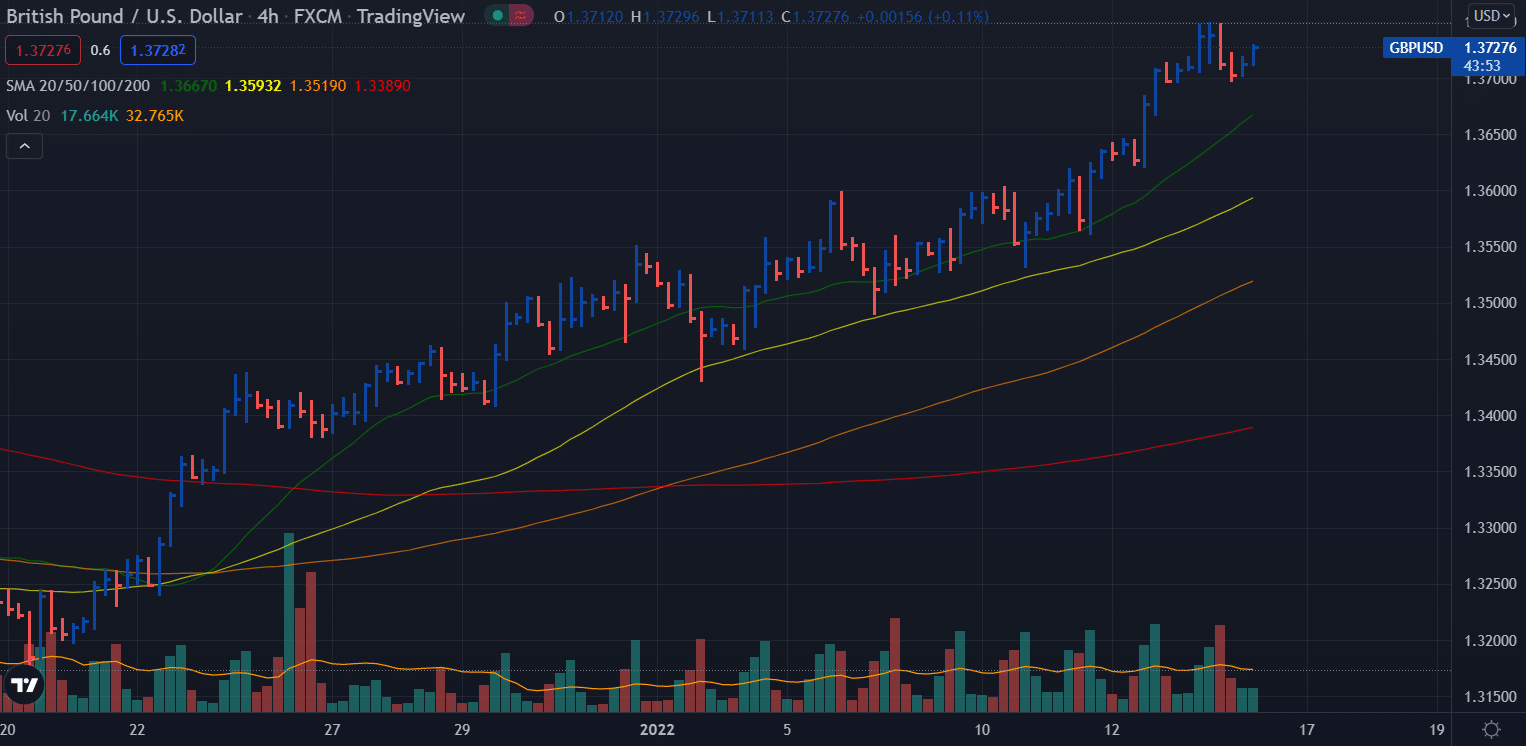 The GBP/USD price paused its upside at 1.3747 and retreated to 1.3700. However, the bulls are not out of steam yet. The pair is attempting to push for another rally towards 1.3800. However, the bull run from the 1.3100 area is quite prolonged, and a major pullback is still due for the pound. The downside may target 1.3660 ahead of 1.3590 and 1.3500.