Ford Stock Falls after Warning on Profits & Supply Chain Woes
Please note that we are not authorised to provide any investment advice. The content on this page is for information purposes only.
The global automotive industry has been grappling with supply chain issues for over two years now. Ford has warned that its earnings in the third quarter would be lower due to supply chain issues and inflation.
Ford expects that it would have between 40,000-45,000 vehicles in inventory at the end of the third quarter due to parts shortage. Rival General Motors also reported also 100,000 unfinished vehicles at the end of June. Ford stock is trading lower in US premarket price action today after the warning.
Supply chain woes
Due to the shortage of parts especially semiconductors, automakers globally have not been able to produce the desired number of vehicles. The supply chain woes have hit almost all the automakers including legacy carmakers as well as pure-play EV companies.
Lucid Motors has downwardly revised its delivery guidance twice this year while Rivian expects to produce 25,000 cars this year which are half of its nameplate capacity. Chinese EV makers like NIO, Xpeng, and Li Auto have also reported lower deliveries due to supply chain issues.
The intermittent lockdowns in China haven't helped the cause of Chinese EV companies. Even Tesla lost production in China in the second quarter. The company also lost the title of the world's largest seller of new energy vehicles to BYD Motors.
Ford gives a profit warning
Along with the supply chain woes, Ford also warned that higher inflation would eat into its profits. It said that based on its negotiations with suppliers, the materials cost in the third quarter would be $1 billion above what it had planned for. Ford guided for an adjusted EBIT between $1.4-$1.7 billion in the third quarter, which was way below what analysts were expecting.
However, Ford maintained its full-year EBIT guidance of $11.5-$12.5 billion. It said, "The supply shortages will result in a higher-than-planned number of "vehicles on wheels" built but remaining in Ford's inventory awaiting needed parts, at the end of the third quarter." Ford added, "The company believes that those vehicles – an anticipated 40,000 to 45,000 of them, largely high- margin trucks and SUVs – will be completed and sold to dealers during the fourth quarter."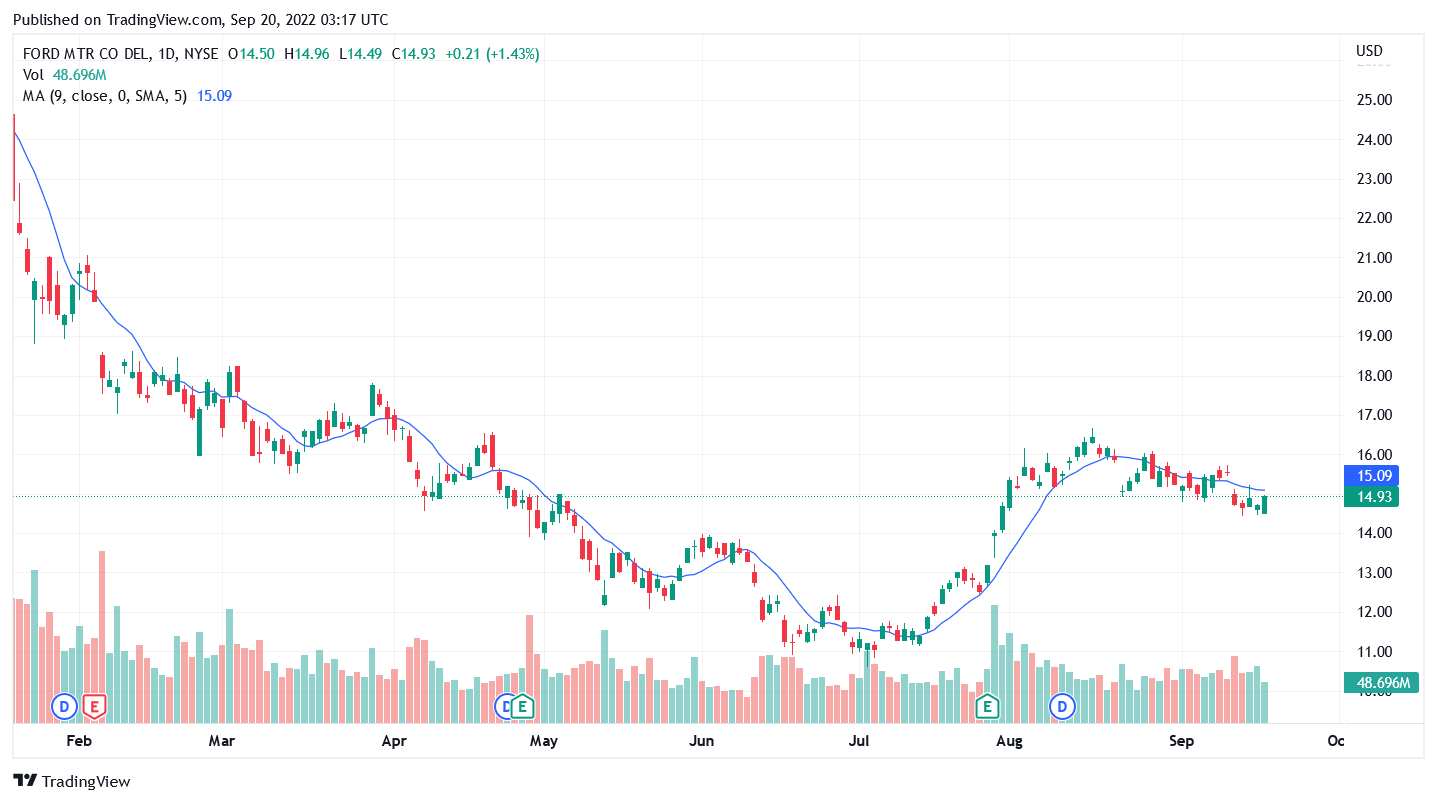 Ford has raised vehicle prices
Ford has raised prices on some of its popular products including the F-150 Lightning, which is the all-electric version of its best-selling pickup truck. Last month, it announced a price hike between $6,000-$8,500 across different F-150 Lightning models post which the starting price rose to $47,000.
While Ford does not provide the profit breakup from the F-150, analysts believe that it accounts for the bulk of the company's profitability. The F-150 competes with Rivian's pickup truck. Next year, Tesla would also start delivering its Cybertruck post which the competition in the electric pickup market would intensify. Ford's F-150 has been America's best-selling pickup for decades but would now need to prove its mettle against Tesla's unconventional-looking pickup.
Electric vehicle industry
Tesla continues to be the market leader in the US EV market. However, both Ford and General Motors have upped their game in the EV market. Ford expects to its EV production run rate to rise to 2 million by 2026. Going by Tesla's guidance of a 50% CAGR growth in deliveries, it should deliver over 2 million EVs in 2023 only.
Tesla is investing billions of dollars in new plants which would help it ramp up its capacity. However, Bank of America believes that Ford and General Motors would be able to snatch some market share from Tesla. Bank of America analyst John Murphy said that Tesla's EV dominance in the US market is "done."
Ford to report EV numbers separately from 2023
Ford restructured its business between Ford Blue and Model e. While Ford Blue is the legacy ICE (internal combustion engine) business, Ford Model e houses the EV business. From 2023, the company would start reporting the results of both businesses separately which would help provide more color on its profitability.
Notably, among pure-play EV companies, only Tesla has reached sustainable profitability. Almost all other EV companies continue to report losses and cash burn.
Recession fears and rate hikes could take a toll on car sales
The US automotive industry has been supply-contained for quite some time now due to supply chain issues. There was also a pent-up demand for vehicles while inventories were below historical averages. Automakers including Ford capitalized on the opportunity to raise car prices.
However, the tide might turn for the industry amid rising interest rates and recession fears. The Fed has already raised rates four times this year and looks set to raise rates by a minimum of 75 basis points this week.
Rising interest rates are negative for interest-rate-sensitive goods like housing and automotive. The US housing market has shown visible signs of weakening. What was a sellers' market a few months back, is now becoming a buyers' market.
If the economic slowdown persists and Fed continues to raise rates, US automotive companies might also feel the heat.