Ford Stock Price Down 24% in 2022 – Time to Buy F Stock?
Please note that we are not authorised to provide any investment advice. The content on this page is for information purposes only.
Ford stock (F) gained 144% in 2021 and was among the top five S&P 500 gainers. Markets rerated the stock for its pivot towards electric cars. However, 2022 has been a different ballgame and the stock is now down 24% in the year.
F stock is now down almost 40% from its 52-week highs. What's the forecast for the stock and is it a good buy now after the crash?
Ford stock recent developments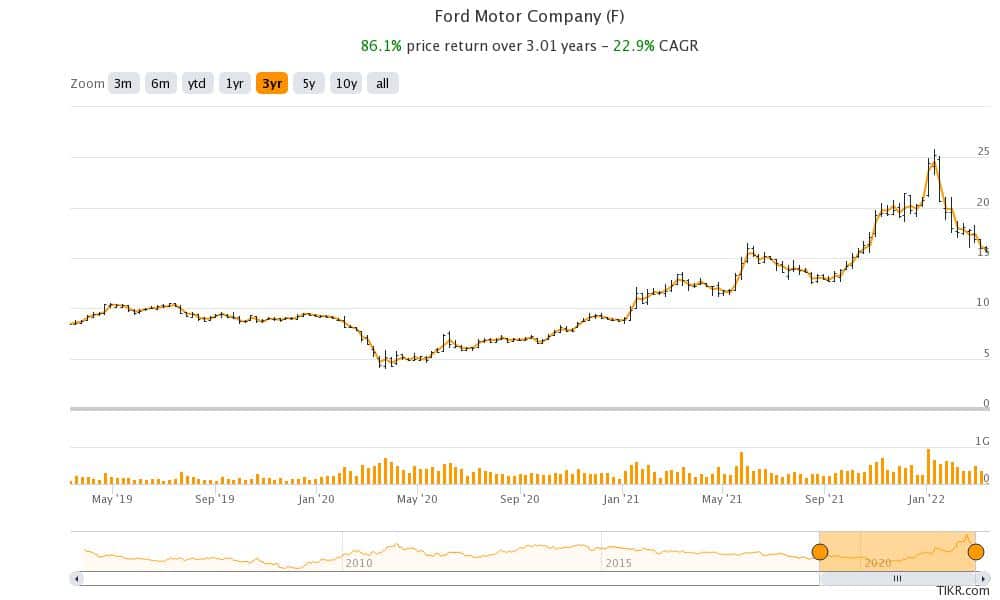 Ford has announced that it would separate the legacy ICE (internal combustion engine) business from the electric car business. It has become the first legacy automaker to take this decision.
The business, which has been renamed Ford Blue, would work towards lowering costs. Here it is worth noting that Ford Blue would provide manufacturing and engineering capacity for the entire company, including the electric car business, which has been renamed Ford Model e.
Commenting on the changes, the company's Executive Chair Bill Ford said, "This isn't the first time Ford has reimagined the future and taken our own path." He added, "We have an extraordinary opportunity to lead this thrilling new era of connected and electric vehicles, give our customers the very best of Ford, and help make a real difference for the health of the planet."
68% of all retail investor accounts lose money when trading CFDs with this provider.
EV investments
Notably, while pure-play EV (electric vehicle) stocks commanded massive valuation premiums, markets did not pay heed to the manufacturing prowess, well-entrenched distribution networks, and strong brands of legacy automakers. The recent slide in EV names like Lordstown Motors, Rivian, and Lucid Motors, is a testimony to the fact that it is not easy to scale up EV production after the initial hype. While Tesla has done it incredibly well and is on track to deliver more than a million cars in 2022, few other pure-play EV companies have witnessed similar success.
Meanwhile, F has also increased the investments towards electric cars and would now spend $50 billion by 2026. It expects to sell 2 million EVs by that year and by 2030, it is forecasting that half of its vehicles would be electric.
Analysts on Ford stock
Some of the Wall Street analysts are not too convinced about Ford's ability to scale up production so fast. Morgan Stanley analyst Adam Jonas, who believes that the rise in nickel prices would increase an electric car's production cost by $1,000, expects Ford to deliver only about 560,000 electric cars by 2026."
He said, "At this stage we simply do not have confidence in the ability for Ford–or GM for that matter–to secure the materials …in sufficient quantity and quality/efficacy to deliver on an EV number anywhere near this level within four years."
Among other analysts, while Deutsche Bank is not too convinced about Ford's long-term forecast, including on the projected 10% EBIT margins, Credit Suisse believes that the business transformation would help the company compete better in the EV space. Jim Cramer is also optimistic about the business changes and expects them to help Ford in taking on Tesla.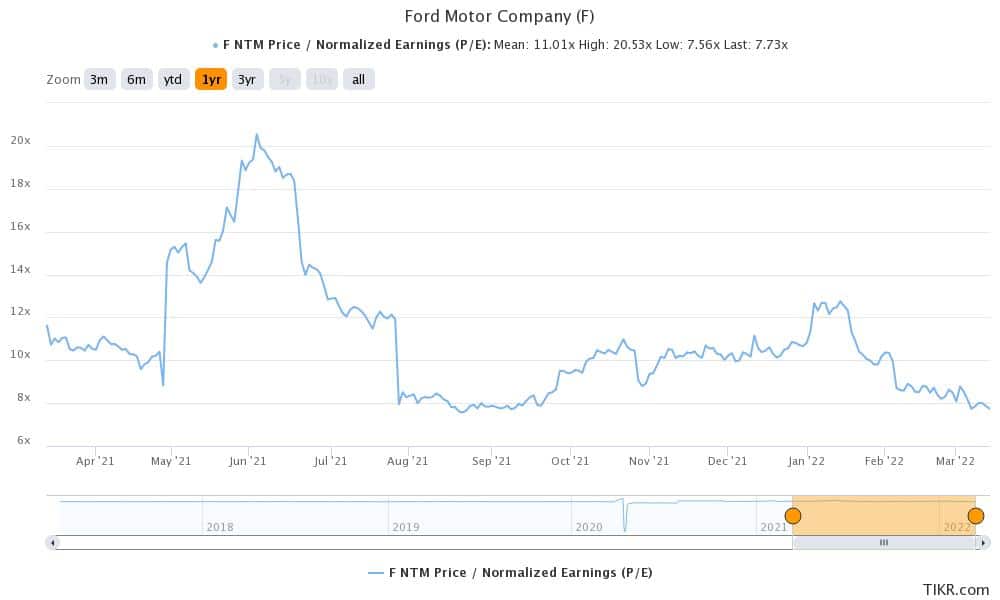 Ford stock forecast
Wall Street analysts have a mixed forecast for F stock. It has received 11 buys, seven holds, and three sell ratings from the analysts polled by CNN Business. The stock has a median target price of $22 which is a premium of 39.8% over current prices.
Some of the analysts are apprehensive about Ford stock amid rising inflation and the Russia-Ukraine conflict. Prices of key raw materials like steel, copper, aluminum, and nickel have spiked which would lead to higher manufacturing costs for automakers. Also, the chip shortage situation, which was expected to be gradually better this year, might extend a bit further if the crisis in Ukraine escalates further.
Jefferies recently lowered F's target price from $20 to $18 and said, "US exposure clearly dominates the earnings profile, but we take a more cautious view on Ford's recovery in Europe. During the conference we learned that Europe accounts for a bigger contribution than we expected to FordPro globally."
F stock long term forecast
The long-term forecast for Ford stock looks bullish. The company's electric models have been getting a good response. The next key test for the company would be the F-150 all-electric model. The deliveries for the model, whose ICE version has been America's best-selling pickup for decades, are set to begin in the second quarter. Rivian has taken a lead in the electric pickup market but its volumes are quite low. The biggest challenge for the F-150 would come from Tesla's Cybertruck. While Cybertruck's deliveries were expected in 2022, Tesla has delayed the launch of new vehicles to 2023 in order to focus on producing the existing models.
Should you buy Ford stock?
F stock looks like a buy looking at its strong growth outlook and the focus on profitability. The stock trades at an NTM (next-12 months) PE multiple of around 7.7x which looks quite reasonable. It has also reinstated the dividend and now has a dividend yield of 2.4%, which is higher than the S&P 500.
The crash in Ford stock looks like a good buying opportunity. There is bound to be volatility in the short term amid geopolitical tensions. However, the company's long-term outlook looks reasonably bullish.
Buy F Stock at eToro from just $50 Now!