Dogecoin Price Up By 12% – Time To Buy DOGE?
Please note that we are not authorised to provide any investment advice. The content on this page is for information purposes only.
Meme tokens are the rave of the year. With Dogecoin climbing by more than 15,000% in a single calendar year, many investors are looking to buy DOGE.
Based on the popular 'doge' Internet meme and featuring the Japanese Shiba Inu, Dogecoin is one of the most valuable cryptocurrencies in the world.
Dogecoin: Bitcoin Knock-off Turned Parody King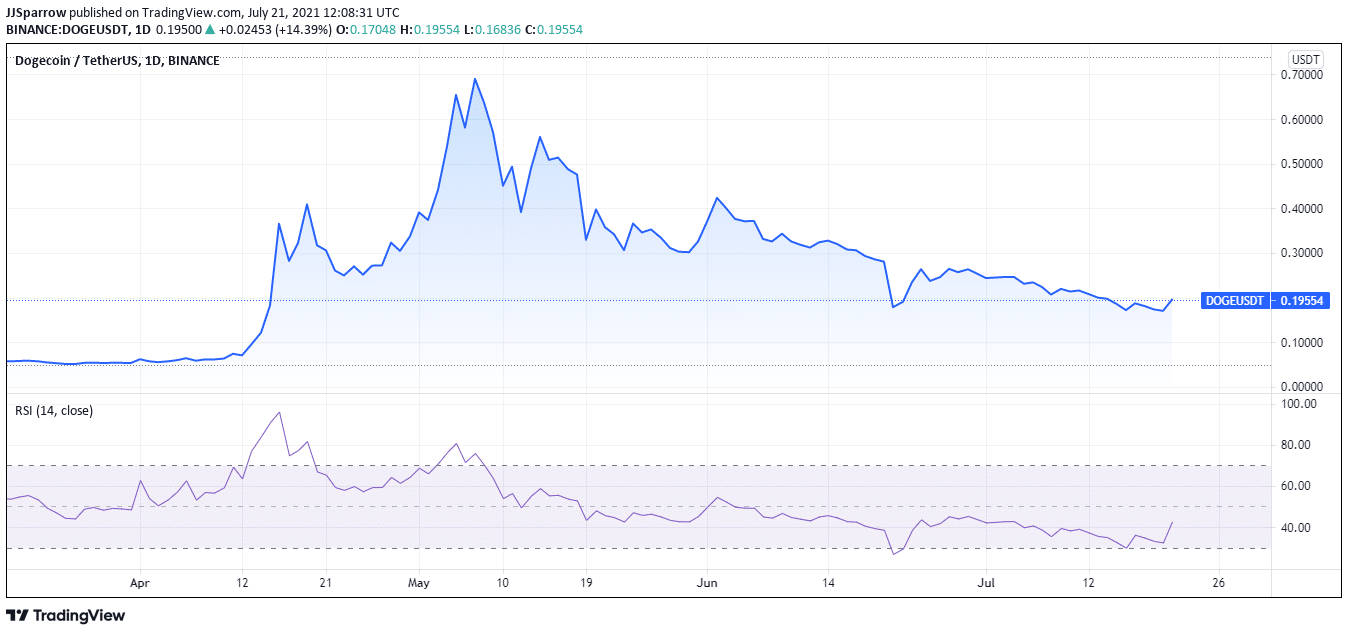 Created by Billy Markus and Jackson Palmer in December 2013, Dogecoin is an open-sourced digital currency. It uses the same architectural system design as Litecoin, which is a fork of the Bitcoin network.
From its inception, Dogecoin was created to be a fun, light-hearted cryptocurrency and joke on the sudden growth of alternative currencies (altcoins for short) when Bitcoin started gaining a global audience.
Like the world's oldest cryptocurrency, Bitcoin, Dogecoin uses the ancient proof-of-work (PoW) consensus algorithm, which requires validating nodes or miners vie to solve complex mathematical puzzles before rewarding them with DOGE. However, Dogecoin is faster than Bitcoin and uses less than a fraction of Bitcoin's energy demand.
It uses the Scrypt programming language and is one of the best-known dog-themed cryptocurrencies in the crypto space. This popularity has been aided by one of its most famous backers, Tesla boss Elon Musk.
Musk is known in DOGE circles as the DogeFather, and he has talked up the joke currency. According to him, Dogecoin can topple
Bitcoin from its high perch and become the virtual currency for the new decentralized era unfolding. His reasons boil down to faster block finality and the growing number of Dogecoin users.
Others have also pitched their tent with the Shiba Inu (mascot for Dogecoin), with Mark Cuban and Snoop Dogg openly supporting the community-driven protocol.
Meanwhile, the Dogecoin hierarchy is basically non-existent as founders Billy and Jackson left their positions in 2015. Despite this, Dogecoin has continued to attract more investors with its remarkable returns.
Even though many people associate its success with Musk's tweets, Dogecoin has continued to stay in the public's eyes and is the number eight most valuable cryptocurrency.
67% of all retail investor accounts lose money when trading CFDs with this provider
DOGE: Breaking Through The Bear Ranks
Dogecoin's ascent to the eighth-most valuable spot on the global crypto ranks has been punctuated with ups and downs. Coming into the year at $0.009771, DOGE shot up by 15,000%, rising to a record $0.74 in the run-up to the guest appearance of Elon Musk on SNL.
It soon dipped 40% in the first hour of the show to $0.45. Even though it made a recovery a few days later, it has not been able to break through the resistance level of $0.50 since the massive selloffs of May.
However, DOGE has caught some tailwind in the last 24 hours, rising 12.27% and trading at $0.18671.
This reflects the growing market confidence in digital assets, which can be a great time to buy DOGE. Even though the bears are in full swing, DOGE is gradually welcoming back the bulls.
DOGE Technical And Fundamental Analysis
On the technical side, DOGE is doing pretty great with the digital currency trading slightly below the 20-day moving average (MA) support price of $0.20782. If it continues to rally, it may break above the resistance and find support at $0.22.
Its relative strength index (RSI) stands at 39.94 and is rising. If the low RSI score does not deter you, you can buy DOGE to rise with the market.
Analysts are also bullish on the meme token, with Wallet Investor putting its one-year forecast at $0.380 and its five-year prediction at $1.177.
Meanwhile, more crypto investors are want to buy DOGE, according to data compiled by top US crypto exchange Coinbase. The record shows that Dogecoin trades were up 1.250% despite the overall volatility in the crypto market.
This saw its figure move up to $995 million in trade volume in a day spanning from April to June in the second quarter of the year.
With such a large trading volume, Dogecoin leads Shiba Inu, Alaska Inu, and other dog-themed cryptocurrencies.
Buy Crypto at CedarFX, the World's #1 trading platform!