Bitcoin Price Down By 3.1% – Time To Buy BTC?
Please note that we are not authorised to provide any investment advice. The content on this page is for information purposes only.
Bitcoin is currently in the midst of some uncertain waters. The Bitcoin price is once again close to its $30,000 support, and there are significant fears that it could drop below that line. If it does, big repercussions lie in wait.
But, as many investors now know, crises provide significant opportunities for gains. Bitcoin might be teetering on the brink of another market downturn that will drag the market with it, but this doesn't mean that it's all bleak.
So, should you buy Bitcoin now? Or should you wait this storm out and see if the asset will get its gains back?
Bitcoin: The Godfather of Cryptocurrencies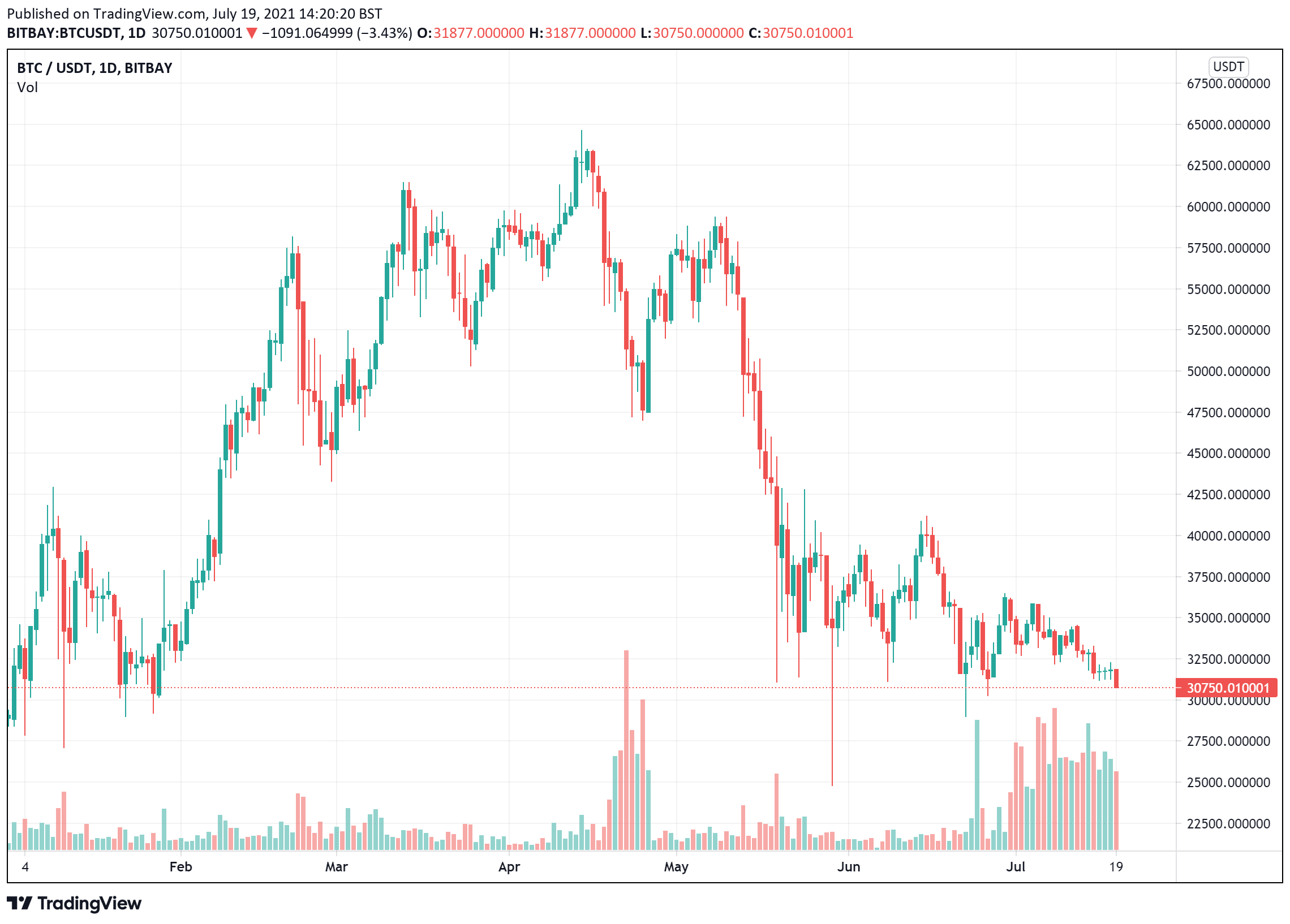 It's almost impossible to know about cryptocurrencies and not know Bitcoin's origin story. The asset was launched in 2009 by Satoshi Nakamoto – its pseudonymous founder.
Nakamoto had envisioned Bitcoin to be a completely decentralized and anonymous means of sending money, and Bitcoin spent its first few years as an asset for internet lovers – and people on the Dark Web looking to send money anonymously.
Eventually, Bitcoin began to break into the limelight in 2013. More companies understood its value, and the proliferation of exchanges improved the asset's mobility and ubiquity. As more people tried to buy Bitcoin, its price ballooned.
The most significant bull run for Bitcoin came back in 2017 when the asset's price jumped from $3,000 to $19,000 in less than three months. For the most part, the run was due to Bitcoin's continuous burst into the limelight – a move that attracted many people who simply believed that cryptocurrencies were a get-rich-quick scheme.
Then, last year came. After falling as low as $3,600 due to the coronavirus pandemic in March, Bitcoin managed to grow as more investors were looking for alternative assets to help them preserve their wealth steadily.
Most especially, institutional investors had decided to buy Bitcoin as it performed quite well – compared to asset classes like oil, stocks, and gold. With names like MicroStrategy and Ruffer Investments heralding institutional interest, Bitcoin managed to break past $20,000 last December. Going into 2021, Tesla joined the party, and Bitcoin soon raced past $50,000.
67% of all retail investor accounts lose money when trading CFDs with this provider
Bitcoin: Has the Gravy Train Stopped?
Following successive price gains, Bitcoin was on top of the world – and it had dragged the entire crypto market with it. Investors were trooping to buy Bitcoin as they believed that the asset has stabilized and won't recede as it did in 2027/2018.
Bitcoin eventually hit $64,000 in April, marking a new all-time high for the asset which had only been at around $28,000 going into the year.
But, the same hype train that got Bitcoin to such lofty heights ended up causing its downfall. Tesla announced in May that they would pause on accepting Bitcoin due to its environmental effects, prompting many to immediately sell the asset.
A chain of additional events – including a sweeping crackdown in China – led to a massive market wipeout.
The Bitcoin price eventually dropped as low as $24,624, marking a 61.7 percent drop from its all-time high. So far, the asset's price has tried to regain its highs – even climbing above $40,000 on some occasions. But, bears have remained in control of the market, and Bitcoin hasn't exactly recovered.
Bitcoin: Technical and Fundamental Analysis
Currently, the Bitcoin price stands at $30,750 – down 3.4 percent in the past 24 hours and 8 percent over the past week.
Bitcoin has some strong fundamentals. The asset's relative strength index (RSI) stands at 37.89, suggesting that it is severely underbought. The asset's 20-day moving average (MA) stands at $33,197.43 – not too high, although the asset will need a jolt to cross that line.
While these are positive details, there is some fear that Bitcoin could drop below the $30,000 support in the coming days.
Grayscale Investment, the crypto market's largest asset management firm, is gearing up to unlock about $1.4 billion worth of Bitcoin to investors this week.
The first unlocking event should release about $650 million into circulation.
Considering that these investors have been unable to hold their BTC since the year began, they might want to sell off and cut their losses. If this happens, the Bitcoin price could be in for even bigger drops. Of course, that will present an even better buying opportunity for investors to buy Bitcoin.
Buy Crypto at CedarFX, the World's #1 trading platform!