Dogecoin Price Down Over 20% – Time To Buy DOGE?
Please note that we are not authorised to provide any investment advice. The content on this page is for information purposes only.
Crypto assets have grown exponentially in the last six months, with many posting massive gains. One of the best performers has been parody cryptocurrency Dogecoin, which grew 15,000% this year. Could this be the ideal time to buy DOGE?
Dogecoin: Parody King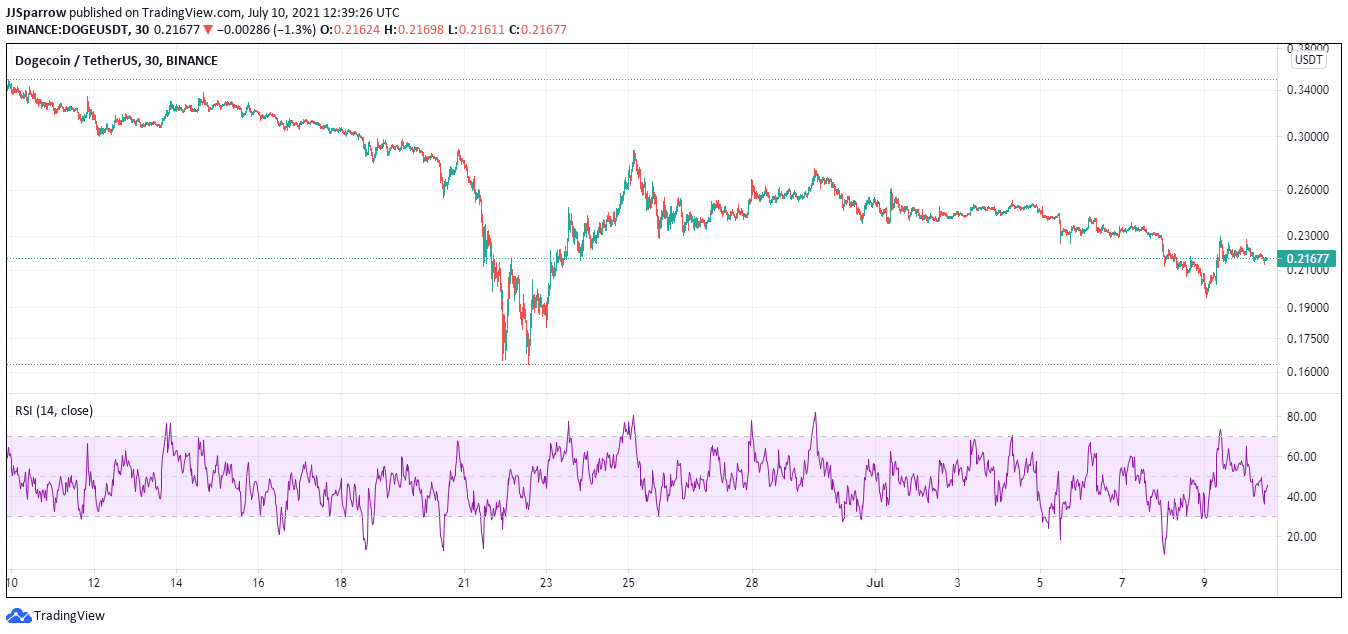 The crypto market is full of several blockchain platforms looking to address a challenge or need. The primary role of Dogecoin is comedy or a jab at the other crypto protocols. Built as a sub-fork of a fork, Dogecoin has become synonymous with the meme class of cryptocurrencies, which are out to mock their more serious counterparts.
DOGE's unserious nature of the crypto asset has served as a draw to crypto investors who have duly named it the people's cryptocurrency. Represented by the Shiba Inu dog of Japanese fame, Dogecoin was made in 2013 for nothing else but the laughs.
However, the cryptocurrency's generic ability to validate transactions faster than both established large-cap assets, Bitcoin and Ethereum, has seen many people consider it a good medium for exchanging value. Added to this are the low-energy demands of the Dogecoin protocol.
Many have taken a liking to the joke cryptocurrency, with Tesla boss Elon Musk being a prominent supporter. Musk, alongside Mark Cuban and other public figures, are staunch Dogecoin supporters.
Even his spacecraft company reportedly sold a Falcon X rocket and received payment in DOGE. More dog-themed cryptocurrencies have sprung up in the wake of Dogecoin becoming a major crypto asset. Some of them are Shiba Inu, Baby Doge, Alaska Inu, amongst others.
67% of all retail investor accounts lose money when trading CFDs with this provider.
DOGE: Price Ebbs Once Again
DOGE was once part of the top five most valuable cryptocurrencies after becoming more valuable than Ford Motors and Twitter. However, the continued volatility of the crypto market has seen the joke currency slide down to seventh with a market cap just above $28 billion.
At press time, DOGE trades at $0.21514, down 1% on the daily trading chart. This may seem like a dismal performance, but DOGE is known to rally massively. If you are a value-driven investor looking to buy low and sell high, this might be a great time to buy DOGE to rise with the market.
However, DOGE has seen better times. Since the beginning of the year, DOGE has been on an uptrend, rising to a record $0.74 in mid-May as more crypto investors piled up the meme token. Percentage-wise, DOGE outperformed the market, rising over $15,000% in five months more than the likes of Bitcoin and Ethereum at the same period.
It could not sustain this parabolic rise and dipped in the May crypto market crash. Despite efforts by Elon Musk, DOGE price has traded below the resistance level of $0.45 for the last two months.
However, the Bitcoin rally in the last hour could see a reversal in DOGE's fortune, given that the altcoin is tied to the price movement of the top digital asset.
DOGE Technical And Fundamental Analysis
On the trading chart, DOGE is trading well above the 20-day moving average (MA) support price of $0.06466, indicating a bullish trend. Its relative strength index (RSI) is currently at 69.87, meaning it is trading dangerously close to the overbought level.
Market analysts are optimistic that DOGE's fortunes will turn around soon. According to Digitalcoin, DOGE will trade at $0.3214 by the end of the year, while its seven-year forecast puts it at $0.99254.
Wallet investor is even more bullish, with the analyst website putting its one-year forecast at $0.441 while its five-year forecast is at $1.235.
Musk wants to maximize the protocol's base layer transaction rate while minimizing costs. This is to make DOGE one of the most used cryptocurrencies in the crypto universe.
Buy Crypto at eToro, the World's #1 trading platform!