Disney Stock Down 5% Today – Time to Buy DIS Stock?
Please note that we are not authorised to provide any investment advice. The content on this page is for information purposes only.
The price of Disney stock is dropping nearly 5% in pre-market stock trading action today following the release of the firm's financial results covering the fourth quarter of the 2021 fiscal year amid weaker-than-expected sales and subscriptions for its streaming service Disney+.
For the three months ended on 2 October, Disney reported top-line results of $18.5 billion resulting in a 26% jump compared to a year ago primarily amid the strong recovery of its Parks and Experiences segment, whose sales jumped 99% compared to the fourth quarter of 2020.
Meanwhile, direct-to-consumer sales – the segment that includes Disney+ subscription revenues – jumped 38% compared to a year ago at $4.56 billion but the company added only 2.1 million new users to its streaming platform. This figure was less than half the number added by Netflix during the same period and was well below analysts' estimates of 10.2 million for the period.
Interestingly, the average monthly revenue per paid subscriber for Disney plus experienced a 9% year-on-year decline to $4.12 amid a higher percentage of Disney+ Hotstar subscribers during the quarter. Total paid subscribers for the platform ended the quarter at $118.1 million which means that Disney has achieved 51.3% of the lower bound of its 2024 milestone of 230 million subscribers for Disney+.
Meanwhile, adjusted net profits per share ended the period at $0.37 resulting in a significant improvement compared to the $0.20 net loss reported a year ago amid the pandemic but missing analysts' consensus estimate for the quarter by 13 cents or 26%.
Can these disappointing results lead to the beginning of a downtrend for Disney stock? In this article, I'll take a look at the latest price action and fundamentals of the company to possibly answer that question.
67% of all retail investor accounts lose money when trading CFDs with this provider.
Disney Stock – Technical Analysis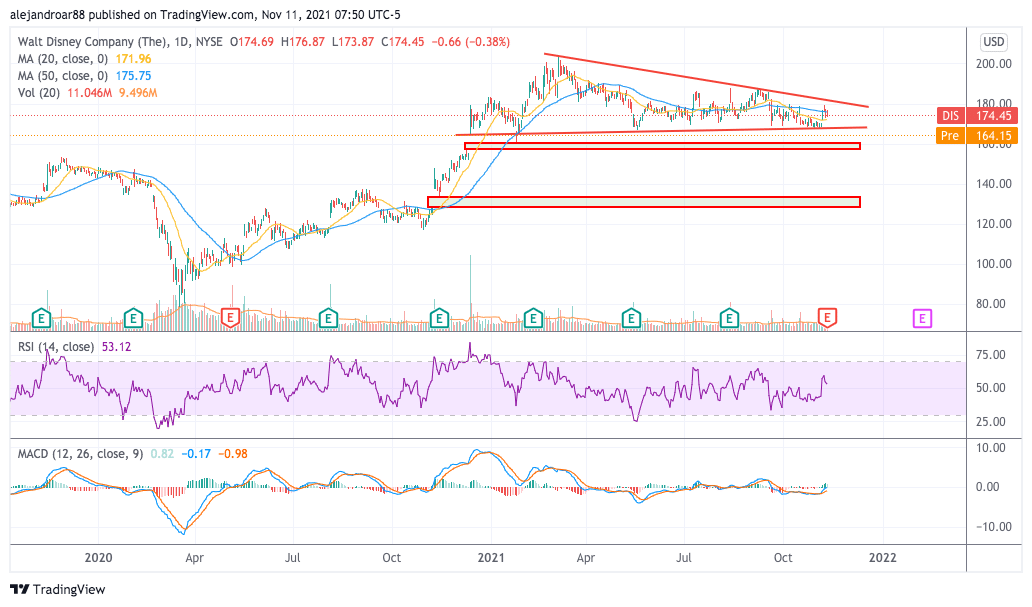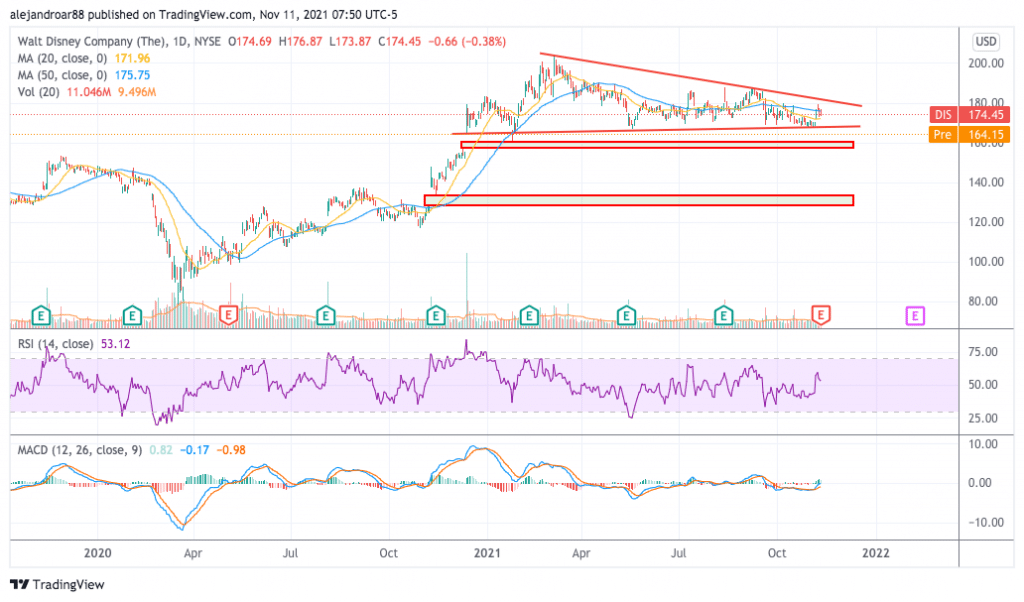 Disney stock has been in consolidation mode for a while as the company continues to struggle to recover from the hit it took after the pandemic on the back of en-masse vaccinations and the latest appearance of an effective treatment against COVID-19 from Pfizer (PFE) and Merck (MRK).
However, today's pre-market downtick is resolving the symmetrical triangle formation shown in the chart to the downside as the price is breaking below the pattern. Even though momentum indicators were pointing to a bullish outlook ahead of this earnings report, the tables seem to have turned amid Disney's earnings miss and the disappointing numbers coming out of Disney+.
A few days ago, the stock failed to climb above its 200-day moving average and this reflects weakness in the price action while today's drop will drive the price of DIS stock below its short-term moving averages.
Moving forward, it would be plausible to expect that bears will take control of the situation, possibly aiming to close what remains of the 11 December bullish price gap. This would result in a total downside risk of 10% based on yesterday's closing price of $174.5 per share.
Disney Stock – Fundamental Analysis
Disney closed this year with sales still 3% below their pre-pandemic levels while its profitability remains severely affected amid a deterioration in its gross profit margins and higher interest expenditures.
Based on Wall Street's estimates for the coming years, it may take the firm at least two to three years to push its GAAP EPS to its pre-pandemic levels even though sales are expected to jump strongly in 2022 on the back of the full-blown recovery of the firm's travel and leisure operations.
At the moment, Disney stock is trading at 40 times its forecasted earnings per share for the next twelve months.
It is important to note that a lot of hope is being put into the management's ability to push earnings significantly higher next year. In this regard, analysts are expecting to see GAAP EPS of $4.26 in 2022 compared to the $1.09 figure the company just reported.
The management's ability to live up to these positive expectations will likely determine what will happen with the stock price in the following quarters.
Meanwhile, if one expects that Disney's EPS will eventually climb back to the $5 to $8 range, that will result in a forward P/E ratio ranging from 22x to 35x. The lower bound of that estimate is somehow very optimistic while the mid-point will result in a forward EPS of 27x.
For long-term investors who are confident that Disney will be able to report those numbers in the near future, a decline in the price of DIS stock may be deemed as an opportunity.
However, I am a bit skeptical of the company's ability to live up to these optimistic forecasts and I would rather adopt a more conservative approach. In my view, Disney will be an appealing value pick if it were to drop to the low 100s.
Buy DIS Stock at eToro with 0% Commission Now!