Crocs Stock Down 11% in January – Time to Buy CROX Stock?
The price of Crocs stock is down nearly 11% so far this month as weakness in the growth sector prompted by a spike in US Treasury yields along with other company-specific negative catalysts has depressed the valuation of the footwear manufacturer.
Back on 10 January, Crocs announced that it was raising its 2021 full-year guidance while maintaining its outlook for 2022 despite the challenging conditions that most companies in its sector are struggling with.
The business now expects to see its sales surging by 67%, up from a previous range of 62% to 65%, while it continues to expect that its revenues will grow by 20% by the end of 2022 without including the numbers of the recently acquired HEYDUDE.
The management also stated that it remains "incredibly confident" about the company's ability to produce $5 billion in revenue by 2026 without including the sales coming from HEYDUDE.
Even though the market initially responded positively to the news, the overall weakness that some pandemic winners such as Crocs have been experiencing lately eventually pushed the price down to its 23 December lows.
What could be expected from the popular slippers brand in the short and mid-term? In this article, I'll be analyzing the price action and fundamentals of Crocs stock to outline plausible scenarios for the future.
67% of all retail investor accounts lose money when trading CFDs with this provider.
Crocs Stock – Technical Analysis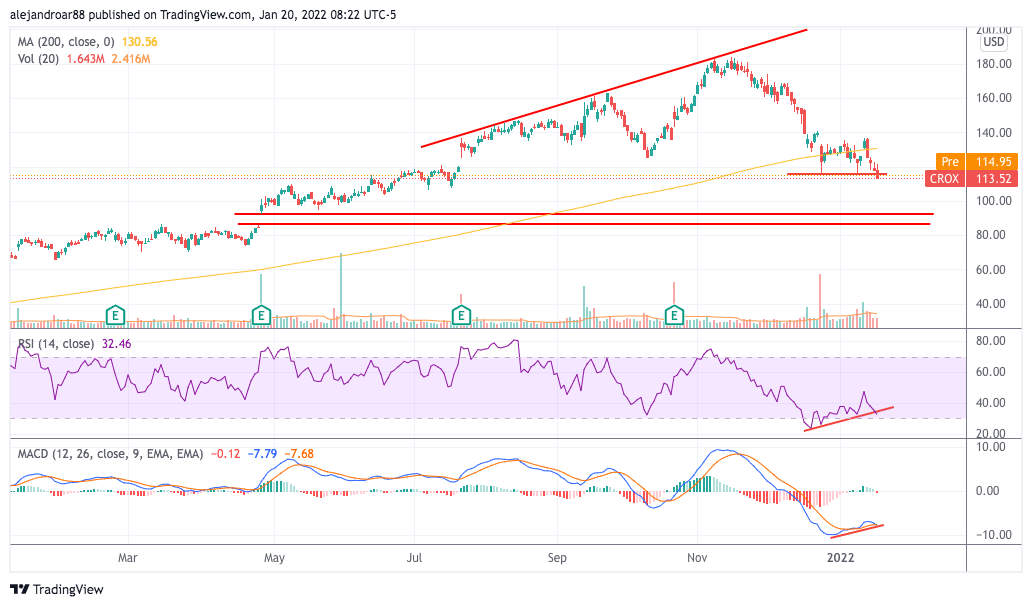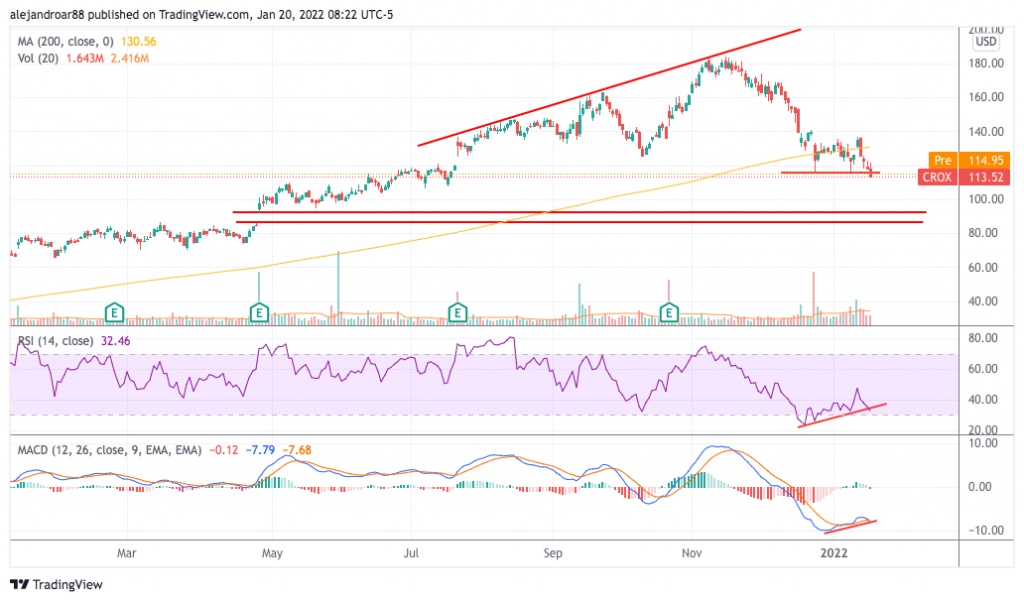 Back in December when I last wrote about Crocs stock, I highlighted that the outlook for the stock was bearish and that a drop below the 200-day simple moving average could lead to a decline toward the low 100s.
That scenario unfolded as expected as the price closed yesterday's stock trading session at $114 per share while it has now broken below its December lows.
CROX remains below its short-term and mid-term moving averages and this break below the $115 area could push it to fill the price gap left behind on April 2021 after a positive quarterly report. This results in a pronounced 24% downside risk in the mid-term.
Even though momentum indicators have been posting a bullish divergence as they have been going up despite the price of the stock moving lower, this is still a relatively weak signal and it may not yet point to an upcoming trend reversal. Especially considering that such a relevant horizontal support has just been broken. With this in mind, the outlook for Crocs stock remains bearish.
Crocs Stock – Fundamental Analysis
I stated in my previous article about Crocs that an increase in the firm's leverage and the elevated premium paid for the HEYDUDE deal were both reasons to be concerned as they could affect the company's return on equity (ROE) and other important financial metrics in the long term.
Crocs will be taking an additional $2.05 billion in long-term debt and that increases its LT-debt/assets ratio to around 64% on total estimated assets of approximately $4.2 billion.
The price paid for HEYDUDE now represents almost 40% of the company's total market cap and exceeds its total assets.
For 2022, the company is expected to grow its sales to $3.4 billion (now including HEYDUDE's revenues) and that results in a forward price-to-sales ratio of 2.
Meanwhile, at $114 per share, the firm is trading at 14 times its forecasted adjusted earnings per share for this year while the market is expecting to see its EPS landing at around $10 per share by the end of 2022 resulting in a forward P/E ratio of 11x.
Even though trading multiples are conservative and attractive at first glance considering the firm's growth prospects, the impact of this deal on Crocs's bottom-line profitability will ultimately determine if this valuation is fair or not considering the elevated premium paid for HEYDUDE.
Buy CROX Stock at eToro with 0% Commission Now!