BitTorrent Price Up By 4.09% – Time To Buy BTT?
BitTorrent (BTT) is a popular communication protocol that has been gaining ground, pushing investors to buy BTT. The decentralized platform is one of the largest file-sharing protocols in the world. At press time, BTT has rallied 4.09% and trades at $0.0029640.
BitTorrent: Largest File Sharing Protocol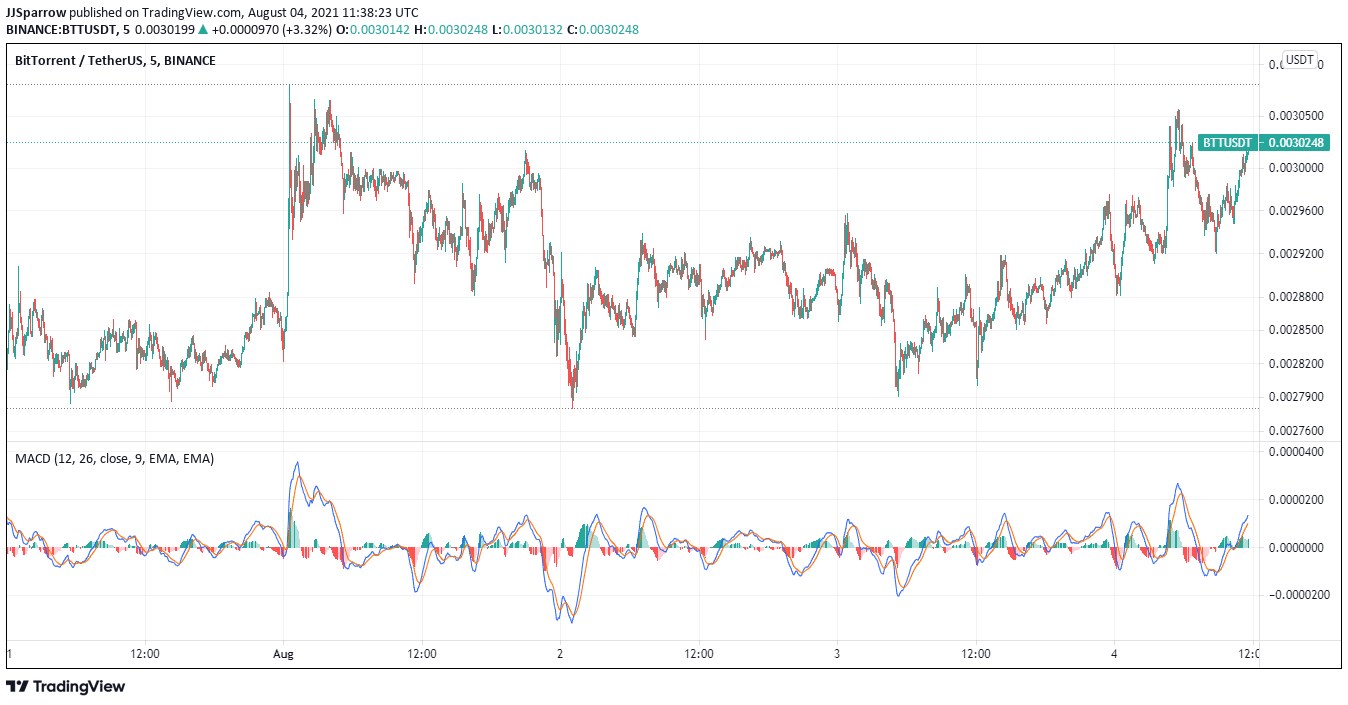 BitTorrent was founded by developer and entrepreneur Bram Cohen in 2001. Right from the onset, Cohen set out to break the monopoly of the entertainment industry, which made purchasing materials slow and expensive.
BitTorrent was created to address these user pain points and enable content creators to monetize their content better. BitTorrent allows the peer-to-peer (P2P) transfer of files and data. The growth of the torrent platform attracted Tron founder and CEO Justin Sun, who acquired the protocol in 2018.
BitTorrent has gone on to become the largest file-sharing protocol in the world, accounting for 20% of the global file-sharing traffic. Since becoming integrated with the Tron network, BitTorrent trades under the ticker BTT and is a TRC-20 token.
📈#BitTorrent is ranked 2nd by market cap in the decentralized storage area on @CoinMarketCap!

🚨#BTFS is the first scalable decentralized storage system utilizing #TRON network and #BitTorrent ecosystem.

#BTT pic.twitter.com/K8xjUbwAVc

— BitTorrent Inc.🅣 (@BitTorrent) July 30, 2021
Before its launch on the Tron blockchain, BitTorrent said over 100 million active users used its platform. So far this year, BitTorrent has seen its user base more than triple and currently has over 2 billion users.
Its business approach has also evolved, and the communications protocol runs paid services for its virtual private network (VPN) and ad-free browsing.
67% of all retail investor accounts lose money when trading CFDs with this provider.
BTT Catching Tailwinds
BTT is one of the top 100 most valuable cryptocurrencies.
With the platform being a prominent place where people can transfer video and music files without passing through a third party, several investors want to buy BTT due to its growing adoption even as the world embraces decentralized systems of executing transactions.
Price-wise, BTT has seen little activity in the run-up to 2021.
Making an entrance into the crypto market in 2019, the TRC-20 token had a bumpy ride before spiking up to $0.001779 on May 28, 2019. It soon dipped and ended the year at a paltry $0.0002988, plunging more than 100% in the space of a year.
The next year held little promise, and BTT continued its bearish momentum and could not break even.
However, Bitcoin's rally to a record $65,000 aided BTT to move up in value as the digital token surged more than 1000% to $0.1068 from $0.000294 on Jan 1.
BTT soon saw some of its gains shaved off and dipped to $0.00212 following the May crypto market crash. But the digital token is also catching some tailwinds and rallying. It is currently trading at $0.0029640, up 4.09% in the last 24 hours.
If you are looking to buy cryptocurrency for a bargain, this could be the ideal opportunity to do so.
BTT Technical And Fundamental Analysis
BTT's technical analysis is exciting as the digital asset is trading well above the 20-day moving average (MA) support price of $0.0025211. This signals a bullish market and points to an upward trajectory for the token in the short term.
The relative strength index (RSI) currently stands at 66.83, which shows that investors are keen to buy BTT given its recent rally.
Analysts are also bullish on the token's long-term growth potential. According to Wallet Investor, BTT will likely hit the $0.00666 mark by year-end. A five-year forecast puts BTT at $0.0218.
BitTorrent's integration with the Tron network means its fundamentals are embedded in the network.
The Tron blockchain recently announced the acquisition of the American Crypto Systems Inc. in a bid to expand into the American market.
American Crypto Systems is a cryptocurrency mining operation and provides services in blockchain data mining, distributed computing, distributed data management, and detection of mining pool management failure.
The Tron network intends to upgrade the mining operation as the crypto boom continues.
Blockchain-based casino company Playza has also launched on the Tron ecosystem. This will allow users to enjoy an immersive gaming experience without worrying about registering on the protocol.