Best WallStreetBets Stocks to Buy November Week 4 Roundup
Every week we bring to you some of the fundamentally strong and reasonably valued stocks that are popular on Reddit group WallStreetBets. Here are the five best WallStreetBets stocks that you can buy in the fourth week of November.
Zoom Video Communications (ZM)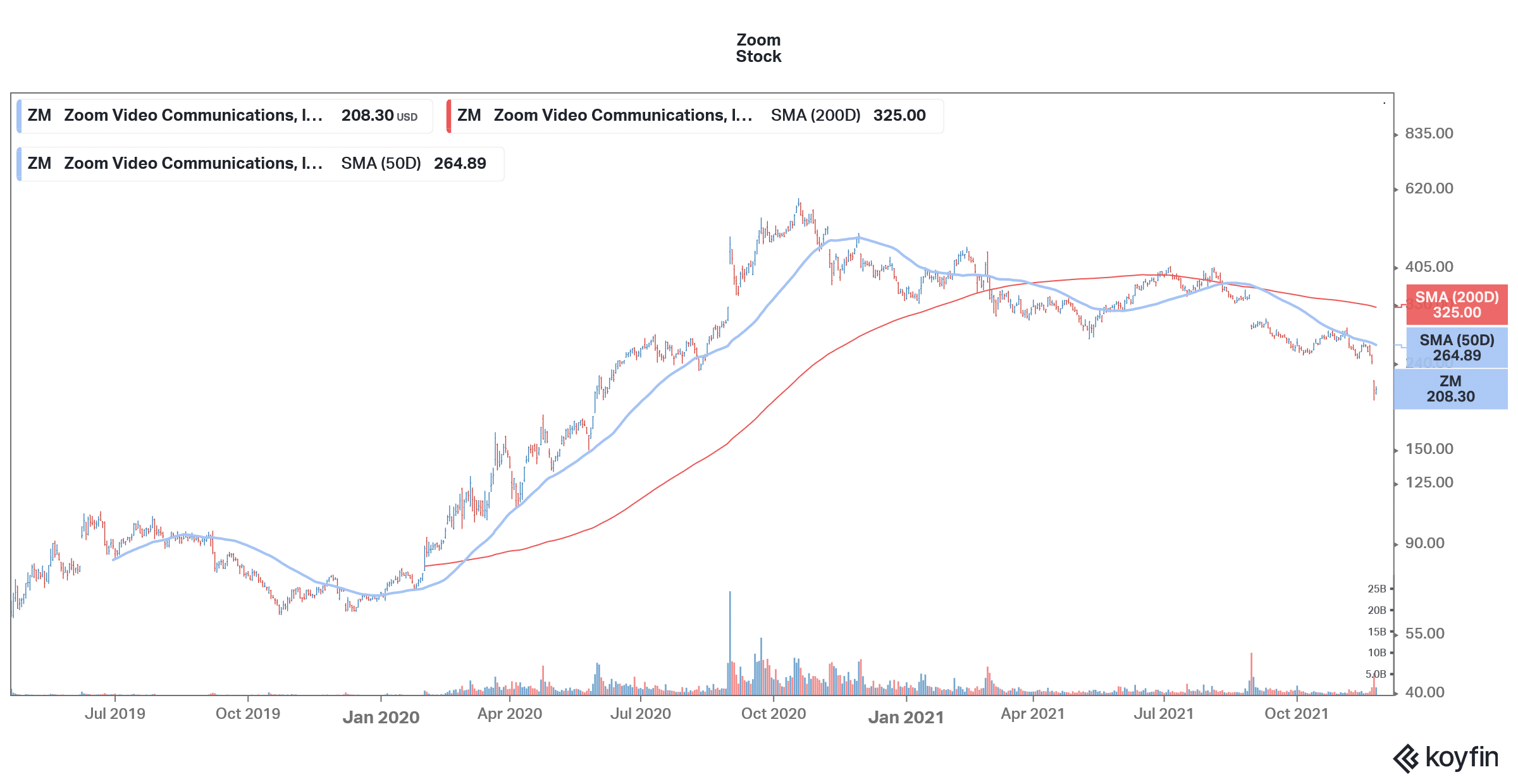 Zoom Video Communications is currently among the most popular stocks on WallStreetBets. The stock is trading near its 52-week lows but looks set to bounce in today's price action after reports of the new COVID-19 variant.
Zoom released its fiscal third-quarter 2022 earnings earlier this week. It reported revenues of $1.05 billion which were 35% higher than the corresponding quarter last year and were slightly ahead of analysts' estimates.
The company expects to post revenues between $1.051-$1.053 billion in the fiscal fourth quarter. The forecasted revenues are similar to what the company reported in the third quarter and represent year-over-year growth of 18.4%. While the guidance was ahead of analysts' estimates the stock nonetheless tumbled after the earnings release.
Cathie Wood likes this WallStreetBets stock
Cathie Wood of ARK Invest has loaded up on Zoom stock after the recent crash. She believes that Zoom would replace legacy video conferencing companies like Cisco and Polycom. "They are going to be ripped out because in the new hybrid world, we can't have the latency problems and the performance problems that they have. I know I feel when I'm going to be on a video call, I'm relieved that it's Zoom because I know it's going to work. Many others don't," said Wood.
Wood believes that Zoom is not merely a video chat service but a unified communication system. Notably, Zoom has been testing several new products and Zoom phone would be a key driver for the company going forward.
Most WallStreetBets members are also positive on Zoom stock after the recent crash. Looking at its reasonable valuations, ZM looks among the best WallStreetBets stock to buy now.
68% of all retail investor accounts lose money when trading CFDs with this provider.
Tesla (NYSE: TSLA)
Tesla stock has long been a favorite of WallStreetBets members as well as retail traders in general. While some of the Wall Street analysts including valuation guru Ashwath Damodaran find the stock too overvalued, the Elon Musk-run company has surprised even the most bearish of analysts with its execution capabilities.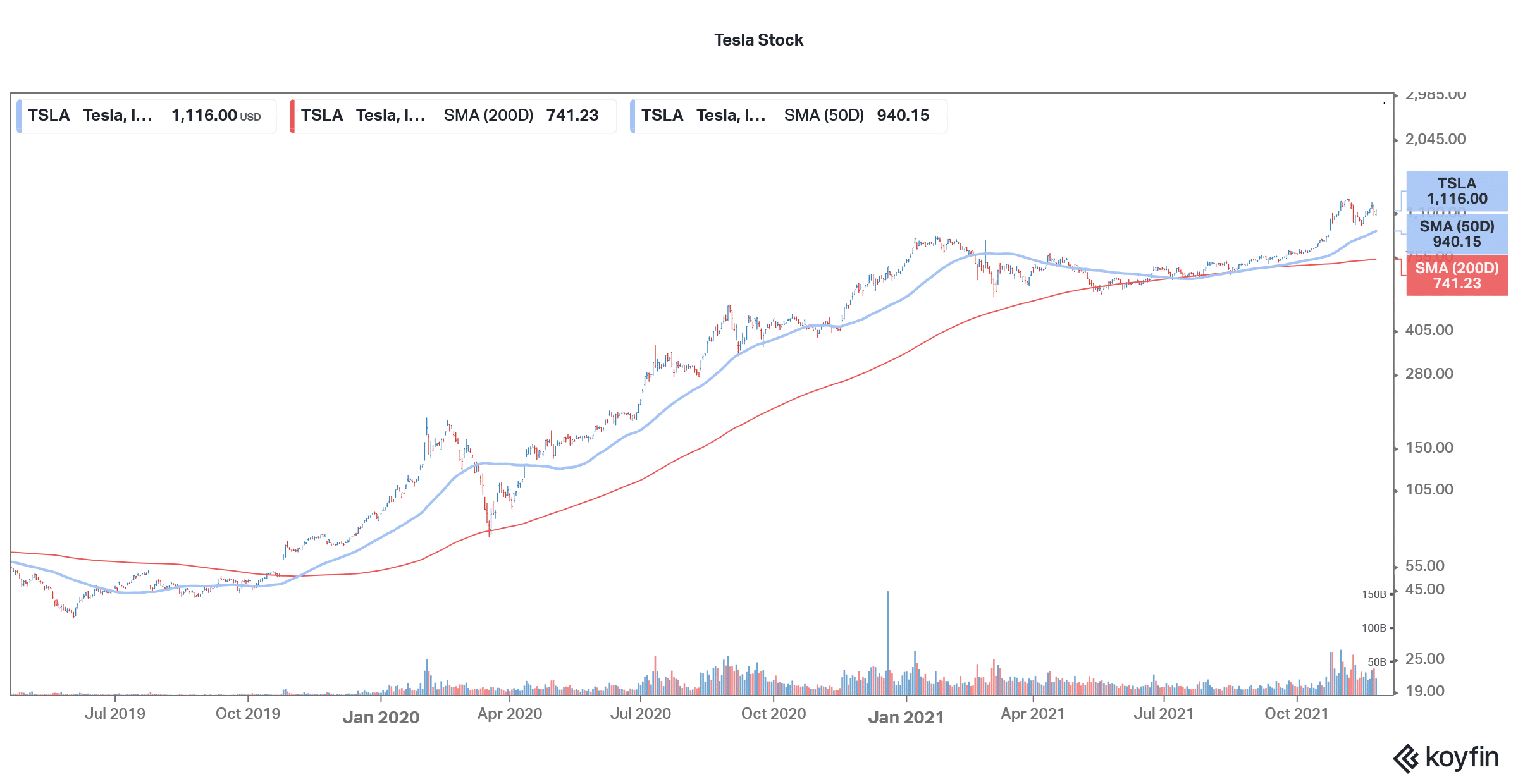 Tesla is been a favorite WallStreetBets stock
Tesla's market cap is above $1 trillion. No other automaker in history has achieved the milestone. But then, Tesla is much more than an automaker and that's the reason WallStreetBets members love the stock. The company is a play on electric vehicles, renewable energy, as well as autonomous driving, and robotaxis.
Tesla has proved critics wrong and its annual production run rate is nearly a million cars. With new factories and upcoming models, the company looks on track to deliver on its guidance of a long-term 50% CAGR in deliveries. Also, the autonomous driving and energy segment would contribute handsomely to the company's revenues and profitability in the long term.
If you want to buy a stock that WallStreetBets members are almost hooked to, Tesla would fit the bill. The stock looks like a good long-term buy considering the pivot towards electric cars and Tesla's strong competitive positioning in the industry.
68% of all retail investor accounts lose money when trading CFDs with this provider.
Disney (NYSE: DIS)
Disney has also been popular on WallStreetBets for quite some time now. The stock has been weak this year amid concerns over slowing growth in its streaming service. The stock looks set to continue its dismal run in today's price action also and was trading sharply lower in US premarkets today. The emergence of the new COVID-19 strain is a negative for the company's Parks segment.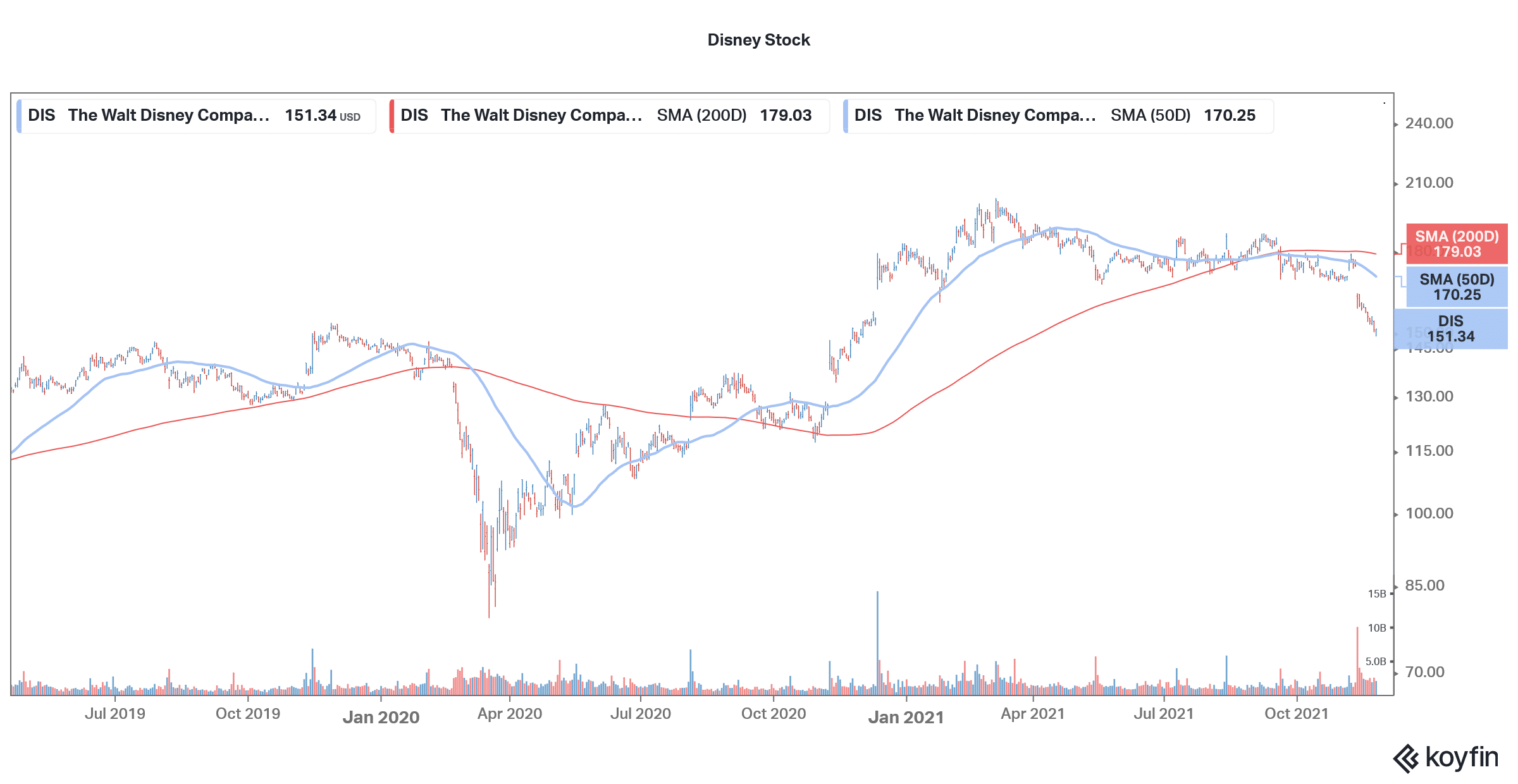 WallStreetBets still like Disney because of the streaming
Meanwhile, WallStreetBets members are still positive on Disney stock amid the pivot towards streaming. Notably, while some analysts are bearish on DIS stock, Wells Fargo believes that the concerns over streaming slowdown are overblown.
"Investor jitters are building as the implied core net add trajectory seems aggressive to some, especially amidst increased focus whether Disney+ has a wide enough content offering to hit its defined TAM. Our view is that the slower-than-expected production ramp is the biggest culprit of the net add slowdown throughout FY21, which we expect to fully abate in F2H22," said Wells Fargo in its note.
All said DIS looks among the best WallStreetBets stocks to buy in November. The stock is trading near its 52-week lows and the valuations appear attractive now. The risk-reward dynamics for DIS stock look favorable at these levels.
68% of all retail investor accounts lose money when trading CFDs with this provider.
Microsoft (NYSE: MSFT)
Microsoft is another popular name on WallStreetBets. MSFT has a median target price of $364 implies a 7.7% upside over the current levels. The stock's street high target price of $410 is a premium of 21.3% while the street low target price of $293 is a discount of 13%. The stock has outperformed the markets by a wide margin this year and still looks like a good buy for the medium to long term.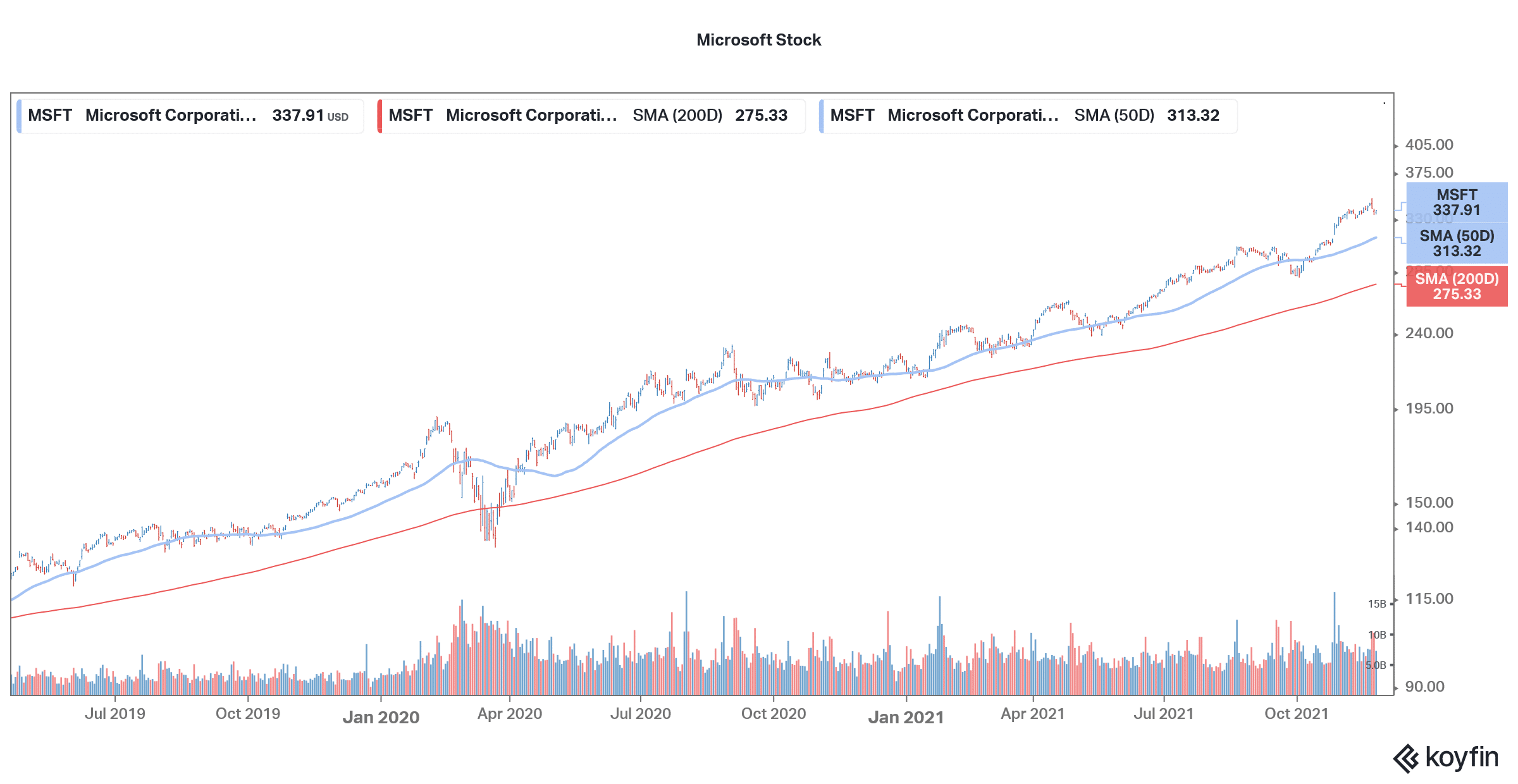 Microsoft stock currently trades at an NTM (next-12 months) PE multiple of 36.2x. While the multiples are higher than the historical average, MSFT has seen a rerating over the last five years as it has transitioned the business towards high growth industries. The company is expected to grow in strong double digits in the near term and analysts are forecasting a 16.5% increase in the current fiscal year's revenues followed by a 13.6% rise in the next fiscal year's revenues.
Overall, MSFT is among the best WallStreetBets stocks to buy and play the continued digital transformation.
68% of all retail investor accounts lose money when trading CFDs with this provider.
Peloton (NYSE: PTON)
WallStreetBets members are also discussing Peloton. The company missed earnings estimates in the fiscal first quarter of 2022. It also lowered the guidance and said that it expects to post revenues between $4.4-$4.8 billion in the full fiscal year with a gross margin of 32%. PTON expects to have between 3.35-3.45 million connected subscribers by the end of the year. It, however, expects to post an EBITDA loss between $425-$475 million in the year.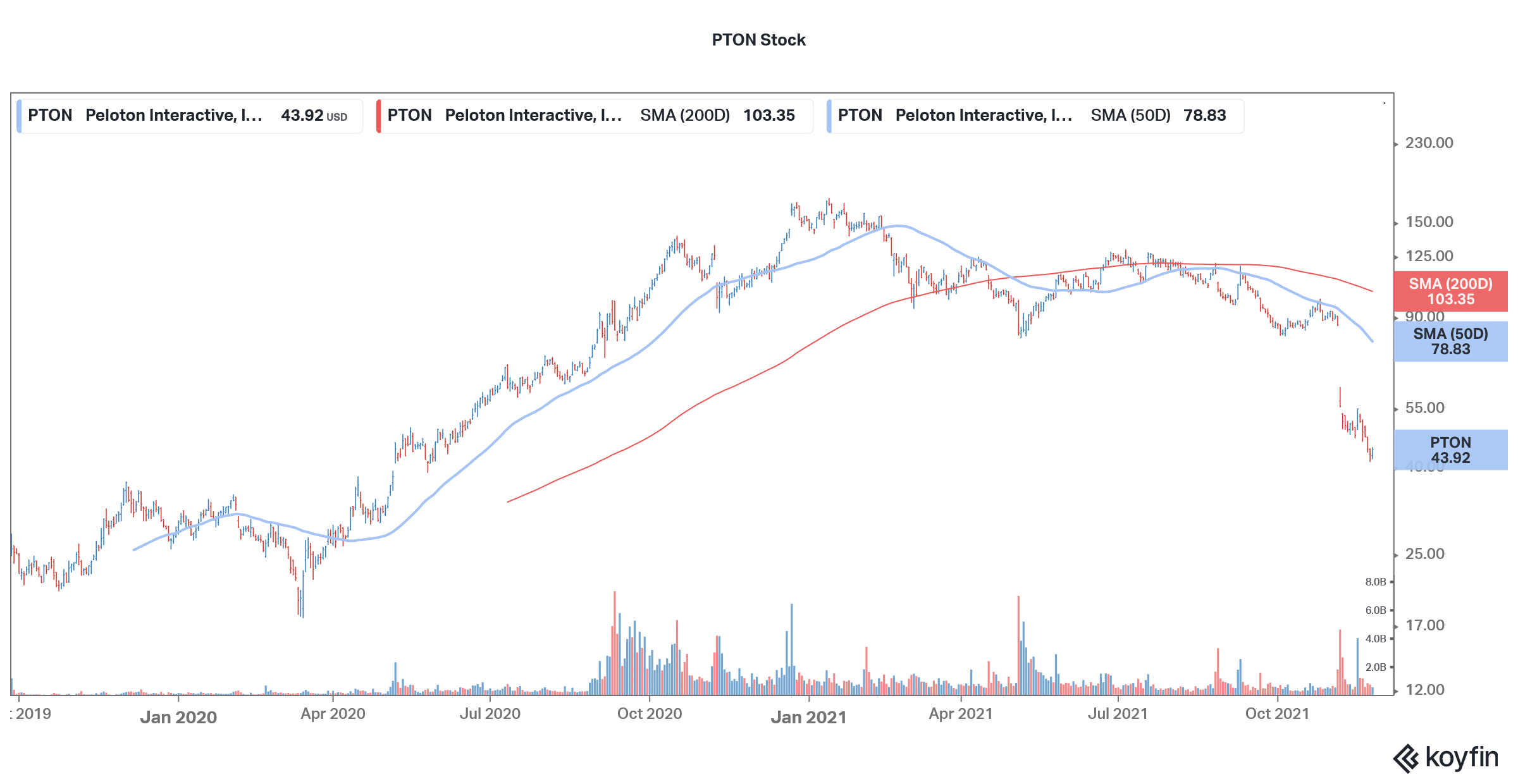 WallStreetBets likes PTON as a stay-at-home play
PTON stock is trading near the 52-week lows. However, it is trading higher in premarkets today as investors seem to be pivoting towards stay-at-home plays. The long-term outlook for PTON stock looks positive.
During the fiscal first quarter 2021 earnings release, PTON said "We remain convinced that the growth opportunity for Peloton is substantial and this informs our decision to prioritize accessibility and household acquisition over near-term profitability, particularly as our industry-leading net promoter scores ("NPS") and retention rates support a very strong consumer LTV (lifetime value) and unit economics"
Overall, PTON looks among the best WallStreetBets stocks to buy now. Its valuations now look reasonable after the crash and could be a good buy at these prices.
Buy PTON Stock at eToro from just $50 Now!