How To Invest In Microsoft UK – Investing in Microsoft For Beginners 2021
The savvy investor has long since invested in blue-chip stocks, they tend to offer reasonable returns, and cause relatively little headaches when compared to some smaller, more risky alternatives. I doubt there's a company that has garnered as much attention from investors as Microsoft, they've been operating for years and have been making their investors consistent profits for just as long. In this guide, we'll discuss some of the pros and cons of Microsoft as an investment in 2021, as well as explain exactly how you can get started with investing in tech-giant Microsoft.
#1 Broker to Buy Microsoft – eToro
How to Invest in Microsoft – Step by Step Guide 2021
If you want to learn how to invest in Microsoft in just a couple of minutes, then this is the section for you! We've summarised how you can start investing in Microsoft in a simple format. You can find a more in-depth guide, complete with pictures further down the page.
Step 1: Open an eToro account: The first step to investing in Microsoft is registering with a broker, for this we recommend eToro. Simply type "eToro.com" into your search bar and click "Join Now".
Step 2: Verify your Identity: Because eToro is a regulated platform, you'll need to verify your identity. You'll need a photo ID (passport, driving licence) and proof of address (bank statement, utility bill)
Step 3: Fund your Account: Once you've verified your eToro account you'll need to fund it. Simply click "deposit funds" enter the amount you want to invest and click deposit.
Step 4: Invest in Microsoft: Now that the funds have arrived in your account, you're ready to invest. Just type "Microsoft" in the search bar, press "trade", select how much you want to invest, and press "buy".
Where to Invest in Microsoft – Choose a Broker
One of the most overlooked steps for new investors is choosing a good, reputable broker. To make this process as easy as possible, we've compiled a list of the top 3 Microsoft trading platforms and written an in-depth review for each.
1. eToro – Overall Best UK Microsoft Broker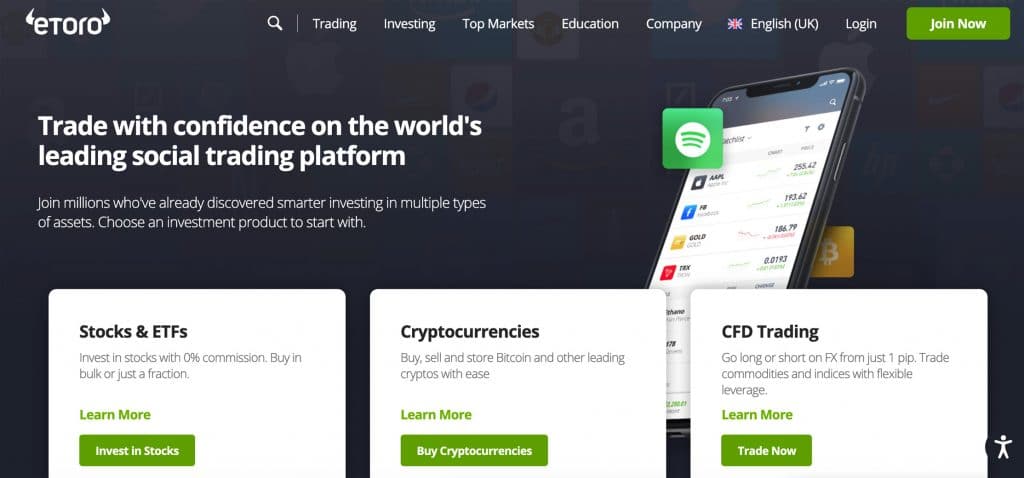 It wouldn't be a list of the best Microsoft investment platforms without including eToro. Launched in 2007, eToro is the perfect exchange for both beginners and experienced traders, they have a diverse range of features and a simple-to-use interface. eToro is also regulated by CySEC and the FCA so you don't have to worry about your money disappearing. 
Security & Privacy
eToro takes the security of its customers seriously, it's clear to see this from the preventive security measures they've employed. When you're using a trading platform, at some point or another, you're going to have to enter sensitive information. It's right for you to be wary about giving away personal information, but you needn't worry about eToro. They SSL encrypt all sensitive data, preventing anyone from being able to intercept it. When trading on eToro it's also important to set up 2FA, this provides you with an additional layer of protection and greatly reduces the chance of your account being compromised.
Fees & Features
As we mentioned previously, eToro is an excellent platform for both beginners and experienced traders. They provide newcomers with a few useful tools to help you make a profit without having to do hours of research; copy trading allows people to automatically mirror the trades of more experienced users. eToro users can also benefit from "managed portfolios" which are a bunch of assets grouped together for you to invest in, allowing you to have a diversified portfolio right away. Anyone coming from a background trading in other sectors will be right at home on eToro, as they offer a huge range of financial instruments. A deciding factor for most people when choosing a Microsoft investment platform is fees, eToro offers commission-free trading meaning you'll get the absolute most for your money.
eToro Fees
| | |
| --- | --- |
| Fee Type | Fee Amount |
| Microsoft Spread | 0% |
| Commission Fee | 0% |
| Deposit Fee | £0 |
| Withdrawal Fee | £5 |
| Inactivity Fee | £10 (Monthly) |
Pros
Copy trading

Managed portfolios

SSL encryption

Low fees

Commission-free
Cons
Missing MetaTrader support
67% of retail investor accounts lose money when trading CFDs with this provider.
2. AvaTrade – Great Alternative Way to Invest in Microsoft
Launched in 2006, AvaTrade has grown to be one of the best investment platforms in the world, they currently serve over 200,000 customers. It's right you would be wary when dealing with a new exchange, but with AvaTrade you don't have to be, they're regulated by the FCA, meaning they have to comply with strict rules surrounding customer protection.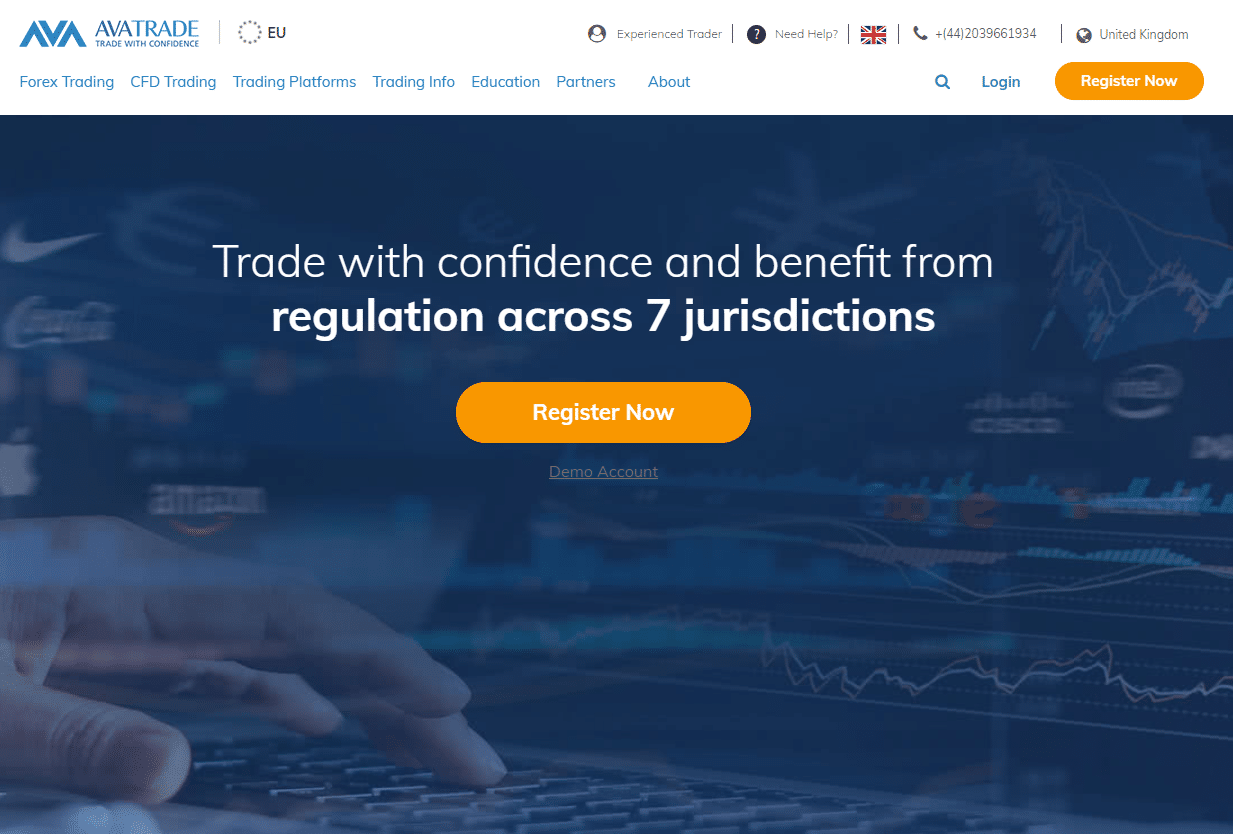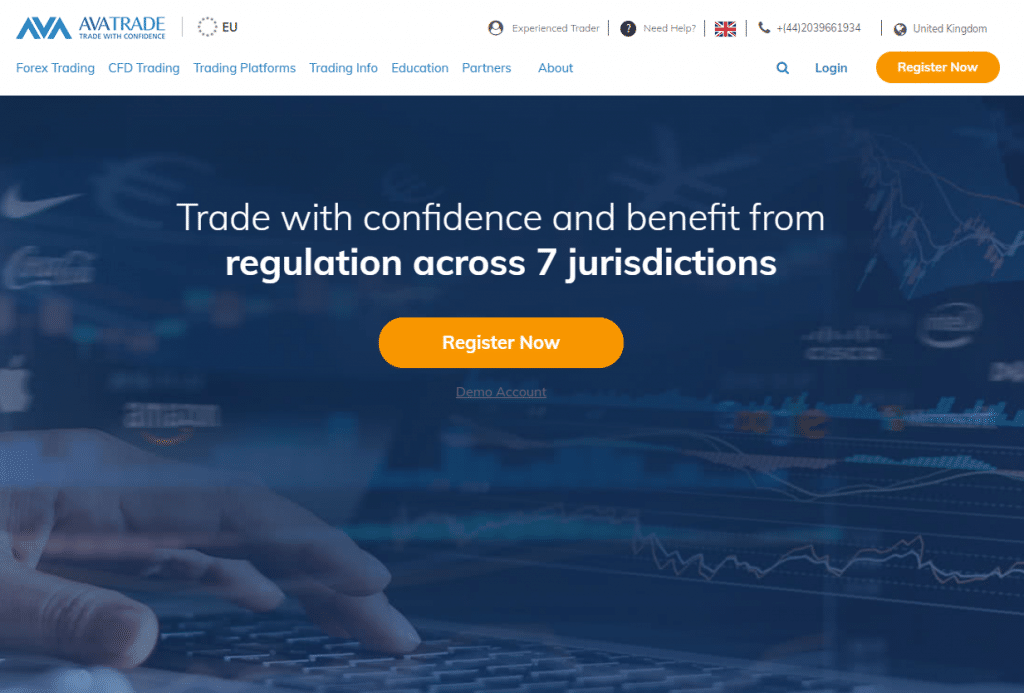 Security & Privacy
Losing customer funds is one of the first things an exchange can do, after all, you trusted them to look after your hard-earned money. AvaTrade has some excellent features to ensure this doesn't happen to anyone using their platform, much like eToro any sensitive information is protected using 256-bit SSL encryption and any identity documents or credit card information is protected using market-leading technology, McAfee Secure.
Fees & Features
AvaTrade has options depending on your trading experience, you can either use their regular platform or switch to a professional trading account which will grant you access to a few more tools and increased leverage, an excellent idea to ensure there's something for everyone. When using AvaTrade you have access to an enormous amount of financial instruments, from Forex to CFDs and cryptocurrency, so if you want to manage multiple investments in one place then, AvaTrade might be the best investment platform for your needs. AvaTrade is another commission-free platform, it wouldn't be on our list of best Microsoft investment platforms if not! If you want to invest on AvaTrade just be aware they charge a small spread fee of around 0.13%.
AvaTrade Fees
Fee Type
Fee Amount

 

Microsoft Spread

0.13%

Commision Fee

0%

Deposit Fee

£0

Withdrawal Fee

£0

Inactivity Fee

£50 after 3 months & £100 after 12 months
Pros
Commission-free

Fully regulated

SSL encryption for sensitive data

Mcafee Secure integration to protect card info
Cons
High inactivity fees

Not accepting US-based clients
Your Capital is at Risk.
3. Capital.com – Invest in Microsoft CFDs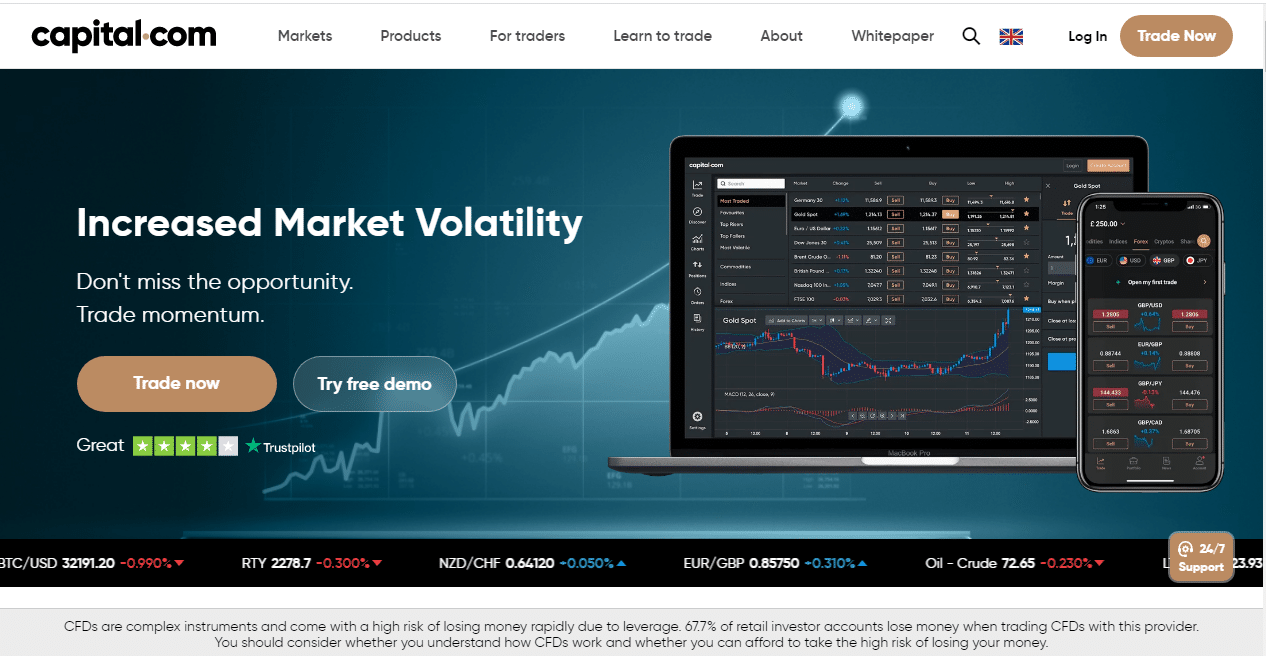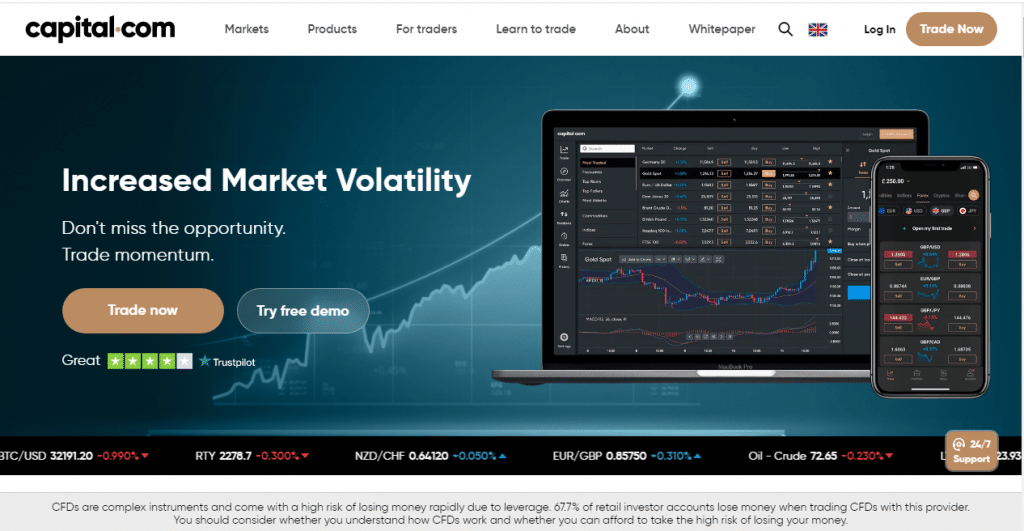 If you're looking to get started with trading CFDs then there isn't a better platform than Capital.com. Although a fully featured platform, with a range of markets, Capital.com seems tailor-made with beginners in mind, this is apparent from the simple interface and range of educational material. 
Security & Privacy
Capital.com doesn't skimp when it comes to security, they're regulated by the FCA and CySEC, meaning they're subject to strict rules surrounding the protection of customers and their funds. It's always important to make sure your platform of choice is regulated by one of the main bodies, as this greatly increases the amount of trust you can place in the platform. In order to keep sensitive information secure and safe from anyone trying to intercept it, Capital.com makes use of Transport Layer Security, completely obscuring your data. UK-based customers can also enjoy FDIC insurance on balances up to £85,000, ensuring you're not left out of pocket in the event of a hack.
Fees & Features
As we touched on in the first paragraph, Capital.com is the perfect platform for anyone just starting out that wants to gain some experience trading CFDs. They provide several courses on the basics of trading, guides on different financial instruments, and an unparalleled amount of research into the markets. After you've brushed up on your trading knowledge, you can even open a practice account for up to £1,000 letting you see how you'd do and gain some experience without having to risk real money. And to finish off, Capital.com is once again a commission-free platform, so you don't have to worry about losing profits to hidden fees.
Capital.com Fees
| | |
| --- | --- |
| Fee Type | Amount |
| Commission | 0% |
| Withdrawal Fee | £0 |
| Deposit Fee | £0 |
| Inactivity Fee | £0 |
Pros
A plethora of educational resources

Simple interface

Demo Account

Range of markets
Cons
Some advanced features missing
 76.72% of retail investor accounts lose money when trading spread bets and/or CFDs with this provider.
Invest in Microsoft UK – Broker Price Comparison
After reading our full-length reviews for each of the best Microsoft trading platforms, you might be wondering how they compare to each other in terms of fees. To help our readers understand the fees associated with each platform and how they stack up against each, we've created this handy table you can reference when deciding which platform is best for you.
| | | | | |
| --- | --- | --- | --- | --- |
| Broker | Commission | Deposit Fee | Withdrawal Fee | Inactivity Fee |
| eToro | 0% | £0 | £0 | £10 monthly (after 12 months inactivity) |
| AvaTrade | 0% | £0 | £0 | £50 after 3 months, £100 after 12 months |
| Capital.com | 0% | £0 | £0 | £0 |
What are the Different Kinds of Stocks? 
When you're starting out as an investor, you might be overwhelmed by all the different options you have when choosing how to invest. Initially, it might just seem like a load of overly complex financial jargon, however, that's not the case. It's crucial to understand the differences between these investment types as they all have different risks and benefits, understanding how they differ can help you choose one that best matches your investment strategy.
Stocks 
Stocks are everyone's favourite way of investing, they provide you with an actual asset that you own no matter what happens to the price. A stock is essentially a tiny fraction of a company, when you purchase a stock you own a portion of the company. If you were to own enough stocks, you can receive dividends (quarterly or yearly payments to investors), or even vote on the direction you'd like to take the company. The main difference between investing in stocks and an ETF or CFD is ownership, you own a portion of the company and short of selling your shares you always will.
ETFs (Exchange Traded Funds)
ETFs or exchange-traded funds are essentially a group of assets bundled together by a brokerage, with the share price rising and falling as the assets it contains rise and fall themselves. As an investor you'll typically be "purchasing" a small portion of the bundled assets, earning money when the price increases. Generally, an ETF decreases your risk exposure because you're investing into a variety of assets, rather than a single one; shielding you from the losses of an individual company. With an ETF you are not investing in the underlying assets and have no ownership over them.
CFDs (Contract For Difference)
A CFD or contract for difference works in a similar way to an ETF, however, rather than investing in a group of assets, you're simply speculating on an asset increasing or decreasing in price. This method is typically better for day traders looking to capitalise on short-term price movements because oftentimes you would trade CFDs using leverage. In a similar fashion to an ETF, you have no ownership of the actual asset, instead, you'll earn money based on how much the asset increases or decreases from your entry price. 
Best Ways to Invest in Microsoft UK
Depending on your investment strategy, you might prefer investing in stocks or an ETF/CFD. Although both are perfectly valid and have their own merits, the right investment for you will likely depend on several factors. We previously discussed the differences between each way of investing, now we'll explain who can best benefit from each method.
Invest in Microsoft CFDs
If you're a day trader or just looking to make some short-term investments, then a CFD might be for you. Typically this way of investing is better for those looking to take advantage of short-term market swings, because you're simply speculating on price rather than purchasing an asset, making it easier to trade. People trading CFDs without large cash reserves often use leverage to make the most of small changes in price. 
Invest in Microsoft ETFs
Are you looking for a bridge between traditional stocks and CFDs? If yes, then you might be interested in an ETF. When you're investing in an ETF, you'll typically be investing in a group of assets rather than a singular one, for those looking to minimise their risk exposure, this is perfect. Typically, an ETF is best suited to investors looking for medium-term holds as it provides a relatively low risk and stable growth. You should note, when investing in an ETF although you can receive dividends if the fund you invest with passes them on, you do not own any of the underlying assets. 
Invest in Microsoft Stocks
Investing in the stocks of a company (otherwise known as shares) is an excellent way of your portfolio of assets. When buying a stock, you're buying a fraction of the company, meaning that although you can't physically hold it in your hands, you own a tangible asset. This generally makes it a better investment for those looking for a long-term hold, as you don't have to worry about your getting liquidated or short-term price movements, because you can continue to hold your stocks through any dips. If you purchase enough of a company's stock you may also start to receive dividends, typically distributed quarterly or annually, dividends are the way a company shares some of its profits with investors. In a similar fashion to dividends, when you purchase enough shares of a company, you can be invited to shareholder meetings and have a vote on what happens with the company.
Is Microsoft a good investment UK? 
A tech giant, Microsoft has provided investors with a haven over the years, shielding wealth from inflation and generating a great return for long-term investors. In 2021, not much has changed, Microsoft is still a fairly safe bet for good year-on-year returns, and one that won't leave you pulling out your hair from stress! 
Safe Long-Term Investment / Steady Growth
For years blue-chip stocks have been the go-to investment for the savvy trader and it's easy to see why. Large companies like Microsoft tend to grow continuously, outpacing inflation, making it an excellent way to protect and increase your wealth. In just the past year Microsoft's stock price has increased by over 35%, likely due to increased use of cloud services. That being said, in the past 5 years Microsoft has grown by 393% so it's clear this isn't an isolated incident.
Tech Industry Continues To Grow
Although we're far from the enormous gains of the .com era, the tech industry continues to grow and as one of the largest companies in this space, with the resources to match, Microsoft is poised to continue dominating in this sector. Recently, they've begun to focus more on wearable technology, AI, and cloud services, with all 3 predicted to be huge in the coming years. If Microsoft can get a solid foothold in these industries there's no telling where the company's price could go.
Investing in Microsoft – What are the Risks
Even the largest companies in the world are susceptible to unfavourable market conditions. Although Microsoft has continuously posted steady gains each year, it doesn't make them impervious to losses in the future.
Comparatively Small Gains
Although Microsoft always seems to generate a good, stress-free return for their investors they're not the highest returning company out there. Generally, blue-chip stocks offer investors a safe investment, but as they say "with risk comes reward", and those willing to take on greater risk often see a better return on their investment. 
Not Very Diversified
Although Microsoft is a gigantic company, operating in almost every country in the world, just a few products make up the majority of Microsoft's revenue. Server products and cloud services account for 26.34% of Microsoft's revenue, the range of Office products and the services associated with them make up 25.81%, and Windows contributes 16.17%. From this, we can see that just 3 main product lines make up over 60% of their revenue, if these industries start declining Microsoft could be in trouble.
How to Invest in Microsoft with eToro
Figuring out how to invest can be difficult, there's a lot of conflicting information out there and it can be difficult for a new investor to sift through it all. To make sure our readers don't have this issue, we've created this in-depth guide on how to get started with the best Microsoft investment platform, eToro.
Step 1: Open an account with eToro
The first thing you'll need to do when getting started with investing is register with a broker. We recommend eToro because their platform is easy to get started on and feature-rich enough to stay on. Just type "eToro.com" into your browser, press "Join Now" and then enter your details.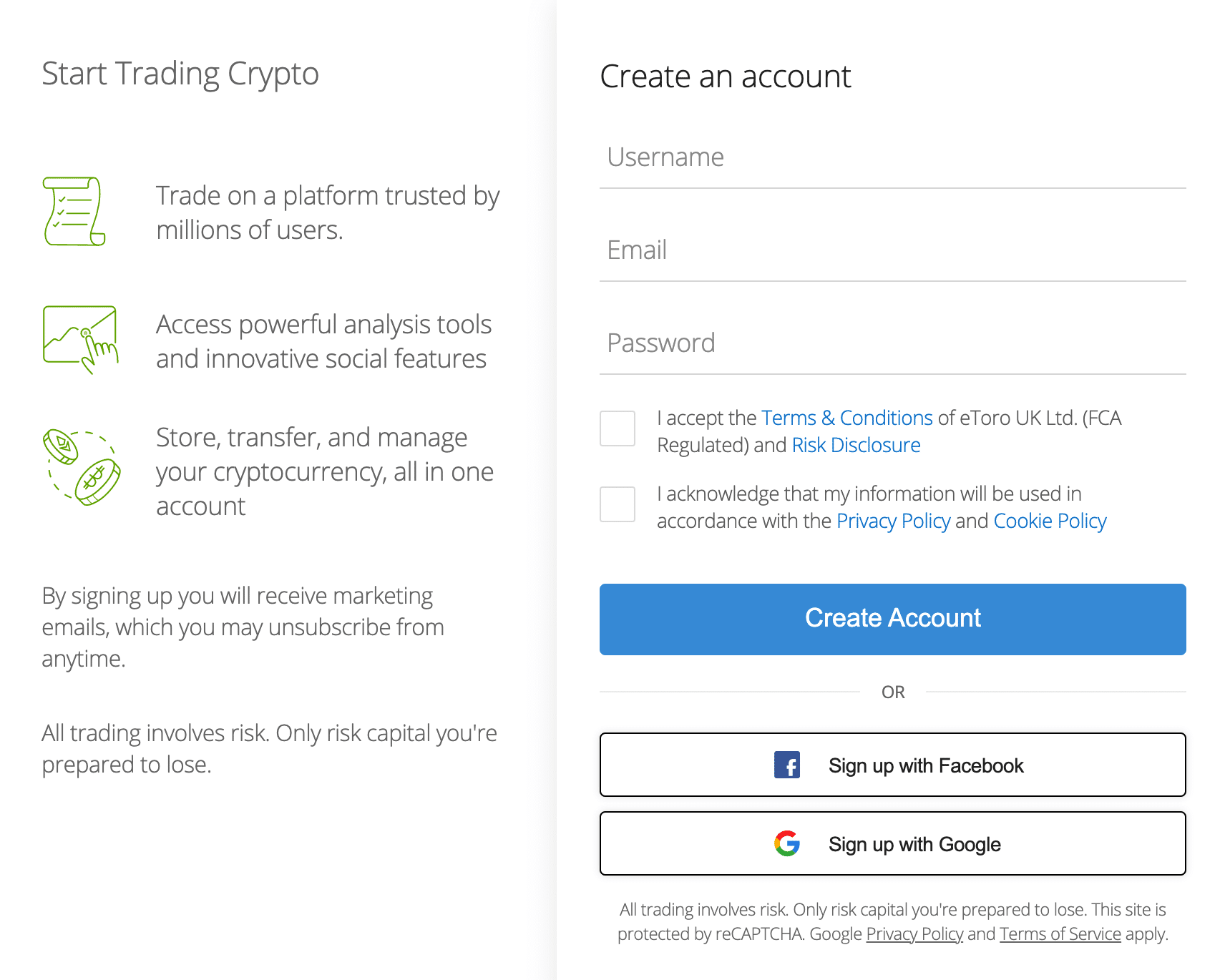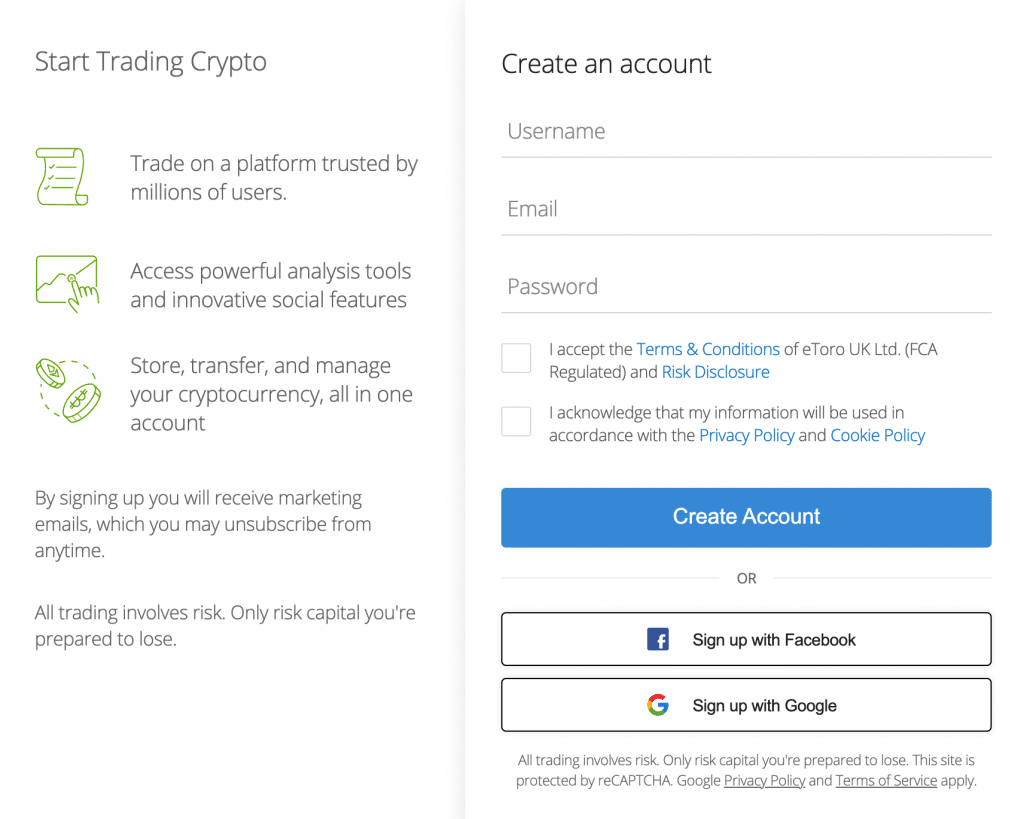 67% of retail investor accounts lose money when trading CFDs with this provider.
Step 2: Verify your account
Once you've created your eToro account you'll need to verify it. This is because eToro is a regulated platform and has to comply with strict money laundering laws. Don't worry though, this is commonplace in the financial world. You'll need a photo ID (passport, driving licence) and proof of address (bank statement, utility bill).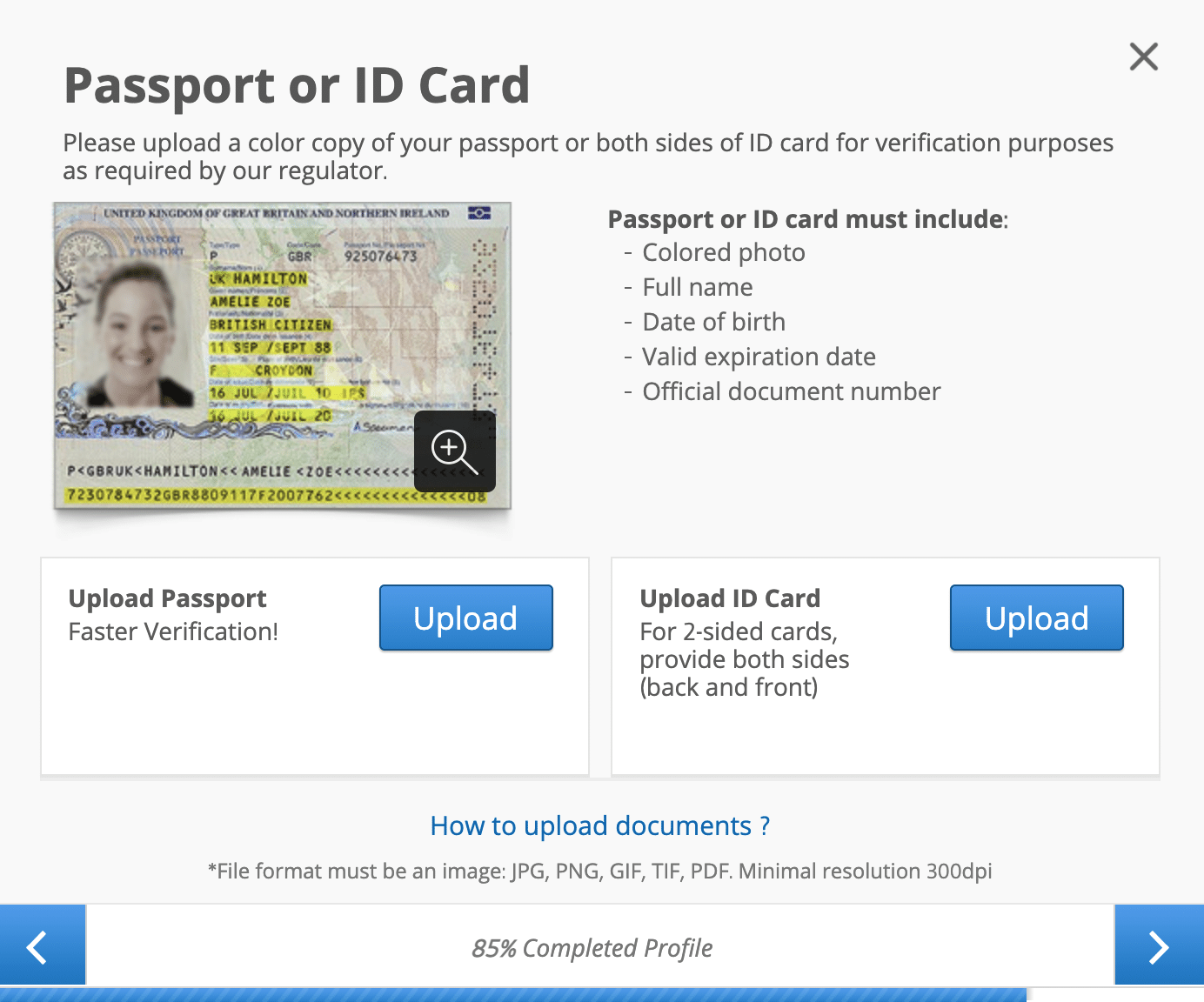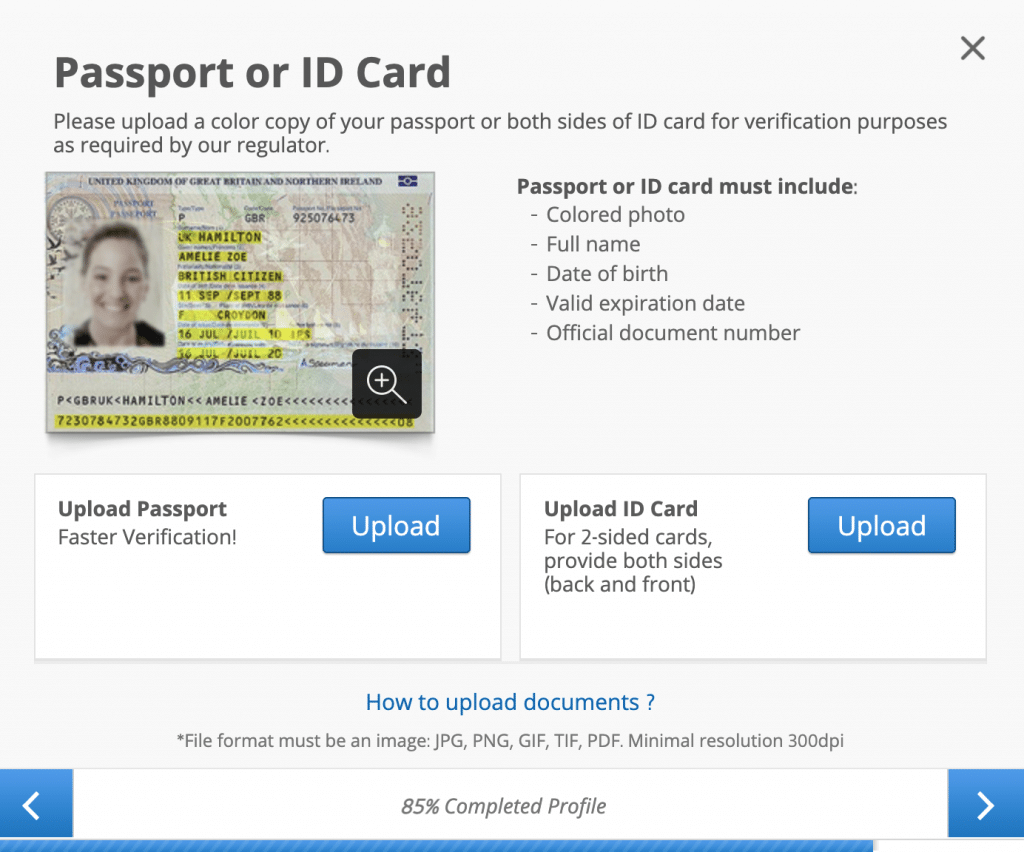 Step 3: Fund your account
After you verify your account, you'll need to fund it. With eToro you have a range of deposit methods, so pick whatever one best suits your needs. You can deposit using a credit/debit card, e-wallet (PayPal, Skrill, etc), or bank transfer.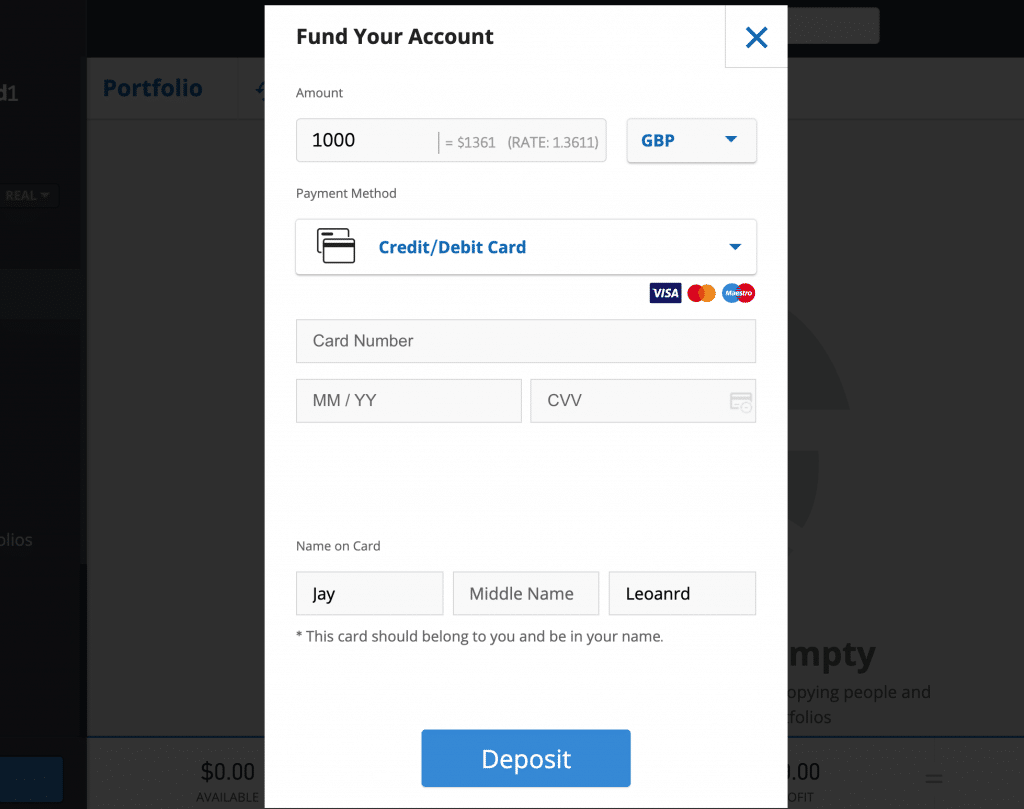 Step 4: Invest in Microsoft!
Now that you've got some funds ready in your account, you can invest in Microsoft. All you have to do is enter "Microsoft" into the search bar, press "trade", enter the amount you'd like to invest, and press 'buy". That's all!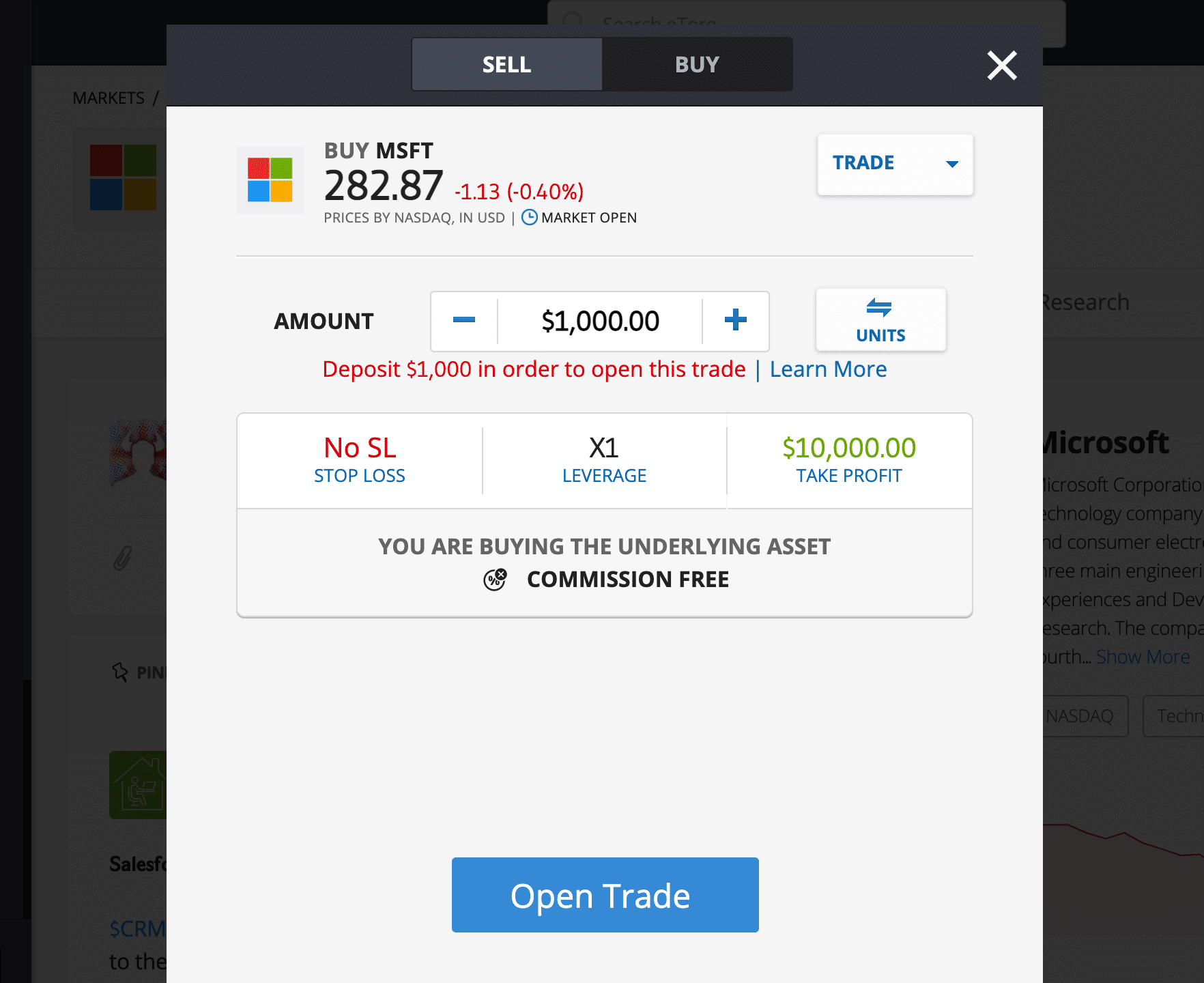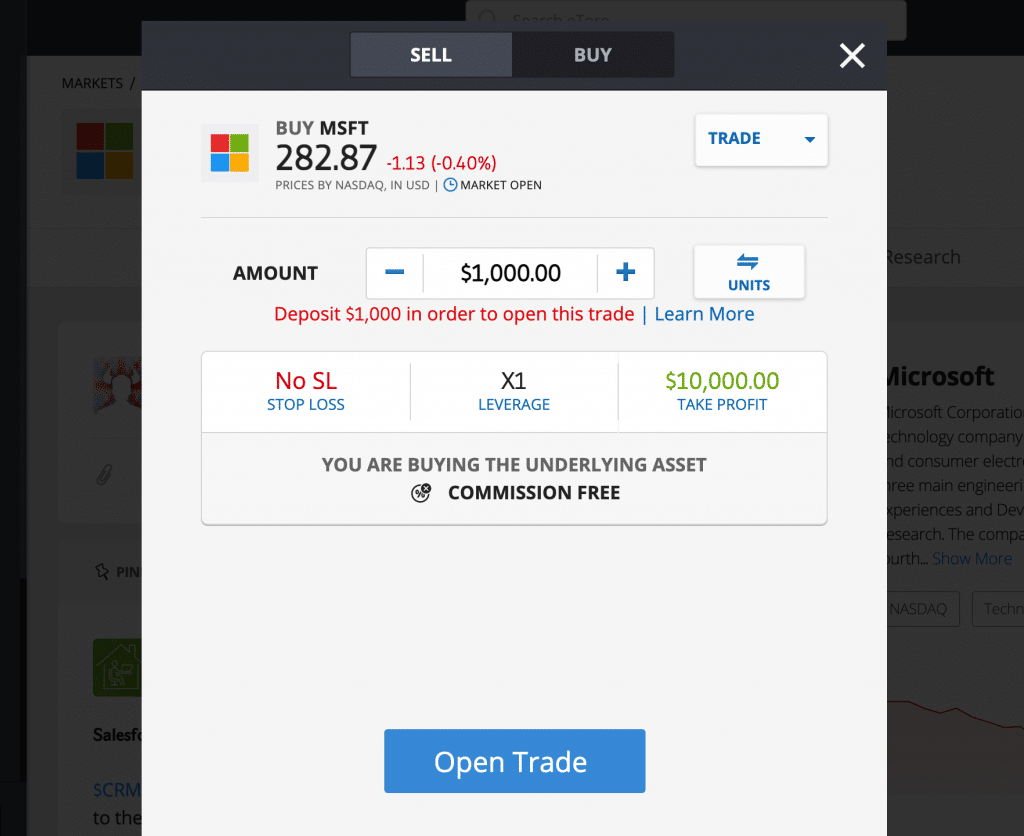 Conclusion
Investing in a blue-chip stock like Microsoft always tends to be a safe bet, providing investors with steady growth. An investment like Microsoft is perfect for anyone wanting to begin building their wealth, rather than having it eaten away by inflation. After reading this guide you should have a solid understanding of what makes a good trading platform and how to set up our top choice eToro. After spending hours researching the top Microsoft investment platforms, we can safely say that no other platform compares to the blend of security, features, and range of assets that eToro offers. As a commission-free platform, when investing using eToro you can be sure that you're getting the most for your money, further helping to grow your portfolio.
FAQs
What's the Future of Microsoft?
Where can I Invest in Microsoft UK?