Alphabet Stock Price Forecast September 2021 – Time to Buy GOOG Stock?
With a YTD (year-to-date) return of 66%, Alphabet (GOOG) is the best performing FAANG stock of 2021. Notably, the 2021 returns of FAANG stocks look almost like a mirror opposite of 2020.
Names like Apple and Amazon, which outperformed last year, are underperforming this year. Conversely, Alphabet and Facebook, which underperformed FAANG peers last year, are the top two gainers this year.
Alphabet stock price recent developments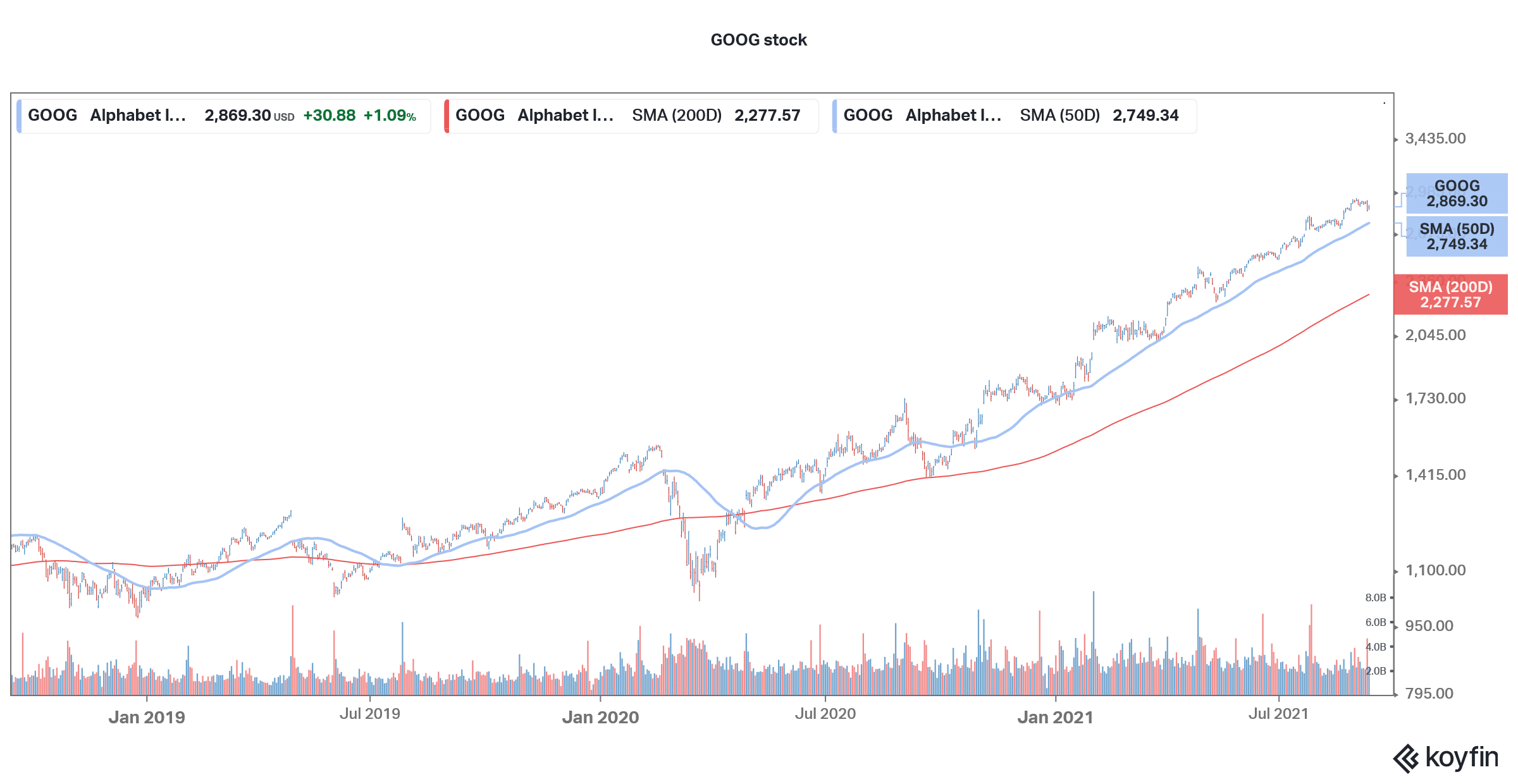 In July, Alphabet had released its second-quarter earnings. FAANG names like Amazon and Netflix, whose revenue had surged last year amid the lockdowns, are seeing slowing growth this year. However, the story is somewhat different for Alphabet. The company's ad revenues took a hit last year but are rebounding this year. GOOG reported revenues of $61.88 in the quarter which surpassed estimates of $56.16 billion. The steep rise in revenues was led by a 69% rise in adverting revenues. The company reported an EPS of $27.26 which was significantly higher than the $19.34 that analysts were expecting.
Meanwhile, the company has delayed the office return of employees to next year amid rising coronavirus cases. Corporate America has been watching the situation carefully and companies are insisting on vaccination for employees.
67% of all retail investor accounts lose money when trading CFDs with this provider
GOOG stock's market cap swells
GOOG now has a market cap of almost $1.9 trillion which makes it the third most valuable US company behind Apple and Microsoft. Notably, Amazon, which at one point was the second most valuable US company, has slipped to the fourth stock amid the recent underperformance. Both Microsoft and Alphabet stocks have outperformed while Amazon has looked weak. Alphabet looks set to become the next $2 trillion-dollar company.
Commenting on the rise in GOOG stock, Wedbush analyst Dan Ives said "We view this part of a risk-on trade and many investors playing a digital advertising tidal wave of demand that is clearly putting tailwinds into the stock. Also, Google is having success with cloud services which is another leg to the growth story as they play catch-up to Microsoft and Amazon."
Alphabet stock price forecast
Most Wall Street analysts are bullish on GOOG stock and 44 out of the 46 analysts polled by CNN Business rate it as a buy or some equivalent. One analyst each rates GOOG as a hold and sell. Its median target price of $3,190 is a premium of 11.2% over current prices. Alphabet's street high target price of $3,600 implies an upside of 25.5% while the street low target price of $2,520 is a discount of 12.2%.
Earlier this month, Guggenheim raised Alphabet's target price from $3,140 to $3,400 while reiterating its overweight rating. "In the near term, we believe core search and digital advertising trends has remained robust in 3Q, while investment in YouTube and Cloud will continue to drive incremental revenue growth," it said in its note.
Baird also termed GOOG stock as the top internet stock. "In this environment, we believe Google Search is still the most resilient digital ad format, and is still a 'must buy' for most sizable retailers and brands," it said in its note.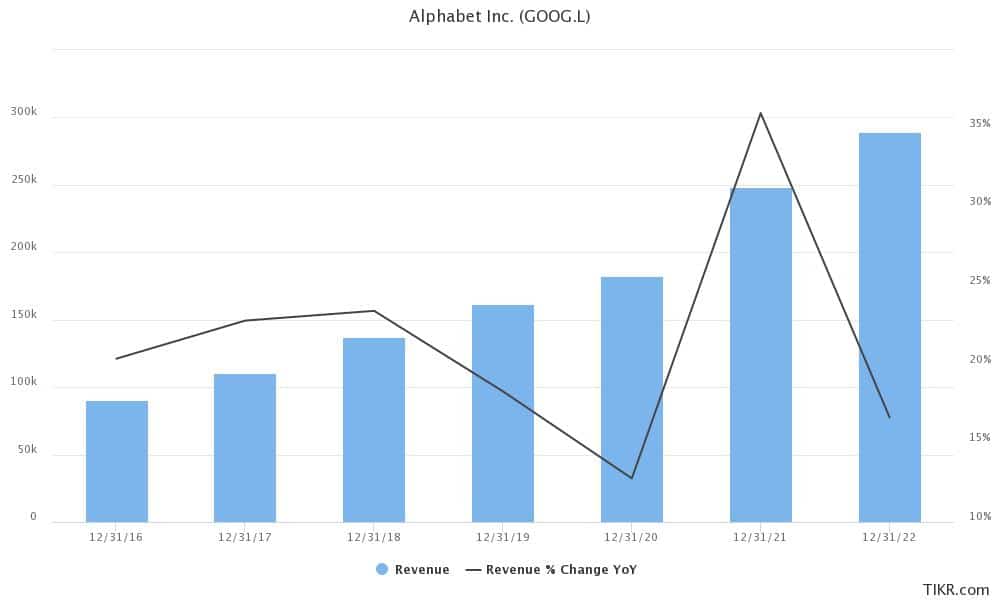 GOOG stock price long-term forecast
The long-term forecast for GOOG stock looks positive looking at the digital transformation. Over the medium to long term, higher monetization on the YouTube platform would help the company increase its topline as well as bottomline. Alphabet is also betting aggressively on the cloud and revenues increased significantly in the second quarter. Overall, Alphabet has a monopolistic lead in the search market and a sound leadership position in the smartphone operating system.
That said, the monopoly-like business of the US tech giant is also a risk as several jurisdictions including the US have taken an aggressive posture against Big Tech companies. US tech companies like Alphabet are also facing digital tax demand in several countries.
That said, if you are looking to play the digital transformation over the long term, GOOG is among the stocks that could interest you. Analysts expect the company's revenues to rise 36% this year and 16.6% next year.
Alphabet stock price valuation
Meanwhile, as Alphabet stock has risen sharply, its valuations have also surged above the historical average. It now trades at an NTM PE multiple of 29.2x. The multiples have averaged 27x and 26.2x over the last three and five years respectively. The valuation premium is even steeper considering that GOOG's NTM PE has averaged 22.5x over the last 10 years.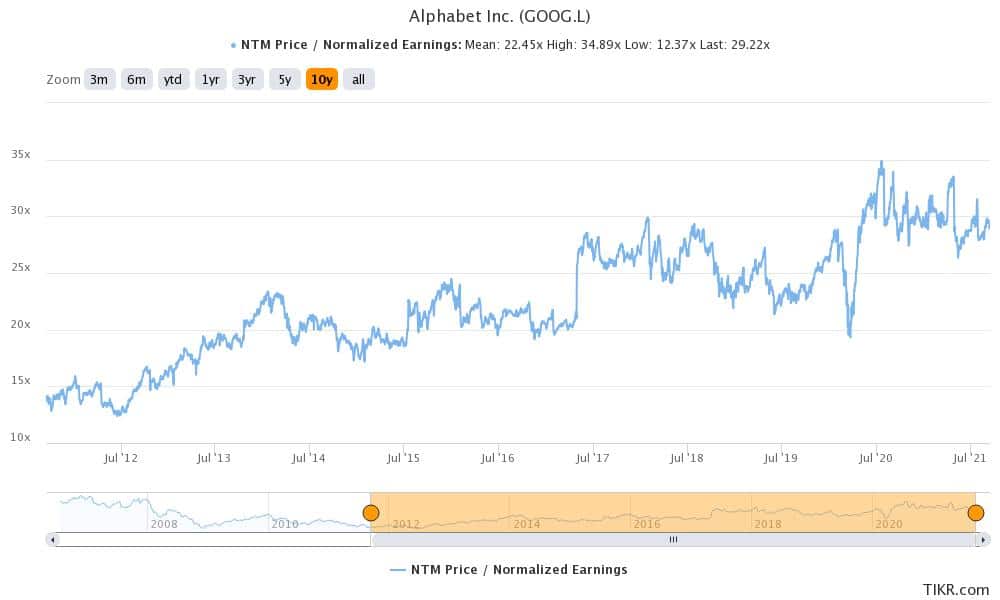 That said, the valuation premium is reflective of the rerating of US tech stocks. While the valuations are currently higher than the historical average, they don't look uncomfortable at these levels.
Alphabet stock is looking bullish on the charts also and trades above the 50-day, 100-day, and 200-day SMA (simple moving average). The 50-day SMA is a strong support channel for GOOG stock. The 14-day RSI is 579 which is a neutral indicator. However, the MACD (moving average convergence divergence) gives a sell signal.
Overall, Alphabet stock looks like a good buy. While it might not be able to repeat the stellar first-half performance, it should deliver good returns in the medium to long term.
Buy GOOG Stock at eToro from just $50 Now!