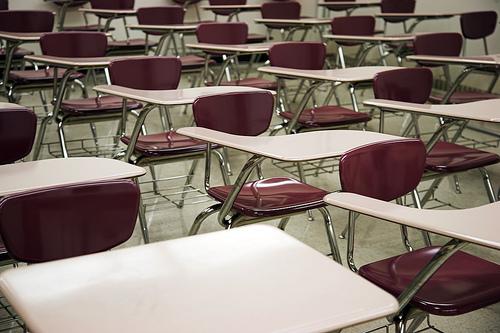 The internet has already revolutionised the working environment, the music industry, the media and shopping habits. It now appears likely that it is on the cusp of transforming the world of higher education with radical consequences for the future of higher education in both the developing and the first world.
The explosion in the number of students taking online courses in 2012 has radical consequences for the future of higher education, with the plunging costs of online education a lifeline to millions in the developing world, as well as saving thousands of students in the West from mountains of debt.
Anant Agarwal, the President of edX, one of the biggest new providers of the new phenomenon of MOOCs (massive open online courses), says 2012 was "the year of disruption" in higher education. He has signed up 400,000 students in four months for the online courses offered by Massachusetts Institute of Technology and Harvard University, and a few other US universities. Agarwal hopes to reach a billion students by 2022.
He said:



The internet is going to reinvent education and transform universities. It's going to democratise education on a global scale. It's the biggest innovation to happen in education for 200 years.

Agarwal is not alone in making such bold claims. Sebastian Thrun, the creative mastermind behind Google's self-driving car and Google glasses, is similarly evangelical about the web's potential to revolutionise higher education. Thrun's eureka moment came after he opened up his Stanford artificial intelligence class in 2011 to anyone who wanted to join. The response caught him by surprise. By the time the course began, 160,000 students had signed up. They were from every country in the world except North Korea. Of the 23,000 students who graduated, the 400 with the highest grades all studied online.
Thrun later said in a speech:



I feel like there's a red pill and a blue pill. I've taken the red pill, and I've seen wonderland. We can really change the world with education.

Related Infographic: Education Is Expensive, but Learning Doesn't Have to Be
Related Infographic: Which Are the "Most Educated" Countries in the World?
Related Infographic: Are Education & Life Expectancy Correlated?
Thun decided to found his own online university, called Udacity in February 2012. The first two courses were CS 101: Building a Search Engine, taught by David Evans from the University of Virginia, and CS 373: Programming a Robotic Car, which was taught by Thrun. Udacity now has 15 courses and around 400,000 students.
Thrun also inspired two of his computer science colleagues at Stanford, Andrew Ng and Daphne Koller, to set up another online university, Coursera. The difference between the two is that while Udacity develops its own courses, Coursera is forming partnerships with universities to offer existing ones. 
Coursera has been even more spectacularly successful since it was founded in January 2012. More than 1.9 million students from 196 countries have signed up for a course. Even though only hundreds of thousands have actually taken courses and completion rates range between 7 to 9 percent, that figure still amounts to tens of thousands of students.
Coursera founder Daphne Koller is motivated by the same desire to democratise education as her mentor Sebastian Thrun. "I am one of the lucky people," she said. "I was born to a family where education was pervasive. I'm a third-generation PhD, a daughter of two academics. Unfortunately, most of the people in the world are not so lucky. In some places, education is not readily accessible. In South Africa, for example, the educational system was constructed in the days of apartheid for the white minority. And as a consequence, there are just not enough spots for the many more people who want and deserve a high-quality education."
Koller said the scarcity of university places in South Africa led to tragedy at the University of Johannesburg at the start of 2012. In January, thousands of hopefuls lined up outside the university gates hoping to register for one of the few remaining places. When the gates opened, there was a stampede, and 20 people were injured and one woman died.
The situation is going to get worse, according to UNESCO, which estimates that by 2025 around 98 million students will be deprived of a higher education because there will not be enough places to satisfy requirements. Meanwhile, on the internet, there is potentially room for everyone.
"If we could use the internet to offer a top-quality education to everyone around the world for free, it would establish education as a fundamental human right, where anyone with the ability and the motivation could get the skills to make a better life," Koller said.
Potential students in Western countries will also be keeping a close eye on developments in online education. University tuition costs have rocketed. In the US, the cost has risen 559 percent since 1985, making it unaffordable for many people.
In England, there was a massive rise in tuition fees in 2012. Students now pay up to £9,000 per year, leaving them with debts of £50,000-£60,000 at the end of a three-year degree and market forces will inevitably see the cost of a degree at the most prestigious English universities rise even further. Predictably, university applications by English-born students dropped by almost 8 percent in 2012, although the number failing to turn up to study was closer to 15 percent.
Related News: UK Education Watchdog Urge Elite Universities to Admit More Poor Students
Related News: One In Five U.S. Households Affected By Student Debt: Study
Related Story: When Will The $1 Trillion Student Debt Bubble Burst?
Daphne Koller believes fervently in the virtues of the online approach, not simply because of the cost, but also because of the advantages of the format. She sees great benefits in moving away from the "monolithic one-hour lecture" format. Course materials can be broken up into short, modular units of eight to 12 minutes, each representing a coherent concept.
Students have the flexibility to study the material in different ways. Some might benefit from preparatory material that others might already know. Some might be interested in enriching their understanding of a particular topic. "This format allows us to break away from the one-size-fits-all model of education, and allows students to follow a much more personalised curriculum," Koller said.
The Coursera videos regularly test students' understanding. Every few minutes the video pauses and students are asked a question. They can proceed at their own pace once they understand a concept.
"They are the same simple questions I often ask in class, but when I do, 80 percent of students are still scribbling the last thing I said, 15 percent are zoned out on Facebook, and then there is the smarty pants in the front row who blurts out the answer before anyone else has had a chance to think about it. And so the lecture moves on before my students have noticed a question has been asked. Online, every student has to engage with the material," Koller explained.
The online model has been criticised for not providing the sense of community found on a university campus. But Koller argues the opposite is usually true:



This is not just about students sitting alone in their living rooms working through problems. For each course, a global community has formed around a shared intellectual endeavour. There are so many students around the world that even if a student poses a question at 3am, there will be somebody working on the same problem. In many of our courses, the median response time on the question and answer forum was 22 minutes, which is not a level of service I have ever offered to my Stanford students!

Online students also get together to form small study groups, she said. Some meet physically on a weekly basis to work through problem sets. Others form virtual study groups.
The most controversial aspect of online education is assessment. How do you grade the work of 100,000 students without 10,000 instructors? The answer, Koller says, is to use technology, which has come a long way in grading homework. For mathematical and financial subjects, it can effectively grade a range of assignments. 
Opinions differ about technology's capacity to assess the critical thinking required in the humanities. But Koller says peer-to-peer grading is surprisingly effective. Academic studies, such as one by Saddler and Good, found a strong correlation with teacher-assigned grades. If students are graded by a number of their peers, the technology will root out anomalous marks. 
The ability of computer software to evaluate essays is also improving fast. A study by Dr Mark Shermis, Dean of the College of Education at the University of Akron, found little difference in accuracy between essays graded by humans and computers.  The research challenged nine companies to use their automated grading software to assess more than 16,000 essays. The results were compared with grading by hand.
"Some critics of automated grading assert the technology will homogenise writing. To some degree, that's true. Automatic grading doesn't do well on very creative kinds of writing, such as writing a haiku. But this technology works well for about 95 percent of all the writing that is out there and it provides unlimited feedback on how you can improve 24/7," Shermis said.
The MOOCs are not the only models shaking up the status quo in higher education. One of the most ambitious and egalitarian new online institutions is the University of the People (UoPeople), which touts itself as the "world's first tuition-free online university".
Founder Shai Reshef says UoPeople's ambitions are very different to the MOOCs. "There's a similarity in that both use the internet to spread knowledge, but out students need to be accepted onto the courses and are taught a full curriculum to a regular timetable. They come away with a degree whereas MOOCs don't offer full degrees. I think Udacity or Coursera are a long way from becoming full universities. Right now, they offer a bunch of courses and are often used by students at other universities for extra tuition, or by professionals taking an enrichment course," Reshef said.
He added:



Another major difference between UoPeople and the MOOCs is the social background of our students. We target people who have no other alternative for higher education experience. They are survivors of genocide in Rwanda, or an earthquake in Haiti. This is their one chance in life.

Related Story: Breaking the Inter-Generational Poverty Curse: Jeffrey D. Sachs
Related Story: Emerging Markets Need A Higher-Education Rethink: Shaukat Aziz
The UoPeople had admitted more than 1,500 students from 135 countries since it began in 2009. UoPeople students are placed in classes of 20-30 under qualified academic instructors from reputed universities. The ratio of teachers to students is uniquely high. UoPeople has 2,900 volunteer professors, which means they have at an average of two academics for every student. Again, this is different from the MOOC model, which seeks to attract as many students as possible. As yet, the UoPeople degrees, which are in computer science, or business, are not accredited, but Reshef expects that to change in the near future.
"We have high-quality academics working on our Presidents Council, including the Vice Chancellor of Oxford, Sir Colin Lucas, and the President of New York University, John Sexton. Our academics say UoPeople students compare very well with the students they teach at their own universities," he said.  
The egalitarian vision of UoPeople means it does not rely as heavily on technology as the MOOCs. A high number of students from the developing world follow courses at internet cafes. They upload assignments onto USB and then study at home where there is usually no internet connection. Tuition is free, but exams cost US$100 each for those who can afford to pay. UoPeople relies on donors to help to fund the courses.
The success of the UoPeople model, Reshef argues, has great lessons for both universities in the first world and the developing world.
"In the developing world too many countries are taking the few million dollars they have and spending it all on trying to build their own Oxford, but you don't build an Oxford in a few years, or with a few million dollars. They should take the same money and use our online model to educate every single person in the country. Think what it would do to a developing country if every single person had a higher education," said Reshef.
Educating the developing world is Reshef's priority. But his online model also has lessons for the West, where soaring tuition fees are dissuading poor students from entering higher education.
He said:
We are the first university offering tuition-free degrees, but there will be others soon. What we have proved is there's no reason for universities to be so expensive. With the internet, you can dramatically decrease the price of higher education. Established universities can do it even cheaper than we do because they have the manpower, technology and infrastructure. We are saying they can add a zero to their student numbers. Many don't want to, but they can if they want.

"Even if the courses are not completely online, degrees could combine online and traditional teaching to dramatically reduce costs. For example, students could study a quarter or a third of their courses online, including all their lectures," he said.
What is impossible to predict, however, is how the internet will change higher education in the next 10 years. "We don't even know how the internet will look in 10 years, never mind online universities," said Reshef.
"But the potential is there. I always say that if we can educate 1 percent we can change lives, but if we can educate many more, we can change the world. Meanwhile, all the ingredients to open the gates are now available for free. We have open source technology and the new internet culture of social networking. We just need to put them together," he said.
By David Smith, EconomyWatch.com
Get more special features in your inbox: Subscribe to our newsletter for alerts and daily updates.
Do you have a strong opinion on this article or on the economy? We want to hear from you! Tell us what you think by commenting below, or contribute your own op-ed piece at [email protected]
See also:
Breaking the Inter-Generational Poverty Curse: Jeffrey D. Sachs
See also:
Emerging Markets Need A Higher-Education Rethink: Shaukat Aziz