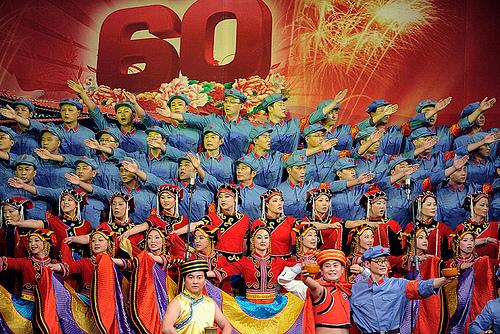 Given centuries of turmoil in China, today's leaders will do everything in their power to preserve political, social, and economic stability. That is why they removed Bo Xilai, the powerful Party Secretary of Chongqing, just before a major conference that attacked the economic model that he personified.
BEIJING – The first principle that I learned when I started focusing on China in the late 1990's is that nothing is more important to the Chinese than stability – whether economic, social, or political.
Given centuries of turmoil in China, today's leaders will do everything in their power to preserve stability. Whenever I have doubts about a potential Chinese policy shift, I examine the options through the stability lens. It has worked like a charm. 
Stability was on everyone's mind at the annual China Development Forum (CDF) held March 17-20 in Beijing. Hosted by Premier Wen Jiabao, with many ministers of the State Council in attendance, the CDF is China's most important international conference. Yet, literally two days before this year's CDF began, the controversial Bo Xilai was removed as Party Secretary of Chongqing. As a strong candidate to join the Standing Committee of the Politburo, China's inner circle of leadership, Bo's sudden demise was stunning. There was a palpable buzz in the air as we convened in the Diaoyutai State Guesthouse.
The formal sessions played out predictably, placing great emphasis on the coming structural transformation of China's growth model – a colossal shift from the all-powerful export- and investment-led growth of the past 32 years to a more consumer-led dynamic. There is now broad consensus among China's senior leadership in favour of such a rebalancing. As one participant put it, "The debate has shifted from what to do to how and when to do it."
Related: The Chinese Economy
Related: China (People's Republic of China) Economic Statistics and Indicators
Related: China Economic Forecast
Many of the other themes flowed from this general conclusion. A shift to services-led growth and an innovations-based development strategy were highlighted. At the same time, there was considerable concern about the recent resurgence of state-owned enterprises, which has tilted the distribution of national income from labour to capital – a major impediment to China's pro-consumption rebalancing. The World Bank and the China Development Research Center (the CDF's host) had just released a comprehensive report that addressed many aspects of this critical issue.
But the CDF's formal proceedings never even hinted at the elephant in the chambers of Diaoyutai. There was no mention of Bo Xilai and what his dismissal meant for China's domestic politics in this critical year of leadership transition. While it is easy to get caught up in the swirling tales of palace intrigue that have followed, I suspect that Bo's removal holds a far deeper meaning.
Chinese officials faced the risk of a dangerous interplay of political and economic instability. Hit by a second external demand shock in three years – first, America's subprime crisis, and now Europe's sovereign-debt crisis – any outbreak of internal political instability would pose a far greater threat than might otherwise be the case.

Related: Myths Debunked: Why China Will Have A Soft Landing: Stephen S. Roach
Related: China's 2012 Outlook: The Bad News about the Reserve Cut
Bo personified that risk. He embodied the so-called "Chongqing model" of state capitalism that has been ascendant in China in recent years – government-directed urbanization and economic development that concentrates power in the hands of regional leaders and state-owned enterprises.
I spent some time in Chongqing – a vast metropolitan area of more than 34 million people – last summer. I left astonished at the scope of the city's plans. Orchestrated by Chongqing Mayor Huang Qifan, the principal architect of the spectacular Pudong development project in Shanghai, the goal is to transform the Liangjiang area of Chongqing into China's first inland urban development zone. That would put Liangjiang on a par with coastal China's two earlier showcase projects – Pudong and the Binhai area of Tianjin.
Yet this is the same state-dominated development model that came under heavy criticism at this year's CDF – and that stands in sharp contrast to the more market-driven alternative that has gained broad consensus among senior Chinese leaders. In other words, Bo was perceived not only as a threat to political stability, but also as the leading representative of a model of economic instability. By dismissing Bo so abruptly, the central government has, in effect, underscored its unwavering commitment to stability.
This fits with yet another curious piece of the Chinese puzzle. Five years ago, Wen famously warned of a Chinese economy that was in danger of becoming "unstable, unbalanced, uncoordinated, and unsustainable." I have repeatedly stressed the critical role that Wen's "Four Uns" have played in shaping the pro-consumption strategy of the "Next China." Wen's critique paved the way for China to face its rebalancing imperatives head on.
But, in their formal remarks to the CDF this year, China's senior leadership – including Premier-designate Li Keqiang – dropped all explicit references to the risks of an "unstable" Chinese economy. In short, the Four Uns have now become three.
Related: How China Can Address Its Economic Challenges By 2030: Justin Yifu Lin
Related: China's Economic Puzzle: Why The Bears & Bulls Just Can't Agree
Related: With Her Debt in Tow, Where is China Heading? : Michael Pettis
In China, such changes in language are no accident. The most likely interpretation is that those at the top no longer want to concede anything when it comes to stability. By addressing economic instability through pro-consumption rebalancing, and political instability by removing Bo, stability has gone from a risk factor to an ironclad commitment.

There can be no mistaking the Chinese leadership's core message nowadays. They are the first to concede that their growth and development strategy is at a critical juncture. They worry that the "reforms and opening up" of Deng Xiaoping are in danger of losing momentum. By addressing the interplay between economic and political risks to stability, the government is clearing the way for the next phase of China's extraordinary development. I would not advise betting against their commitment to achieving that goal.
By Stephen S. Roach
Copyright: Project-Syndicate, 2012
Stephen S. Roach is the Non-Executive Chairman of Morgan Stanley Asia, as well as being a lecturer at Yale University's School of Management and Jackson Institute for Global Affairs. In 2009, Roach authored "The Next Asia", which contained key research papers on Asia and how the region fits into the broad global context of the globalization of investing and financial markets around the world.
Get more special features from the world's top economists in your inbox. Subscribe to our newsletter for alerts and daily updates.
See also:
How China Can Address Its Economic Challenges By 2030: Justin Yifu Lin
See also:
China's Economic Puzzle: Why The Bears & Bulls Just Can't Agree