Hedera Hashgraph Price Prediction – Hedera Hashgraph Forecast 2021, 2022, 2025 & 2030
The emergence of blockchain technology has paved the way for hundreds of exciting applications in various industries. However, Hedera Hashgraph is a platform that offers a viable alternative to blockchain technology whilst also offering some significant benefits to users.
In this article, we'll discuss our Hedera Hashgraph Price Prediction in detail. We'll explore what the platform is and where price may go in the future before highlighting the best place to buy cryptocurrency today – with no commissions!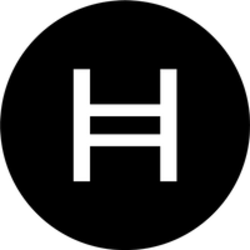 Hedera (HBAR)
Price
Hedera Hashgraph Price Prediction 2021 to 2022
As you'll find out later on in this Hedera Hashgraph stock forecast, this platform has exceptional potential within the cryptocurrency market. However, if you're short on time, the bullet points below present our Hedera Hashgraph prediction 2021 for various upcoming timeframes.
One Month – The current Hedera Hashgraph price is hovering around $0.38 after some bullish momentum since September 2021. We estimate that Hedera Hashgraph could reach a valuation of $0.50 over the next month if this momentum continues.
Three Months – The all-time highs made in September 2021 may pose a problem for this token, as they represent a strong resistance level. Due to this, we expect momentum to slow slightly, meaning Hedera Hashgraph could be valued at around $0.60 within the next three months.
Early 2022 – If Hedera Hashgraph can close past all-time highs and retest, it'll 'confirm' that price is going much higher. Thus, we estimate that the token could hit $0.70 by early 2022.
67% of retail investor accounts lose money when trading CFDs with this provider.
Hedera Hashgraph Price History – the Story of 2021 So Far
Blockchain technology is all the rage these days, with a large percentage of people looking to buy cryptocurrency to gain exposure to this momentum. However, Hedera Hashgraph steers away from this technology and offers a viable alternative that developers can use to launch their applications on. So, with that in mind, let's look at what Hedera Hashgraph is and how the price arrived at this point.
The first thing to note is that Hedera Hashgraph is not a blockchain, as transactions are not assembled in 'blocks'. Instead, transactions are assembled in a 'graph' formation, with nodes communicating with one another in a haphazard manner rather than in a linear fashion. The technology behind Hedera Hashgraph's consensus algorithm is very complex, but essentially what it boils down to is that this platform can conduct much more transactions per second than Bitcoin (BTC) and Ethereum (ETH).
Hedera Hashgraph is governed by various well-known corporations across multiple industries, including Boeing, Google, and IBM. This sort of backing goes for and against Hedera Hashgraph, as although it adds enormous credibility to the platform, many people see this as a negative due to oversight from these huge firms. However, the platform was initially designed by Leemon Baird, a former Professor of Computer Science at the US Air Force Academy.

The native token of the Hedera Hashgraph platform is HBAR, which is what you'll be buying if you want to invest in the platform. This token has various use cases, including powering decentralised applications (dApps), facilitating payments and rewarding nodes for staking. Furthermore, as you'll know if you're experienced in investing in cryptocurrency, these utility tokens can also be used for speculative purposes by investors.
Overall, Hedera Hashgraph is a fascinating project that more and more people are becoming aware of. The developers have ambitious plans to upgrade the platform and are backed by a variety of large enterprises, which adds more credibility. Due to this, the future looks bright for Hedera Hashgraph in terms of avoiding regulation and expanding over time.

Looking at the HBAR price chart, we can see that the token's value increased by 1341% in the early months of 2021. Then, between March and July, the cryptocurrency price gradually declined from these highs and hit a low of $0.13. However, this low was short-lived as bullish momentum re-entered the market, prompting HBAR to go on another bull run that culminated in an all-time high of $0.56 in September 2021. Since then, the price of HBAR has pulled back slightly, although there are still signs to be optimistic.
Hedera Hashgraph Price Forecast
Now that we've covered what HBAR is and its price history, let's look at the token's price forecast. Much like when you buy stocks, it's essential to research the asset you are interested in beforehand and look at the price action to get an idea of future movements. With that in mind, let's explore the technical and fundamental elements of this Hedera Hashgraph price prediction.
Technical Analysis
As you can see from the price analysis below, Hedera Hashgraph has been trending upwards for quite some time and is sticking close to the trendline that started in July 2021. There is a strong support level around $0.30 that has held the price up twice in the past, creating a good foundation in the short term. However, there is also a strong resistance level around $0.55, where the price was rejected aggressively in September.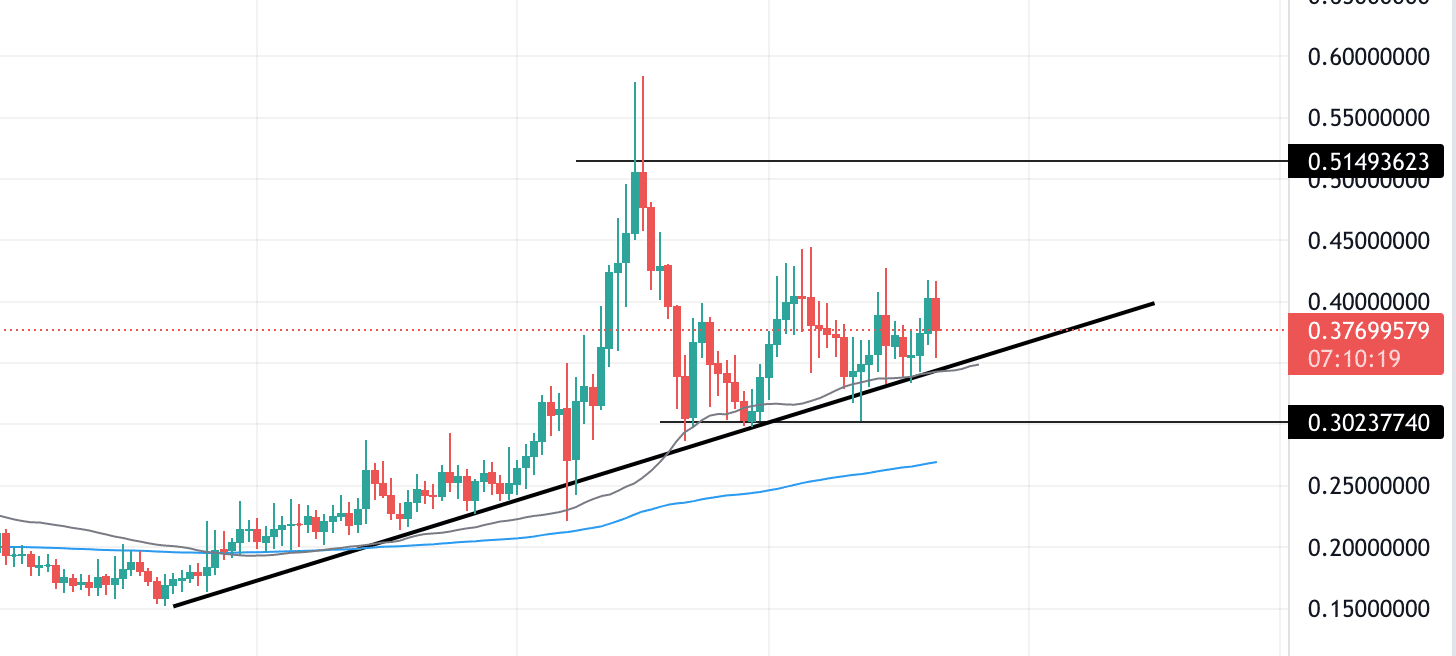 67% of retail investor accounts lose money when trading CFDs with this provider.
One bullish sign is that HBAR is trading above the 50-day and 200-day EMAs. These moving averages indicate the medium and long-term trends – so if the price is above them, it's usually a bullish signal. In addition, the price of Hedera Hashgraph recently rejected the 50-day EMA, using it as support to push higher.
Furthermore, we can clearly see higher-highs and lower-lows forming on the daily and 4H timeframes, which signifies a strong uptrend. Ideally, investors will want this trend to continue over the next month or two so that HBAR can try and break the all-time highs. Time will tell whether this happens, but overall, the technicals look promising for HBAR.
Fundamental Analysis
According to CoinMarketCap, HBAR has a market cap of $5.7bn at the time of writing in October 2021. This puts HBAR at number 36 in the list of the world's most valuable cryptocurrencies, behind the likes of Cardano (ADA), XRP, and Matic, which are some of Hedera Hashgraph's 'rivals'. The token's trading volume was just over $182m over the past 24 hours, down 27.74% from the previous day.
There are 14.83bn HBAR tokens circulating in the ecosystem, with a maximum supply of 50bn tokens. This hard cap is a good thing for investors, as it means the tokens are finite. Thus, there is an element of scarcity to HBAR that places upward pressure on price overall. Speculative investors will tend to invest in tokens with this element, as ones without a maximum supply tend to have lower chances of the price appreciating long term.
Hedera Hashgraph Price Prediction 2025 – Long Term Outlook
So, putting everything together, let's take a look at our Hedera Hashgraph prediction over the long term. Many people suggest that Hedera Hashgraph is one of the best investments UK as it takes all of the good elements of blockchain technology and improves upon them. Furthermore, hundreds of companies are already building their applications on Hedera Hashgraph, which adds more validity to the technology.
The scalability of Hedera Hashgraph is one of the main reasons why people are so bullish on HBAR. The platform can handle much more transactions per second than Bitcoin and Ethereum and offer transactions at a fraction of the cost that those two networks can. For example, Hedera Hashgraph's fees are as low as $0.0001 per transaction, whilst Ethereum's can be up to $10 when the network is congested.

Another great thing about Hedera Hashgraph is that it's designed to be SEC-compliant. This is a significant facet, as rumours are heating up that Joe Biden is set to introduce measures that stifle the crypto market. If this were to occur, it would seriously hamper the progress of hundreds of cryptocurrencies – yet HBAR would be insulated due to its design.
Overall, Hedera Hashgraph has a fantastic future ahead of it and is well worth adding to your watchlist. Future price movements will likely be bullish as more companies become aware of this platform's benefits. Although the cryptocurrency community seems negative towards HBAR (due to the companies behind it), this platform still has what it takes to reach exceptional heights.

So, with that in mind, our Hedera Hashgraph price prediction 2025 estimates that this coin could reach $1.20 by 2025. Once adoption starts rolling in and the consensus shifts around this platform, we'll likely start seeing exponential movements in price.
Looking further ahead, our Hedera Hashgraph price prediction 2030 projects that the token could hit $2. By this point, other companies will likely follow the lead of Google and IBM and utilise the platform for their services. This credibility can only be a good thing for price and will help it rise to these levels.
Hedera Hashgraph Price Chart
Although most retail investors who enter the market will look to immediately buy Bitcoin or some other crypto with a high brand appeal, alternatives such as Hedera Hashgraph can provide much higher returns over time. Looking at the price chart, if HBAR were just to reach $1, it would represent a return of 162% from today's price! Notably, $1 would be just the beginning, as who knows how high the token could rise.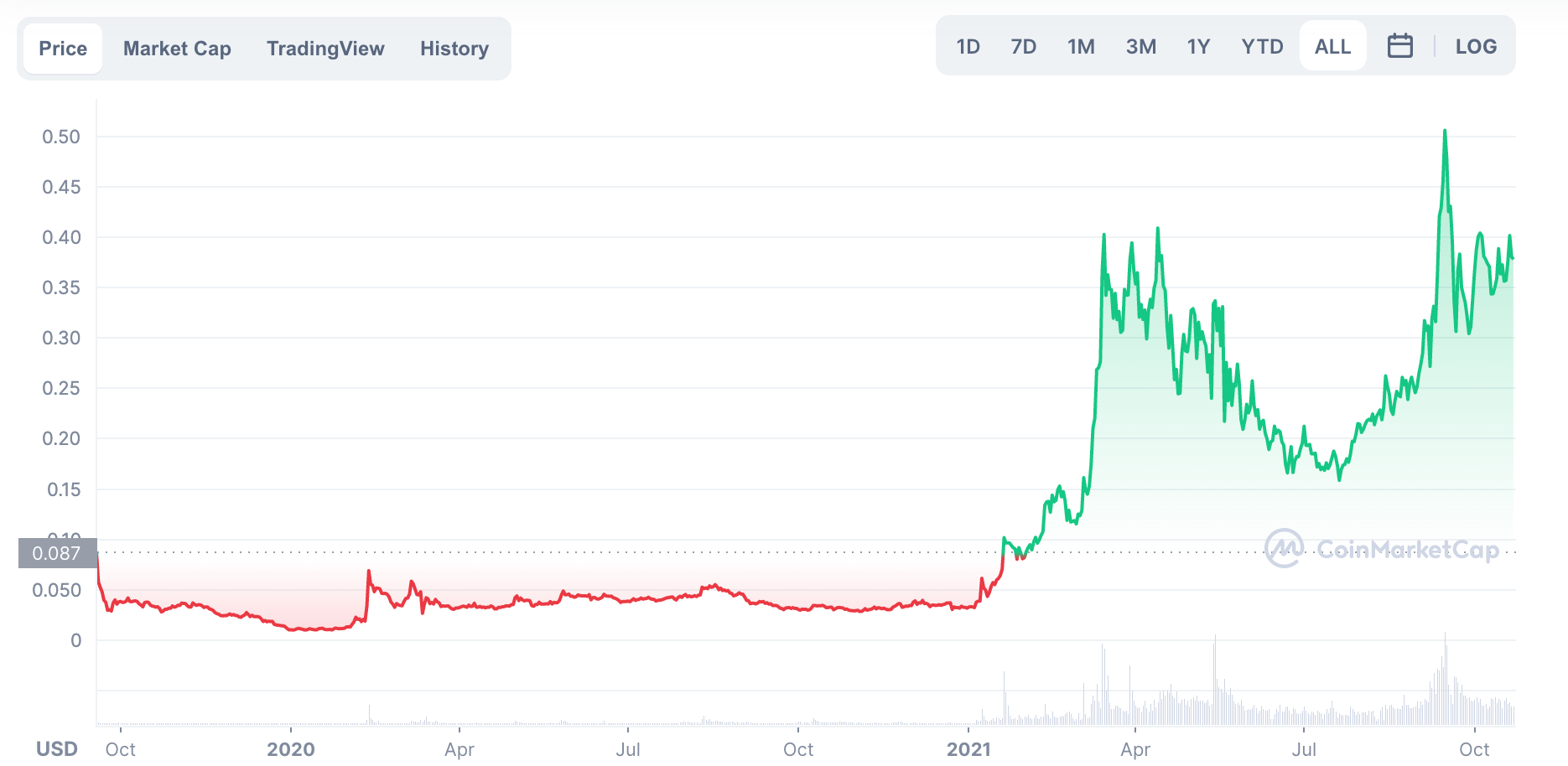 67% of retail investor accounts lose money when trading CFDs with this provider.
Our analysis has led us to believe that HBAR is just at the beginning of its growth cycle. Blockchain has paved the way for many exciting innovations, yet Hedera Hashgraph looks to be the 'next generation' of this technology. As long as we see continued upgrades to the network, there's every reason to be bullish on HBAR.
Where to Invest in Hedera Hashgraph
The final element of our Hedera Hashgraph forecast focuses on where you can invest in the token. Many of the best Bitcoin trading platforms will offer HBAR as a tradeable asset due to its growing popularity. However, you'll likely have to use an exchange (such as Binance), as most online brokers won't offer HBAR just yet.
By using an exchange, you can convert FIAT currency (such as USD) into HBAR – or even use your own crypto holdings to exchange into HBAR tokens. Although this is a simple process for experienced investors, it can be tricky for newcomers to the market. Due to this, we recommend using eToro if you're looking to invest in alternative cryptos to gain experience.
eToro has over 20 million users worldwide and offers trading on your laptop, smartphone, or tablet. Users can trade with confidence on eToro as the platform is regulated by the FCA, ASIC, and CySEC. Due to this, eToro has to abide by the strictest security protocols to protect its users.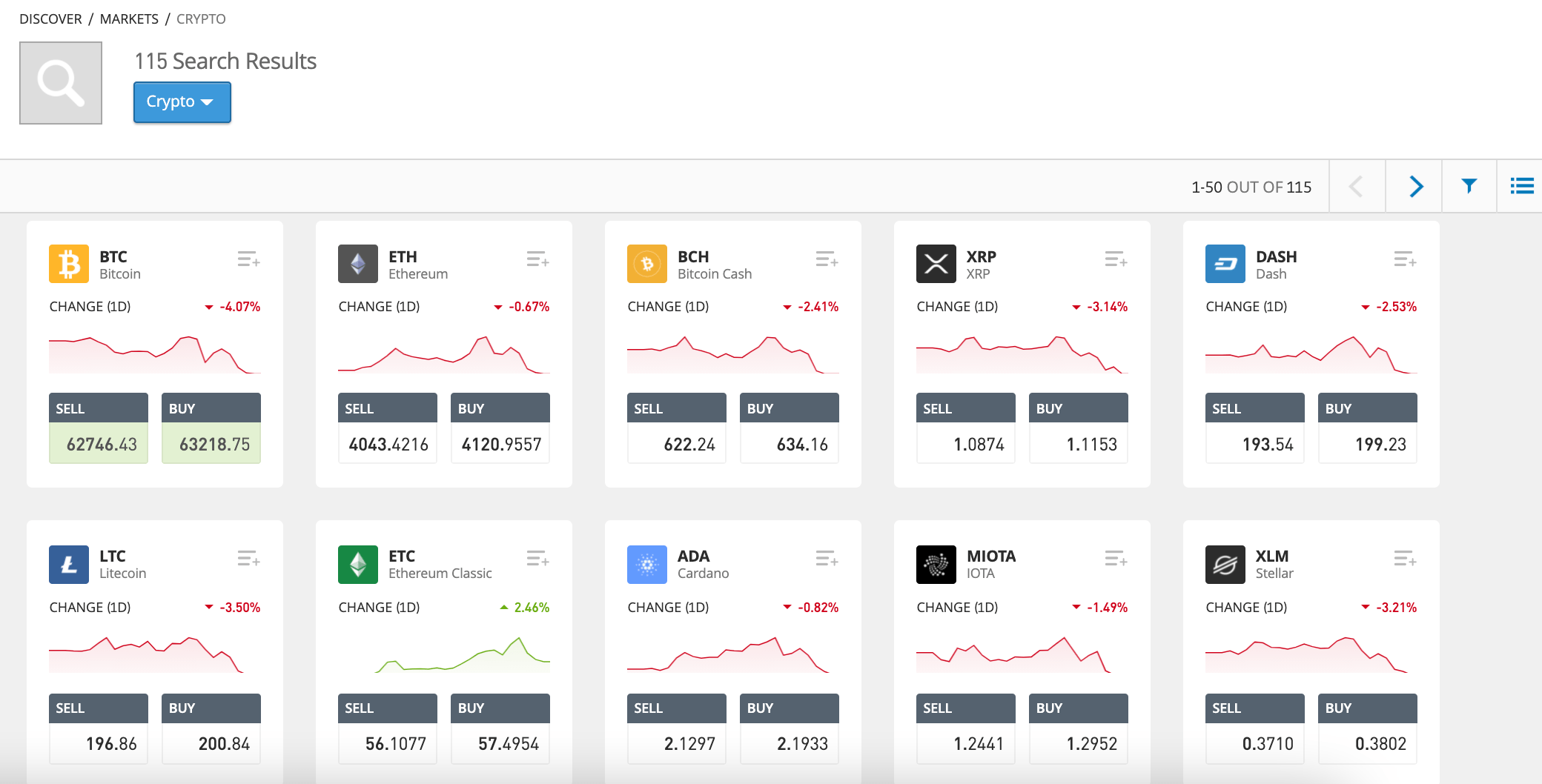 When you trade crypto on eToro, you do not have to pay any commissions whatsoever. This is a significant selling point of the platform, as it'll allow you to save lots of money in the long run. Also, eToro doesn't charge any deposit fees or monthly subscription fees either, making them one of the most cost-effective CFD brokers in the industry.
Finally, eToro allows users to deposit via credit/debit card, bank transfer, and e-wallet. Deposits need to be a minimum of $50 (£37), as eToro offers fractional investing to all users. If you'd like, you can even use eToro's free demo account feature first, allowing you to gain risk-free experience in the market!
Hedera Hashgraph Price Prediction – Conclusion
To summarise, this Hedera Hashgraph forecast has examined what the platform is and HBAR's outlook over the short and long term. As you'll be aware, Hedera Hashgraph offers an exciting alternative to blockchain networks, with much faster speeds and lower costs than the main ones in the industry. Due to sold backing from large institutions and an able development team, the future looks exceptionally bright for this network.
If you'd like to trade the crypto market today, we'd recommend signing up with eToro. This is because eToro offers 0% commission trading on all of their cryptos, with position sizes only needing to be a minimum of $50. What's more, eToro's sign up process is super easy and can be completed in minutes!


67% of retail investor accounts lose money when trading CFDs with this provider.
FAQs
What is the price of Hedera Hashgraph right now?
What drives the price of Hedera Hashgraph?
Where can I buy Hedera Hashgraph?
Why is Hedera Hashgraph going up?
What will Hedera Hashgraph be worth by 2022?
What will Hedera Hashgraph be worth in 2025?