Curve Price Prediction – Curve Forecast 2021, 2022, 2025 & 2030
You may have heard of decentralised exchanges, which allow users to swap one token for another without the need for an intermediary. However, these exchanges tend to omit stablecoins and sometimes feature large degrees of slippage. This is where Curve comes in, as this protocol fills that gap in the DeFi space.
In this article, we present our Curve Price Prediction over the short and long term. We'll cover what Curve is and how it works before showing you where you can buy Curve today – with 0% commissions!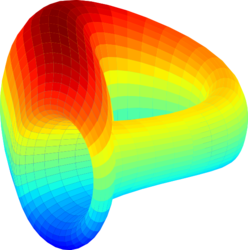 Curve DAO Token (CRV)
Price
Curve Price Prediction 2021 to 2022
As with all of our cryptocurrency price predictions, we'll cover everything you need to know about Curve so that you can make an informed investment decision. However, if you are short on time, the bullet points below present the highlights of our Curve forecast for the months ahead.
One Month – The current Curve price is hovering around the $3 region, following a gradual ascent since late September 2021. We believe this bullish momentum will continue over the next month, giving Curve a price of around $3.80.
Three Months – The area around $3.80 represents a strong resistance level for the Curve price, which hasn't been breached since May 2021. Thus, expect some consolidation around here – although we could see a push through and a climb towards $4.40 over the next three months.
Start of 2022 – The highs of April 2021 are the ultimate goal for the Curve price live – and if the momentum continues like this, we could see them breached by early 2022. Thus, we estimate that Curve may reach a valuation of $4.70 by the early part of next year.
67% of retail investor accounts lose money when trading CFDs with this provider.
Curve Price History – the Story of 2021 So Far
Investing in cryptocurrency can be particularly fruitful, especially if you find a token that is low price but has exceptional utility in the long run. Curve certainly fits the bill, as this protocol fills a gap in the DeFi space that no other decentralised exchange does. So, with that in mind, let's discuss what Curve is and how price arrived at this point.
Curve Finance is a decentralised exchange (DEX) that focuses predominantly on stablecoins. These digital coins, such as USDT, are pegged to the value of another currency (usually the USD price), which gives them the term 'stable'. Thus, stablecoins are an integral part of the cryptocurrency space, as they offer all of the benefits that normal cryptos do – with much less volatility.
As a decentralised exchange, Curve Finance works similarly to Uniswap. Both exchanges are built on Ethereum (ETH); however, Uniswap focuses on ERC-20 tokens whilst Curve focuses on stablecoins. Due to this, Curve takes up a unique position within the ecosystem – which is why so many investors see Curve as a good investment.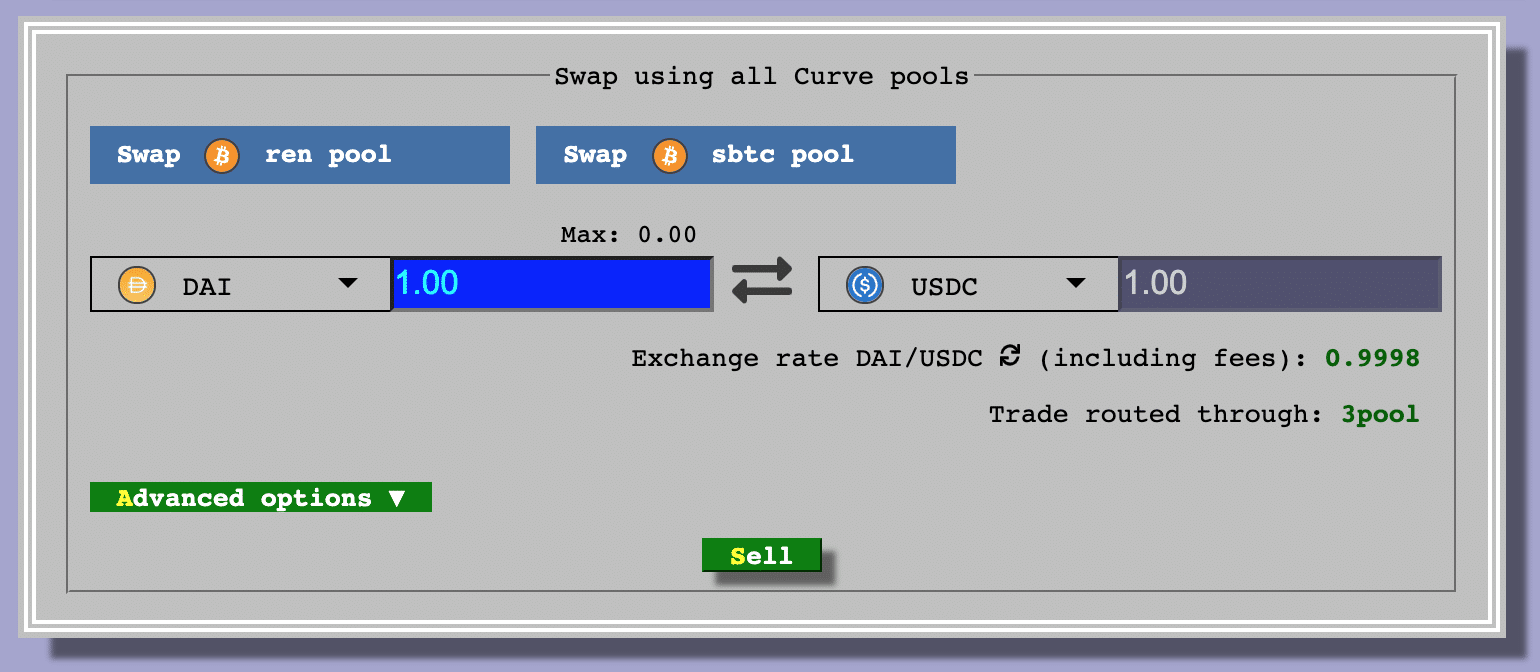 Curve works by creating liquidity for trades through the use of liquidity pools. These pools are funded through Curve users depositing their tokens into the pool and earning a return in the process. The whole process is facilitated through smart contracts and advanced algorithms, meaning that token pricing is as fair as possible.
According to DefiPulse, Curve has a total value locked of $14.47bn, making it the 3rd largest Defi protocol in the world right now. Curve Finance's native token is called CRV, which is used for governance and rewarding those who provide liquidity to the liquidity pools. Finally, a portion of Curve's trading fees is used to buy CRV and then burn it – reducing the supply.

As you can see, the CRV coin has a vital role in the ecosystem, which is why so many people look to invest in it. The CRV price rose by 788% between January 2021 and April 2021, hitting a high of $4.65. However, a bearish descent followed, with CRV losing 77% of its value in the following two months.
Things are now beginning to look up again for CRV, as the price has gradually climbed since late July. A high of $3.43 was printed in September, although the price has pulled back slightly from that. Notably, this seems to be a minor pullback rather than something more significant – which is why Curve looks to be an exciting proposition for investors everywhere.
Curve Price Forecast
Cryptocurrencies are one of the best investments UK that you can make due to the exceptionally high returns they can offer. However, to ensure you trade effectively, it's vital to understand the factors influencing the price. With that in mind, let's look at the technical and fundamental elements of our Curve forecast.
Technical Analysis
Looking at the price analysis below, you can see that CRV has been gradually trending upwards since late July. Price has bounced from the trendline multiple times, highlighting how strong this support level is. Furthermore, the current price of CRV is trading above the 50-day and 200-day EMAs, which is a bullish signal.

67% of retail investor accounts lose money when trading CFDs with this provider.
These EMAs indicate the price change over the past 50 and 200 trading days, respectively. If the price is above these, it suggests that the overall trend is bullish – and these EMAs can also act as a support level if the price nears them. So, in that sense, things are looking rosy for Curve.
There is a resistance level around $3.05, where price has struggled in the past. Thus, we can expect a struggle here, as there will likely be many sell orders in this area. However, if CRV can close past this resistance level (and perhaps even retest it as support), then we may see a push back to September's highs – and beyond.
Fundamental Analysis
According to CoinMarketCap, CRV has a market cap of $1.27bn at the time of writing. This makes CRV the 85th largest token in the world right now, which is impressive given that CRV is only used within the Curve Finance ecosystem. There is currently a circulating supply of just over 426 million CRV tokens, with a maximum supply of 3.3 billion.
This latter point is important to note, as it adds an element of scarcity to CRV. Curve Finance charges trading fees to use the platform, with most of these fees going right back into liquidity pools. However, a portion of the costs is used to buy CRV tokens and then immediately burn them.
This 'burning' reduces the overall supply of CRV and adds an element of scarcity to the token. Therefore, according to the laws of supply and demand, the price of CRV should rise once the supply falls (if demand remains the same). Overall, this burning process is fundamental to CRV's appreciation.
Curve Price Prediction 2025 – Long Term Outlook
If you invest in Uniswap, you'll essentially be investing in a protocol with a similar use case to Curve – except without stablecoins. The concept of stablecoins is crucial to Curve's success as if these digital coins become more prevalent, then the Curve platform will therefore be people's go-to for trading them.
Most merchants don't accept cryptocurrency as a form of payment because of the inherent volatility. If a merchant was to accept Bitcoin (BTC) and the value of BTC was to subsequently drop by 20%, then the merchant would be massively out of pocket. This is where stablecoins come in, as merchants will more likely accept these coins because they are tied to another currency (such as the USD), meaning huge price fluctuations are rare.

Thus, Curve will likely become even more popular if more merchants accept stablecoins. Furthermore, Curve is also known for its low slippage. Slippage is where a trader opens a trade, but due to market conditions, the price the trade is opened at is either higher or lower than when they placed the trade. This can be a massive issue for traders, as it also means closing a trade may result in less profit – or even a loss.
Curve's liquidity pools minimise this slippage as they encompass assets with much lower volatility, so slippage is less of a concern. Furthermore, Gemini notes that Curve's trading fees equate to only 0.04% per trade, compared to 0.3% at Uniswap. This offers another reason to be bullish about this protocol.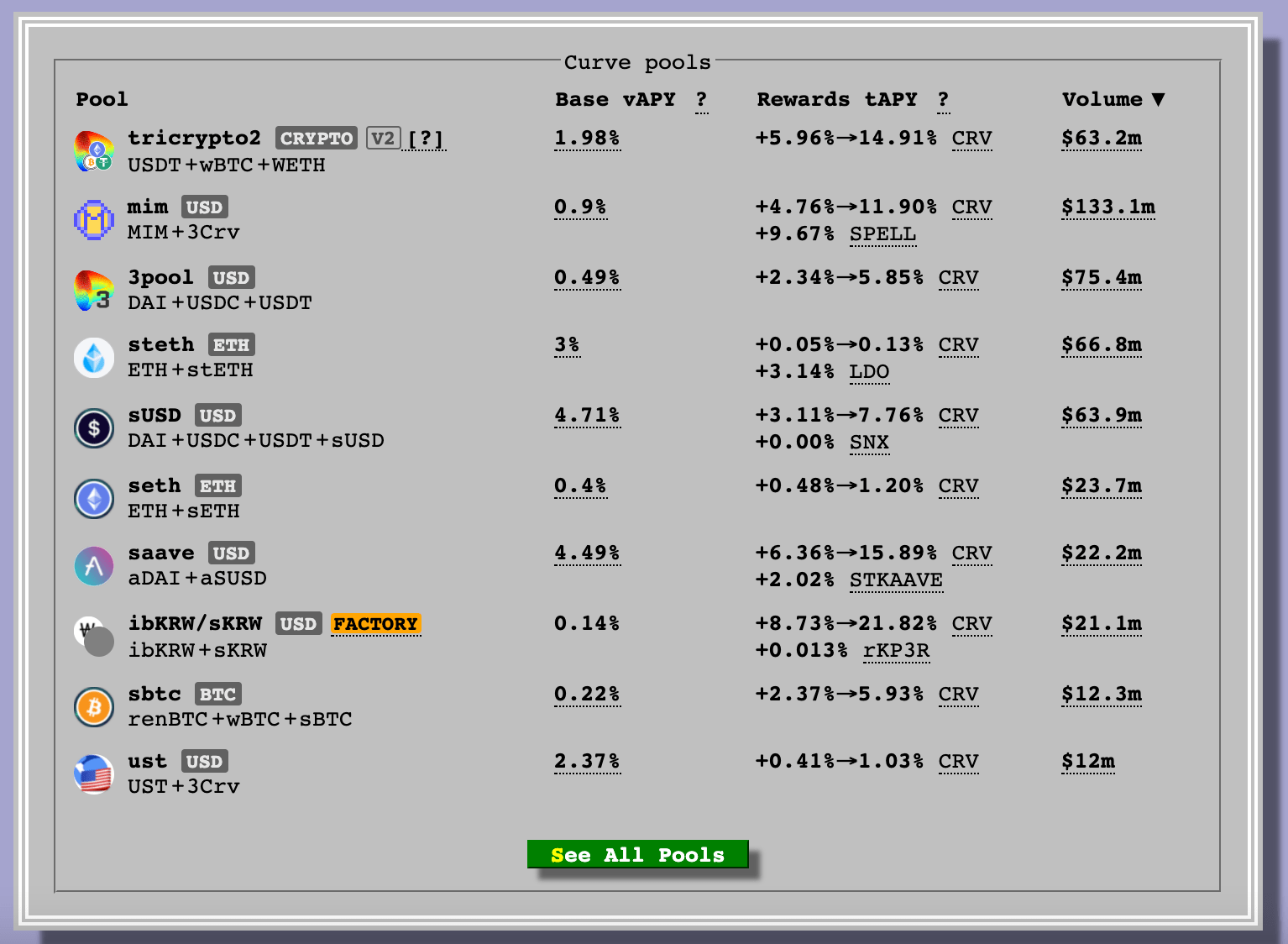 So, putting everything together, our Curve price prediction 2025 is definitely rosy. The growth of DeFi shows no signs of stopping, and Curve seems to have gotten in at the perfect moment. Due to this, we estimate that Curve could hit $10 by 2025.
Looking further ahead, our Curve price prediction 2030 is also bullish. Stablecoins will likely be accepted by a more significant percentage of merchants by this point, meaning DEXs like Curve will be integral. As such, we estimate that Curve's future price could reach $18 by 2030 – and potentially higher.
Curve Price Chart
So, if you are looking to invest $1000, then Curve may be an exciting proposition for you. CRV has the right balance of future prospects and a real-world use case, which is essential in the short-term. Furthermore, the fact that token burns are consistent will put upwards pressure on the price in the future.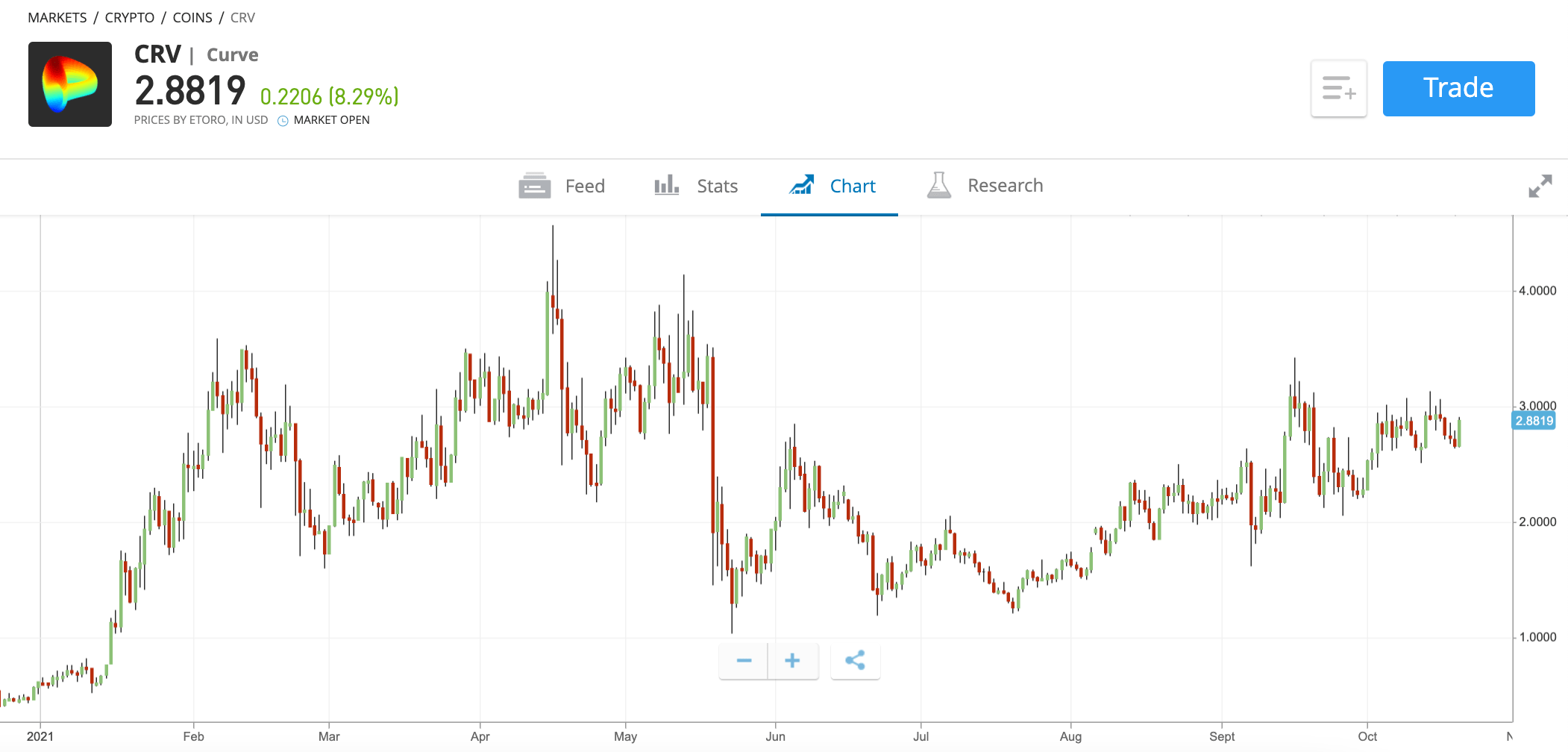 67% of retail investor accounts lose money when trading CFDs with this provider.
Looking at the historical data, we can see that CRV still has a lot of ground to make up compared to previous highs. This is undoubtedly a good point for investors, as it means CRV is at a level where investing could provide scope for triple-digit returns in the future. Although the volatility is much higher than if you were to buy stocks, assuming you are happy with the risk, CRV may be a great addition to your crypto watchlist.
Where to Invest in Curve
The final part of this Curve forecast focuses on the investing process. Due to Curve's rising popularity, many of the best trading platforms and cryptocurrency exchanges (such as Binance) now offer the token as a tradeable asset. This means that traders have a wide variety of options to choose from when placing trades.
However, in our experience, we've found that eToro offers the best way for traders to buy Curve. eToro is a fully regulated broker and boasts oversight from the FCA, ASIC, and CySEC. What's more, eToro's platform is exceptionally user-friendly – and traders can even use eToro's handy mobile app if they wish.

eToro is perhaps best known for its 0% commission structure, which sets them apart from some other platforms in the sector. Users can trade from as little as $50 and benefit from fractional investing. What's more, as all of eToro's fees are included in the spread, you'll always know exactly how much you're paying.
In terms of deposits, eToro accepts most major credit/debit cards, along with bank transfers and e-wallets. Examples of e-wallets that eToro accept include PayPal, Skrill, Neteller, and Klarna. Notably, deposits are entirely free to make if you fund your account in USD.
Finally, eToro boasts a variety of cool features, most notably their CopyTrader feature. This allows users to automatically copy the trades made by other eToro users, ideal for beginners looking to make a positive return. This feature, combined with the attractive fee structure and accessibility of deposits, makes eToro one of the best CFD brokers for trading crypto.
Curve Price Prediction – Conclusion
In summary, this Curve forecast has touched on what Curve is and how it functions. As you can see, Curve fills a vital gap in the DeFi ecosystem, meaning it has a 'unique selling point' of sorts compared to its peers. As crypto adoption becomes more prevalent and stablecoins become more important, we'll likely see the popularity of Curve rise even more – meaning great things for the CRV price.
So, if you'd like to invest in Curve today, then we'd recommend using eToro. eToro is our recommended broker due to intense regulation and a 0% commission fee structure. What's more, users can fund their eToro account from as little as $50 – one of the lowest thresholds in the industry!


67% of retail investor accounts lose money when trading CFDs with this provider.
FAQs
What is the price of Curve right now?
What drives the price of Curve?
What will Curve be worth by 2022?
What will Curve be worth in 2025?