Bonfire Price Prediction – Bonfire Forecast 2021, 2022, 2025 & 2030
One of the newest cryptocurrencies to hit the market this year is Bonfire, launched as recently as April 2021. Offering a similar structure to other tokens such as Safemoon, Bonfire aims to promote the holding of its native token through valuable rewards to those who invest in it.
In this article, we explore our Bonfire Price Prediction in detail. We'll examine what Bonfire is and what it does before discussing the best places to invest in cryptocurrency this year – with no commissions!

Bonfire Price Prediction 2021 to 2022
The Bonfire stock forecast we explore later in this article will incorporate various elements of analysis to ensure you get a complete picture of Bonfire coin and its outlook. However, if you're simply looking for a quick overview of our Bonfire prediction 2021, then the bullet points below highlight our findings for the months that lie ahead.
One Month – The current Bonfire price is trading at a fraction of a cent, following a considerable drop since May. We estimate that Bonfire could head to a valuation of $0.000000012 over the next month.
Three Months – It seems like Bonfire is following the pattern displayed by many other small tokens, in that price has risen and then dropped dramatically long term. However, if Bonfire can showcase some bullish momentum, the likely price target over the next three months would be $0.000000015.
Start of 2022 – If the developers can make true on their promises to the community, it'll provide Bonfire with a much-needed boost to get out of the slump that the coin is in. If this occurs, we project that Bonfire could reach a valuation of $0.000000020 by the start of 2022.
67% of retail investor accounts lose money when trading CFDs with this provider.
Bonfire Price History – the Story of 2021 So Far
If you are experienced in investing in cryptocurrency, you'll likely be aware that new coins and tokens are springing up every day. Most of these tokens will just fall by the wayside, although some will gain community backing – such as Bonfire. Let's take a look at what Bonfire is and its price history.
First of all, Bonfire works in pretty much the same way as Safemoon does. Essentially, Bonfire rewards those who hold the token long term and penalises those who opt to sell it. If you were to sell Bonfire, you'd accrue a fee of 10% of your position size.
This 10% would then be split into two 5% pieces. The first 5% would be redistributed to existing shareholders as a 'reward' for continuously holding the Bonfire token. The other 5% would be used to fuel the liquidity pool on PancakeSwap, which is the decentralised exchange where investors can purchase Bonfire (along with other smaller cryptos).

This process creates 'static rewards' for Bonfire token holders, enabling holders to generate a return without doing anything. In this sense, Bonfire seems like an attractive asset to invest in and hold long term. However, unlike when you buy Bitcoin (BTC), Bonfire appears to fall short when it comes to real-world usability.
The main reason (and pretty much only reason) to invest in Bonfire right now would be to speculate on price movements. At present, Bonfire does not have any utility when it comes to blockchain-based technology or decentralised apps. Although the developers have promised much in these areas, none of it has come to fruition at present.
Various services have been highlighted in Bonfire's whitepaper, such as an NFT marketplace and a decentralised crypto exchange. If either of these services were to be developed, it would provide a proper use case for the Bonfire token. However, as of yet, neither the marketplace nor the exchange has been launched.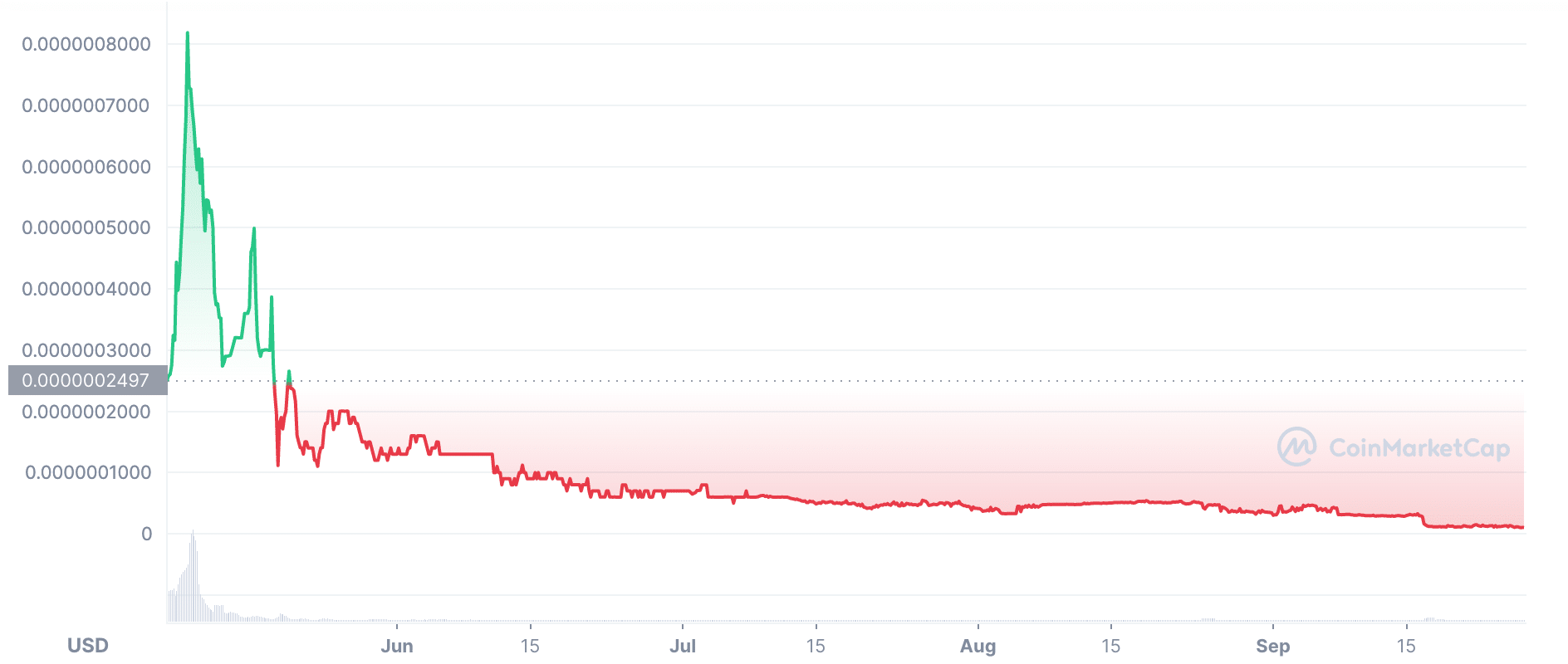 Looking at the Bonfire price live, you can immediately see the spike that occurred in May 2021. An increase of 220% happened in the space of two days, which is an exceptional return, even for cryptocurrency's standards! Yet, following this, the Bonfire price gradually descended over the coming months to arrive at the level we are currently at.
There have not been any noticeable price movements in recent weeks, with price just trundling along gradually. According to CoinMarketCap, there is only around $110,000 of trading activity occurring in any 24 hour period, showing the slowdown in the hype around this coin. If Bonfire were to showcase some bullish momentum, the developers would need to show some initiative and launch their promised improvements to the Bonfire ecosystem.
Bonfire Price Forecast
Similar to when you buy stocks, it's essential to do your due diligence before investing in a cryptocurrency – especially one as small as Bonfire. With that in mind, let's dive into the technical and fundamental factors that may shape Bonfire in the future.
Technical Analysis
The first thing we've found during this Bonfire forecast is that there isn't much price history to base logical technical analysis on. The highest price that Bonfire reached was $0.00000094, which occurred on May 10th, 2021. Since then, Bonfire has fallen dramatically, with the lowest price being the current trading price of Bonfire.
There are two theories as to why the chart looks the way it does. Firstly, there is potential that Bonfire's developers are still working behind the scenes on these significant developments and the price decrease is purely because investors are tired of waiting around. Thus, if the developers were to announce and launch the promised services, it's likely we'd see a boost in price.
The other scenario is that Bonfire has had its one and only price spike, meaning that it'll never reach those heights again. This will likely be the case if the team behind Bonfire decide to give up or move onto other projects, thus leaving the Bonfire token to fade away. Time will tell which scenario is the truth, although investors will be hoping it is the former.
Fundamental Analysis
According to CoinMarketCap, Bonfire has a fully-diluted market cap of just over $11 million. This is exceptionally small compared to larger cryptos such as Ethereum or Dogecoin, which are valued in the billions. Furthermore, as noted earlier, Bonfire's trading volume per 24 hours is also minimal. These figures serve to highlight the token's fall from grace, as during its peak in May 2021, there was more than $53 million worth of trading occurring per day.

67% of retail investor accounts lose money when trading CFDs with this provider.
Similar to the points we raised in our Safemoon price prediction, we believe that the impetus Bonfire needs will come from creating real-world use cases for the token. Our Bonfire price prediction noted that the token doesn't currently serve any utility except as a speculative asset for risk-seeking investors. If the development team can create a sort-of 'ecosystem' where Bonfire is the native token, it'll provide the backing needed for some bullish momentum.
Until this happens, it's unlikely we'll see the heights of May 2021 again. Although the developers still host AMAs on Reddit and are active in the community, they have failed to meet their deadlines regarding the release of the NFT marketplace. Progress seems to have stalled, meaning that the coin appears just to be gradually losing value as the weeks go on.
Bonfire Price Prediction 2025 – Long Term Outlook
When investing in cryptocurrency UK, it's always a good idea to look at the token's prospects over the long term. Given that the current price of Bonfire is trending downwards, some might say that this token's chances don't look good. While we'd tend to agree in this Bonfire prediction, there are avenues that the developers could take to improve things.
If Bonfire can solidify their plans for an ecosystem and potentially branch into the world of decentralised finance (DeFi), it'll ensure the Bonfire token could be used for utility and governance. Furthermore, as Bonfire is not currently traded on any top exchanges such as Binance, it's hard for Bonfire to market themselves to more prominent investors, which will lead to more significant price increases.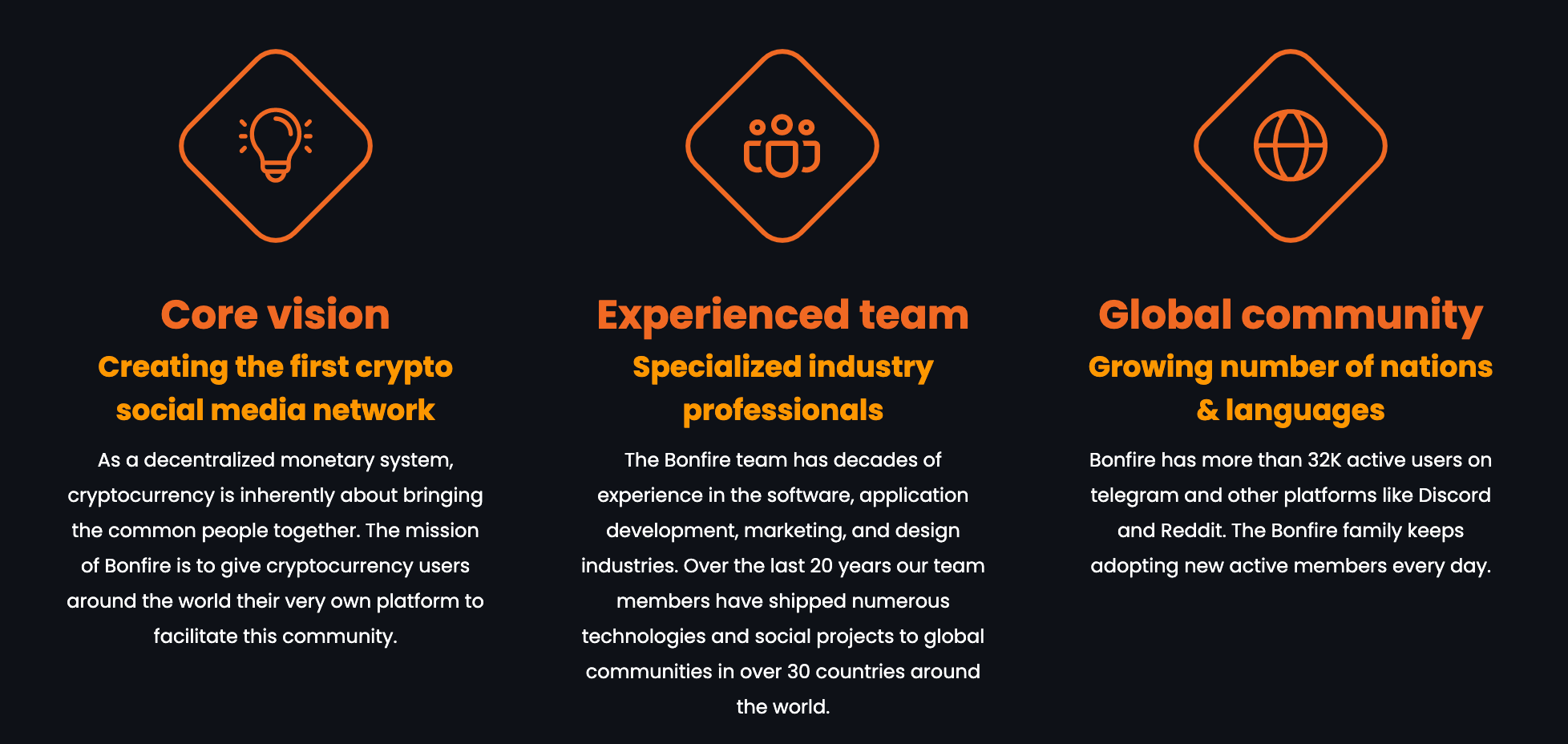 Finally, according to Bonfire's whitepaper, the development team plans to release an app later this year that will allow users to track Bonfire's price and check on their returns. Again, this hasn't come to fruition, although if it was released, then that will undoubtedly increase investors' confidence in the creators of the token.
With all of that in mind, our Bonfire price prediction 2025 still has hope for this coin. We estimate that the Bonfire token could reach a valuation of $0.00000020 by 2025. Although this wouldn't breach the all-time highs of May 2021, it would still represent a good return for investors.
Following this, our Bonfire price prediction 2030 is also hopeful. Although we wouldn't suggest a serious investment in this token until it had some real-world utility, if the developers were to create some usable services, we could envisage some price increases due to the community backing. Thus, our Bonfire prediction could see the token valued at $0.00000040 by 2030.
Bonfire Price Chart
As you can see from the price chart, the huge price spike in May would have generated exceptional returns for those investors who held Bonfire right from the beginning. However, many people will have held right through the dip and will have unfortunately lost a great deal of money. This is the danger of investing in smaller tokens in the crypto market, as nobody knows where significant support and resistance levels are.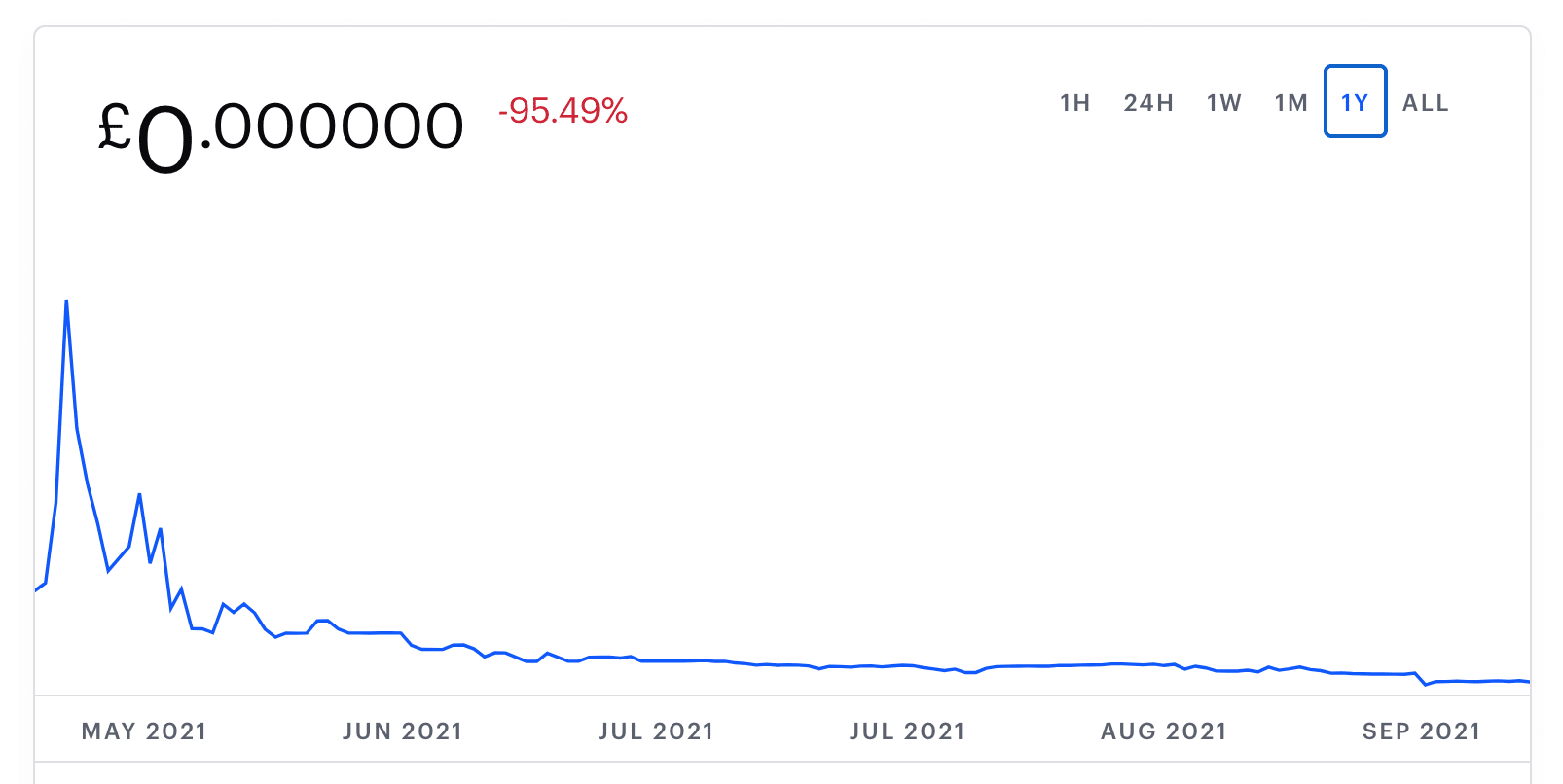 67% of retail investor accounts lose money when trading CFDs with this provider.
So, will Bonfire return to these highs? Our Bonfire forecast feels that this is unlikely given the current trajectory of the coin. However, if you are a purely speculative investor and are happy with the large level of risk, then placing some capital into Bonfire in the hope that price increases going forward is also a potentially good idea.
Where to Invest in Bonfire
The process of buying Bonfire differs from how you would purchase cryptocurrency elsewhere. As Bonfire is a small token, you'd have to exchange your FIAT or crypto into BNB and then transfer this to Pancake Swap (a decentralised exchange) using a TrustWallet. Once that is complete, you would then be able to convert your BNB to Bonfire tokens.
This process is pretty complex, especially for beginner crypto investors. However, if you were looking to invest in other cryptocurrencies, we'd recommend signing up with eToro. eToro is our recommended broker due to exceptional regulation from the FCA, ASIC, and CySEC, along with an incredibly user-friendly trading experience.
eToro offers a 0% commission structure when trading cryptos (and other assets), ensuring users can trade in a low-cost manner. All of the trading fees are incorporated into eToro's spread, which is clearly stated next to each crypto. Luckily, this spread is competitive with other major CFD brokers – although it can fluctuate depending on the time of day or the size of the cryptocurrency.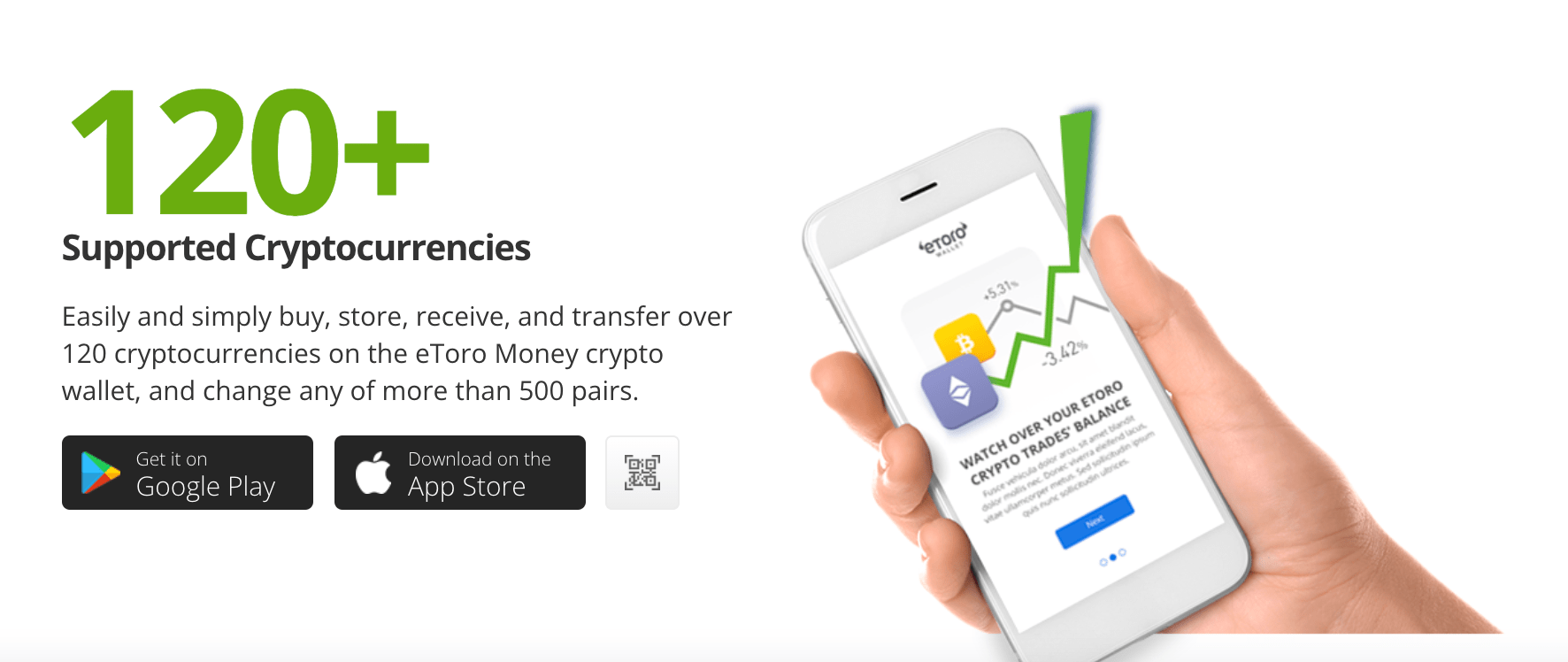 In terms of deposits, eToro accepts funding via credit/debit card, bank transfer, or e-wallet. Notably, eToro accepts PayPal, Skrill, and Klarna deposits, making it simple to fund your account. The minimum deposit amount is only $50 (£37), which is entirely free to make.
Finally, if you decide to invest in cryptocurrency, eToro offers a free crypto wallet to store your holdings. This wallet includes some of the strictest security features, ensuring your investments are safe from cyberattacks. Furthermore, you can even exchange one crypto for another directly within the wallet, which is excellent for active crypto investors.
Bonfire Price Prediction – Conclusion
So, as this Bonfire forecast has highlighted, the token has had a chequered past up until this point. The whitepaper has undoubtedly given investors confidence that the Bonfire token could have some real-world utility – yet this hasn't come to pass yet. If the development team can meet the community's expectations, it'll provide a much-needed boost to the token's reputation – and also its price.
So, if you're interested in investing in cryptocurrency today, we'd recommend opening an account with eToro. You can create an account and be up and running in under ten minutes, with the whole process being able to be completed online. What's more, crypto trading is entirely commission-free, ensuring investors save money in the long run.

67% of retail investor accounts lose money when trading CFDs with this provider.
FAQs
What is the price of Bonfire right now?
What drives the price of Bonfire?
Why is Bonfire going down?
What will Bonfire be worth by 2022?
What will Bonfire be worth in 2025?