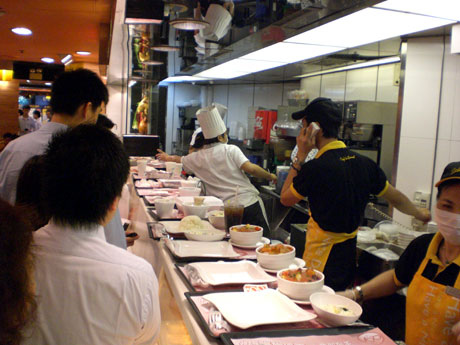 Michael Chan, Chairman of Fast-Food Giant Cafe de Coral:
Will issue a profit warning if the hourly rate proposed by the unions became law.
Credit: For91days
21 April 2011.
Hong Kong's unemployment rate has fallen to an all time pre-crisis low of 3.4 per cent, the Census and Statistics Department announced this week. Critics blame Hong Kong's first minimum wage law for job losses. "In view of the still strong economic performance and positive hiring sentiment in the corporate sector, the unemployment rate is likely to remain at low levels in the near term," said Matthew Cheung, Hong Kong's labour secretary. But he warned the city would "remain vigilant in monitoring any economic and employment implications."
Hong Kong's US$3.61 minimum wage bill was passed amid growing concerns over the income gap – and is now being blamed for job losses among thousands of low-paid workers. Hong Kong's half elected, half appointed legislature passed the minimum-wage bill in July 2010 that will take it effect on 1 May 2011.But is minimum wage good for any economy?
The Singapore government contemplated a similar minimum wage law earlier this year but was opposed by leaders and the public for fear such laws would lead to unemployment. Especially in the low-wage job sector – or give jobs away to cheaper labour from neighbouring countries, and leave locals unemployed. If Hong Kong passes the legislation, Singapore will be one of the few countries left that does not have such a mandated provision.
Should a minimum wage law cause unemplyment? The general consensus is yes. Not because we want it too, it's just what happens when a mandate price floor is introduced to wages. Even though there are workers willing to work for less, just to get some work - the price floor changes the equilibrium point and causes a shift in the workers' demand curve. In short, employers will hire fewer workers at higher wages.
Australia and New Zealand were the first countries to establish minimum wage laws in the '80's. A century after those reforms, some critics argue that minimum wage rates are too ow. Others say the laws are to blame for inflation, high prices and unemployment.
Can nations on the rise, like Hong Kong, Singapore and Emerging Economies introduce and implement minimum wage laws without impacting their robust growth?
Legislator and union organizer Lee Cheuk-yan feels the law "symbolizes that Hong Kong has said goodbye to shameful wages and embraced social justice for workers. This means goodbye to unfettered capitalism" speaking to AFP.
China preserved Hong Kong's capitalist system after the British returned the territory in 1997. The government resisted a minimum wage in order to keep labour markets free until pressure to control the city's widening wealth gap to introduce the policy. However, the new law doesn't cover the nearly 280,000 mostly Filipino and Indonesian domestic workers who work as live-in help for Hong Kong families.
Any minimum wage law "must balance the interests of every party,'' Secretary for Labor and Welfare Matthew Cheung told legislators Saturday. Hong Kong's law will require a task group to review wage levels every two years, instead of once a year as proposed by trade unions. "We will have to use public pressure to campaign for a fair minimum wage level, since under the legal framework the control will be largely in the hands of the government," said Lee.
Hong Kong is one of the world's richest territories with a 2010 per capita GDP of US$ 31,798.74, but came last in income equality among 38 countries and territories the United Nations Development Programme's 2009 Human Development Report ranked as the world's most advanced.
Hong Kong's minimum-wage proposal had faced stiff opposition from some of its largest employers, with some threatening large-scale layoffs. Michael Chan, chairman of fast-food giant Cafe de Coral (Forbes 35th richest man in Hong Kong in 2009) said his company might issue a profit warning if the hourly rate proposed by the unions became law.
Is there a need for minimum wage? Tell us what you think about the minimum wage debate below.
Liz Zuliani
EconomyWatch.com