Lebanon is a Middle Eastern country in the west of the Asian continent that shares its borders with Syria, Israel and Mediterranean Sea. Most of Lebanon's land is mountainous. However, the Beqaa valley, with its fertile soil, remains the source for agricultural products. Lebanon has an area of 10,452 square km and population of 4,224,000.
The Lebanese economy is noted for its resilience, having withstood wars and invasions with Israel as well as internal sectarian clashes and at times dominating influence from Syria. It is this resilience that helped Lebanon achieve 9% growth during the Great Financial Crisis. The growth was nurtured by controlled banking regulations that restricted credit and therefore, its impact during the recession.
Lebanon Economy: An Overview
The urban Lebanon population is known for entrepreneurial enterprise. Emigration has further helped the nation with a commercial network that spans the whole world. This, in turn, aids FDI, tourism and technical know how for many industries. Remittances contribute as much as 20% to GDP.
Tourism is a major contributor to the economy along with the financial sector. About 35% of the total workforce is employed in the service sector. This sector is extremely fragile, however, as military activity and political uncertainty can lead to sudden plunges in activity.
Lebanon's economy soared even in the recession years, partly thanks to rebuilding efforts following the Israel-Hezbollah war, with GDP (purchasing power parity) at $59.9 billion in 2010, growing from $55.036 billion in 2009 and the 2008 figure of $49.9 billion. This makes Lebanon the 83rd largest economy in the world.
The Lebanese economy grew by 8% in 2010, making it the 18th fastest growing country. It grew 9% in 2009 and 9.3% in 2010, putting it amongs the top ten in growth terms during the recession years.
Lebanese citizens enjoy a GDP Per Capita income (in PPP terms) of $15,330, making them the 54th richest in the world. That figure has been rising steadily and is expected to reach $19,10 by 2015, marking Lebanon's economy as one of the strongest in the region.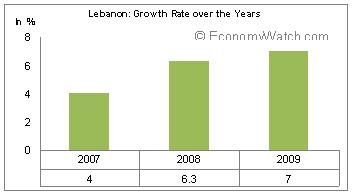 The main catalyst for growth remained the strong regulating measures by the financial authorities to make the financial sector immune to political as well as credit insecurities.
The prime concern, however, remains the increasing levels of Government debt, which is the result of slow privatization rate. This debt burden is being managed down, however. Official statistics indicate that government debt in 2010 reached 138.96% of GDP, down from 179% in 2006. The figure should stabilize at around 137% in coming years. 
The Lebanon Labor force stands at 1.481 million. In addition there are as many as 1 million foreign workers. The unemployment rate was estimated at 9.2% in 2010.