Located in the Caribbean, Jamaica boasts several tourist attractions, a hot tropical climate suitable for agriculture, and significant resources of bauxite and alumina. Situated in the hurricane belt of the Atlantic Ocean, this island nation experiences frequent hurricanes. The economic growth of Jamaica is largely driven by its services segment, which contributes to over 60% to its GDP. Tourism, remittances from abroad and exports of bauxite and alumina are major contributors to Jamaica's economic growth. The country, however, faces several long-term problems, such as a very high debt to GDP ratio, large-scale unemployment, underemployment and a sizeable merchandise trade deficit. 
Jamaica Economy: Problems and Reforms
One of the growing concerns of the Jamaican economy, the high debt to GDP ratio of 130% is a result of the government bailouts to ailing sectors, including the financial sector in the 1990s. Nearly 50% of the government spending is allocated for debt servicing and only limited resources are available for infrastructure and social development. The depressed economic conditions have led to civil unrest and worsening of the crime scenario with gang violence being a common feature.
Jamaica is seeking international assistance for improving its economic situation; however, it will need to introduce major fiscal reforms to secure a deal with the IMF. The Jamaican government also encourages foreign investments, especially in areas that increase local employment and use of local raw materials. Tax holidays (which defer taxes for years) and duty free access for import of machinery and raw materials are other benefits offered to investors. The country's government also needs to bring in greater fiscal discipline to ensure improved economic growth in the coming years. 
Jamaica Economy: GDP
The country's real GDP growth rate has declined from 2.7% in 2006 to1.4% in 2007 and turned negative in 2008 due to the global economic crisis. In the year 2009, Jamaica recorded a real GDP growth of -4%.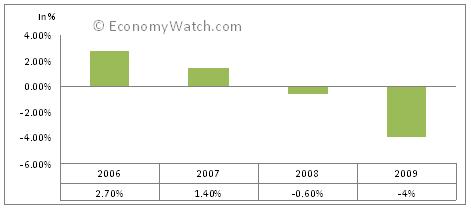 Key Statistics: Jamaica Economy

Here are some key statistics as per 2009 estimates
Unemployment rate: 14.5%

Public debt: 131.7% of GDP

Consumer price inflation : 8.6%

Industrial production growth rate: -13.5%