28% of UK Unsecured Debt is on Credit Card – Tips to Reduce the Pain
More than a quarter of UK consumer credit is debt on a credit card. With interest rates set to rise as soon as November, savvy UK consumers are looking to reduce their borrowings and pay-off outstanding balances.
Data from the Bank of England Household Debt and Covid compiled in second quarter 2021, shows that total UK household debt just before the pandemic hit in March 2020 was equal to 123% of household income, after excluding student loans. That was lower than the 145% burden being carried by households when the global financial crisis of 2008 hit.
Most of the debt is in the form of mortgage debt, at 80%. The rest is made up of consumer credit.
Consumer credit includes loans, credit card debt and overdrafts and is also referred to as unsecured debt.
Unsecured debtors more exposed to Covid crisis
The BoE report found that households with unsecured debt have been more exposed to the Covid crisis, with lower to middle income households seeing their incomes fall more consistently – they may have taken on additional debt.
The bank also found that in general households with mortgage debt tended to be higher income than those with only unsecured debt. Household members with mortgages are also more likely to be in employment.
See chart below: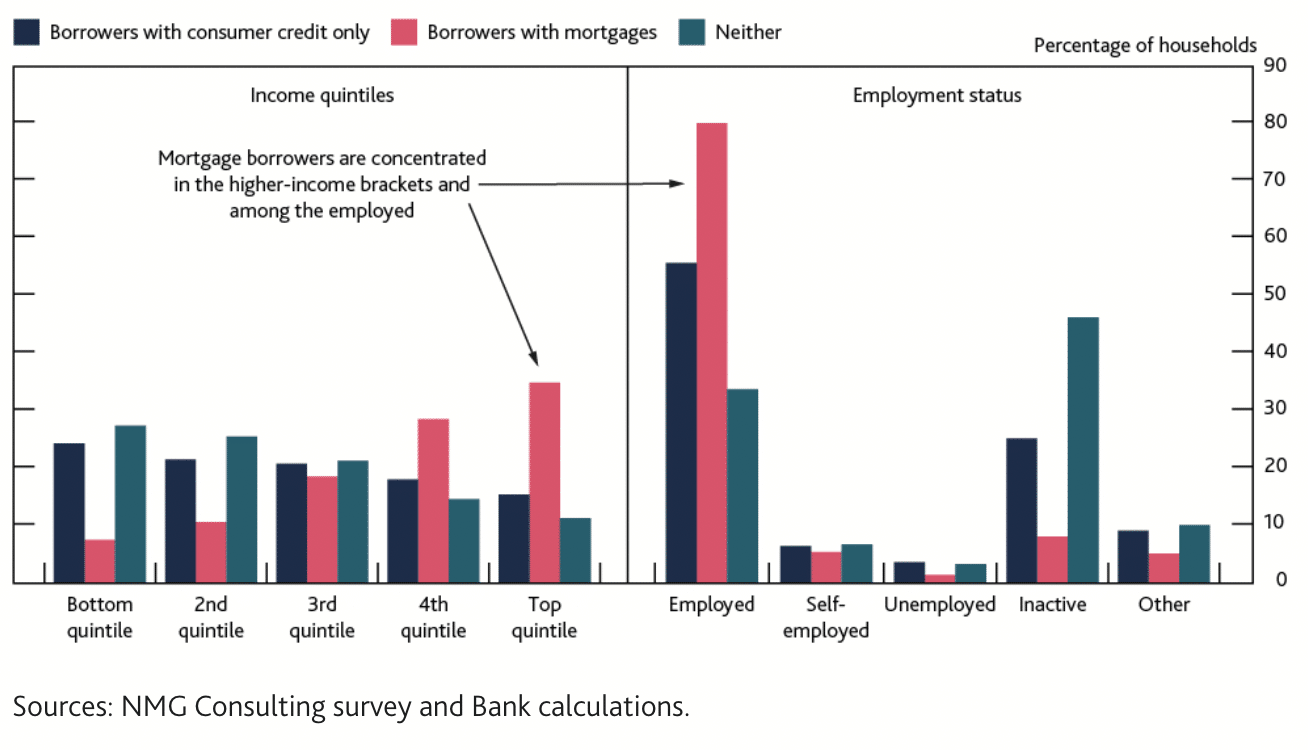 Households with unsecured debt (consumer credit) are also more likely to have seen a drop in income during the worst of the pandemic, reflecting the impact of lockdowns on those in less secure jobs and in lower income sectors such as hospitality.
The latest data from Money Charity reveals that the average total of unsecured debt run up by a British adult is £3,734; 28% (£1,067) of that amount is held on credit cards, the most expensive form of debt to service.
Money Charity says the average credit card debt will take 24 years and nine months to pay off, assuming the debtor made minimum monthly payments on the monthly interest plus 1%.
Bank of England may increase interest rates in November
The next meeting of the BoE monetary policy committee on 4 November could see interest rates increasing to as much as 0.25% from the current 0.1%.  That would still leave rates at low levels by historical standards, but it is a huge jump against the background of the past decade and more of low rates.
Policymakers are increasingly concerned that inflation could become embedded in the economy as wages rise to keep up with the rising cost of living, leading companies to in turn raise prices to meet the extra costs incurred from wage bills.
But the increases are highly unlikely to end this year. The Bank expects inflation to peak at 4% in April but the market is already pencilling in inflation of as high as 6% in 2022. As a result, in order to try and control inflation rates will need to continue rising, probably to at least 1%.
Bad news for mortgage and credit card debtors
Suffice to say this is all very bad news for debtors, although lenders will welcome higher borrowing costs as they will earn more on their cash savings after years of yield drought.
Overdrafts, credit cards and loans will all see rates jumping higher.
Those on variable rate mortgages will also be hit hard.
For example, if you have £100,000 mortgage with 15 years left, currently pay 2.5% interest and the rate rose by 0.25%, it would add £11.83 to your monthly payments.
What debtors can do now to ease the pain of an interest rates hike
Credit cards debt – pay off sooner, transfer balance, consolidate, cut up
Credit cards are often the most expensive form (averaging 20% APR) of debt that consumers can take on. One way to reduce the repayment burden is to shop around for 0% balance transfer deals, but steer clear of excessive transfer fees.
Something else to think about is electing to pay off more than the minimum if you can afford to do so, to clear the debt more quickly.
Alternatively, if you have one or more credit cards, consolidate the debts with one loan on a lower rate than the credit cards by opting to pay off the debt more quickly, if you can afford it.
You can also cancel a card which means you keep the old rate but must clear the balance within 60 days.
After you've paid off the credit card debt cut it up!
Avoid Buy Now Pay Later services
Buy Now Pay Later (BNPL) services are growing in popularity but these debts can quickly get out of hand because of the ease with which the debt can be incurred. BNPL is an expensive form of debt, with market leader Klarna charging 18.9% APR. Avoid these services by foregoing that supposedly "must have" purchase for clothes you could probably do without.
Use an Individual Voluntary Agreement to reschedule your debt
Individual Voluntary Arrangements (IVA) are an agreement you make with your creditors to reschedule your debt. An insolvency practitioner works out what you can afford to pay. With your agreement, the practitioner then divides this money between the creditors.
A debtor will need to select an insolvency practitioner to secure the services of an IVA.
The period of time to complete the repayment will also be set and for the payments to begin, the creditors will first have to agree to the debtor's proposal.
If there is more than one creditor involved, which is often the case, then the IVA goes into force if creditors holding 75% of the debt agree to the IVA.