IVA Debt – Apply For IVA Today & Receive Help For Your Debts (UK)
Individual voluntary agreements can help you if you've found yourself in over-indebtedness. They're legally binding and formal agreements, meaning that once creditors agree to the terms, they can't initiate court actions against you or continue contacting you for repayments.
You can repay most debts using an IVA. IVA debts are usually frozen, allowing you to pay them back over a set period. It's flexible to suit your needs or circumstances, and you can write off any IVA debt still owed after the period. It gives you a fresh start and allows you to move on with your financial life free of debts!
In this ultimate guide, we'll explore and review the best IVA providers in 2021 and how you can start writing off your debts using an individual voluntary agreement (IVA). You'll learn what an IVA agreement is, how it works, and whether it's right for you. You'll also know what an IVA covers, the costs, pros and cons, eligibility criteria, and some frequently asked questions about IVA's to ensure you make an informed decision.
Best IVA Providers in 2021

What is an Individual Voluntary Agreement (IVA)?
An IVA is an agreement that's formal and legally binding between you and your creditors to repay all or part of your debt over a specified period at an affordable rate. You agree to make regular payments which are divided among your creditors by an insolvency practitioner.
With an IVA, you get to repay in reduced monthly instalments over a more extended period, which frees up cash flow and provides much-needed financial relief. The court approves the IVA, and your creditors have to stick to it.
It provides you with a comfortable way of repaying your debts because the repayment terms agreed on are based on your expenses, income, and your overall financial situation.
How Does an IVA Work?
An IVA agreement has to be set up by a qualified person known as an insolvency practitioner who can be an accountant or lawyer. Through Reform Debt Solutions, you get free access to a suitable insolvency practitioner who will provide advice on IVA agreements, IVA help, and IVA debt management.
They'll help you work out an appropriate repayment plan based on your circumstances, and this can include monthly payments, a lump sum, or a combination of both. The repayment plan will be based on an amount you can reasonably and comfortably repay, and the creditors will have to agree to it.
After you've worked out a repayment plan for IVA debt with the insolvency practitioner, they'll help you create a proposal for your creditors and the court.
You'll agree to repay the creditors over a certain period in the proposal, usually three to five years. The insolvency practitioner will then schedule a meeting with the creditors where they'll get to vote on whether or not to accept the proposal.
Note that not all creditors have to agree for the IVA to be acceptable and legally binding. If the requisite majority or over 75% by value of the creditors agree, then the IVA is accepted and becomes legally binding immediately. It's based on the owed debt's value, so if a creditor is owed 20%, their vote counts as 20% of the total vote. All creditors have to honour the IVA, regardless of whether they voted or not.
Your insolvency practitioner (IP) will be the supervisor of the IVA. You must stick to the agreed terms and make one monthly payment to the IP who passes it on to your creditors.
Is an IVA Right for You?
IVA debt help is right for you if:
You have at least two people you owe money to or creditors.
Your total debts add up to over £10,000. While it's possible to get an IVA if you owe less, there are better options for smaller debts because of the fees involved.
You prefer not to deal directly with your creditors.
You have enough money to meet the monthly IVA loan Reform Debt Solutions can help you work this out.
Note that an IVA is very flexible, and even if you don't meet the above criteria, you may still be able to get an IVA. You'll be required to pay as much as you can afford each month, which involves paying a set amount monthly for a couple of years. Therefore, an IVA might not suit you if you don't have a permanent job or a fixed income stream.
An IVA agreement may not be suitable for you if:
You owe less than £10,000 in debt.
You work in financial services, law, or accountancy. Reform Debt Solutions can help you check your contract to determine if you can keep your job if you get an IVA.
You don't have a lump sum or excess income available to pay your creditors through an IVA.
You get support for mortgage interest or an SMI. SMI payments can stop if you get into an IVA, and you may be required to pay back any SMI you've already received.
You owe money to businesses or people in the European Union (EU). The IVA may not cover such debts.
IVA Debt Solution Example
Let's consider an example of a debtor who's raked up £20,000 unsecured loans, credit cards, overdrafts, and store card debts. Because of the COVID-19 pandemic, he lost his job and was forced to take up lower-paying employment. He's now found himself in financial hardship and can hardly keep up with his debts repayments that have shot up to $400 a month and afford necessary monthly expenses.
With creditors threatening to make him bankrupt, his only option is to negotiate a lower monthly payment. He seeks help through Reform Debt Solutions, which considers his situation and connects him to an insolvency practitioner who proposes an IVA agreement to extend his repayment period and reduce monthly payments.
With the help of the IP, they work out that he can afford to pay £150 monthly towards the debt, and he agrees to make this payment for five years.  The proposal is suitable for the debtor and the creditors who feel it's the most they can recoup in the entire process. He ends up writing off £11,000 in debt.
| | | | |
| --- | --- | --- | --- |
| Total Debt | Affordable Amount | New Monthly Payment | Debt Written Off After 5 Years |
| £20,000 | £150 | £150 for five years | £11,000 |
What is Covered with an IVA?
While most debts can be paid off with an IVA, there are some exceptions.
| | |
| --- | --- |
| Debts Covered By An IVA | Debts Not Covered By An IVA |
| Payday loans | Mortgage loans |
| Personal loans and catalogues | Child support |
| Overdrafts | Court fines |
| Credit Cards | Student loans |
| Store Cards | Secured loans |
| Utilities (Electricity, Water and Gas) | Fraud debt |
| Council Tax Arrears | Social fund loans |
| Debts to friends and family | TV license arrears |
| Tax credit or benefit overpayments | Money owed to EU businesses or individuals |
| Hire purchase debt | |
| National insurance arrears | |
| Income tax | |
| Solicitor costs | |
| Unsecured loans | |
Costs of an IVA

You have to pay for an IVA to be set up because it can only be done by an insolvency practitioner (IP) who is a professional accountant or lawyer. The fees will vary depending on the work involved. No legal or professional guidelines exist on what you should pay, but most IPs charge an average of £5,000 as fees.
If you consider the IVA debt you can write off with the agreement, this fee is more than affordable. When and how you pay can vary depending on the insolvency practitioner. Some may require that you pay in full before setting up an IVA agreement.
Others will deal with the fee as part of the IVA, and they'll deduct it from your monthly debt repayments. Once you make the monthly payment towards the IVA debt, a portion will be removed to pay the IP while the rest goes to the creditors.
The IVA fee you pay to the insolvency practitioner we connect you with at Reform Debt Solutions will cover different roles they play throughout the IVA period. These include:
Advisor: They'll advise you on the suitability of an IVA.
Nominee: They'll help you prepare an IVA proposal, apply to the court, and meet with creditors to agree on the IVA.
Supervisor: They'll supervise the progress of the IVA, ensure creditors are paid on time, and act as an intermediary between you and creditors while ensuring everyone sticks to the agreement.
Best IVA Providers Reviewed
1. Debt Nurse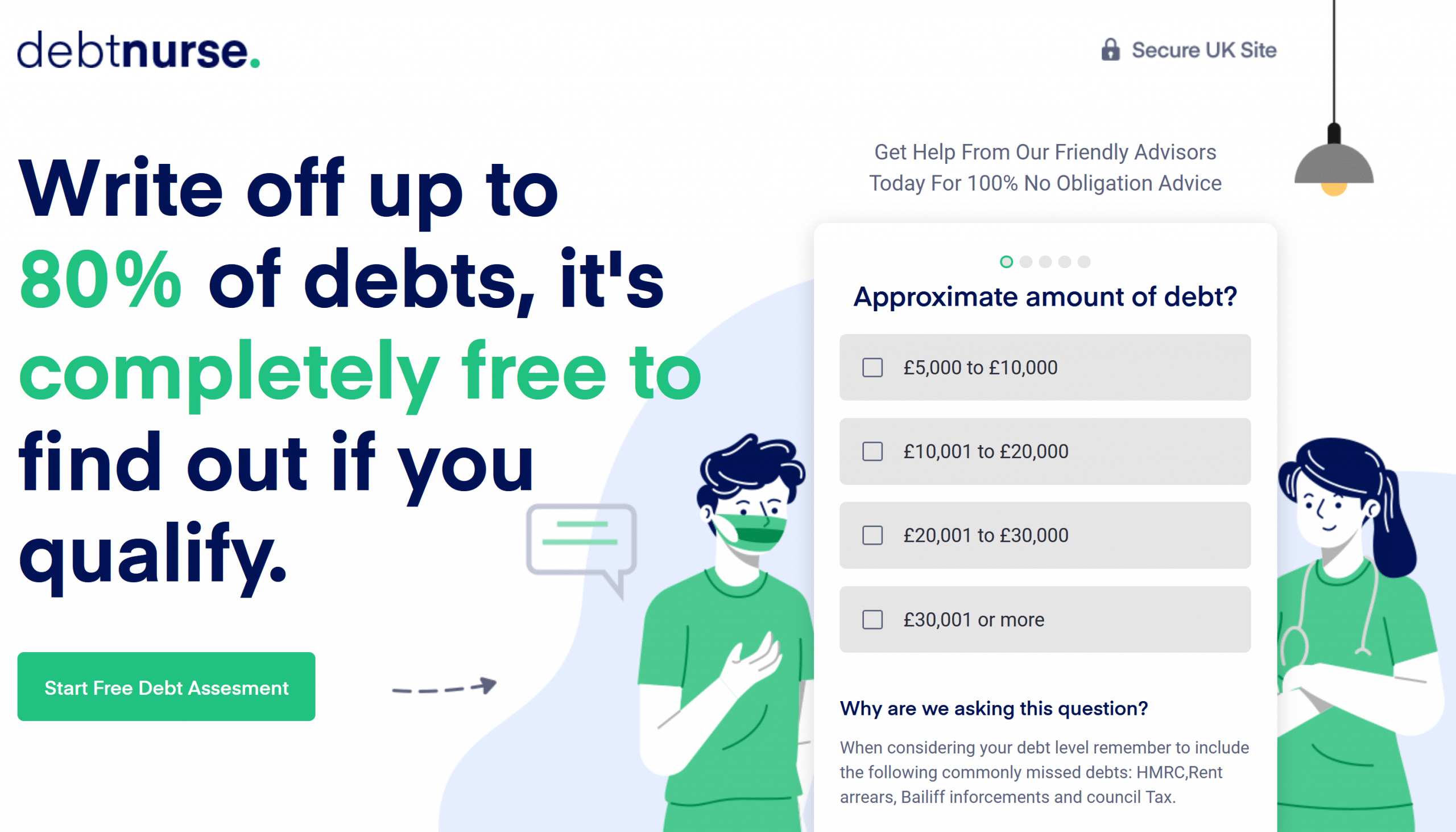 Debt Nurse is undoubtedly one of the leading destinations to find help with your debts in the UK. They're trusted by thousands of Brits who use the service each month to acquire financial freedom. Debt Nurse doesn't provide debt advice.
However, they collaborate with debt advice solutions providers regulated by the Financial Conduct Authority (FCA), and they'll connect you to them free of charge! After you complete the online form and consent to referral, Debt Nurse professionals will connect you to an insolvency practitioner who will handle your IVA application.
Using Debt Nurse services is free, and your privacy and personal data remain secure. They adhere to the law and ensure they meet all security procedures when processing and storing your personal information.
Pros
Dependable
Very professional
Non-judgemental
Cons
Solutions are only available for unsecured debts.
2. National Debt Advisors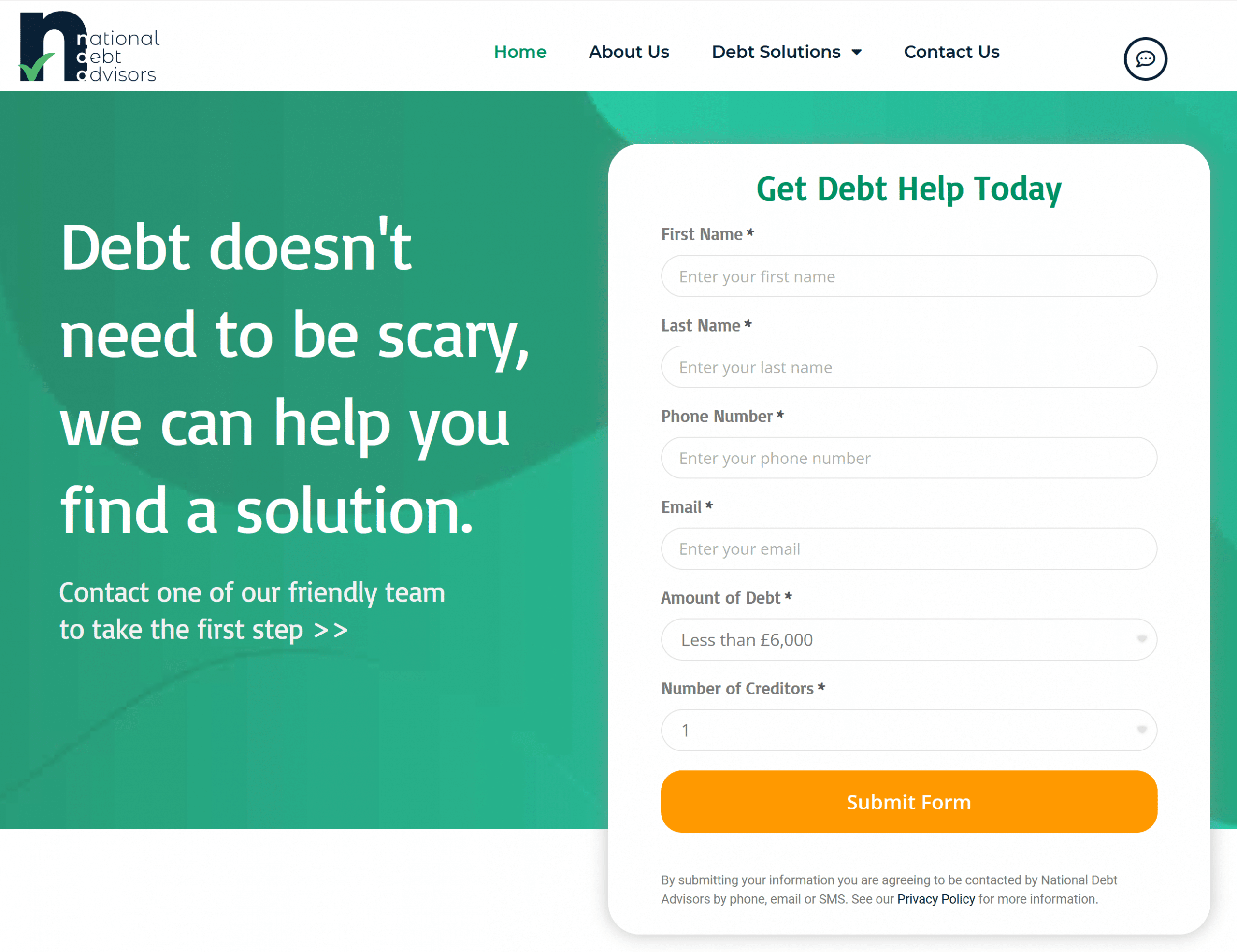 Founded by Payday Ventures Limited and based in London, UK, National Debt Advisors provides an impartial, comprehensive, and caring service to aid people in financial difficulties. They make it easy to get back on track with your finances through four easy steps.
These include filling out a form to capture your details, talking to one of their experienced professionals, discussing your options, and helping you decide on the best course of action. Their services are free to use, and they ensure you have a comprehensive understanding of all your options.
National Debt Advisors will guide you through the process and connect you to an insolvency practitioner to get an IVA.
Pros
Great customer service
Quickly explore your options with no pressure.
Very responsive and friendly.
Cons
Secured debt solutions are unavailable.
3. Reform Debt Solutions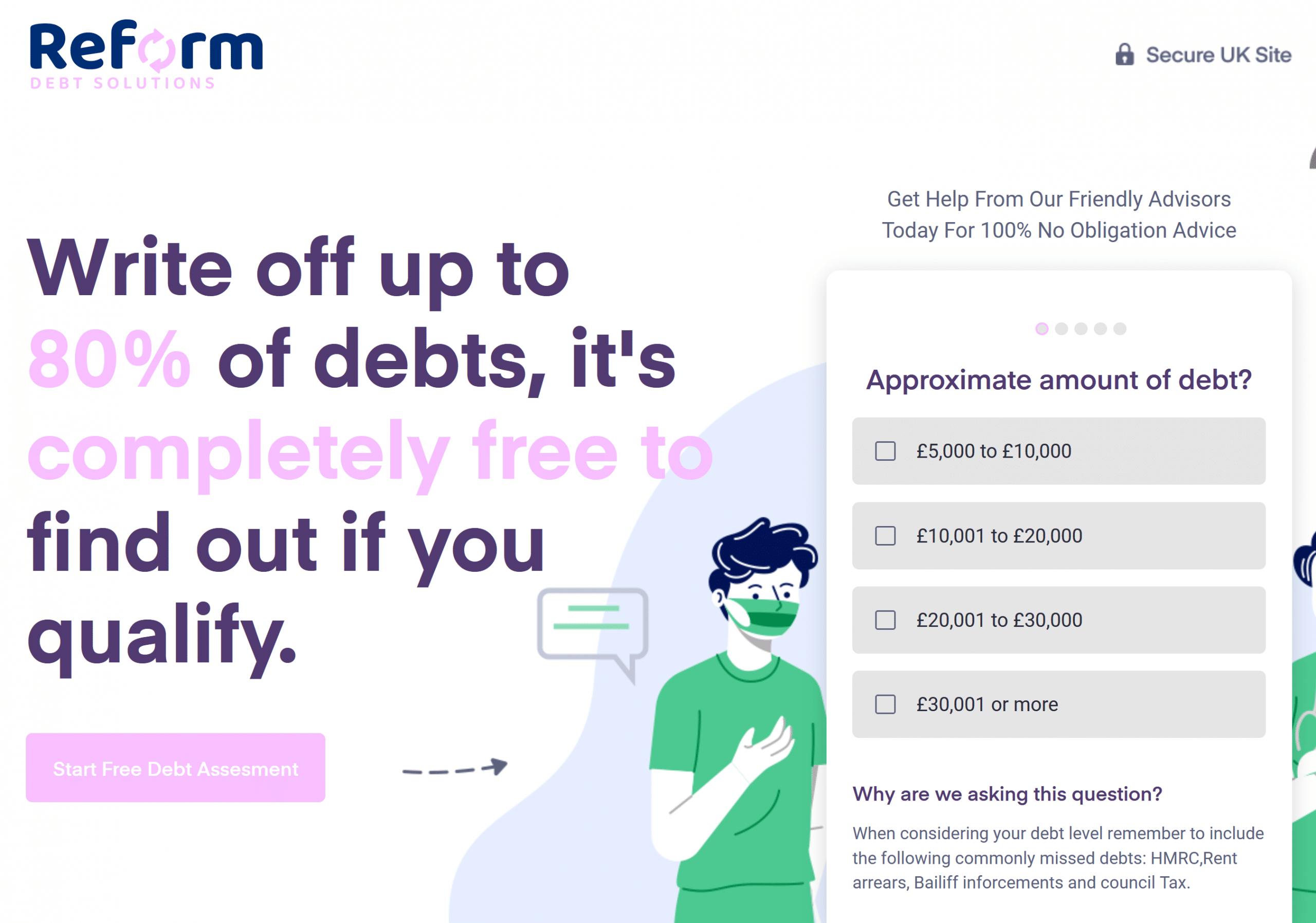 Reform Debt Solutions is another leading debt relief guide trusted by many Brits for financial freedom from the weight of unsecured debts. They provide you with free access to a comprehensive panel of debt relief providers and practitioners across England and Wales.
Through Reform Debt Solutions, you can get free advice on your debts, and they can help you write off up to 80% of your debts with an IVA. Once you've captured your details, they'll talk you through the process and connect you to a suitable insolvency practitioner who will handle your IVA application so you can start your journey to a debt-free life!
Using the services is entirely free, and there are no obligations or pressure, guaranteeing total peace of mind. Plus, they adhere to all privacy and confidentiality laws to ensure your data and personal information remains secure.
Pros
Free advice
Helps you write off debts
Quickly responds to inquiries
Cons
They don't offer solutions for secured debts.
4. The Debt Experts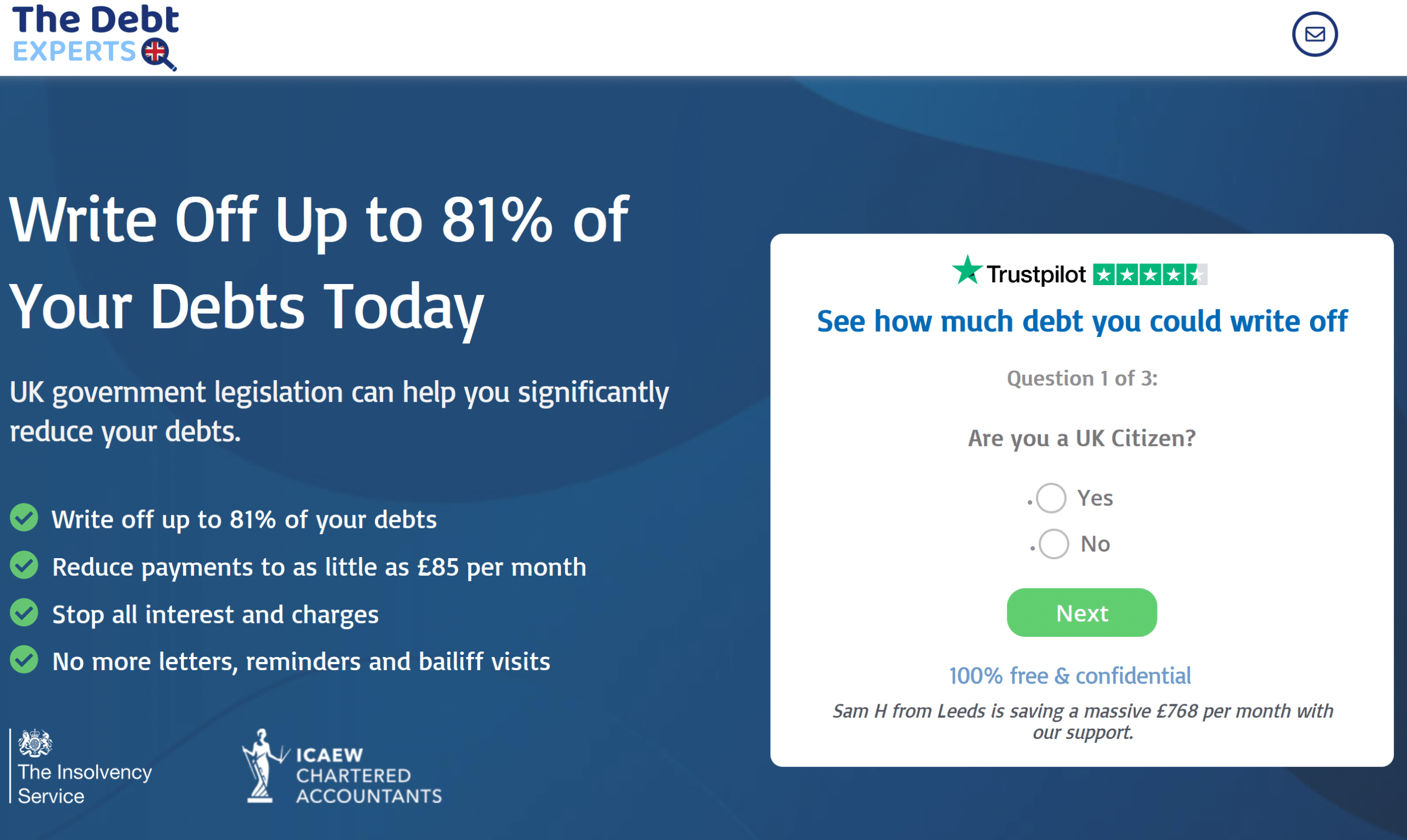 The Debt Experts offer a completely free service that allows you to compare different debt solution options when applying for an IVA. They help you understand your options and guide you through the process to help you choose the ideal solution for you.
They work with various authorised debt solutions providers to help both companies and individuals get out of debt. You get access to insolvency practitioners through the Debt Experts, who will help apply and manage your IVA agreement.
It's free to use their services, and they're licensed to handle data, guaranteeing the security and privacy of your data and personal information. They'll answer all your questions and allow you to compare your options with pressure or commitments.
Pros
Highly professional
Resources are available for debtors to use
Excellent customer service
Cons
You can only find help with unsecured debts.
Apply For IVA – Step by Step Guide

Follow these simple to start writing off your debts with an IVA:
Step 1 – Visit an IVA specialist website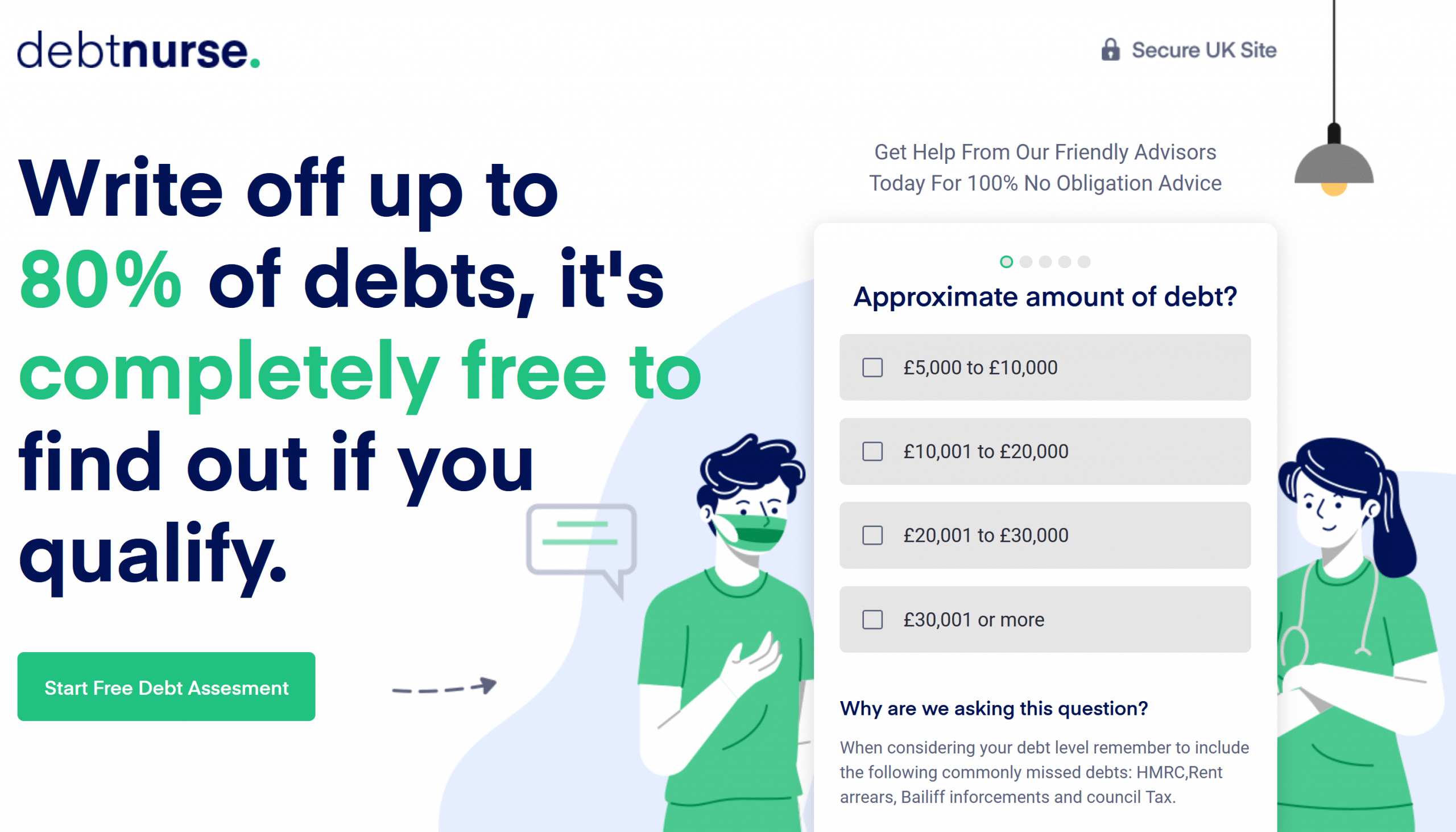 First, visit DebtNurse.co.uk as only qualified persons may set up IVAs. Debt Nurse connects you directly to qualified insolvency practitioners who will set up individual voluntary agreements on your behalf.
Step 2 – Fill in the online application form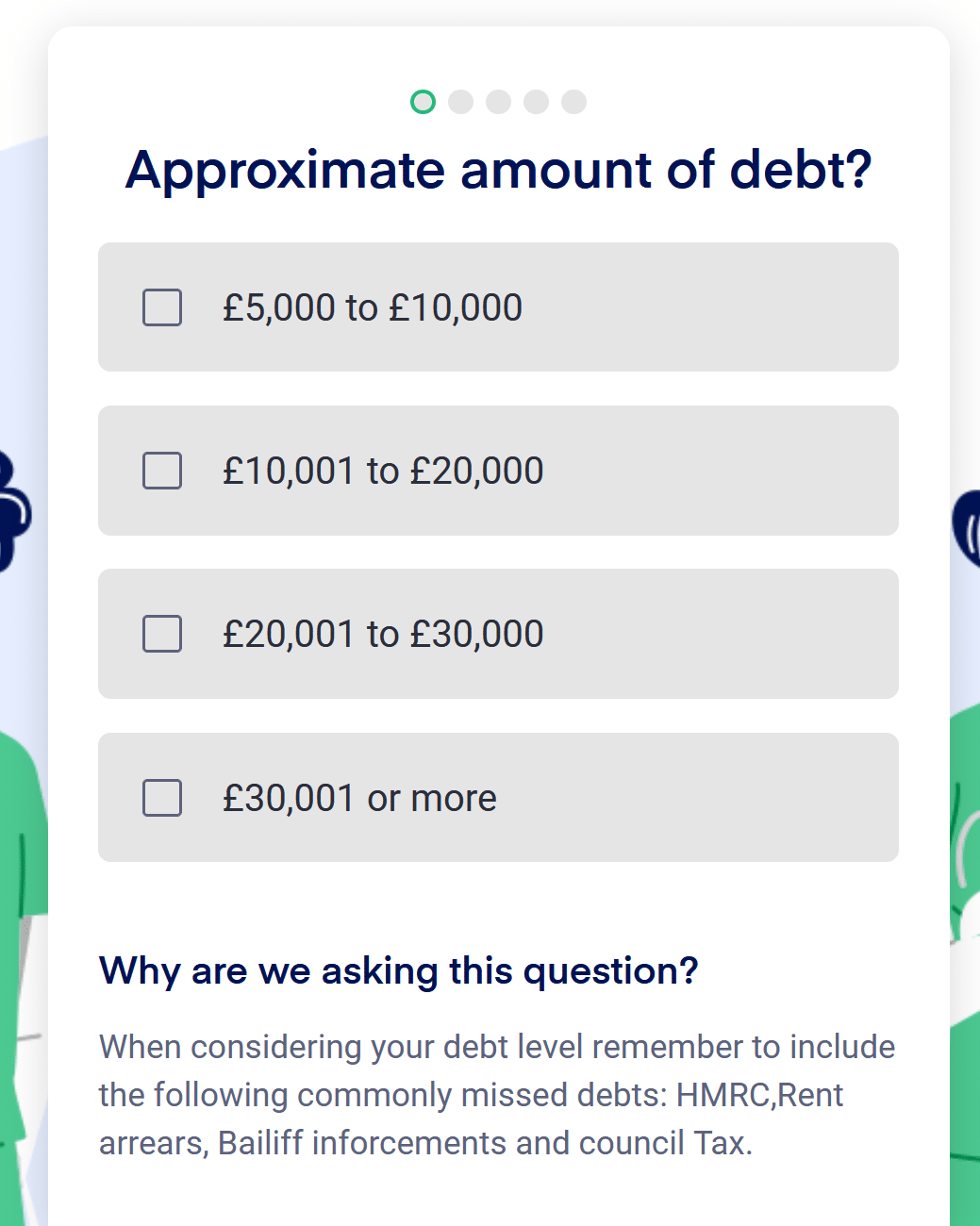 You'll fill in a short online application form when you apply for an IVA through Reform Debt Solutions. It will help the insolvency practitioner we connect you to determine whether you're eligible for an IVA, if it's the right option for you, and work out a suitable repayment plan.
Step 3 – Wait for a call from a professional advisor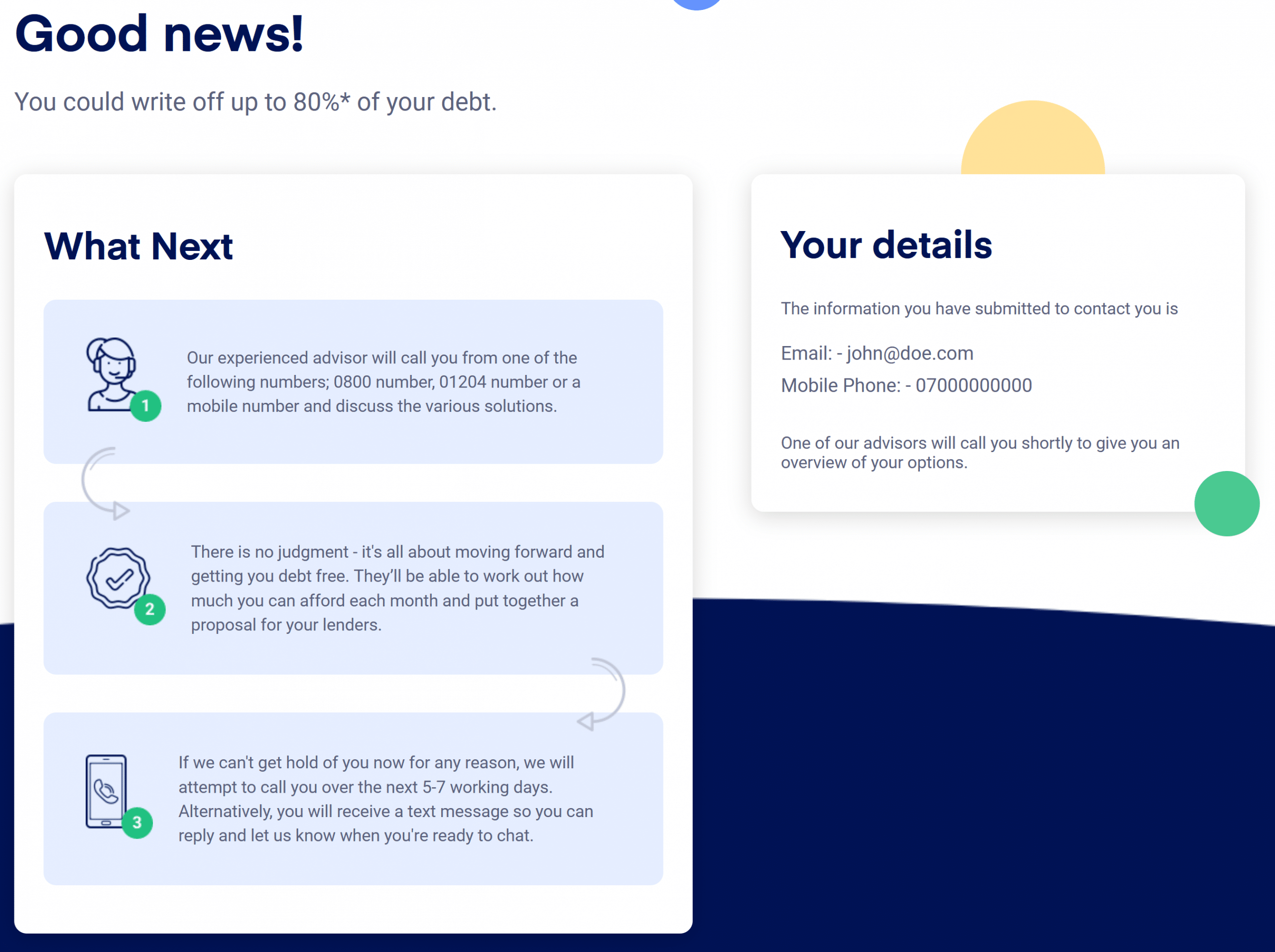 After capturing your details, one of the friendly advisors from Reform Debt Solutions will call you to talk you through the process and discuss your information. They'll tell you the information you need and how to prepare before your appointment with an insolvency practitioner. It will include working out your budget, monthly income, and expenses to determine what you have left to pay creditors.
Step 4 – Discuss your debts and start your debt-free journey
Once you're connected to an authorised insolvency practitioner, ensure you've listed everything that needs to be taken into account, including your debts, income, spending, and assets. They'll look at your financial situation and obligations to help you work out a repayment plan with your creditors.
Ensure you're entirely honest about your circumstances to avoid ending up with an IVA you can't stick to. Deliberately withholding or providing false and misleading information can get you fined or imprisoned.
IVA Pros and Cons

Pros
Reduced and affordable monthly payments
Fixed payments enable better budgeting
It's legally binding, so creditors can't hassle you.
It's time-limited, after which you'll be debt-free
You get to keep your property
Creditors agree you'll pay only part of the debt since any debt left after the period is written off
Debt fees are frozen
Only requires 75% of the creditors to approve
A couple, individuals, and businesses can apply
Cons
It will stay on your credit record for six years.
You'll be published in the Individual Insolvency Register, which anyone can access
Strict budgeting is necessary during the period
You may have to lose equity as a homeowner
You can face forced bankruptcy if you default
You can't borrow over £500 during the period
You must owe over £10,000 to apply.
Do You Qualify for an IVA?

You can qualify for IVA help if you meet the following criteria:
You owe at least £10,000 in debt.
You owe money to at least two creditors.
You can afford to make the IVA debt payments each month at the agreed instalment amount.
FAQs

Will I Have to Remortgage My Home in an IVA?
Will My Assets be Included in the IVA?
Will an IVA Impact My Credit Rating?
What Should I do if Creditors Included in the IVA Are Still Contacting Me?
What Documents do I Need to Apply for an IVA?
What Should I do if I Forgot to Add a Debt in the IVA?
What Happens if My Circumstances Change During the IVA?
Will I Have to Change My Bank Account When I Enter an IVA?