Apple Stock Forecast 2021 – Apple Stock Price Prediction 2021, 2022, 2025 & 2030
Currently the largest company globally as measured by market cap, Apple has firmly established itself as top of the pile within the tech sector over the past few decades. Most people will have (or may have previously owned) an Apple product, highlighting how large the company's reach is.
In this article, we'll explore our Apple Stock Forecast in detail. We'll discuss what Apple is and how the future looks for the stock, before highlighting where you can invest in Apple today – with 0% commissions!
67% of all retail investor accounts lose money when trading CFDs with this provider.
Key Drivers – Apple Stock Price Forecast 2021 and 2022
One of the critical things to do when you buy stocks is to look at the market data and determine the various drivers that affect your chosen asset's price. Relating this to Apple, although the company is very well established, there are some essential things to note when considering an investment. With that said, let's briefly touch on who Apple are and the elements that affect their stock price.
As noted in the intro, Apple is the world's most valuable company at present, having a market cap of $2.38trillion. Apple is best known for creating and selling the iPhone, iMac, MacBook, and iPad devices. These four products helped push Apple to where they are today due to the brand's incredible appeal and intelligent technology. Currently, Apple trades under the ticker symbol 'AAPL' and is a component of the NASDAQ and the Dow Jones.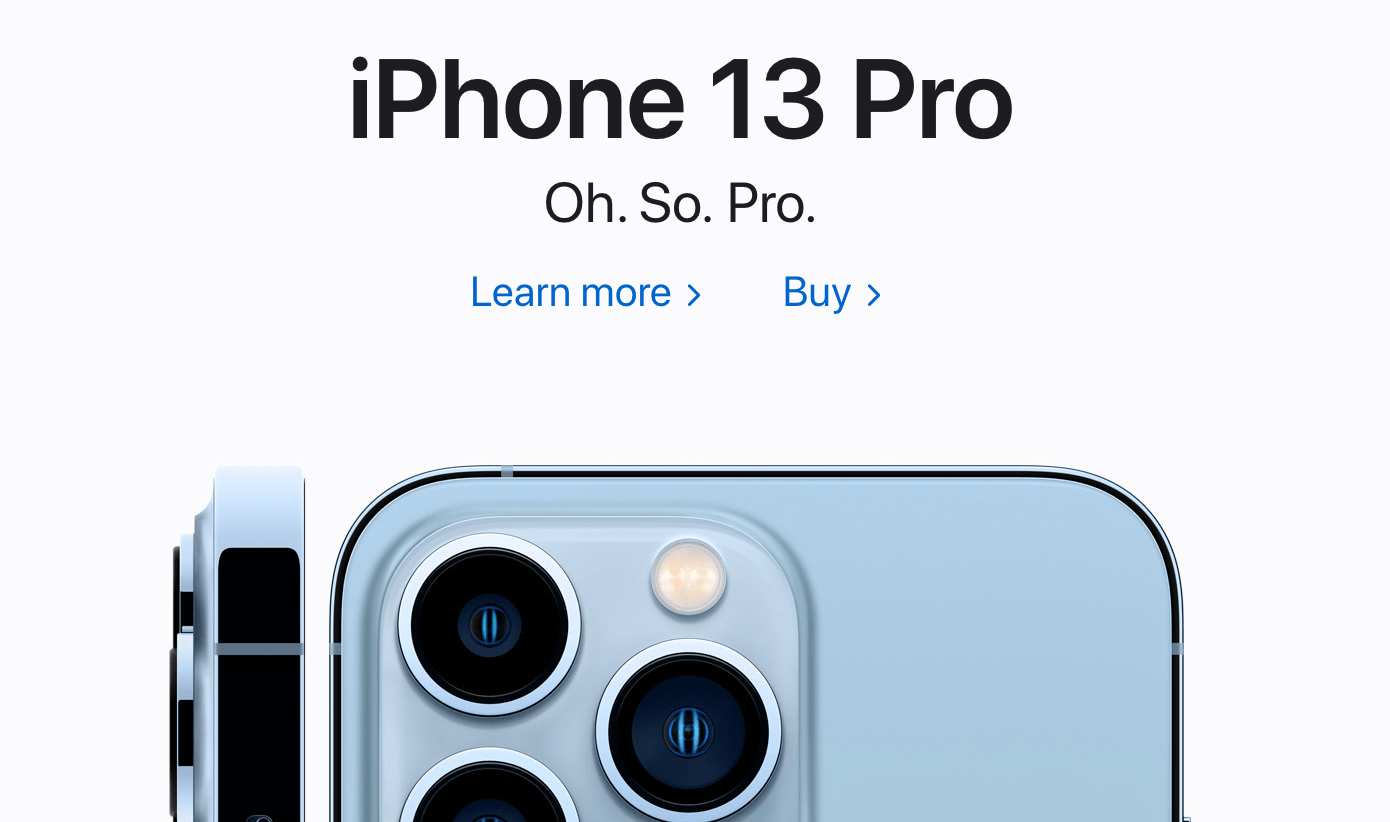 Apple was initially founded in 1976 by Steve Jobs and Steve Wozniak and initially focused solely on computers. As the years went by, the company branched into other areas and developed the iPod, which revolutionised music playback. The real success came in 2007 when the company launched the first iPhone, catapulting Apple to the valuation they have today.
In modern times, Apple still generated much of its revenue from iPhone sales and has recently released the iPhone 13. However, the company has been branching into other areas and has received much acclaim for its Apple Music and Apple TV+ services, which are subscription-based. Finally, Apple also has products in the wearables segment, with the super-popular Apple Watch dominating this area.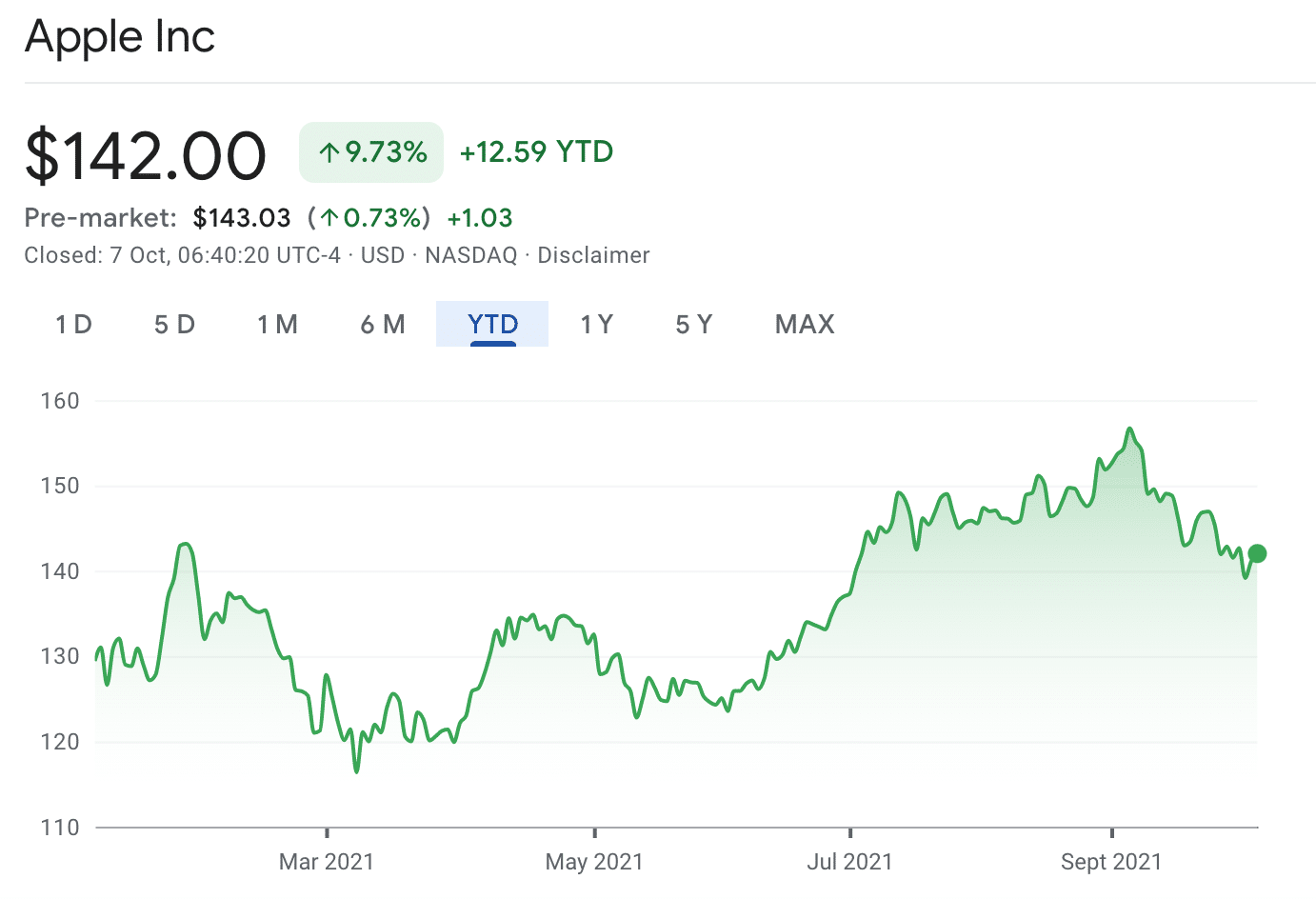 As you can see, Apple has a diverse range of products in 2021, ensuring that the company doesn't rely too heavily on iPhone sales. With that overview in mind, let's touch on the various drivers of the Apple stock price going forward:
The Rise of 5G: The release of the iPhone 12 last year saw revenue increase by 35% from the previous year, as this was Apple's first foray into the 5G smartphone market. Data gathered from Statista projects that there will be around 3 billion 5G subscriptions worldwide by 2025. This represents a massive opportunity for Apple and one that could benefit the stock price going forward.
Recent Regulation: A federal ruling recently announced that app developers will no longer have to use Apple's in-app payment system, which Apple charges a 15% to 30% commission to use. This ruling was brought about by the court case between Apple and Epic Games and sets a precedent that could hurt Apple's revenue.
Future Innovations: Finally, one big thing that could help Apple's share price is any innovations into other product lines. One of the major rumours that has persisted for years is the potential for an 'iCar', which would be a foray into the electric vehicle market for Apple. Although there is no concrete evidence of this, we'd likely see a considerable boost in the stock price if it were to be announced.
67% of all retail investor accounts lose money when trading CFDs with this provider.
Apple Stock Price History – What's Going On in 2021
Now that you've got a brief overview of Apple and the stock's drivers, let's look at the current price. When analysing the best shares to buy now, it's good to conduct some technical analysis on the share price. As you can see from the image below, Apple's price has recently pulled back and is now trading below the 50-day EMA. This moving average indicator gives a good representation of the trend – so the fact that Apple is below it is a bearish signal.

However, Apple is still trading above the 200-day EMA, which measures the long-term trend. Ultimately, this means that the trend is still bullish overall – so as long as the price stays above this, investors should still be optimistic. Furthermore, the RSI is around 47 right now, meaning Apple is neither overbought nor oversold.
AAPL stock seems to be creating a minor support level around $138, which could provide the boost needed to go back upwards. This would also be a lower-high on the daily chart, which is a characteristic of a strong bullish trend. Overall, the technicals all seem to point out that, although Apple has decreased in the short term, the overall sentiment is still bullish.
Apple Stock Price Forecast – Short Term Outlook
Much like in forex trading, it's essential to have a short term and a long-term outlook on potential price targets for an asset. In the case of Apple, the previous section has highlighted the overall bullish sentiment that the market seems to have towards the company. Apple's all-time high of $156.69 on September 7th 2021, is not too far away – so there's certainly scope to bypass that before the end of the year.
The minor support around $138 seems to be holding, as the last candle on the daily chart was very bullish. If the next candle is similar, this could be the start of an uptrend. However, the all-time high of September will likely represent a strong resistance level – add to this the psychological element, and we may see some consolidation around here.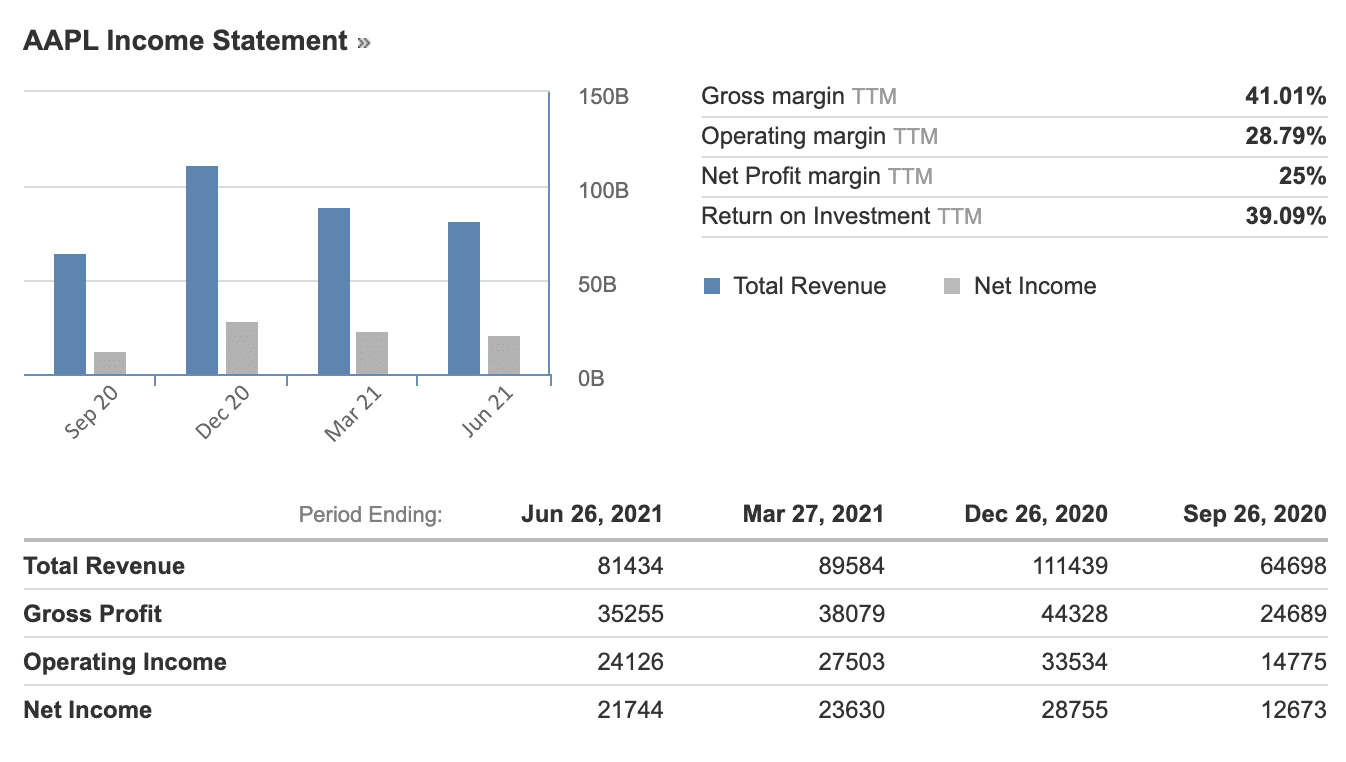 Moving on to the financials, Apple seems to be in fantastic shape behind the scenes. Apple's total revenue for Q2 2021 (ending June 30th) was $81.43bn. This represents an increase of 36.44% from the previous year, according to MacroTrends, which was primarily driven by fantastic sales of the 5G-enabled iPhone 12. Apple's net income for Q2 2021 was $21.74bn – which is an incredible 93.23% increase from last year's figures!
As you can see, Apple has bounced back remarkably from the volatility caused by the COVID-19 pandemic. Furthermore, things seem to be going well for Apple in other areas, as Apple TV+ has become more popular than many people thought it would. Finally, Apple plans to spend a substantial amount on R&D this year to develop new products that could generate additional revenue streams.
Overall, the short-term outlook for Apple is rosy, as the company's growth shows no signs of stopping. The upcoming release of the Apple Watch Series 7 should boost revenues, which complements all of the existing income streams. Due to this, we believe that Apple will bounce back from this recent pullback and return to all-time highs over the coming months.
67% of all retail investor accounts lose money when trading CFDs with this provider.
Apple Stock Price Forecast – Long-Term Outlook
Following our discussion of Apple's earnings and short-term prospects, let's turn our attention to the long term. Apple Inc. stock is a vital part of many investors' portfolios because it just seems to continue going up and up. Shareholders love Apple due to the consistent performance it shows – and the company even pays a small dividend to boot!
Apple's most recent EPS figure was quoted at $1.30, which is double what it was the previous year. This highlights the incredible earnings growth that Apple has shown over the last year, ultimately translating to better stock performance. Apple's P/E ratio is currently sitting at 27.61; although this is up quite substantially from last year, it is still quite a bit lower than other FAANG stocks such as Amazon and Netflix. This isn't necessarily a bad thing, as it means it is trading at a more acceptable level.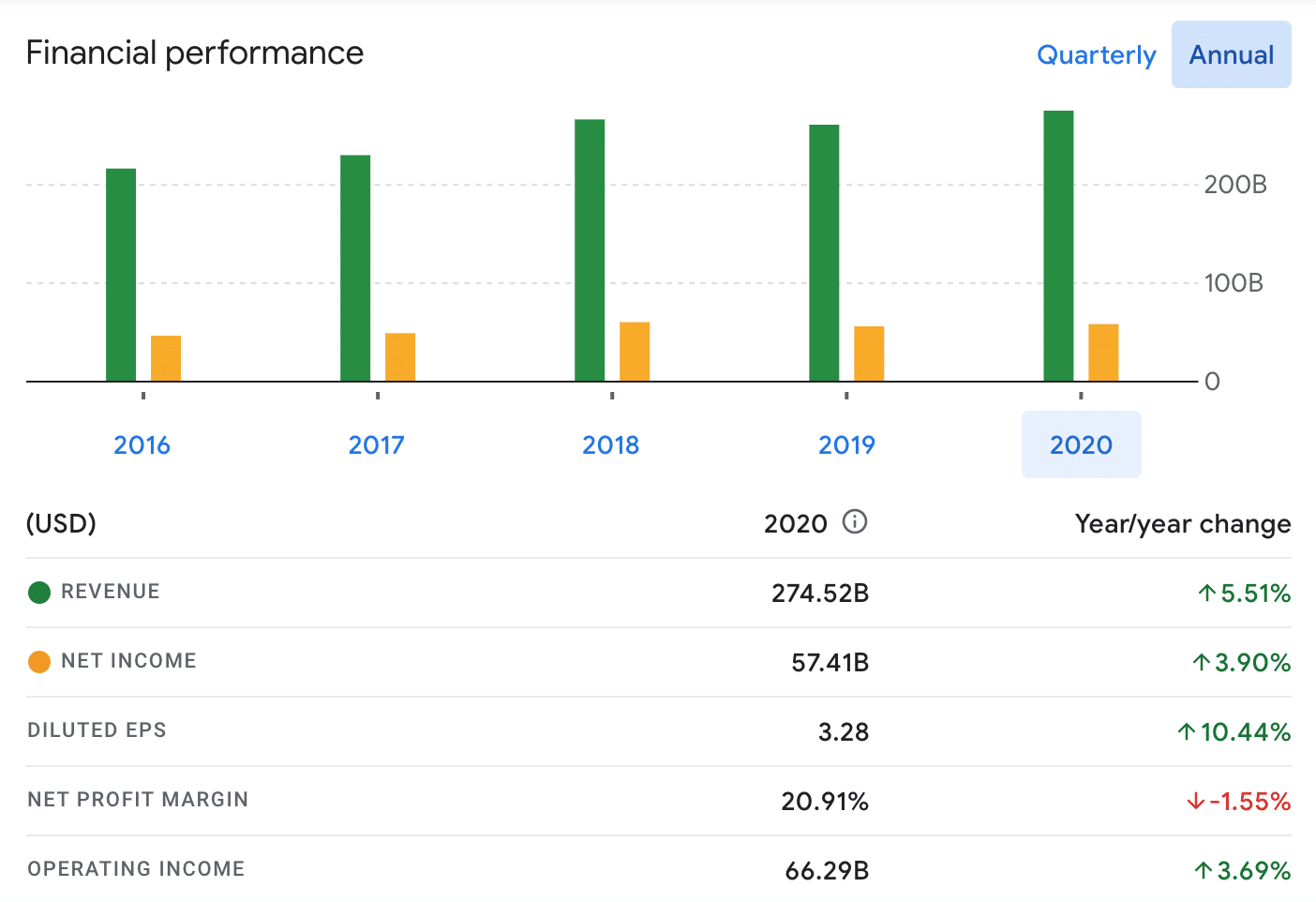 Many people will opt to buy Amazon stock instead of Apple, seeing Amazon as a 'safer' bet. This may not be the case, as Apple's customer base is probably the most loyal globally. Once someone has an iPhone, the chances are that their next phone will also be an iPhone – and the one after that too! This ability to retain customers is one of Apple's major strengths and is why they are in the position they're in.
A bonus to this is that Apple customers are more likely to buy other Apple products once they have one. For example, if someone buys an iPhone, there's a good chance they will also buy a pair of Airpods to go with it. Then, when they need a new computer, they'll consider buying a MacBook. The way that Apple designs its ecosystem supports consumers sticking with Apple products, as they all link together wirelessly.

The past two years have seen Apple's stock price increase by over 80%. Although the price is not currently near those levels, the fact remains that Apple is still making consistent returns for shareholders – which is suitable for long-term investors.
Overall, we believe that Apple shares will make an excellent addition to equity portfolios at current prices. Apple rarely finishes the year with a sub-10% return – so we'll likely see a good rally before the end of 2021. With revenue streams increasing every year and the potential for innovations into markets such as autonomous driving and VR, Apple's future looks bright in the years ahead.
How to Buy Apple Stock?
Before rounding off this Apple stock price prediction, let's discuss the investment process. Pretty much all of the best trading platforms will offer Apple as a tradeable asset, as it is the world's largest company at present. Due to this, you'll have no shortage of options when it comes to choosing which trading platform to opt for.
However, through our research and testing, we believe that eToro offers the best platform to buy Apple shares. eToro charges 0% commissions and allow investments from as little as $50. With that in mind, let's look at the four short steps that will enable you to invest in Apple with eToro – in less than ten minutes!
Step 1 – Sign Up for an eToro Account
Head to eToro's website and click 'Join Now' in the top right. Enter your email address on the page that follows and choose a password and a username to create your account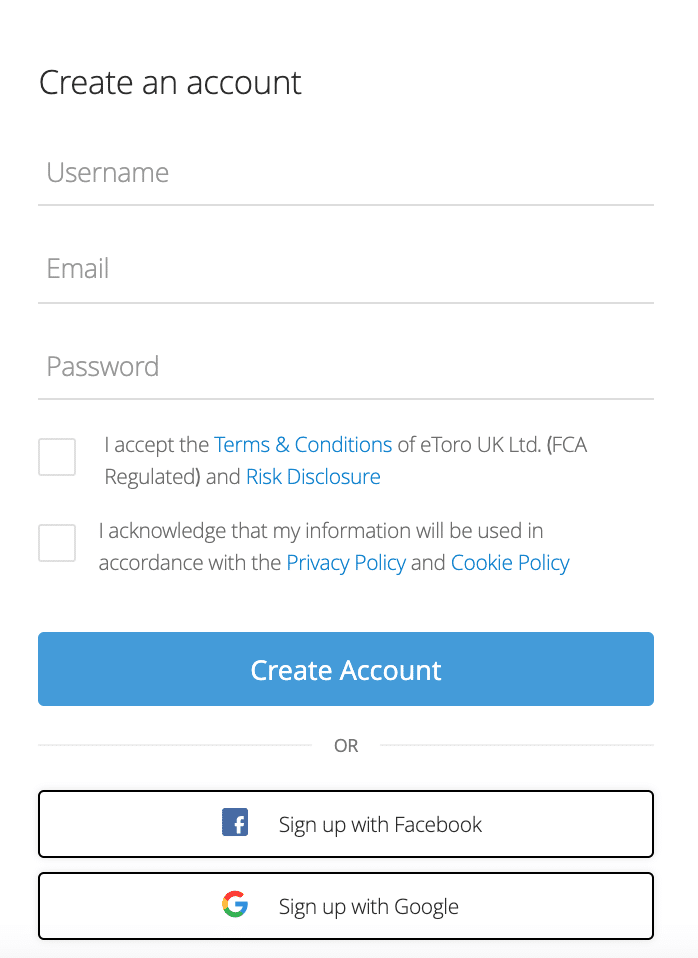 67% of all retail investor accounts lose money when trading CFDs with this provider.
Step 2 – Verify your Identity
As an FCA-regulated broker, eToro requires new users to go through some additional checks before being able to trade. To do so, head to your dashboard and provide the necessary personal information, along with uploading proof of ID (a copy of your passport or driver's license) and proof of address (a copy of a bank statement or utility bill). eToro will then verify these documents, which usually takes minutes.
Step 3 – Fund your Account
New users must make a minimum deposit of $50, which is entirely free to make. In terms of deposit methods, eToro accepts the following:
Credit Card
Debit Card
Bank Transfer
PayPal
Skrill
Neteller
Klarna
Trustly
Step 4 – Buy Apple Stock
Now you are ready to invest. Type 'Apple' into the search bar at the top of the screen and click 'Trade'. An order box will then appear, similar to the one below. Simply enter your desired position size, choose a stop loss or take profit level (if you wish), and click 'Open Trade'.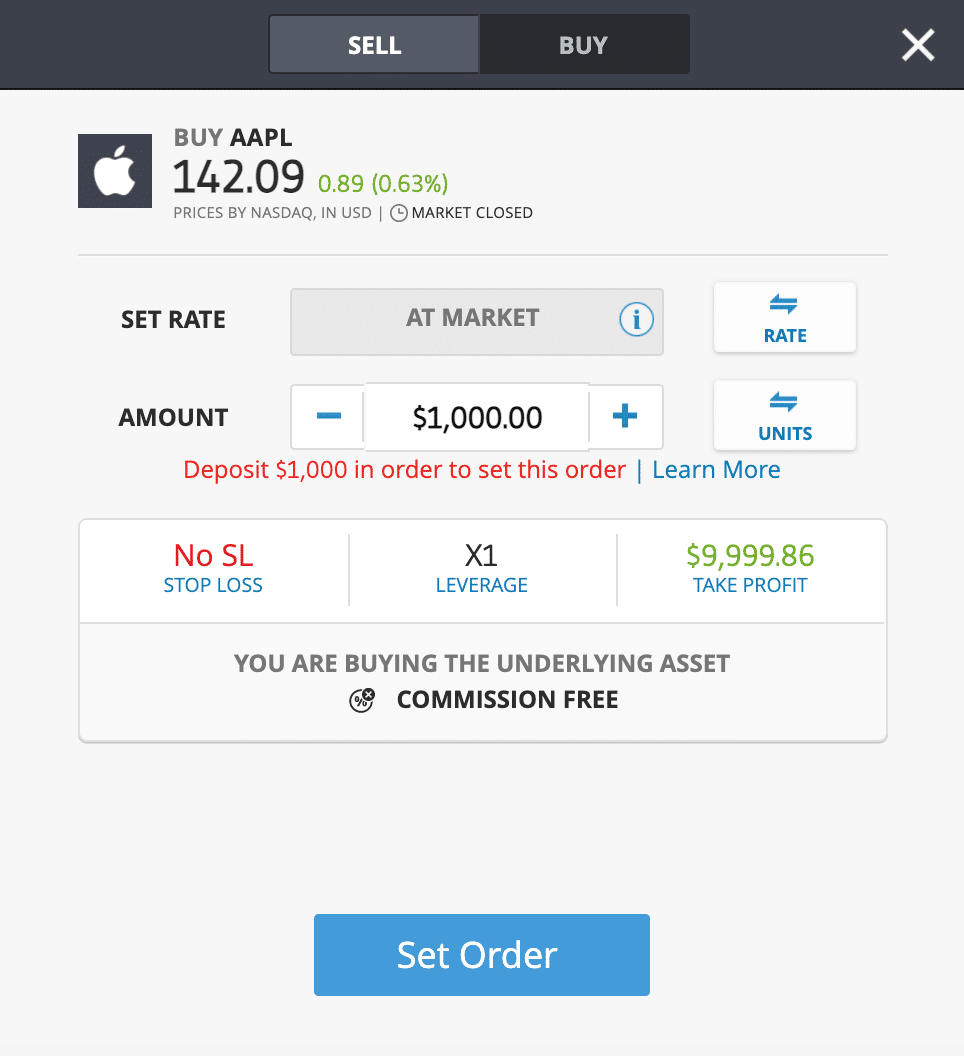 Congratulations! You've just invested in Apple stock with eToro – totally commission-free!
Apple Stock Price Forecast – Final Word
In summary, this Apple stock forecast has covered what Apple is and how price looks currently. We've also touched on Apple's outlook over the short term and long term, along with showing you how to buy Apple stock today.
Overall, we're relatively bullish on Apple, as its brand appeal and strong product portfolio will stand them in good stead for years to come. Apple is consistently spending hefty chunks of money on R&D – so there will likely be more exciting innovations for Apple that can aid the stock price in the future.
So, if you'd like to buy Apple stocks now, we'd recommend using eToro. With eToro, you can invest in Apple commission-free and from only $50. What's more, eToro is heavily regulated, ensuring you are safe when trading.


67% of retail investor accounts lose money when trading CFDs with this provider.
FAQs
Is Apple a good investment opportunity?
Where can I buy Apple stock?
Will the price of Apple go up in the future?