Xpeng Motors Stock Continues to Fall Amid Demand Concerns
Please note that we are not authorised to provide any investment advice. The content on this page is for information purposes only.
Xpeng Motors (NYSE: XPEV) stock is trading over 5% lower in US premarket price action today. The stock fell by a similar quantum yesterday also after it spooked markets with its Q1 2023 earnings and second quarter delivery guidance.
Xpeng Motors reported revenues of $571.6 million in the March quarter, which were 50% lower YoY. Its losses also swelled to 2.34 billion yuan as compared to 1.7 billion yuan in the corresponding quarter last year. Analysts were expecting its first quarter losses to come in at 1.9 billion yuan
Xpeng Motors posted a wider-than-expected loss
The company's gross margin plummeted to a mere 1.7% in the quarter as compared to 12.2% in the corresponding quarter last year.
Also, its vehicle margin came in at -2.5% as compared to 10.4% in the corresponding quarter last year.
Notably, Xpeng Motors delivered only 18,230 vehicles in the first quarter of 2023 which took a toll on its financial performance.
Its deliveries fell 27% YoY to 7,079 in April also. During the earnings call, it forecast second quarter deliveries between 21,000-22,000 – which would mean that its deliveries might be below 10,000 in May and June as well.
To be sure, Xpeng Motors has disappointed markets with its delivery as well as financial results for the last many quarters.
Its monthly deliveries have been below 10,000 in all the months this year and in terms of cumulative deliveries it now lags behind Li Auto as well.
In 2021, it seemed that Xpeng Motors might soon surpass NIO in terms of cumulative deliveries. However, after the dismal performance over the last year, the gap between the two has widened.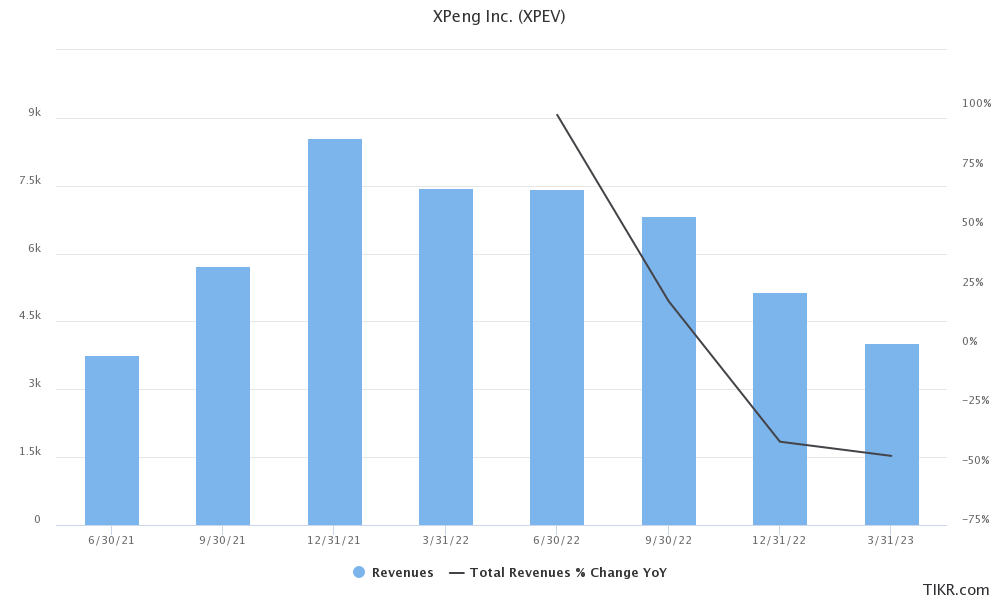 EV demand concerns
Notably, the recent earnings reports of EV companies highlight the demand woes. During their Q1 2023 earnings call, Lucid Motors also lowered its 2023 delivery guidance and said it would produce "over 10,000" cars this month – as compared to the previous guidance of 10,000-14,000 cars.
During the earnings call, Lucid Motors CEO Peter Rawlinson said, "I acknowledge and emphasize with the frustration, and I take this very seriously. Under-promising and over-delivering isn't about setting low standards or being complacent. It's about being realistic and proactive."
Rawlinson added, "When we guide, we do so with absolute honesty and integrity to the very best that we are able to estimate. And I truly emphasize with our shareholders who are here with us through the long run."
Rivian meanwhile maintained its 2023 production guidance of 50,000.
Xpeng Motors stock crashed in 2022
Once a hot investment theme, EV (electric vehicle) stocks have fallen out of favor with investors. Recent 13F filings show that billionaire investor George Soros has exited Tesla while trimming the stake in Rivian.
Notably, in Q4 2022 David Einhorn of Greenlight Capital also exited Rivian. Ford, which was the second largest Rivian stockholder also sold most of the shares in the quarter.
With a loss of 80% in 2022, Xpeng Motors underperformed both EV stocks as well as broader markets. NIO stock fell 69% in the year while Tesla lost 65%. It was the worst year ever for Tesla stock but it has since recovered and is among the top S&P 500 gainers in 2023.
Xpeng Motors stock meanwhile has fallen another 15% this year and is now approaching its all-time low.
Xpeng Motors is trying to restructure the business
In his prepared remarks, Xpeng Motors CEO He Xiaopeng said, "during the first quarter of 2023, I took actions to make changes to our strategy, organizational structure and senior management team decisively. I am fully confident in taking our Company into a virtuous cycle driving product sales growth, team morale, customer satisfaction and brand reputation over the next few quarters."
He added, "G6, the first production model built on XPENG's next-generation technology architecture SEPA2.0, will be officially launched in June 2023. I believe the G6 will emerge as one of the most popular, best-selling models in China's NEV SUV market segment with price range between RMB200,000 to RMB300,000."
EV price war
Xpeng Motors expects its growth to rebound in the back half of 2023 and said that monthly deliveries should be around 15,000 in the third quarter and 20,000 in the fourth quarter.
The company expects to post positive operating cash flows in the fourth quarter. It ended March with total cash and cash equivalents of $4.97 billion.
Startup EV companies are burning a lot of cash as they scale up production. The EV price war is not helping matters and like Tesla, Xpeng Motors is also prioritizing scale over profitability even as it expects to have "long-term stable pricing."
Notably, earlier this year, Xpeng Motors lowered car prices in China in an apparent bid to spur sales. Tesla has lowered car prices across several markets including the US and China which has prompted other automakers to follow suit.
The price cuts might only intensify the losses for startup EV companies.
As for Xpeng Motors, while the stock managed to rebound from the day's lows yesterday, it is down sharply today also as markets are now concerned about the demand environment given the tepid second quarter delivery guidance.