What to Expect from Xpeng Motors' Q4 2022 Earnings
Please note that we are not authorised to provide any investment advice. The content on this page is for information purposes only.
Xpeng Motors (NYSE: XPEV) would release its earnings for the fourth quarter of 2023 on Friday. Here's what markets are expecting from the Chinese EV (electric vehicle) company's earnings.
With a loss of 80% in 2022, Xpeng Motors underperformed both EV stocks as well as broader markets. NIO stock fell 69% in the year while Tesla lost 65%. It was the worst year ever for Tesla stock but it has since recovered and is among the top S&P 500 gainers in 2023.
EV stocks fell in 2022
However, Xpeng Motors has continued its dismal run in 2023 also and has lost almost 20% of its market cap. NIO is down over 11% YTD while Li Auto is up slightly. The divergence in these companies' price action is best explained by their delivery reports.
Over the last few months, while Li Auto has impressed markets with its monthly deliveries, NIO and especially Xpeng Motors have disappointed. Take for instance, in February, Xpeng Motors delivered just about 6,010 EVs which was below what it had delivered in the corresponding month in 2022.
Xpeng Motors' deliveries have sagged
Both NIO and Li Auto posted a YoY rise in deliveries. Also, in both January and February, Xpeng Motors' deliveries were below 10,000. While announcing the February deliveries, Xpeng Motors did not comment on the fall in deliveries.
It however said, "In parallel with efforts to accelerate market share gains domestically, the Company continued to extend its presence in international markets. In February 2023, XPENG opened its second retail stores in both Denmark and the Netherlands. At the same time, the first European service center also started operation in Lørenskog, Norway."
Meanwhile, Xpeng Motors might be losing market share in China. BYD which is the market leader in the Chinese NEV (new energy vehicle) market, reported a 119% YoY rise in its February deliveries.
The company delivered just under 200,000 cars in China in the month and its market share was a massive 37%.
Li Auto's cumulative deliveries surpassed Xpeng Motors
Li Auto has now surpassed Xpeng Motors in terms of cumulative deliveries. The divergence is also reflected in the valuation pecking order. While BYD is the most valuable Chinese EV company, Li Auto is second with a market cap of over $22 billion. NIO comes a distant third with a market cap of around $14 billion.
Zeekr, an unlisted Chinese EV company, was also valued at $13 billion in the latest funding round. In contrast, Xpeng Motors' market cap is just above $7 billion.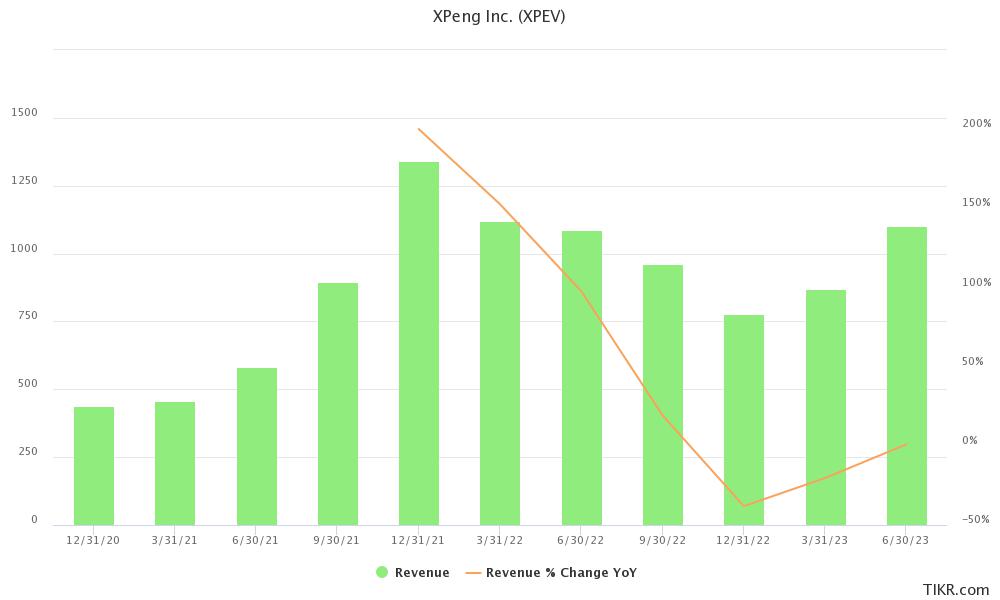 What are analysts expecting from Xpeng Motors' Q4 2022 earnings?
Analysts polled by TIKR expect Xpeng Motors to post revenues of $776 million in Q4 2022—a YoY fall of 38.1%. The company's revenues are expected to fall 20.3% YoY in the current quarter as well.
The company delivered 22,204 cars in the fourth quarter of 2022 which was way below Q4 2021 deliveries of 41,751. Notably, Xpeng Motors' deliveries peaked towards the end of 2021 and have since come down.
Analysts expect Xpeng Motors to post an adjusted per-share loss of 34 cents. To put that in perspective, the company reported a per-share loss of 22 cents in Q4 2021 and 37 cents in Q3 2022.
Notably, NIO's losses also widened in Q4 2022 and its gross margin fell to 3.9% in the quarter, down sharply from the 17.2% margin in the fourth quarter of 2021.
Xpeng Motors launched a new vehicle
Last week, Xpeng Motors launched a new P7i sports sedan in China with prices starting at around $36,330. In his prepared remarks, He Xiaopeng, Chairman and CEO of Xpeng Motors said, "The P7i exemplifies our pursuit of excellence, and is the latest refinement of our vision of smart mobility."
He added, "The P7i is bringing major upgrades to our highly successful P7 model, already enthusiastically received by customers. With the P7i, we are now delivering the world's most advanced smart driving EV technologies to the world's largest auto market."
Notably, earlier this year, Xpeng Motors lowered car prices in China in an apparent bid to spur sales. Tesla has lowered car prices across several markets including the US and China which has prompted other automakers to follow suit.
The price cuts might only intensify the losses for startup EV companies. Companies like Rivian and Lucid Motors are losing billions of dollars every year. EV companies have been scrambling to raise cash amid the continued cash burn.
What would markets watch in XPEV's Q4 2022 earnings call?
During Xpeng Motors' Q4 2022 earnings call, markets would look for commentary on production guidance. Notably, Li Auto forecast deliveries between 52,000-55,000 for the first quarter, while NIO expects Q1 deliveries to be between 31,000-33,000.
Analysts might also question the company on demand and supply situation. Lucid Motors said during its Q4 2022 earnings call that while its production is no longer constrained by supply chain issues, low brand awareness is hindering its sales. Markets saw the comments as a sign that the demand for Lucid cars is not strong. The fears were further compounded by the fall in its order book.
Xpeng Motors might comment on capital raise plans
Rivian on the other hand said that it is still facing supply chain issues and expects to produce around 50,000 cars in 2023. While the guidance is over twice its 2022 production, it nonetheless fell short of what the markets were expecting.
Also, analysts might question Xpeng Motors on its capital raise plans. The company had $5.64 billion in cash and cash equivalents at the end of the third quarter. However, amid the continued cash burn and the price war, it might want to further strengthen its balance sheet. Some of other EV companies including the relatively well-funded Rivian have also announced capital raise recently.