Waves Price Up 14.78% – Time To Buy WAVES Coin?
The Waves crypto protocol is one of the emerging smart contract-enabled protocols. The token's recent rally has served as a signal for investors to buy WAVES. The protocol, built with ESG-focused investors in mind, has been flourishing in the past month. This article explores the digital assets' fundamental adoption and historical price performance.
WAVES: Making Steady Gains In A Lopsided Market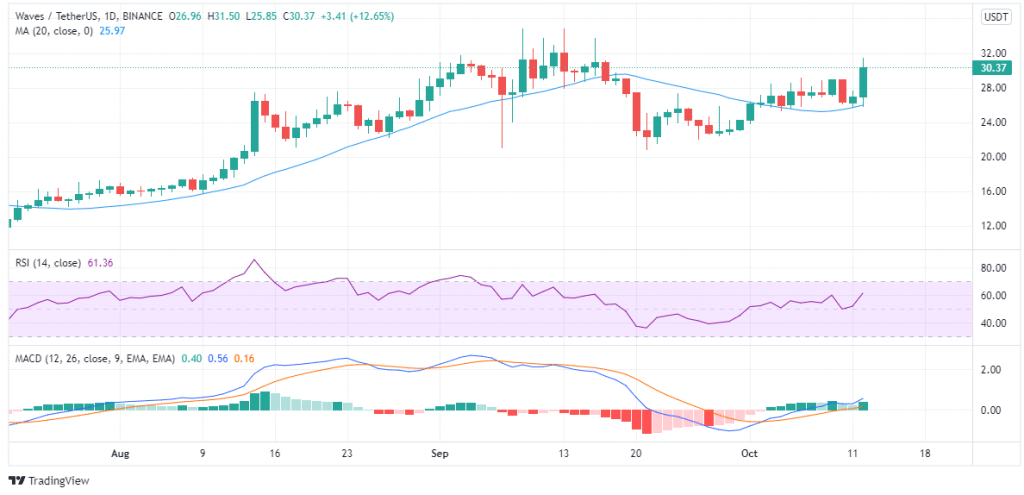 The crypto market has been volatile, with digital assets posting gains and losses within the same 24-hour window. However, WAVES has come out on top this week and has averaged over 14.78% in the last 24 hours. WAVES' currently trading at $30.37, with a 10.49% increase. WAVES' impressive performance also reflects its 24-hour trading volume, up 493.7%, with over $474 million changing hands on the blockchain. This has also helped its fully diluted market cap to surge by 13.68% to $3.18 billion.
Like several crypto assets, WAVES has been on a volatile streak for much of this year. The multi-purpose blockchain started spiking in value in mid-February when it rallied to $12.34 from $6 on January 3.
Riding on this success, WAVES retested this price action after a brief dip and hit a 52-week high of $35.9 on May 5. However, the crypto market meltdown led to WAVES shedding most of the gains and dropping again to the $12 region. But the digital asset has not remained in the red zone for long and has since regained ground hitting a high value of $32.13 on September 12.
This uptrend has largely continued with WAVES trading within the $25 and $30 range for over a month.
Today's rally makes a case for the protocol as more decentralised applications (dApps) search for more scalable, energy-efficient, and low-cost protocols to host their platforms.
WAVES Technical And Fundamental Analysis
Turning to the digital asset's technical performance, we can see a lot of bullish momentum building up. The crypto asset is trading well above the 20-day moving average (MA) support price of $25.96 with no intentions to decrease. The longer-term 200-day MA support price of $20.17 shows that the WAVES asset is seeing an uptrend for the better part of a week.
Looking at its moving average convergence and divergence (MACD) points to a tight angle with the bears and bulls holding an equal share of the market. The green and orange trendlines are rising simultaneously, with the green having a momentary upper hand on the indicator.
The relative strength index (RSI) figure of 60.07 shows growing interest among investors to buy WAVES. Looking into the Waves' protocol fundamental background gives us a clearer view of the asset's phenomenal rally.
The decentralised non-custodial liquidity protocol Vires.finance based on the Waves blockchain is set to launch its governance token $VIRES on the Waves exchange on October 19. This will enable users as well as dapps to serve as depositors and borrowers on the protocol.
Alongside this, euro-pegged stablecoin Neutrino Euro $EURN recently formed a new pool with USDN. The pool rewards are expected to boast an annual percentage yield of up to 300%.
Another Waves blockchain-based decentralised finance (DeFi) protocol Swop.fi is launching a governance token of its Enno Wallet called $ENNO. This will enable users to access the platform's in-house managed features from their smartphones.
Buy WAVES at eToro from just $50 Now!