Waves Coin Price Up 10.84% – Is Now A Good Time To Buy WAVES?
Please note that we are not authorised to provide any investment advice. The content on this page is for information purposes only.
Cryptocurrencies have posted massive returns in the last few months, and Waves price has been one of such digital assets making a good return on investments.
Waves protocol may not command the media attention that Bitcoin or Ethereum do, but it's winning regardless. The multichain blockchain platform has seen its value rise in a time of unprecedented market crash.
Slugging off the May crash that saw it plummet from $40.50 to $14.43 losing 64% in the process, the Waves price is rallying, with the blockchain protocol rising 10.94% on the 24hr trading chart.
User-centric Blockchain Platform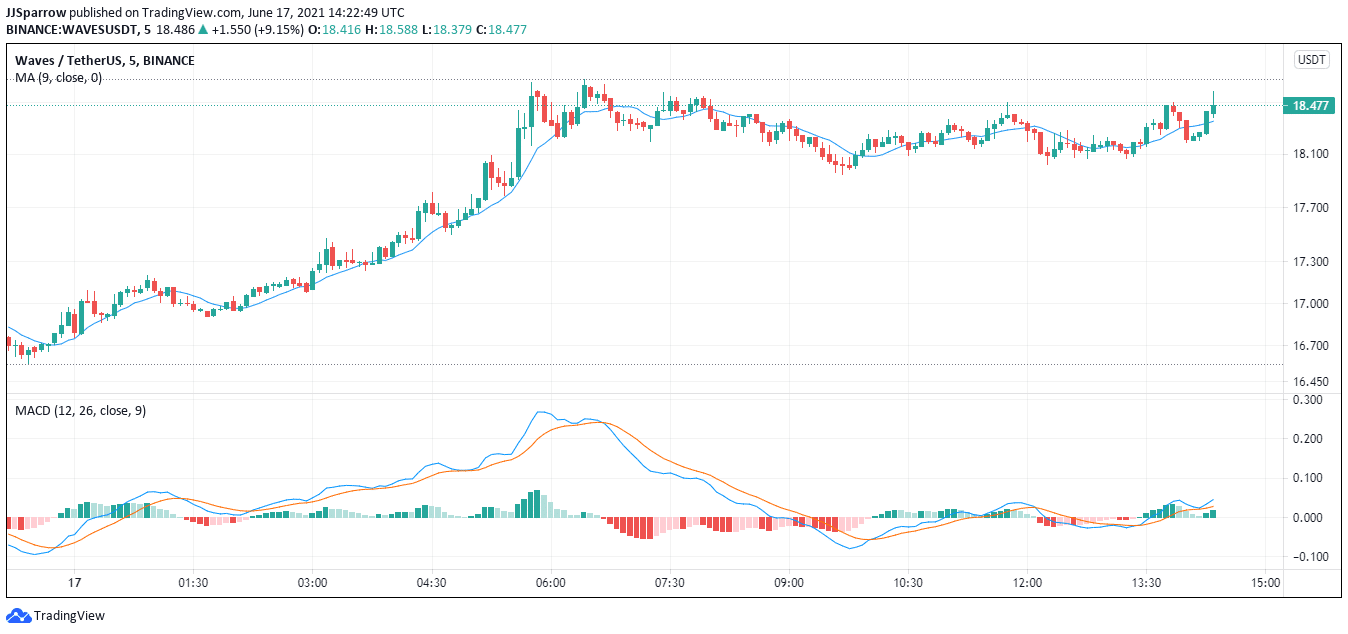 Waves is an all-encompassing gateway blockchain protocol that builds the technology of tomorrow. The Waves blockchain enables users to create and launch custom-made crypto tokens. This is all done without the user having to initiate extensive smart contract programming making it easy to use.
To do this, Waves blockchain enables users to manage their custom tokens with scripts, and programs will run as attachments to the blockchain. New custom tokens are always given unique codes to identify them. Users can trade these custom tokens on the
Waves blockchain protocol and in its in-built decentralized exchange (DEX) Waves. Exchange would enable users to trade custom tokens created on the platform and other similar Waves assets.
Looking to Buy Waves Coin now? Invest at eToro!
67% of all retail investor accounts lose money when trading CFDs with this provider.
Founded in 2016 by Ukrainian scientist Alexander Ivanov. Waves aim to improve on the first blockchain platforms by increasing transaction speed, utility, and user-friendliness.
The Waves blockchain uses a modified form of proof-of-stake (PoS) consensus algorithm called leased PoS.
This allows Waves token holders to lease their balances to a particular full node. Once that node is compensated, the leased nodes are returned with a percentage of the payout.
To determine which particular full node gets to validate transactions on the blockchain network, the crypto protocol relies on what it calls Waves-NG, which is a modification that was rejected by the Bitcoin community.
Waves also operate an institutional version called Waves Enterprise to enable corporate adoption of blockchain technology in business processes.
Waves Price Up 10.84%
Even as the broader crypto market struggles to break even following a month-long bear market, Waves price has surged 10.94% on the 24hr trading chart.
And much like most PoS protocols, Waves blockchain has received significant interest from crypto investors given its lower energy consumption relative to Bitcoin and Ethereum.
On the trading charts, the Waves price has surged to $18.27. Waves price's technicals are also strong, with the indicator pointing towards a bullish market on the daily chart.
On the 20-day moving average (MA) support, Waves price is clearly above the indicator at $14.6670, with the daily price action showing no signs of coming down. Its directional movement index (DMI) is at 20.14, with the positive indicator rising to meet the negative maker.
The 12-day moving average convergence and divergence (MACD) is at 0.7162 while its commodity channel index (CCI) is at 226.80, which indicates that Wave price is clearing on a bullish run.
Waves price relative strength index (RSI) is at 55.50, showing that crypto investors buy Waves tokens.
Waves price is also showing an uptrend in the long-term, with the digital token trading above the 200-day MA support at $12.67.
The positive price action for the Waves blockchain shows a growing interest in cryptocurrencies. If you are looking for a crypto asset to add to your portfolio, Waves should be one of them.
Looking to Buy Waves Coin now? Invest at eToro!
67% of all retail investor accounts lose money when trading CFDs with this provider.