Walmart Stock Price Forecast April 2022 – Time to Buy WMT Stock?
Please note that we are not authorised to provide any investment advice. The content on this page is for information purposes only.
With a YTD gain of 4.4%, Walmart (WMT) stock is outperforming the markets. The stock's fortunes have been quite mixed over the last couple of years. It outperformed in 2020 as the stimulus cheques boosted its sales.
However, Walmart stock underperformed in 2021. It is looking strong in 2022 and is in the green even as the broader market is still in the red. What's the forecast for WMT stock and is it a good buy in April 2022?
Walmart stock recent developments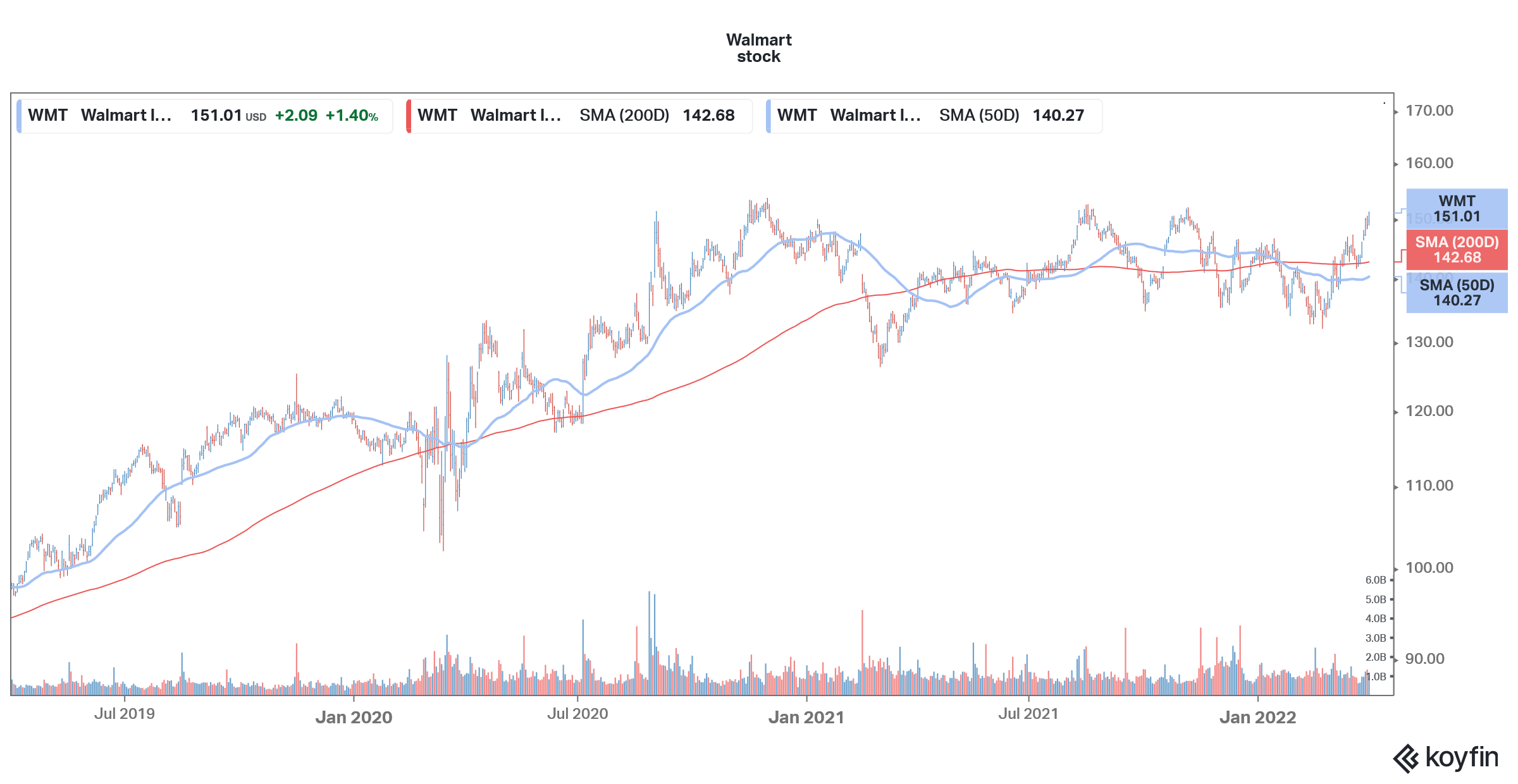 Walmart reported its fiscal fourth-quarter 2022 earnings in February. It reported revenues of $152.9 billion in the quarter which was 0.5% higher than the corresponding period last year. The revenues were negatively impacted by $10.2 billion due to the asset divestitures. Nonetheless, the revenues were higher than the $151.5 billion that analysts were expecting. The company's adjusted EPS of $1.53 was also slightly better than the $1.50 that analysts were expecting.
68% of all retail investor accounts lose money when trading CFDs with this provider.
Walmart has been divesting international business
Over the last few years, Walmart has been transforming its business and has been exiting several international markets. It has sold majority stakes in its British and Japanese ventures. It has also exited Argentina and Brazil. However, it continues to retain a strong international presence in several markets like China and India.
Key operating metrics
Walmart's same-store growth without fuel increased 5.6% in the quarter, which was in line with analysts' estimates. Grocery sales increased by high single digits and the company gained market share in the category in the quarter.
The company's e-commerce sales increased only about 1% from the corresponding period in the last year. As Walmart's stores have reopened customers have restarted shopping at the physical stores which are reflected in the low growth in online sales. However, when compared on a two-year basis, the company's online sales increased 70%.
Walmart has a hybrid business model
On multiple occasions, WMT has talked about its hybrid business model where the e-commerce and brick-and-mortar retail businesses complement each other. The company saw an increase in footfalls as the stores reopened but it also meant that the growth rate in its online business slowed down. Walmart's physical stores would also work as fulfillment centers as the world's largest retailer tries to take on Amazon's dominance in the US e-commerce markets. While Amazon is the market leader in the US, Walmart is a distant second.
Sam's Club
Sam's Club also saw strong growth in the quarter and the total memberships increased by 9.2% in the quarter while sales increased by 10.4%. The company does not provide the absolute number of Sam's Club members.
John Furner, president and CEO of Walmart US said "We're seeing about the same number of rollbacks now that we had at the end of Q1 last year so we have supply-chain challenges and other costs coming through." He added, "The team did do a nice job managing mix and pricing and are looking after both our customers and our shareholders."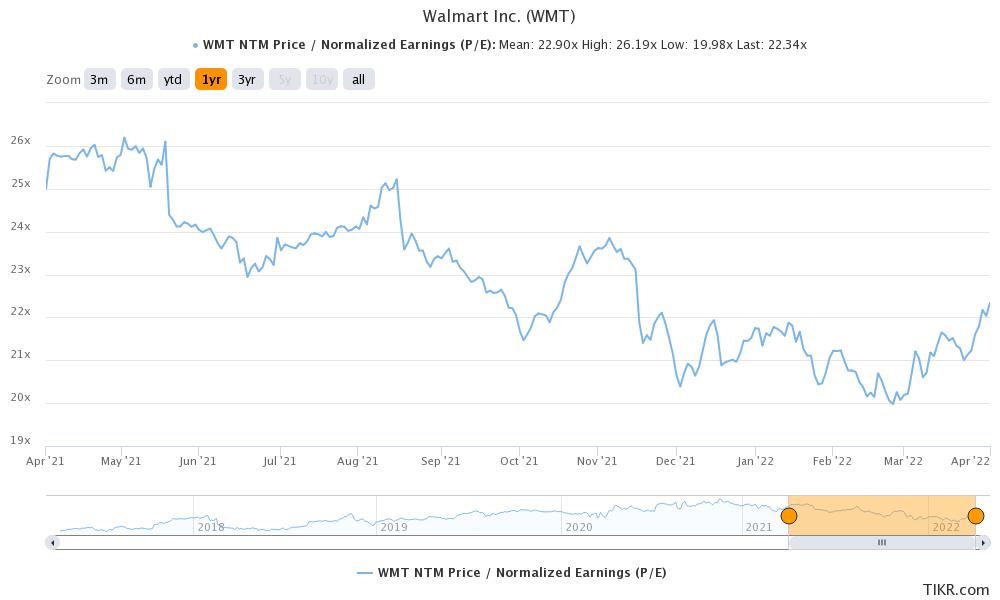 Walmart International
Walmart's International operations reported sales of $27 billion, which was 22.6% lower than the corresponding period last year. The fall in sales was led by asset divestitures and its business in Mexico, China, and India where it owns Flipkart delivered strong numbers.
WMT can be a hedge against inflation
US inflation is running at a multi-decade high. Several analysts believe that with its low-cost pricing strategy. WMT can be a good bet in an inflationary environment.  Goldman Sachs reiterated its buy rating on WMT and said, "In the rising food inflation environment, WMT is well positioned. … As food inflation accelerated over the past year, WMT's market share in grocery broadly improved, while traffic also shifted back to positive for the last three quarters which has been the main driver of the comp."
It added, "Given this market position, we anticipate continued traffic and share gains for WMT as consumers across all income cohorts likely seek value in the current inflationary environment, and we are starting to hear about some consumer behavior shifts within grocery.
WMT stock forecast
Wall Street analysts are bullish on Walmart stock and it has a consensus buy rating. Of the 36 analysts covering the stock, 27 have a buy rating while the remaining nine have a hold rating. None of the analysts have a sell rating.
It has a median target price of $166 which is a 10% premium over current prices. The street high target price of $190 is a premium of 26% while the street low target price of $136 is almost 10% below current price levels.
Meanwhile, over the long term, Walmart's investments in e-commerce and supply chain would add value. It also has a strong position in India through Flipkart.
Should you buy Walmart stock?
Walmart stock trades at an NTM (next-12 months) PE multiple of 22.4x. The multiples look reasonable even as there are concerns over retail stocks amid multiple headwinds. However, if you are looking to buy a retail stock for the long term, WMT is one stock that should be on your radar.
Buy WMT Stock at eToro from just $50 Now!